Hi Friends!
As promised, I'm here with a treat for you today! Healthy Sweet Potato Brownies!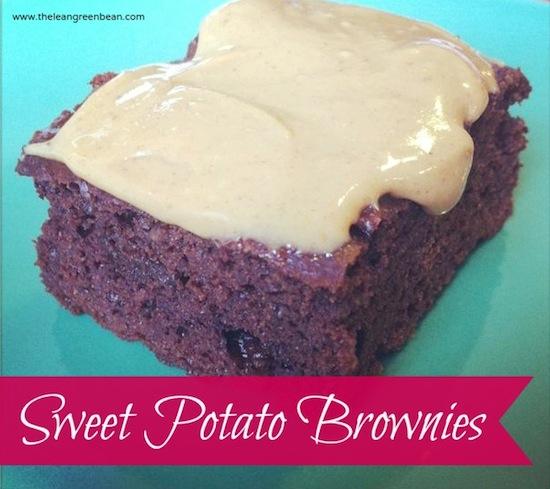 I've made two batches of these in the past week. They're both gone. The original batch I made using Nuttzo!  (Check out tomorrow's post for more info on how much I'm loving Nuttzo!) I actually came up with the idea for these brownies while I was thinking about how I could use the Chocolate Nuttzo to bake! Chocolate immediately made me think of brownies so I settled on those…but I hate how unhealthy most brownie recipes are. I decided I would try using dates to sweeten theses brownies and also threw in some sweet potatoes to keep them moist!
I made the first batch with chocolate Nuttzo and they passed the hubby test! That's when I realized I might have a winner. Then I made a second batch to take to our Memorial Day cookout. My father-in-law loves peanut butter brownies so I used regular peanut butter for the second batch. Even my mother-in-law, who never eats dessert, ate one…so I call that a major win!
Here's the recipe:
Print
Sweet Potato Brownies
Vegetables in a brownie? You bet! But these tasty sweets will be gone before you have time to tell anyone.
Author: Author: Lindsay L
Prep Time:

10 minutes

Cook Time:

20 minutes

Total Time:

30 minutes
(8×8 pan)

11/4

c chopped, pitted dates

1/2

c cooked sweet potato, mashed

3/4

c nut butter

2

eggs

1/3

c unsweetened cocoa powder

1/4

c applesauce

3/4 tsp

baking soda

2/3

c dark chocolate chips
Instructions
Put the dates, sweet potato and nut butter in a food processor and process until smooth.
Add the eggs and applesauce and process until mixed.
Sift in the cocoa powder and baking soda and pulse until combined.
Stir in the chocolate chips.
Spoon into a greased 8×8 pan and bake at 375 degrees for 15-20 minutes until a toothpick inserted in comes out clean.
Optional frosting: When cooled, top with nut butter, or melt nut butter and more chocolate chips in the microwave, stir to combine and spread over brownies.
Pretty simple, right?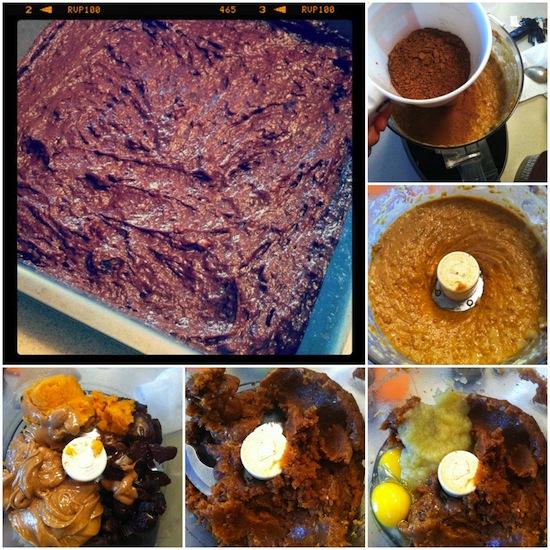 A word of warning…these are not super sweet. So don't expect a traditional brownie. For hubby and I, who don't like super sweet stuff, they're perfect. If you're worried they won't be sweet enough for you, adding the melted chocolate chip/pb frosting adds some sweetness! At our cookout, I served them frosted with a scoop of ice cream…DELISH! Also, they're more like cakey brownies, not fudgy. My guess would be if you added another egg they'd be fudgier but I haven't tried it.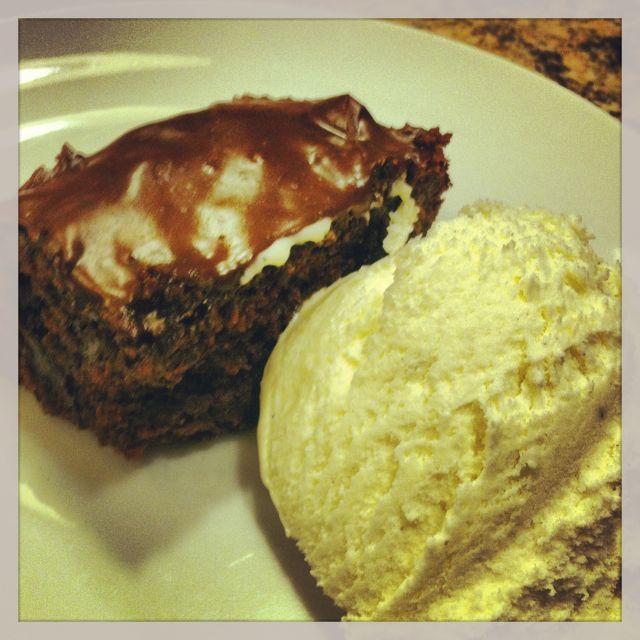 My best advice. Make these…serve them to your friends and family but don't tell them the ingredients! I bet they'll be a big hit!
Enjoy!
–Lindsay–
LEARN HOW FOOD AFFECTS YOUR BODY.
Get my free Table Talk email series where I share bite-sized nutrition information about carbs, protein, and fat, plus bonus information about snacks and sugar!