Hi Friends!
Let's talk workouts today, shall we? It's been a while since I posted one that isn't crossfit-related and I kinda miss it. Thanks to Blue Diamond Almonds for sponsoring this post. As you guys know, the Winter Games are gearing up to start in Sochi in under a month and I can't wait! I love watching all the skiing events because I'm totally in awe of everything those athletes can do. I've been on skis exactly once in my entire life and let me just tell you that my first trip down a VERY SMALL hill did not end well!
Anyways….I started to get even more excited about the Winter Games when my friends at Blue Diamond Almonds reached out to tell me that they are the official snack nut of the US Ski Team and US Snowboarding! As an RD, I was super pumped to hear that because I always love to see healthy snacks being promoted and I think it's awesome that Blue Diamond is helping provide healthy fuel to the Winter Games athletes!
"Nutrition is a key component of our athletes' high performance training program. Our snowboarders and skiers must sustain their energy for long, exhilarating workouts and competition," said Allen Tran, MS, RD, USSA High Performance Chef. "Blue Diamond Snack Almonds are ideal snacks for our athletes because they are high in protein and rich in fiber which helps them maintain their energy levels." 
I love that here's a huge focus this year on making sure these athletes are provided with healthy food options while training and competing, especially lean protein sources. Fun little tidbit: As a healthy snack, Blue Diamond Snack Almonds are being offered at the USSA Center of Excellence training facility and kitchen in Park City, UT, where hundreds of U.S. winter athletes are preparing for the upcoming Games. In Sochi, Russia, the USSA team, which is the largest contingent of athletes at the Winter Games, will all be able to snack on a rainbow of Blue Diamond Snack Almond flavors as well!
So, I'm sure I'm not in the minority when I say that watching elite events like the Winter Games ALWAYS motivates me to kick my own training up a notch! On that note, I put together a fun little bodyweight circuit workout for you guys to try. It's designed to get your heart rate up and blood flowing to help combat the arctic chill we're currently experiencing!
PLUS the moves are all things that you might see some of your favorite skiers and snowboarders incorporating into their training as well!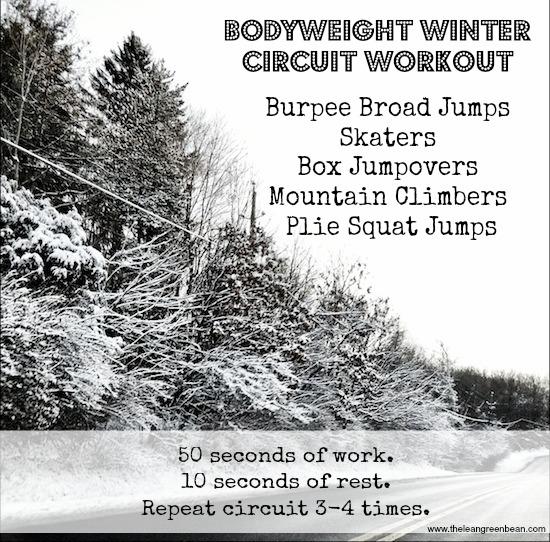 In case you're not familiar, here are some links that show you how to perform these exercises:
Burpee Broad Jumps
Skaters
Box Jumpovers
Mountain Climbers
Plie Squat Jump
Now….go have yourself a killer workout and then refuel with lean protein and healthy carbs to help your body recover!
Enjoy!
–Lindsay–

This post is sponsored by Blue Diamond Almonds.
LEARN HOW FOOD AFFECTS YOUR BODY.
Get my free Table Talk email series where I share bite-sized nutrition information about carbs, protein, and fat, plus bonus information about snacks and sugar!