Hi Friends!
Now that we've been doing Crossfit for a while now, I feel like I've got a pretty good handle on the lingo. But I remember how overwhelmed I felt when I first started. Since I regularly post about my Crossfit workouts, and I know a lot of you don't do Crossfit, I thought I'd break things down a little bit for you! I'll explain some of the terms we use and hopefully it will help my Fitness Friday posts make a little bit more sense. Ready?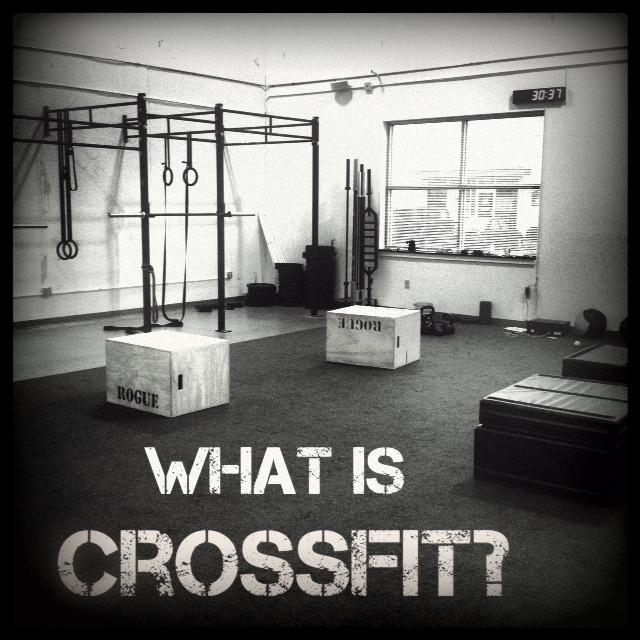 So let's start off with the basics:
What is Crossfit?
Crossfit is constantly varied, high intensity, functional movements. It includes a mix of Olympic lifting, gymnastics, plyometrics, running, rowing, bodyweight exercises and so much more!
Where do we workout?
The Box = a crossfit gym. It's called a box because it's typically in a warehouse-type space. Instead of seeing the machines you see in a typical gym, you're more likely to see stacks of weights, barbells, pull-up bars and lots of open space.
What do we do?
Warm-up = Various exercises done to help loosen and warm our muscles
Skill/Strenth Session = We work on a specific skill or lift. Technique is reviewed and we work on our form, as well as increasing weight to get stronger.
WOD = Workout of the day. The "competitive" part of the session where you race the clock!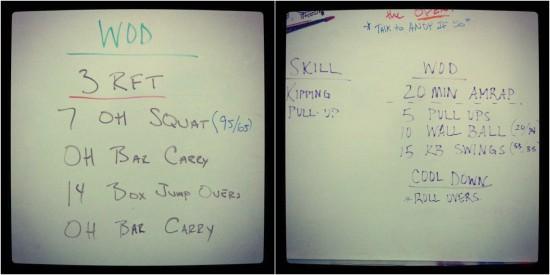 How are the WODs broken down?
RFT = Rounds for Time
AMRAP = As Many Rounds As Possible
What is a round? 
A round is a set or group of exercises that make up a workout. Here's an example: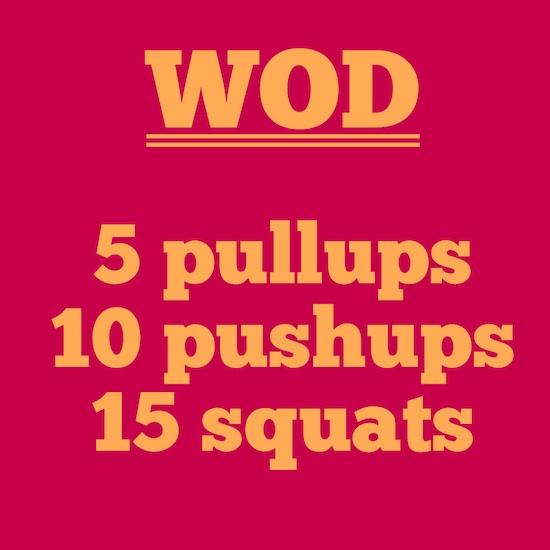 One round of this WOD would be 5 pullups, 10 pushups and 15 squats. If this WOD was done as RFT, you would be given a set number of rounds to do, and you would do them as quickly as possible. So, if it was 3 RFT, you would do 5 pullups, 10 pushups, 15 squats and then start over and do it twice more. By the end, you will have done 15 pullups, 30 pushups and 45 squats as quickly as you can.
If this same workout was done as an AMRAP, you would be given a set amount of time and you would complete as many rounds as possible in that time. So, if it was a 20 minute AMRAP, you would do 5 pullups, 10 pushups, 15 squats over and over again until the time limit was reached.
How are the WODs scored?
If it's a RFT workout, your score is the time you finish in. You want it to be as fast as possible.
If it's an AMRAP, your score is the number of rounds you're able to complete in the set amount of time. If you finish 15 complete rounds and then 5 pullups and 2 pushups of the next round before time runs out, your score would be 15 + 7. This shows people you completed 15 whole rounds and then got seven reps of the next round.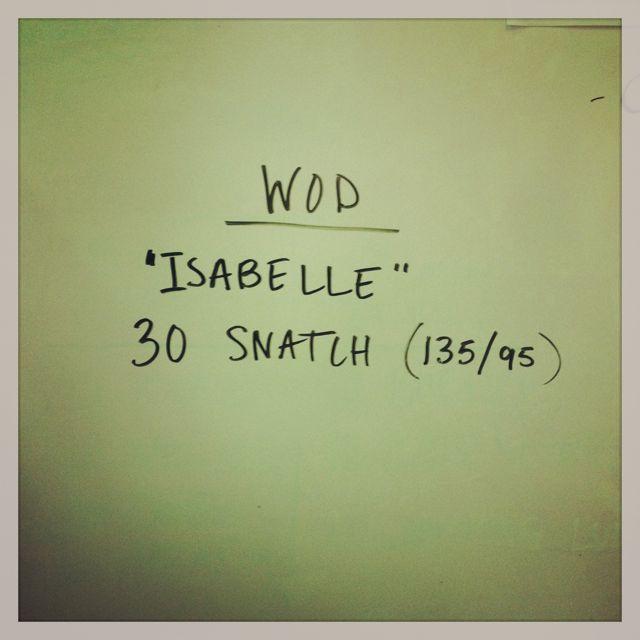 Are there any other kinds of WODs?
Chipper = A chipper is done for time, but it's generally a long workout that you "chip away" at it.
Benchmark WOD = Also known as the Crossfit girls, they are workouts with girls names, like Isabelle shown above, that can be repeated every so often to gauge your progress. They can also be used to compare your fitness level to other crossfitters. For example, one of the benchmark workouts is Fran.  You could ask someone, "What's your Fran time?" and you could compare your time to theirs.
Hero WOD = Crossfit is often used in military training. Hero WODs are some of the most intense crossfit workouts, done to honor fallen members of the military. They're often completed with weighted vests or masks to make them even more difficult.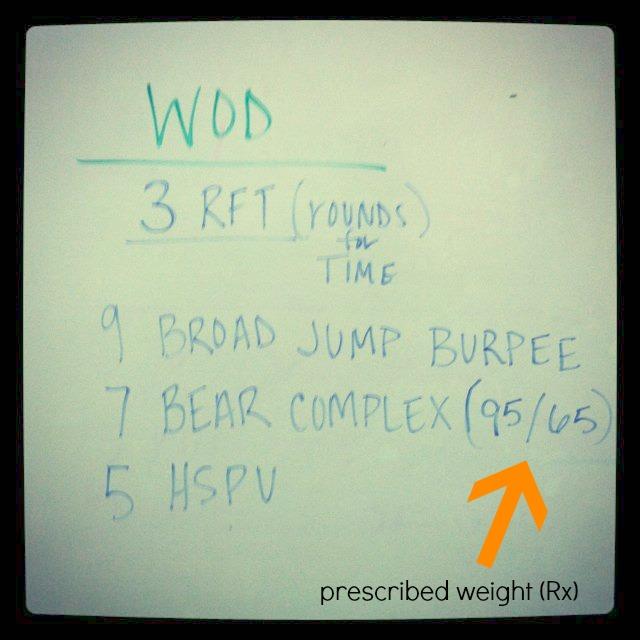 How much weight should you use in the WOD?
For the exercises in the WOD that require weight, there is a "prescribed" or recommended weight. This is also know as Rx. So, if you're strong enough, you can use the Rx weight for the WOD. If an exercise requires weight, the Rx weight will be written after the exercise in parentheses. The first weight is for men, the second is for women. For example, in the above workout, the Rx weight for the bear complex is 95# for men and 65# for women.  If you're just starting, or haven't lifted weights before, you can always "scale down" or use less weight.
How do you show people how much weight you used?
When you are finished with a workout, you record your score either on a dry erase board or into a computer. Depending on the type of WOD, you either write your time, or the number of rounds and reps you completed. In parentheses after that, you write any modifications you made to the WOD. If you used the prescribed weights for all exercises, you write (Rx). If you used more or less weight, you write how much weight you used. So if the Rx weight was 135# and you used 100# you would write your time/score followed by (100#). If you modified anything else, you can note that to. So, if you can't do a pull-up and you did a jumping pullups instead, you might write (100#, JP).
————————–
So, now that we've got all of that down, let's move on to a few other terms that you might encounter, especially during the skill/strength sessions.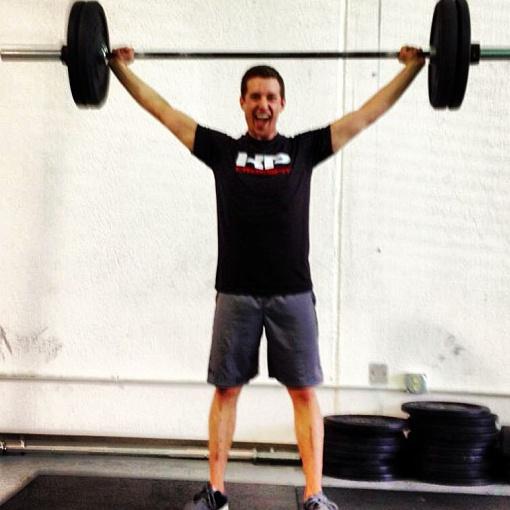 Strength Session Terms
Rep = one performance of an exercise. For example, one squat, or one pushup, would be one rep.
Set = a number of repetitions. So, if you're supposed to do 3 sets of 5 reps, that might be written 3 x 5, and you would complete 5 reps, rest, 5 reps, rest, 5 reps.
1RM = One Rep Max. The heaviest weight you can use to perform a specific lift one time. For example, my 1RM for deadlift is 175#. I can do one deadlift with 175#, but if I tried to do it a second time, it would be too heavy. You can use your 1RM to calculate how much weight you should be doing during your strength sessions. For example, maybe your coach says your warmup should be 60% of your 1RM and that you should work up to 80% of your 1RM during your sets. Maybe your sets for your strength session are 6 x 3, or 6 sets of 3 reps. If I was doing deadlifts, I would warm up with about 105# and then work up to 140# over the course of those 6 sets.
PR = Personal record. Basically lifting a heavier weight than you have in the past. So, if my previous 1RM for deadlifts was 175# and I was able to lift 185# one or more times during a strength session, that would be a new PR!
EMOM = Every Minute on the Minute. For example, during a strength session you may do 2 reps of a specific exercise, like cleans, EMOM for 12 minutes. So the timer would start, you would do two cleans and then you would have the remainder of that minute to add more weight to your bar, stretch, reposition the bar, etc. When the timer got to 2 minutes, you would do two cleans again and repeat
OLY Lift = Olympic Lift. These are things like squats, cleans, squats and deadlifts.
Whew! I think that's enough for now. Come back next week to learn more about different types of exercises and lifts we do during the WODs!
If you want to read more about Crossfit today, check out the post I wrote about Things Crossfit Has Taught Me!
Enjoy!
–Lindsay–
PS…if you liked this post/found it helpful, please PIN IT/tweet it/share it with friends 🙂
PPS…good luck to anyone competing in the Open that's doing 13.2 today or this weekend! I'm doing it tomorrow morning!
LEARN HOW FOOD AFFECTS YOUR BODY.
Get my free Table Talk email series where I share bite-sized nutrition information about carbs, protein, and fat, plus bonus information about snacks and sugar!