Good Morning!
It's cookie swap time!! When Rachel, one of my best blogging friends, sent out an email proposing this virtual cookie swap idea, I was super excited. I think I emailed her back within about 2 minutes of receiving the email 🙂

I immediately started thinking about what fun new combination I wanted to try for these cookies. I had recently bought a bag of toffee bits and knew I wanted to use those. After some googling, I found several recipes that I used for inspiration:
Peanut Butter Chocolate Chip Toffee Cookies
Rolo Stuffed Toffee Chocolate Chip Cookies
Chocolate Chip, Toffee & Almond Cookies
Oatmeal Chocolate Chip Toffee Cookies
Then I used my favorite recipe combining method and came up with one that I was excited to try.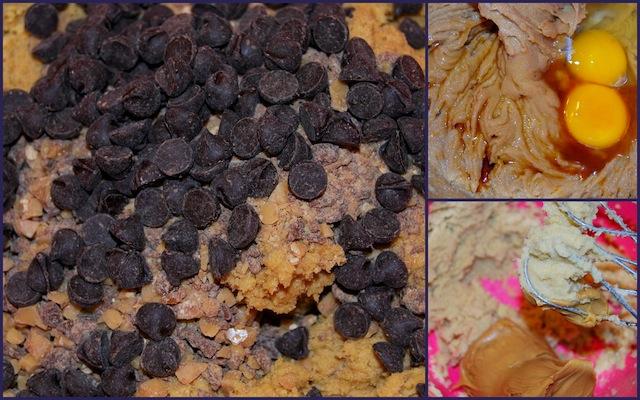 Toffee Peanut Butter Chocolate Chip Cookies
Prep Time: 10 min
Cook Time: 12-14 min
Keywords: bake dessert peanut butter chocolate toffee cookie
Ingredients (3 dozen cookies)
14 Tbsp butter, softened
½ c white sugar
¾ c brown sugar
3/4 c creamy peanut butter
1 egg + 1 egg yolk
1 ½ tsp vanilla
1 ¾ c white whole wheat flour
¾ tsp baking soda
½ tsp salt
½ tsp cinnamon
½ c chocolate chips
1 c toffee pieces
Instructions
1. Beat the butter, sugars and peanut butter until creamy.
2. Add the eggs and vanilla and mix until well combined.
3. Add the flour, baking soda, salt and cinnamon and stir until just mixed.
4. Stir in the toffee pieces and chocolate chips.
5. Place dough in the freezer for at least 4 hours, up to 24 hours.
6. Remove dough, scoop onto greased cookie sheet and bake at 350 degrees F for 12-14 minutes or until light browned on top.
The result? Delicious. When I originally made this recipe, I used 1 c peanut butter and I think the peanut butter slightly overwhelmed the toffee taste, so I scaled the amount back for the recipe. I also slightly overbaked mine so they were nice and crunchy. If you want them softer, bake for less time, or just throw a piece of bread into the container you store them in and they'll soften right up!
Are you hungry yet??? Well get ready to drool…click here to hop on over to Rachel's blog and take a look at some of the DELICIOUS cookies my fellow bloggers created for this swap!
Then head to the kitchen and get baking!
Enjoy!
–Lindsay–
Today's Workout:
Today's Workout: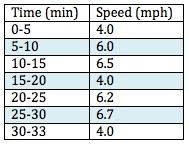 Total 3 miles, 33 minutes.  It wasn't anything crazy but it got me sweating and covered the distance I wanted it to