Hi Friends!
For my birthday this year, the hubby got me a cookbook devoted entirely to Curries. Last week we looked through it and got some inspiration for whipping up a curry of our own.
I didn't take very many pictures while we were actually cooking, but I just HAD to share the recipe with you because it turned out so well.
For the veggies, we used approximately 2 cups green beans, 1 cup portabello mushrooms, 3 cloves of garlic, 1 red pepper and 1/2 cup onion. We added black beans and cannelini beans because the hubby isn't the biggest fan of chickpeas and lentils…but I think both of those would be excellent substitutes.
Our veggie base was pretty basic and you could add or subtract veggies based on your personal preference, but it's the sauce that made the dish. Here's what we came up with:
[print_this]
Red Curry Sauce
1 can lite coconut milk
1 c veggie broth
3-4 Tbsp hot red curry paste
2 Tbsp soy sauce
1 Tbsp brown sugar
4 dried red chilis
1 jalapeno
Pour the coconut milk to a saucepan and heat it over medium heat until warm. Add remaining ingredients, bring to a boil and then reduce the heat and let it simmer for 5-10 minutes.
[/print_this]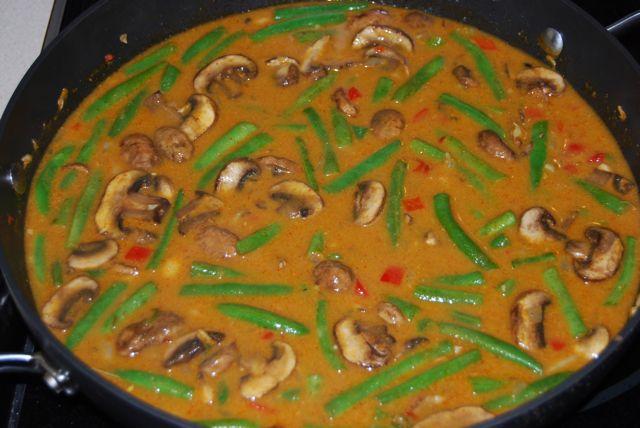 We poured the sauce over the veggies and let everything simmer together for about 15 minutes and then served it all over rice.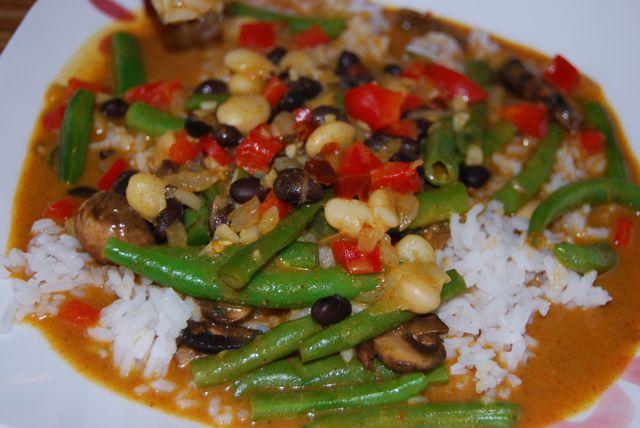 This sauce is SPICY…but not so spicy you can't eat it. If you're not a fan of spicy, use mild red curry paste and leave out the dried red chilis.
I preferred sauteed veggies which is why we cooked them separately, but the hubby says it'd be better to cook the veggies IN the sauce so they can absorb more of the flavor. You choose!
What's your favorite curry recipe?
Enjoy!
–Lindsay–
LEARN HOW FOOD AFFECTS YOUR BODY.
Get my free Table Talk email series where I share bite-sized nutrition information about carbs, protein, and fat, plus bonus information about snacks and sugar!