Hi Friends!
Thanks to Blue Diamond for sponsoring this post. I think I might be developing an obsession with blog series! I've been wanting to start up this little series for a while now and I'm finally getting around to it. I get a lot of questions about snacks from my readers. What do I eat for a snack? What are some healthy snacks? What are some on-the-go snacks that I can keep in my bag?
So, I thought it would be fun to do a few spotlight posts on some of my favorite snacks! I'm starting with almonds for a few reasons:
They're a staple in my pantry.
Hubby & I eat them every day.
They great for your heart.
February is National Heart Health month.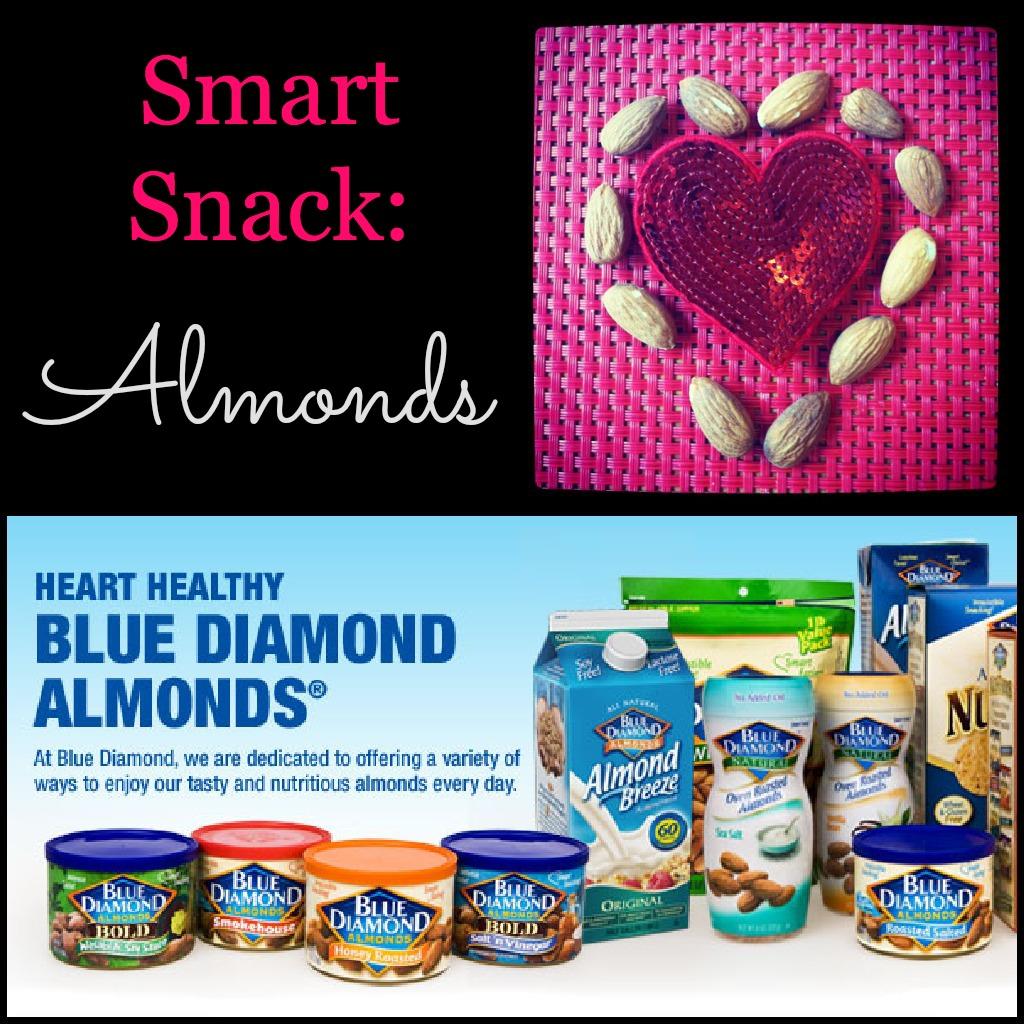 I'm also using this post as an opportunity to highlight one of my favorite companies: Blue Diamond Almonds.
Blue Diamond will actually be sponsoring my trip to Blend Retreat in May!!!! Yippee!!! More to come on that soon 🙂
If you know me, or have been reading my blog for a while now, you know that I'm pretty picky when it comes to the companies I work with. I don't do a whole lot of sponsored posts and I turn down a lot of opportunities to work with companies simply because they don't fit with what I believe/don't fit with this blog.
All that being said, Blue Diamond is one company that I'm proud to work with! I love their products (heck- I buy them even when I'm not working with them) and I love all the people that represent them as a company.
Blue Diamond is a proud supporter of Heart Health month and is encouraging everyone to learn more about the importance of keeping your heart healthy!
———————–
So let's talk about heart health for a minute. I'm sure most of you have heard that almonds are good for your health, and here I am telling you guys what a great snack they make…but do you know why?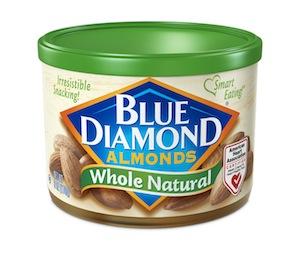 Here's a little background:
The FDA approved the following claim in 2003:
"Scientific evidence suggests but does not prove that eating 1.5 ounces per day of most nuts, such as almonds, as part of a diet low in saturated fat and cholesterol may reduce the risk of heart disease."
What exactly does that mean? Not to get all science-y on you but here's a brief review:
Cholesterol is made up of HDL and LDL, which need to be kept in balance. When LDL is too high, it builds up on cell walls and creates plaque, which can clog blood vessels. This can cut off blood supply to the heart, or plaque can break off and cause blood clots which can lead to heard attacks and strokes. By lowering the amount of LDL cholesterol in your blood, you give the HDL a chance to clean up the excess LDL and prevent plaque from building up, thus reducing your risk for heart disease. Since heart disease is the leading cause of death in the U.S., finding ways to decrease the risk is important.
See why almonds are a great addition to your everyday diet? If you're still not convinced, here's a few more benefits of almonds:
They're high in monounsaturated fat
They're a good source of fiber
They're a good source of Vitamin E, Magnesium & Copper
They're a good source of protein
They can help improve insulin sensitivity
They can help reduce inflammation
Bottom line: Almonds are a smart snack for more reasons than one.
However, there is one thing  you should keep in mind. Almonds are a fairly high calorie snack, so make sure you stick to the correct portion size! A serving is 1 oz. That equals about 23 whole almonds. In that serving, you'll find about 160 calories, 14 grams of fat (only 1 of which is saturated), 6 grams of protein and 3 grams of fiber.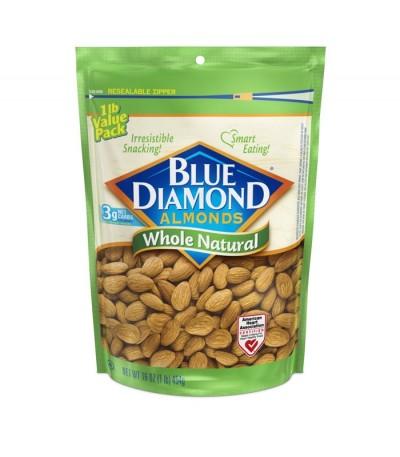 So we know why they're good for you and how many you should eat…all that leaves is HOW you should eat them, right?
A few suggestions:
Raw and plain
In your trailmix
As an oatmeal topping
Mixed with yogurt
Ground into almond butter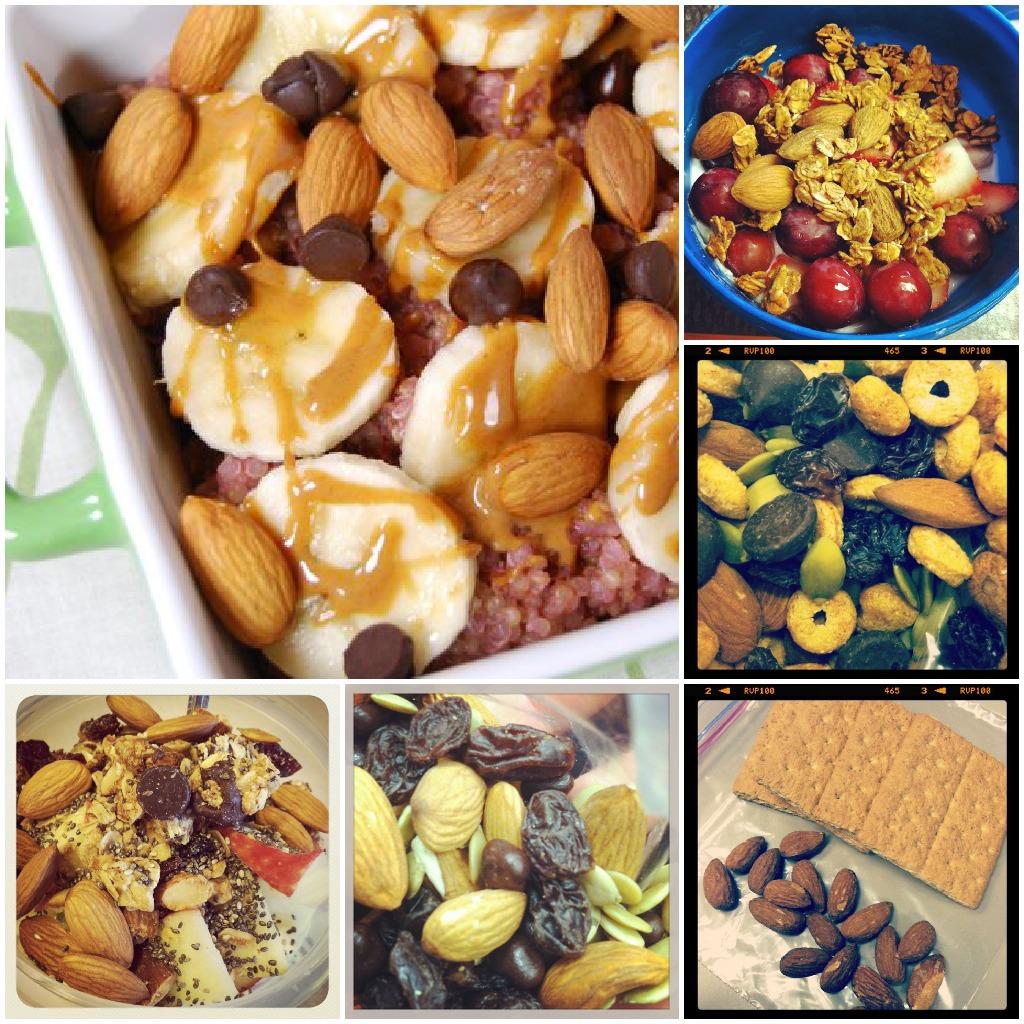 Let's chat: Do you like almonds? What's your favorite way to eat them?
Enjoy!
–Lindsay–
 **This post was sponsored by Blue Diamond. All thoughts and opinions are my own**
LEARN HOW FOOD AFFECTS YOUR BODY.
Get my free Table Talk email series where I share bite-sized nutrition information about carbs, protein, and fat, plus bonus information about snacks and sugar!