Hi Friends!
Should I get a Fitbit? That's the question I'd been asking myself FOREVER! I knew lots of people that had them and talked about how amazing they were…but really, I just didn't want to spend the money- they are $99.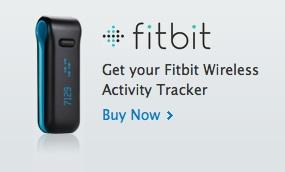 When my mom asked me what I wanted for my birthday, I bit the bullet and asked for one! Ask and you shall receive. My brand new Fitbut Ultra showed up last Friday and since then I've fallen in LOVE!
In fact, you might go so far as to say I'm obsessed. Just as the hubby. In fact, hubby- you should stop reading this post right now. It's all about the Fitbit and I know you don't care how many steps I've taken 🙂
I thought I'd use today to share a little bit about the Fitbit with you guys in case you're on the fence about getting one like I was. We're skipping Fitness Friday one more time because I'm still finishing up my antibiotics for my sinus infection and after running three miles one day earlier this week and feeling like I was going to puke the whole time, I decided to focus my efforts on walking until those pills are gone.
So, I got my present in the mail Friday afternoon. I charged it up Friday night and was off to the races on Saturday when I used it for the first time.
The fitbit is small. It's about the size of a USB drive. During the day I usually wear it clipped onto my tanktop…or the waistband of my pants.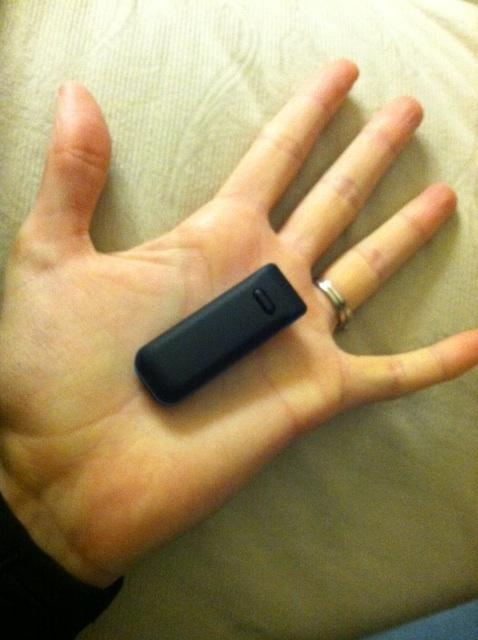 It's a simple device. It only has one button. You press the button once to light up the display and the first thing it shows you is your steps so far that day. If you press the button again, it moves to miles, then calories, vertical flights, a flower that grows based on how active you are, and the time.  I know the pics are blurry but it doesn't stay lit very long!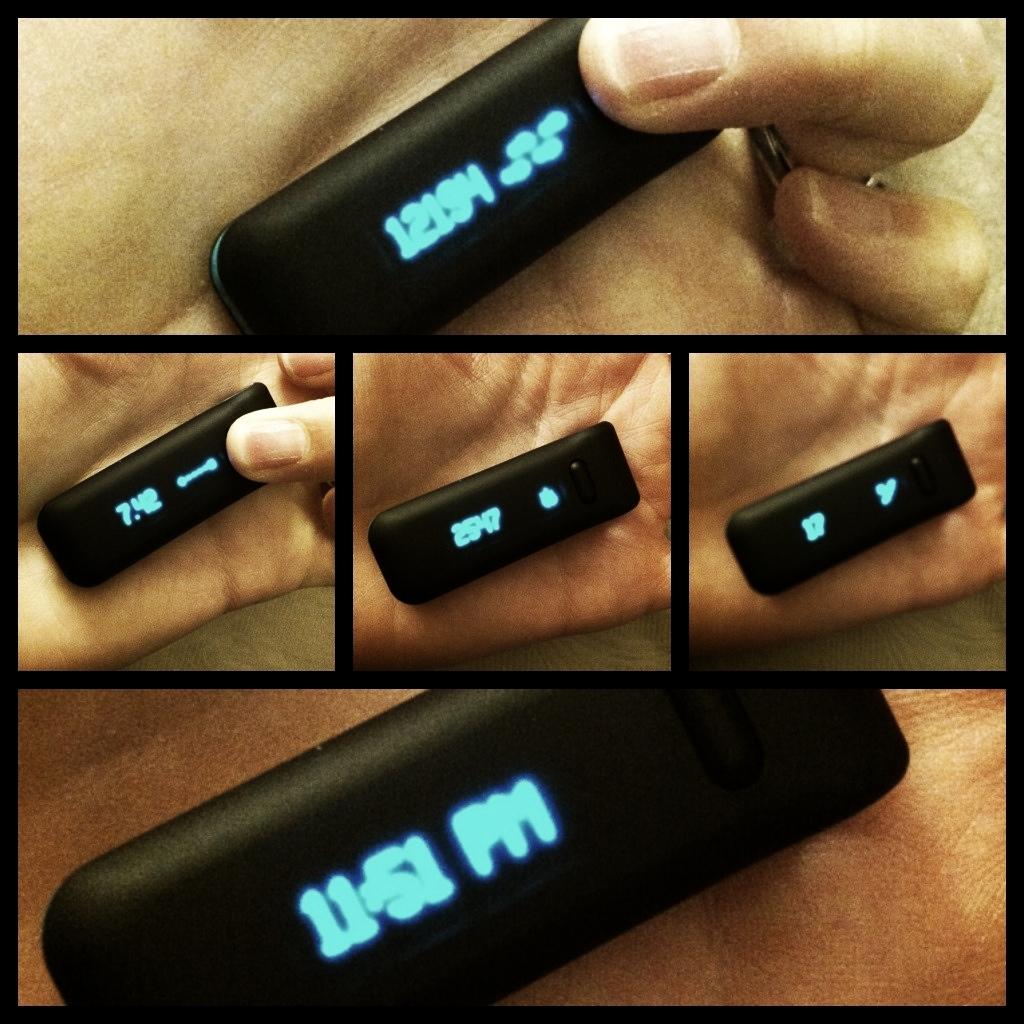 When you go to bed, you clip the fitbit to a wristband that it comes with. It's super soft and closes with velcro so you can adjust it to fit your wrist.
When you're ready to go to sleep, you hold down the button until a timer starts. When you wake up, you do the same thing and the time stops. The fitbit tracks your sleep during the time when the timer is on.
The fitbit syncs wirelessly when you're within 15 feet of your computer, as long as you have the dock plugged into the usb port. This is what the charging dock looks like. I just leave mine plugged into the computer all the time and then every time I go near it, it syncs.
This is also what you use to charge the fitbit, but please note I've been using this continuously since Saturday, have not charged it yet and am still at medium battery!
To view all the info your fitbit collects, you visit your online dashboard at fitbit.com. All your info is automatically loaded there. You can see how many steps you walked on a particular day, floors climbed, miles traveled, calories burned and your active score.
The first day I wore it (Saturday), I didn't do anything extra. It was just a day of running errands with the hubby. I didn't go to work, I didn't work out, I didn't put in any extra effort and I only walked 5,800 steps.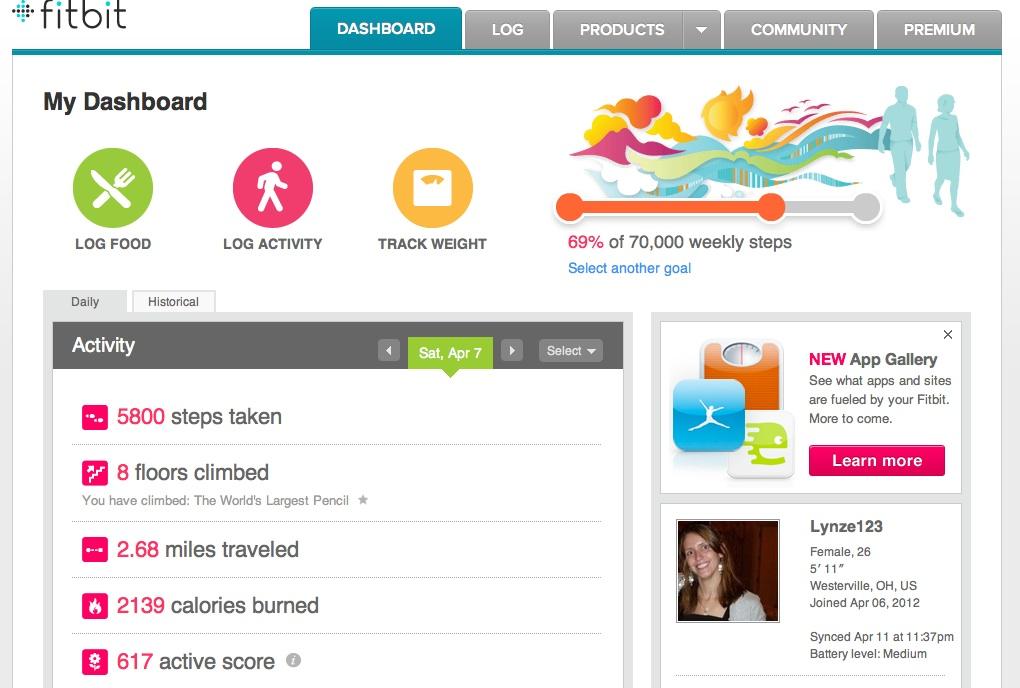 Sunday, I decided I wanted to get at least 10,000 steps for the rest of the week. I went to work and even though it was a super slow day, I was shocked to see that I walked almost 6,500 steps while I was at work!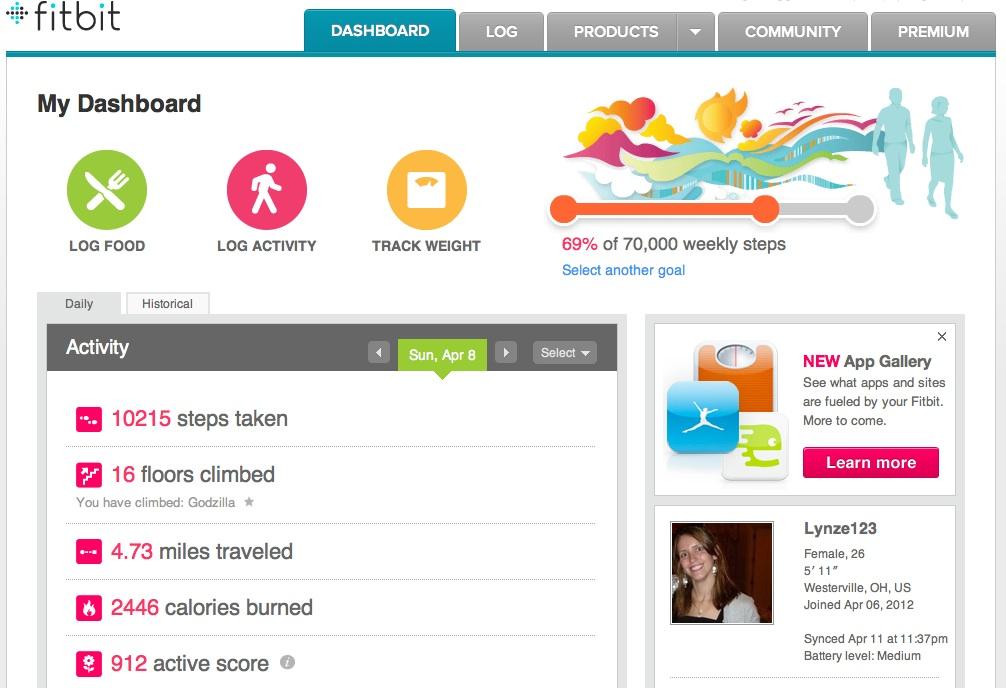 On Monday, I didn't work, but I walked to class and took the dogs for a long walk, did a tabata workout and did a bunch of stuff around the house.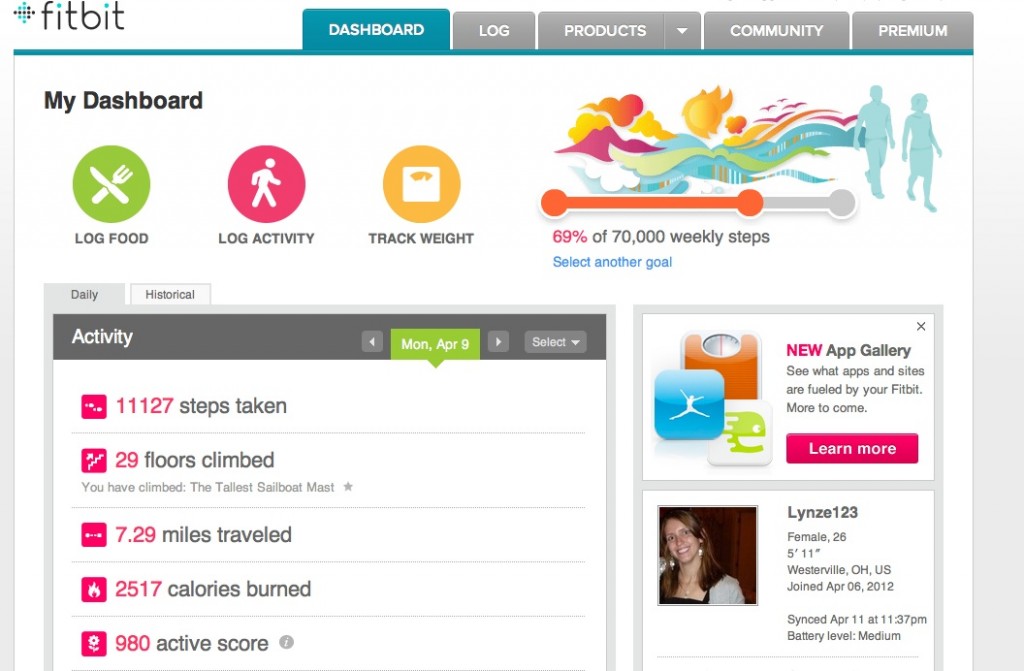 Tuesday was by far my most active day. I went to work- it was busy so I walked about 7,500 steps there, plus I ran/walked 3 miles when I got home. I hit 15,000 steps!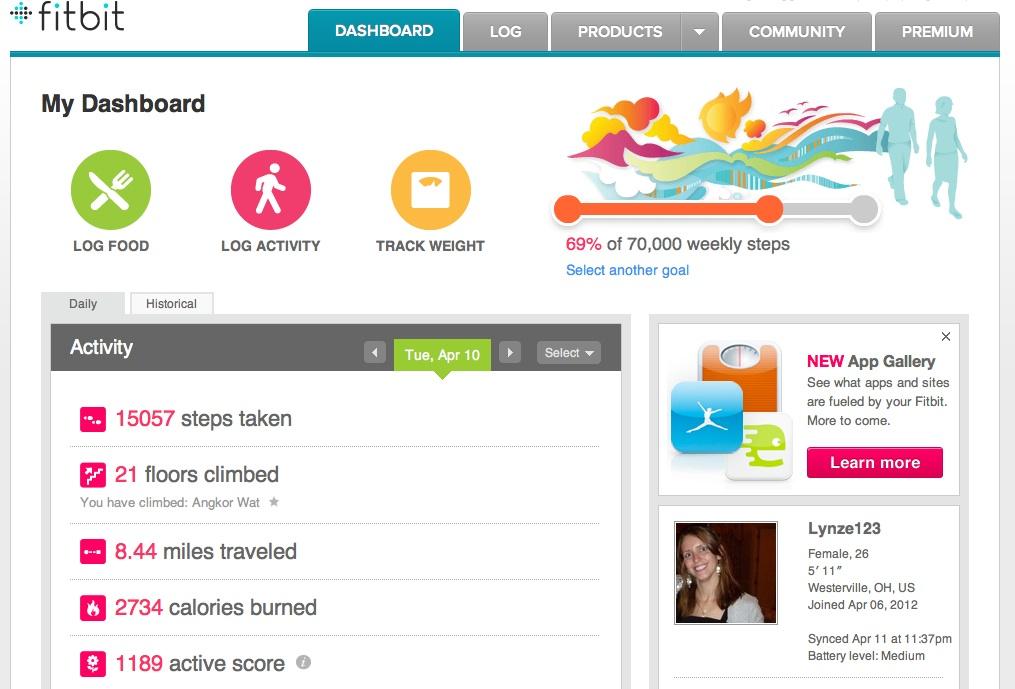 For each day, you can scroll down even further and see charts and graphs about your activity level throughout the day. You can see calories burned:
You can see that when I was at work from 4-7 my activity level increased to fairly active, and then that I was very active while doing my three mile workout later that night. You can also see how imbalanced my days are. I tend to be not very active in the mornings when I'm blogging and working on schoolwork and then cram a lot of activity into the second half of the day.
And you can also switch from calories to steps/floors/active score and watch the graph change. The graph below shows steps:

Finally, you can see how you slept the night before. When you start the timer, it tracks how long it takes you to fall asleep- or basically stop moving. It keeps track of how many times you wake up, etc. As you can see, I wake up every night between 3 and 4 to feed the dogs. It's weird, I know…but it's just easier for me to do it then, then to try to fight them off until a more "normal" time. It also tells you your sleep efficiency. My score is always pretty high, which surprised me.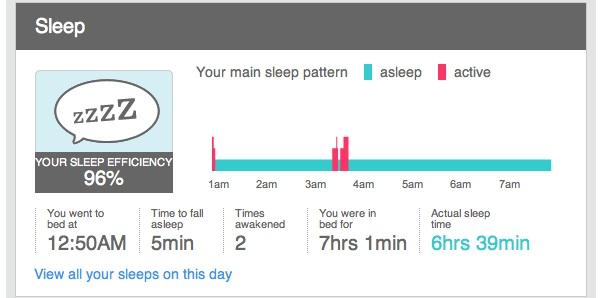 One thing I did notice is that since the fitbit isn't really hooked up to you and officially monitoring your sleep, more your movement, one night it thought I was asleep when really I was just lying in bed reading. So, after that I decided to not start the timer until I actually turn out the light and lay down to go to sleep.
Wednesday was another fairly active day. I didn't want to run, but I took the dogs on a two mile walk and then walked two miles on the treadmill.
This was a more typical night of how often I wake up throughout the night.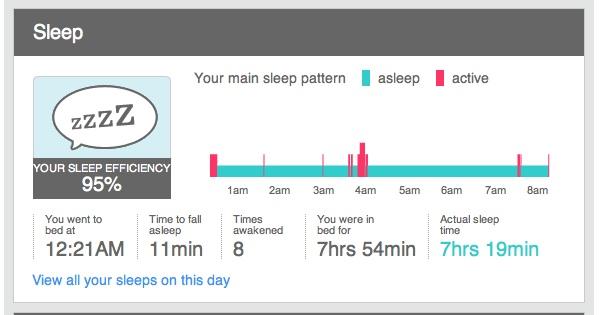 The fitbit also has a lot of other features that I'm not using yet. You can track your food and water intake, your weight, your blood pressure and glucose if you monitor those and you can write journal entries about how you're feeling each day.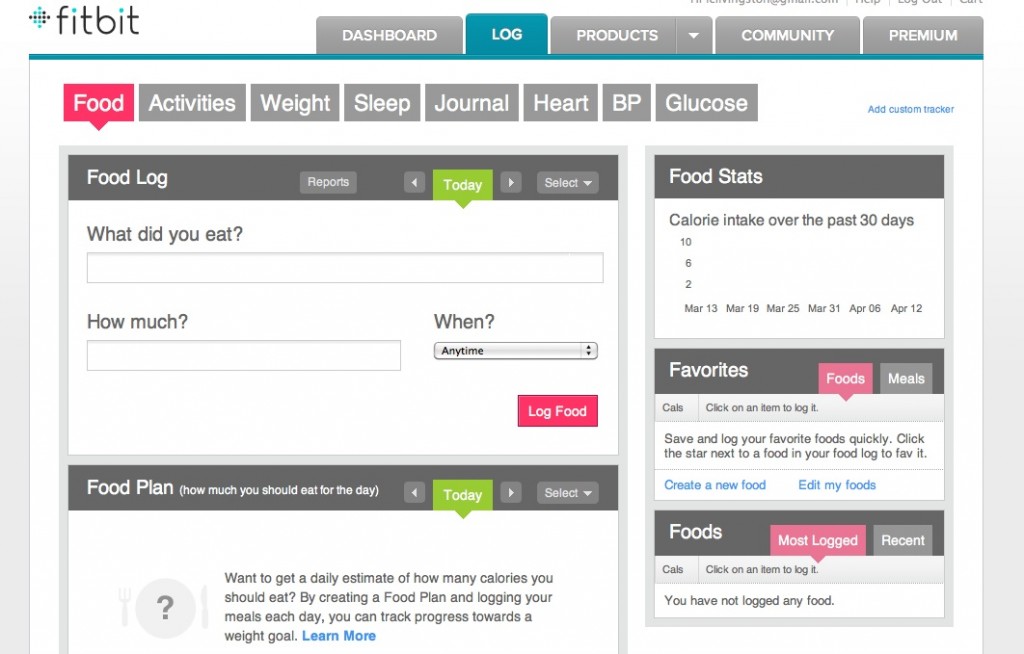 I don't track my food so I haven't really done much with this, but if you do, and you use apps like My Fitness Pal, you can synch those with your fitbit so they all work together using apps. You can also use apps like EarnedIt where you get points for your activity levels and you can redeem those points for prizes.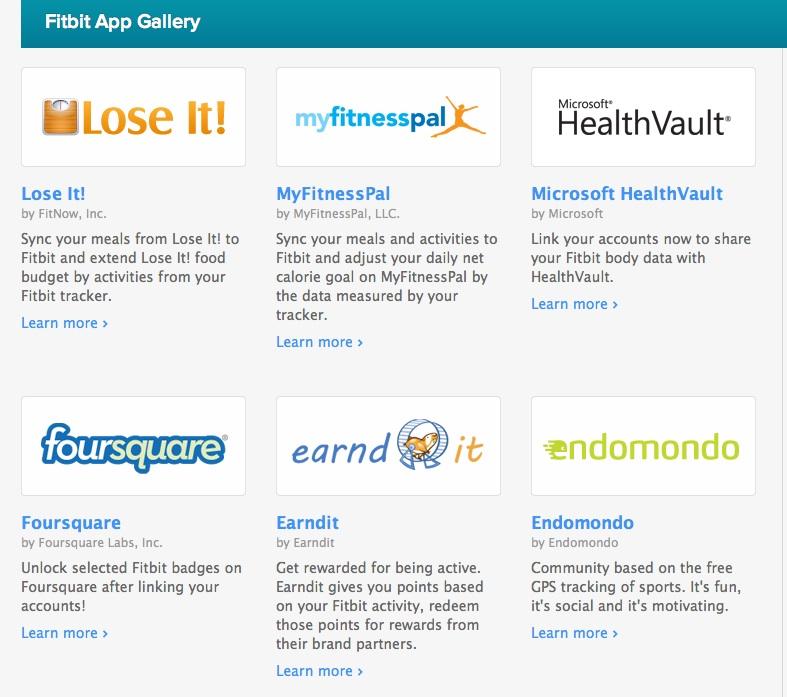 You can also use apps to sync with your Nike+ workouts, set up alerts to get emails or texts when your fitbit battery is getting low or do more analysis of your sleep patterns: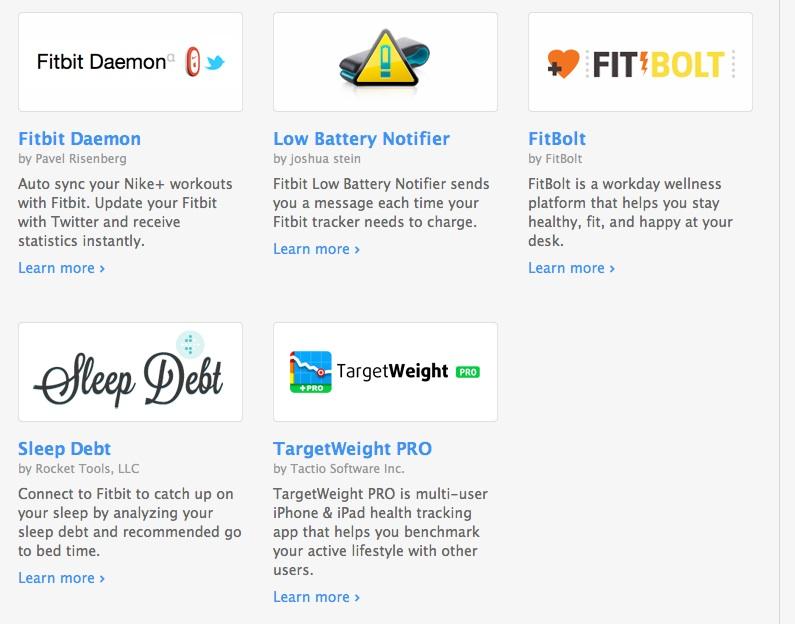 There's also a fitbit app for your phone that you can use to track your water intake throughout the day. It shows your steps and all that info, but just like the webpage, it only updates when you're within 15 feet of the docking station.
Finally, you can always see your overall achievements, like your Lifetime steps, stairs, etc…as well as your best days for each. You earn badges for getting certain achievements and you can connect with other friends who have a fitbit. As you can see, I have no friends 🙁 Lol, but I haven't actually looked for anyone yet! If you have a fitbit, find me!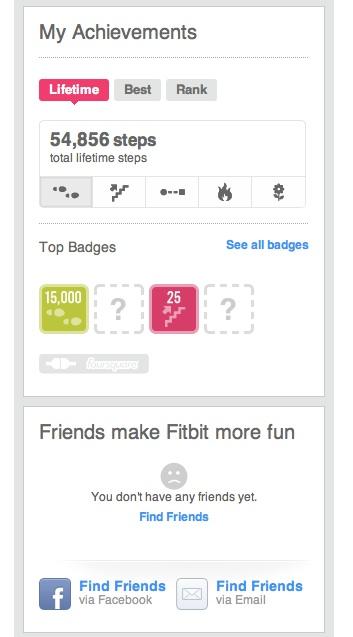 There's even a community section where you can join groups for support or just read the forums: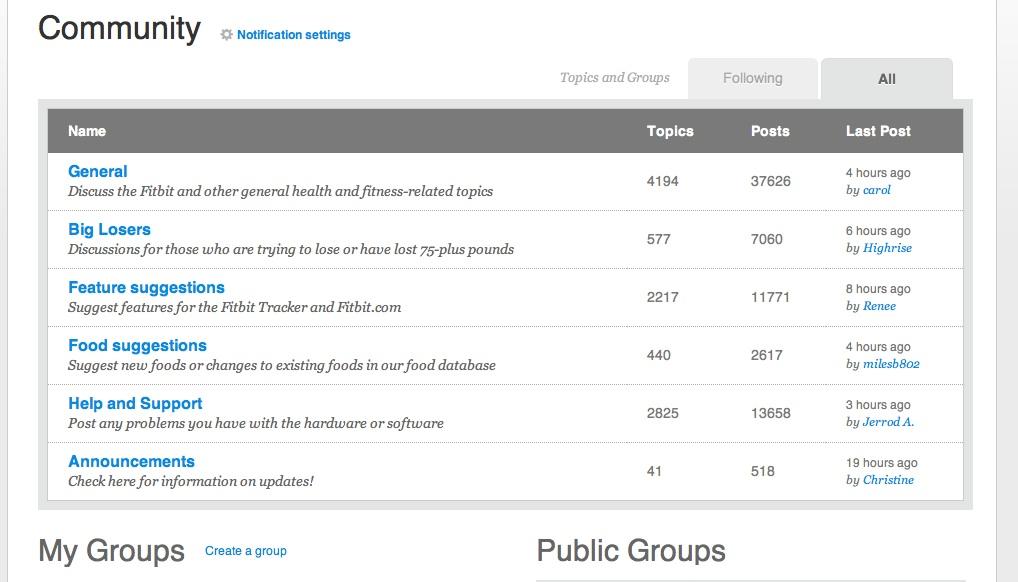 So there you have it. More than you probably ever wanted to know about the Fitbit.
I have to tell you guys, this little thing is making me do crazy things…like running in place in the basement, walked around while tweeting or reading my book, taking the long way to walk to class and leaving my laundry basket farther away from my dresser when I put my clothes away, just so I can get extra steps!!!
I LOVE the challenge of trying to get a certain number of steps each day and it's definitely motivating me to move more.
If you've been thinking about trying to be more active, I'd definitely recommend a pedometer. It doesn't even have to be as fancy as a Fitbit. Just get something that can track your steps. It can be a super motivating way to kick your butt in gear when you look down at 2pm and see you've only walked 1,000 steps for the day!
Do you wear a pedometer?
–Lindsay–
PS. I was not asked to write this review. I was not compensated for this review.  Fitbit has no idea who I am. My mom bought this fitbit for the full retail price. All thoughts and opinons are my own. I just wanted to share this cool little gadget with you guys!