Hi Friends!
So the next two days are going to be a bit of a whirlwind as we get ready to go on vacation! Our food situation will probably start to get interesting and quite creative as we try to use up the food we have left before we leave.
We spent the weekend tracking down some things we needed for our trip like water shoes, neck pillows and plane reading material. Let's review shall we?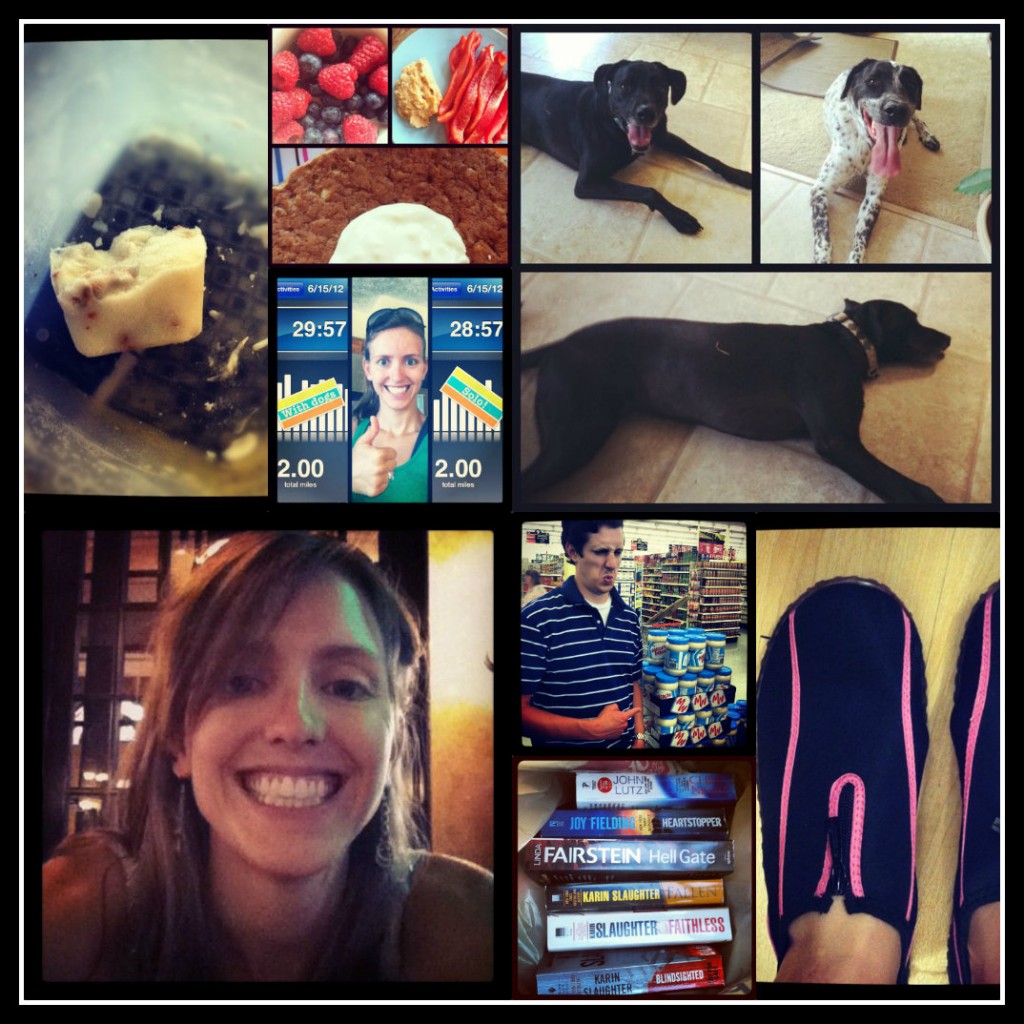 Friday I ate the last of my frozen yogurt granola bites! Time to restock.
I ate a leftover pancake for lunch, along with some frui, hummus & veggies.
I walked the dogs a couple miles..but we're getting to the point where it's almost too hot to walk them during the day…so I walked with them for two miles and then dropped them off in the AC.
Then I headed back out to do two more miles on my own!!
I met hubby and one of his coworkers for a happy hour drink.
Afterwards, the hubby and I set out to track down water shoes- check!
And get some half price mysteries for me to read on the plane!
We also went in to one of the discount stores just for fun.
Hubby expressed his feelings about Miracle Whip 🙂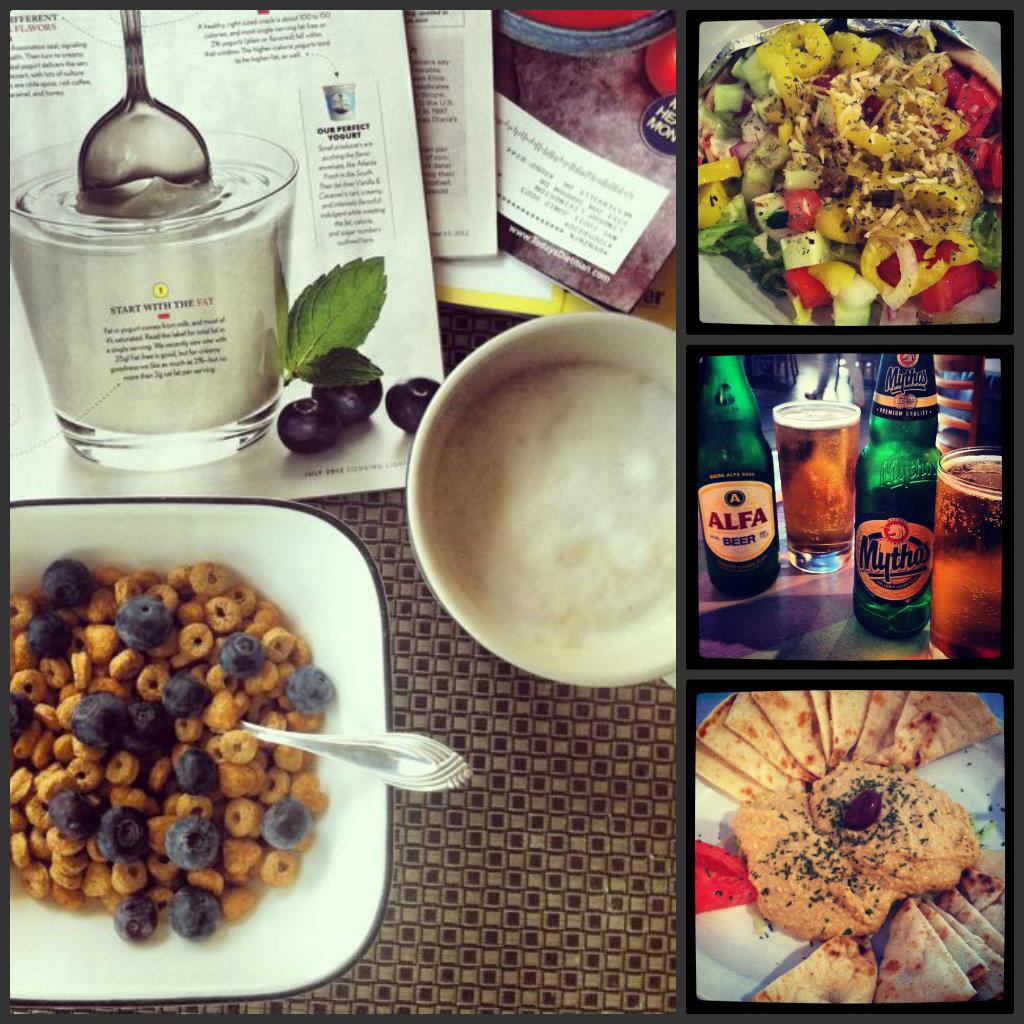 Saturday I got up and enjoyed some blueberries in my cereal.
Summer is officially here!
And I treated myself to some foamy milk in my coffee 🙂
Then hubby & I headed out to do some shopping.
Neither of us go shopping very often so we treated ourselves.
Both of us picked up some stuff we can take on vacation.
While we were out we tried out a new Greek restaurant on a whim.
It was awesome. We shared the hummus & the veggie pita. So big & so cheap!
The owner also recommended some greek beer for each of us to try.

Hubby ended up getting more stuff on our shopping trip on Saturday…but I did find a shirt, a tank top, a dress and some shoes at Marshall's (bottom picture). I also found a kettlebell, which I've been looking for, and a jump rope!
On Sunday I headed out by myself to do some shopping while hubby did some projects around the house. I found a bag on sale at Gap that I'm going to use as my carry-on but can also double as a beach bag while we're there. I ended up finding two other dresses that I liked better so I'm returning the green one. It just doesn't fit me quite right…but i'll be on the lookout for one in a similar pattern. I also found a couple more tank tops and a pair of white shorts. I feel like I'm the last person in the world to buy a pair of white shorts or pants. I also found a new sports bra and another pair of sandals on sale. But the best deal of the weekend was that orange dress. It's BCBG, originally $140. I found it on the sale rack at Macy's and I also had a coupon, so I picked it up for $17!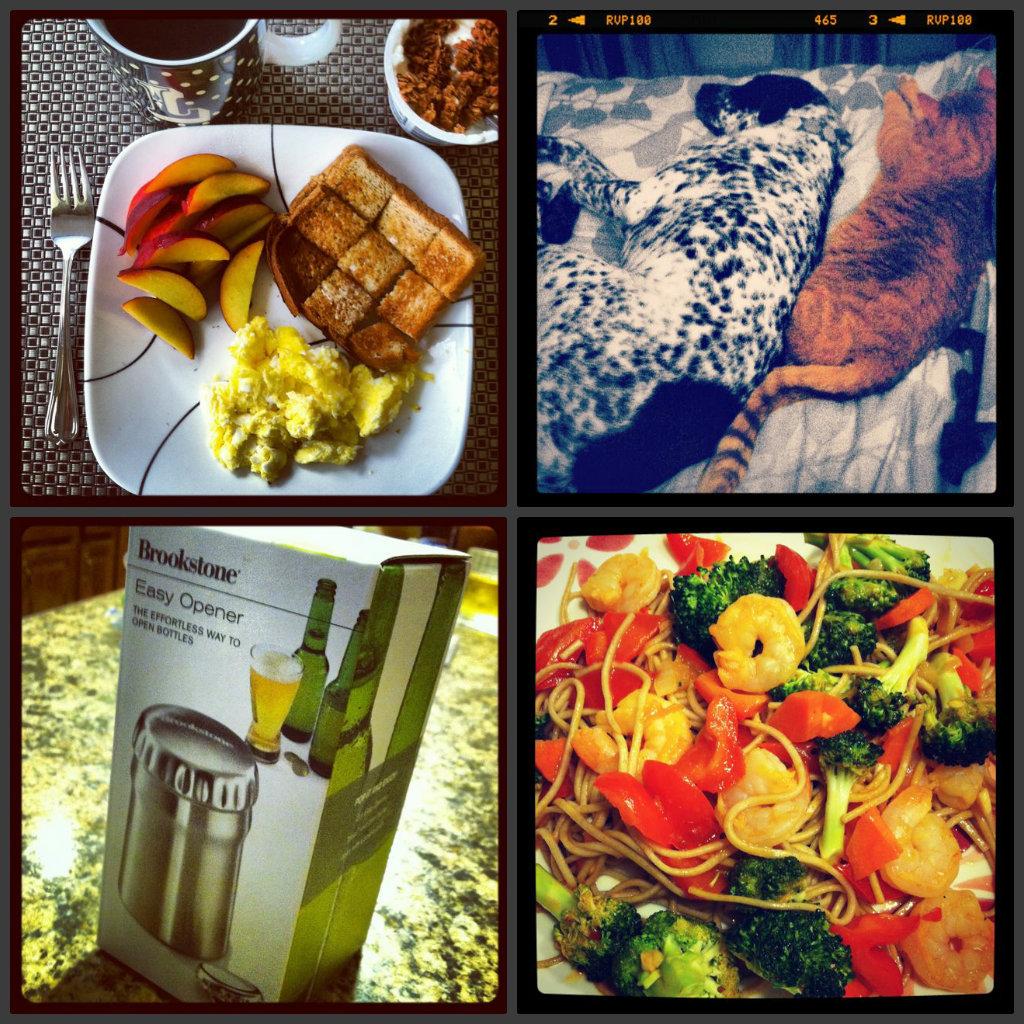 I made us some eggs & toast for breakfast on Sunday…
along w/ fresh fruit and some Chobani & granola.
I also caught Marcus and Abner laying unusually close to each other,
so of course I had to capture it!
We stopped by my in-laws to drop off a father's day present
(a beer bottle cap remover..very cool!)
And I made Sweet & Spicy Shrimp with Soba Noodles for dinner.
Today I'm getting my nail done. I'm SO excited. I haven't had them done forever because I was working at an assisted living facility and we weren't allowed to for sanitation reasons. So, today I'm getting a shellac french manicure. I love them because they last forever and you don't have to deal with fake nails breaking! I love french manicures because they look fancy but it's not as obvious when they start growing out!
Tonight we're getting a head start on our packing so we're not doing everything last minute and soaking up time with the pups before I have to drop them off at doggy camp tomorrow 🙁
How was your weekend?! Do anything fun?
Enjoy!
–Lindsay–
LEARN HOW FOOD AFFECTS YOUR BODY.
Get my free Table Talk email series where I share bite-sized nutrition information about carbs, protein, and fat, plus bonus information about snacks and sugar!