These Pumpkin Apple Baked Mini Pancakes are kid-friendly with no added sugar and are perfect for a fall breakfast or lunch!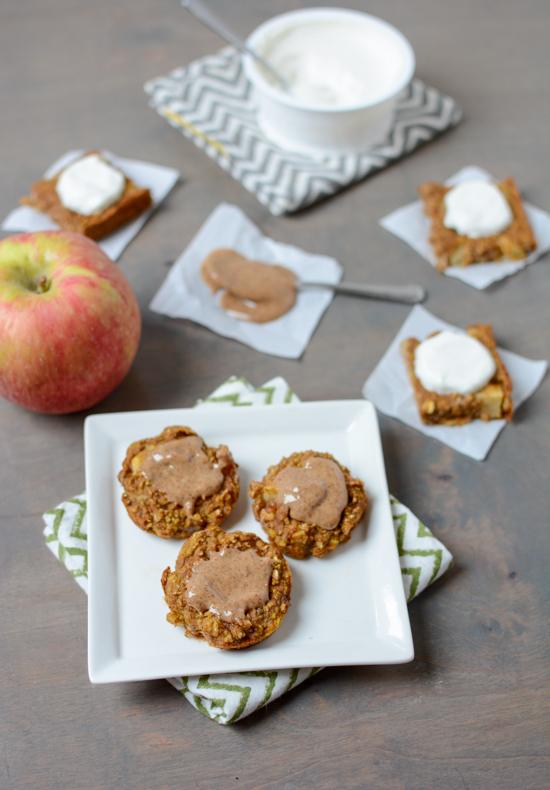 Hi friends,
I'm gonna level with you guys. I had absolutely no idea what to call these. I made the first batch yesterday with the intention of them being bars. They ended up not being very thick and since the only sweetness comes from the banana and apple in them, they're not overly sweet. The texture is moist and kinda eggy. They reminded me a lot of my Sweet Potato Protein Pancakes and that got me thinking. I knew baked pancakes were a thing…and a quick google searched told me that they were often made by pouring the batter into a pan and cutting into squares. However, in my world, pancakes need to be circles, not squares.
So I made a second batch of batter and tried making them in muffin tins. BAM! Perfectly circular mini pancakes.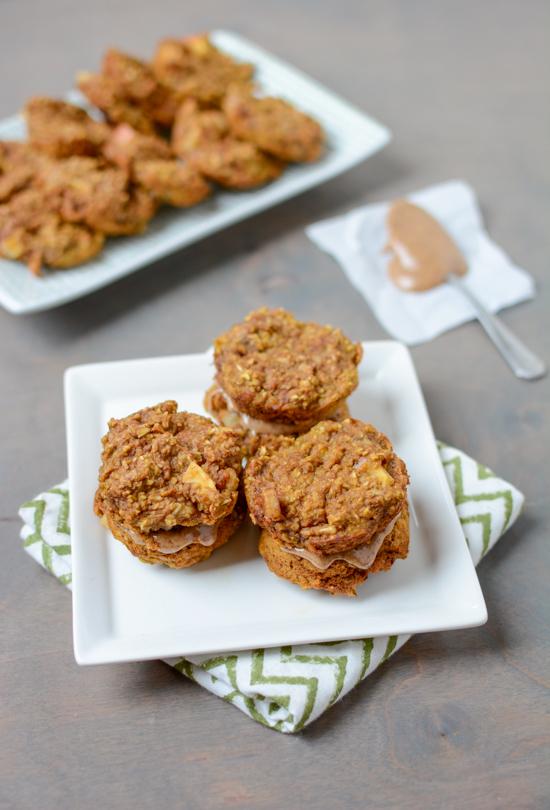 I actually wasn't going to post this recipe because I wasn't sure what to call them, wasn't sure if people would like the texture, yada yada…but then over the course of the day yesterday, I literally ate half the pan. And I decided if I liked them that much, maybe someone else would too.
So here's your disclaimer:
You can make these in a pan or in muffin tins.
You can call them bars, mini muffins, baked pancakes, whatever suits you.
I made mine with oat flour. You could probably make them with other kinds of flour but I haven't tried.
These are not Bisquick-texture pancakes. They're moist, chewy and kinda eggy.
If you're into all that, you'll probably like these. I pretty much dumped all things fall in a bowl and this is what came out.
You can eat them topped with a little syrup (pancake-style), topped with yogurt or nut butter, or turn them into mini sandwiches with some nut butter in between. They'd be perfect for lunch boxes!
Here's the recipe:
Print
Pumpkin Apple Baked Mini Pancakes
Made with simple ingredients and no added sugar, these Pumpkin Apple Baked Mini Pancakes are kid-friendly, perfect for breakfast or lunch and are full of fall flavors!
3/4 cup

mashed banana

3/4 cup

pumpkin

1

egg

1 tsp

vanilla

1 tsp

cinnamon

3/4 tsp

ground ginger

1 cup

oat flour

1/2 tsp

baking soda

3/4 cup

diced apples
Optional: Nut butter, yogurt, syrup etc for topping
Instructions
Mix banana, pumpkin and egg in a bowl.
Add remaining ingredients and stir to combine.
Option 1: Spoon into greased 9×9 pan.
Option 2: Spoon approximately 1 Tbsp batter into each well-greased muffin tin (Makes 24)
Bake at 375 degrees for 20 minutes.
Like I mentioned above, if you don't care about circles, it's easiest to just make these in a 9×9 pan. If you want circles, use the muffin tins. Make sure they're well greased. The smaller you chop the apples the better. To remove, trace around with a knife, then I found it easiest to just use a spoon to kinda scoop them out so they don't stick.

Store in the fridge!
[clickToTweet tweet="The kids will love these Easy Baked Pumpkin Apple Mini Pancakes!" quote="The kids will love these Easy Baked Pumpkin Apple Mini Pancakes!"]
Enjoy!
–Lindsay–
LEARN HOW FOOD AFFECTS YOUR BODY.
Get my free Table Talk email series where I share bite-sized nutrition information about carbs, protein, and fat, plus bonus information about snacks and sugar!