Last week, I took a look in my garden for the first time in a while and I immediately tweeted the following:

My basil plant was overflowing…but I didn't have any walnuts!
Turned out it was a serendipitous kind of day because not 10 minutes later, as I was reading blog posts, I came to Brittany's post for Tomato Almond Pesto! Crazy right?!
I immediately whipped up a batch. I loosely followed her recipe. I cut the cheese back to 1/4 cup, left out the salt and tomatoes, and my almonds were raw and unsalted.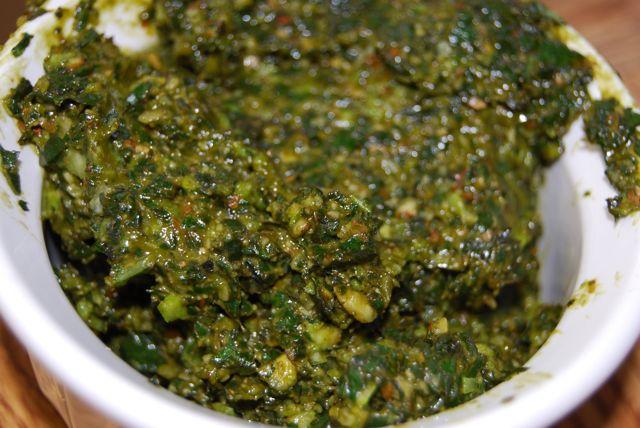 As I worked on the pesto, I was formulating an idea for dinner in my head! I had some french bread that was starting to get stale so I knew I wanted to make some sandwiches.
I cut the loaf into two sub-sized pieces, then I sliced a thin strip off the top and hollowed out the middles to make bread boats!
I spread a layer of pesto on the bottom, added a bit of cheese, and then filled the boats with a mixture of veggies, chicken and cannellini beans that I sauteed with some garlic and Italian seasoning. I topped everything off with some spaghetti sauce.
Another sprinkle of cheese and into the oven for 20 minutes at about 375 degrees.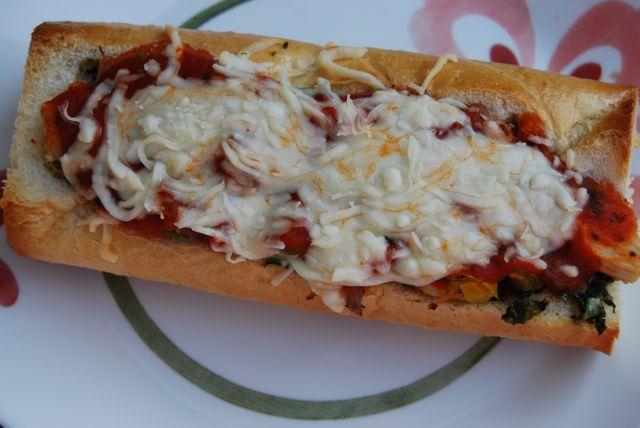 The best part of these boats/subs, according to me, is how crunchy the bread got.
The worst part of these boats/subs, according to the hubby, is how crunchy the bread got.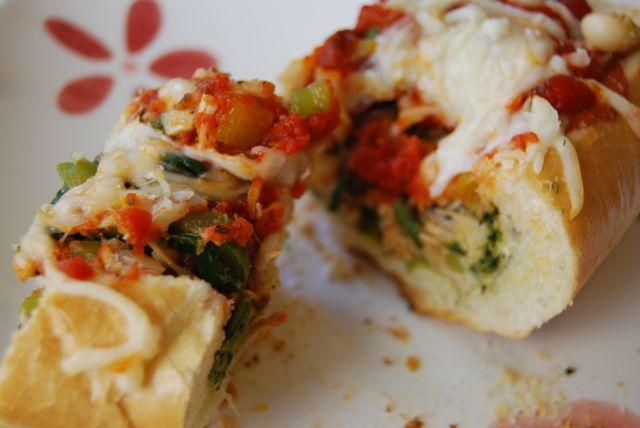 They were a little messy to eat…but crunchy, crusty bread and a warm, cheesy, saucy middle? That's a win in my book!
Enjoy!
–Lindsay–
LEARN HOW FOOD AFFECTS YOUR BODY.
Get my free Table Talk email series where I share bite-sized nutrition information about carbs, protein, and fat, plus bonus information about snacks and sugar!