Hi Friends!
Time for another Foodie Penpals Reveal Day!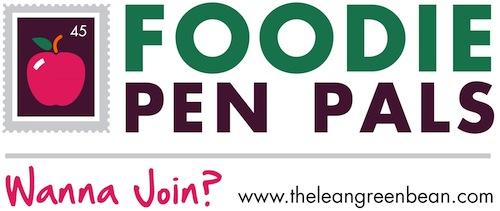 This month I traded boxes with Jeanine. She shares my love of crossfit and indulged my love of homemade cookies so we're pretty much BFFs now! Here's what she sent me: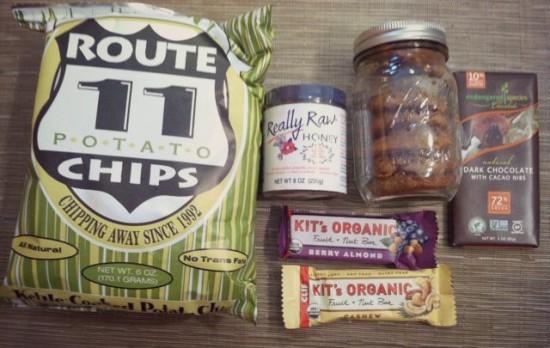 Potato chips – good thing I took a pic before I left because when I came home, hubby had eaten almost the entire bag!
Honey- saving this to mix into my peppermint tea next time I get sick
Kit's Organic Bars – these were new to me! Tasted great!
Dark Chocolate – you can never have to much 🙂
Homemade cookies! So good. The way to my heart!
Thanks so much Jeanine!!
————
And now it's time for some details about Foodie Penpals. In case you're a new reader, here's a reminder of what the program is all about:
-On the 5th of every month, you will receive your penpal pairing via email. It will be your responsibility to contact your penpal and get their mailing address and any other information you might need like allergies or dietary restrictions.
-You will have until the 15th of the month to put your box of goodies in the mail. On the last day of the month, you will post about the goodies you received from your penpal!
-The boxes are to be filled with fun foodie things, local food items or even homemade treats! The spending limit is $15. The box must also include something written.
-Foodie Penpals is open to blog readers as well as bloggers.
-Foodie Penplas is open to US, Canadian & European residents. Please note, Canadian Residents will be paired with other Canadians only. Same with Europeans.
If you're from the US or Canada and are in participating for November, please CLICK HERE to fill out the participation form and read the terms and conditions.
You must submit your information by November 4th as pairings will be emailed on November 5th!
——————
Enjoy!
–Lindsay–
LEARN HOW FOOD AFFECTS YOUR BODY.
Get my free Table Talk email series where I share bite-sized nutrition information about carbs, protein, and fat, plus bonus information about snacks and sugar!