Hi Friends!
As some of you may know, this week is National Eating Disorder Awareness Week. Yes, I realize we're at the tail end of the week…but this is an issue that extends way beyond awareness week and is still worth talking about, so we're interrupting Fitness Friday to do just that!
Depending on how long you've been reading this blog, you may have seen me mention a few times that I struggled with disordered eating when I was younger. I haven't always had the healthy, balanced relationship with food that I do now. That doesn't mean I'm going to blog about it in detail, but it does mean that this week holds a special place in my heart for several reasons.
I have first hand experience so I know what it feels like to struggle.
I have a bachelor's degree in Psychology so I understand some of the psychology behind the disease.
I'm a future RD so I know the physical and nutritional implications of eating disorders.
I have first hand experience so I know what it feels like to win the battle.
This is an issue that affects SO many people every single day. The theme of this year's NEDA Awareness week is "everybody knows somebody" and I guarantee it's true.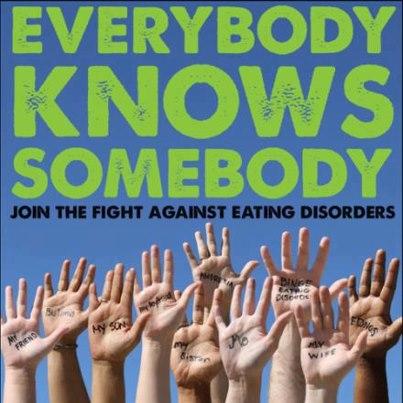 Earlier this week, my friend Clare wrote a great post about NEDA week. In that post, she issued a challenge that really stuck in my mind and I've been thinking about it all week. It's called the "My Body Doesn't Make Me Beautiful" challenge.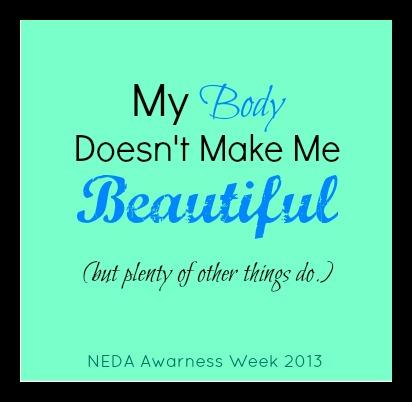 In her post she challenges everyone to do the following: "See if you can refrain from talking about, judging, or valuing yourself or anyone else (including celebrities) because of their body. Not that anyone is too skinny, too fat, has a little celulite, lost the baby weight, or even looks great. Nothing. This week we will value people for their love, intelligence, compassion, humor, and more, but NOT because they have a great body."
I'm accepting Clare's challenge. There are so many things BESIDES my body that make me beautiful.
Here are 3 of them:
1) Determination
When I decide I want to do something, I always give 110%. I pour my heart and soul into doing the best job I can and I don't give up when I face setbacks or failures. Instead, I use those failures to motivate me to do better in the future.
2) Selflessness
I love giving to others. I truly care about making sure others are happy, successful and taken care of. I go above and beyond for others without expecting anything in return and am always willing to help someone in need. Nothing makes me happier than paying it forward.
3) Passion
I took a chance and followed my dreams because I believe in the importance of doing something you're passionate about. I am 100% committed to helping others use nutrition and exercise to live a happy, healthy life. I love what I do and my passion for helping others motivates me to keep learning, teaching and inspiring others.
———————–
So, do you know someone that's affected by an eating disorder? Are you affected yourself? What can you do? Here are a few ideas:
Be a good listener: Make yourself available to anyone who needs someone to talk to. Even if you don't say anything, sometimes just lending an ear while they talk through it themselves can make all the difference.
Educate yourself: Visit the NEDA website for links to webinars, podcasts, articles, etc about eating disorders. The more you understand, recognize the signs and are aware, the more you can help.
Help raise awareness: Talk about it. Eating disorders are scary, but they affect a lot of people. Don't sweep them under the rug. Talk about them, what they are, who is suffering from them, what you can do to help.
Give someone a compliment: Next time someone at work does a great job on a project, tell them you admire the work they did. Next time your child does something nice for a sibling or friend, take the time to recognize that you love what a nice gesture that was. Or check out the Operation Beautiful campaign and spread the love that way!
Talk to your kids or any kids you spend time with: Mizfit Online wrote a great post about building body confidence in little people. Take the time to show kids that it's things like intelligence, compassion and dedication that make them truly beautiful. That despite what the media says, true beauty comes from within.
Be a good role model: Make an effort to focus on the things inside you that make you beautiful, not just whether or not you've lost weight or are having a good hair day. Others will pick up on it.
Don't give up: People may need your help and just not realize it yet. They may push you away. But stick around. It's important for you to be there when they do reach out.

Do just one thing

: If every single person who reads this post does just one thing to raise awareness, tons of lives could be changed for the better.
———————
I want to live in a world where EVERYONE realizes how beautiful they are. Where I don't have to read articles like this. Where the media glorifies the difference someone makes in the world, instead of the difference in their weight from a few months ago. Being aware of, understanding and helping those suffering from eating disorders is a step in the right direction!
Remember- it's not your body that makes you beautiful. It's your soul, your spirit, your passion and your heart!
Now it's YOUR turn! Tell me what makes you beautiful?
–Lindsay–
If you or someone you know is struggling with an eating disorder, visit the NEDA website for more information, ways to get involved and places you can find help.
LEARN HOW FOOD AFFECTS YOUR BODY.
Get my free Table Talk email series where I share bite-sized nutrition information about carbs, protein, and fat, plus bonus information about snacks and sugar!