Hi Guys!
If you visited my post yesterday about How To Eat Healthy During the Week, you know that I promised to tell you about the big batch of Mexican couscous I made over the weekend.
One of my favorite ways to make meals easier is to make a base, like this mexican couscous, that can be used in a variety of different ways. Do some experimenting and find some combos that work with your tastebuds. These bases are totally customizable.
Here's what you need:
-a grain (rice, couscous, quinoa, farro, etc)
-a protein source (meat, beans, lentils, etc)
-vegetables (any combination you happen to have on hand)
-optional: a fresh herb that goes with your base's theme (cilantro, parsley, etc)
Here's what I used for my Mexican Couscous base:
-1 cup pearl couscous, uncooked
-1.5 cups black beans
-1/2 cup corn
-1 cup diced red pepper
-1 cup diced tomato
-2 Tbsp fresh cilantro
Directions:
1. Cook the couscous according to package directions.
2. Combine with remaining ingredients in a large container and store in the fridge.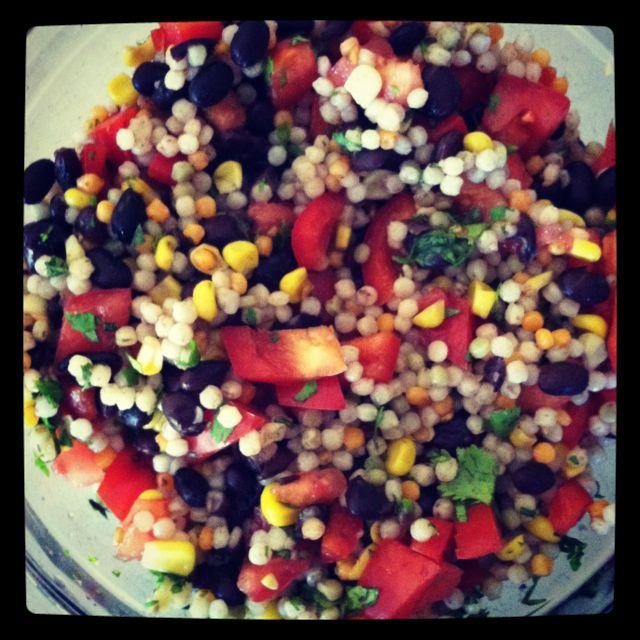 The key is to not add too many spices right now. This is just a base. When you decide how you want to use a portion of it, that's when you customize it to that specific dish.
Here's how I used mine:
#1- Sunday Night Dinner: Loaded Sweet Potatoes
I work Sunday nights so I'm always looking for a quick easy dinner when I get home. Loaded sweet potatoes are a staple in our house.
To make these:
1. Prick 2 sweet potatoes with a fork all over and microwave for 5-6 minutes, flipping once.
2. Slice the potatoes in half lengthwise and place on a plate.
3. Scoop about 1.5 c of the mexican couscous into a bowl. Stir in 1/3 c shredded Mexican cheese and season with a little paprika and cayenne pepper.
4. Microwave until the couscous is warm and the cheese in melted. Spoon the mixture on top of the sweet potatoes, top with salsa (if desired) and enjoy!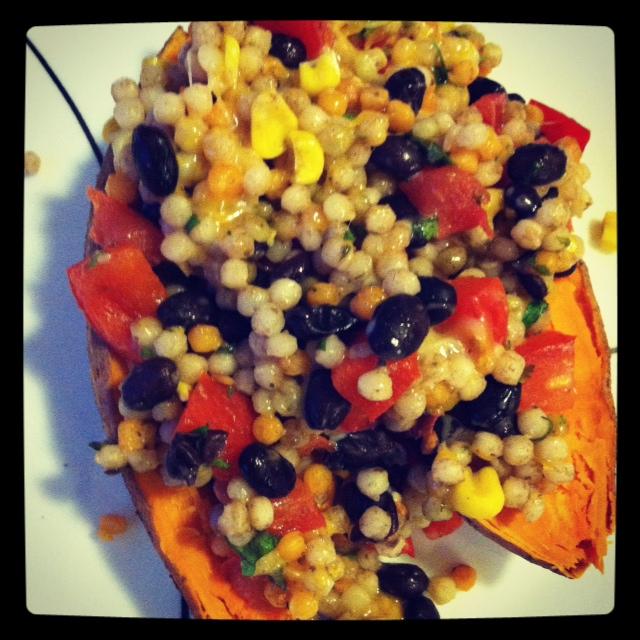 Hubby had his with salsa, I had mine without. I also would have added some avocado but mine weren't ripe yet.
#2- Tuesday Night Dinner: Tortilla Soup
Spend 5 minutes chopping some extra veggies and adding some extra beans to boost the nutrition and you can have yourself a delicious pot of tortilla soup in no time!
Here's what you need:
-1 cup black beans
-1 cup peppers and onions, diced
-1 jalapeno, diced
-2 cloves garlic, diced
-1 can diced tomatoes
-1 quart veggie broth
-2 tsp chili powder
-2 tsp cumin
-1 – 1.5 c mexican couscuos
-avocado and cheese to garnish
Directions:
1. Roughly chop the veggies, jalapeno and garlic and add to a large pot.
2. Saute until crisp tender, then add the beans, tomatoes, broth and spices.
3. Add the mexican couscous and simmer for 20 minutes.
4. Serve in bowls and garnish with avocado and cheese.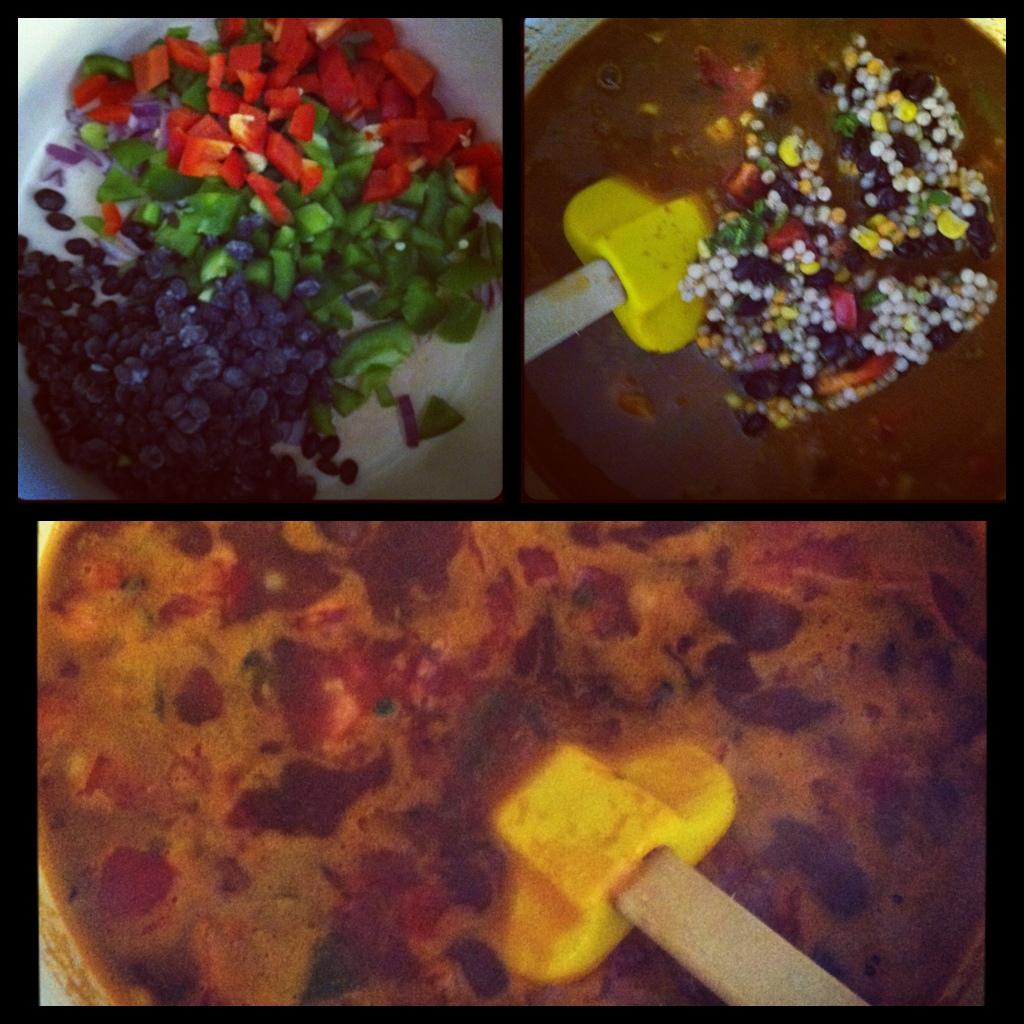 Serve with a sandwich- we had grilled cheese 🙂
This made enough soup for us each to have some for dinner & leftovers for lunch!
#3 – Wednesday Lunch: Tuna Salad w/ Couscous
For the third meal I decided to make some tuna salad. Everyone has their own favorite way to make it.
Here's what I did:
In a bowl, combine a can of lower-sodium tuna (drained), a couple tablespoons of plain greek yogurt and half and avocado. Throw some hummus in there too if you have it! Mash it all together. Add 1 cup of the Mexican couscous and stir to combine. Add spices of your choice. If you want to stick with the Mexican theme, use cumin, chili powder, etc. Since I'm weird, and I love curry powder on my tuna salad, I used curry powder, ground mustard and cayenne pepper. Add some green onions and mix well.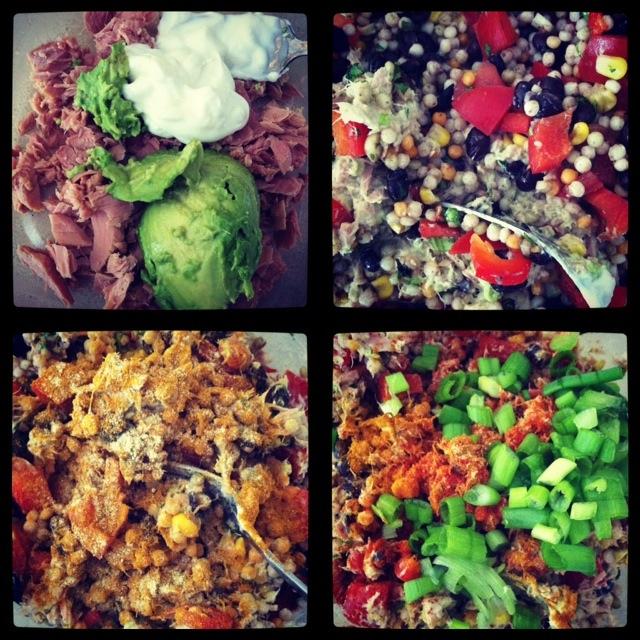 You can serve this a variety of way. I like to scoop mine up with crackers, but it would also be great in a wrap, on some toast, or stuffed into a bell pepper!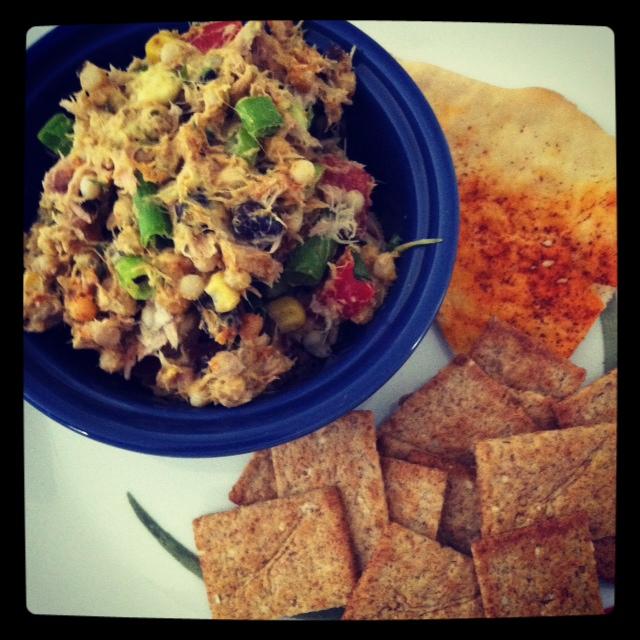 I ate about half and saved the rest for the next day.
So there you have it! One base, 3 totally different meals!!
If you liked this post and want to see another one, leave you suggestions from themes, ingredients, requests…and i'll see what i can do!
Enjoy!
–Lindsay
LEARN HOW FOOD AFFECTS YOUR BODY.
Get my free Table Talk email series where I share bite-sized nutrition information about carbs, protein, and fat, plus bonus information about snacks and sugar!