Hi Friends!
This week there is no Fitness Friday.
This week I broke my 5 1/2 month streak of getting 10,000 or more steps each day….and yes, it almost killed me… thanks to my stubborn, competitive nature.
This week there are no new workouts for you, no #proof pictures.
This week I wore more layers than I do in the middle of winter and still could not get warm.
This week I was in bed before midnight every single night.
This week, my body needed rest…
…and this week, I listened.
———————
Instead, I'm using today to tell you guys about a fun little challenge I've set up for the month of October!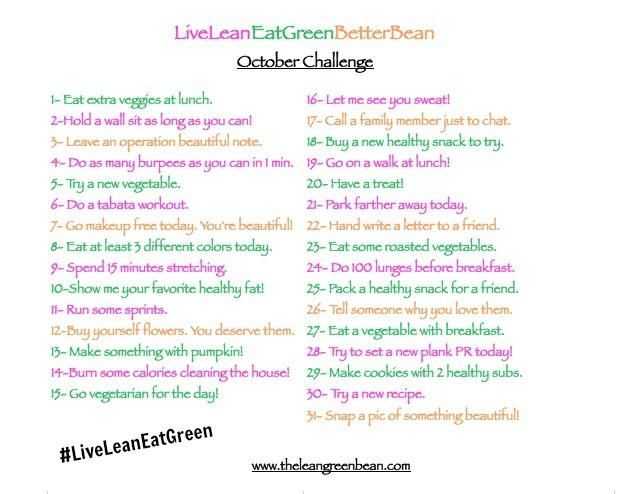 This challenge is meant to be fun! Each day there's a simple task to complete. The tasks in green involve healthy food choices, the tasks in pink involve fitness and the tasks in orange involve appreciating life! The challenge is a nice mix of all three. I'll be completing each task, and taking a picture of each one.
Now for the fun part! I'd love to have you join me!
Are you up for it? Just perform the task each day, then capture it in a picture. Upload it to instagram, twitter or facebook and be sure to tag me and use the hashtag- #LiveLeanEatGreen 
Here's how to find me:
On instagram: @theleangreenbean
On twitter: @leangrnbeanblog
On facebook: The Lean Green Bean
I can't wait to see some great pictures of you guys making healthy food choices, moving more and appreciating life!
And guess what?! There's more!
Each day I'll pick one photo to be the winner of the day. At the end of the month i'll do a recap post. It will include a recap of all my pictures from the month, and a recap of all of the daily winners! And at the end of the month, all 31 daily winners will be entered into a drawing and I'll pick one winner to receive a special package from me stuffed full of  fun stuff! Healthy eats, tasty treats and whatever other fun stuff I come across throughout the month! Just a little thank you from me to you for participating in my challenge!
So what do you say!? Challenge starts Monday!
Who's in?!
If you're excited to participate, please help spread the word! Tweet about it. Post the challenge on instagram and facebook. Tell your friends! The more the merrier.
Enjoy!
–Lindsay–
LEARN HOW FOOD AFFECTS YOUR BODY.
Get my free Table Talk email series where I share bite-sized nutrition information about carbs, protein, and fat, plus bonus information about snacks and sugar!