Heyyyyyyyyy Friends!
It's time for another Foodie Penpals reveal day!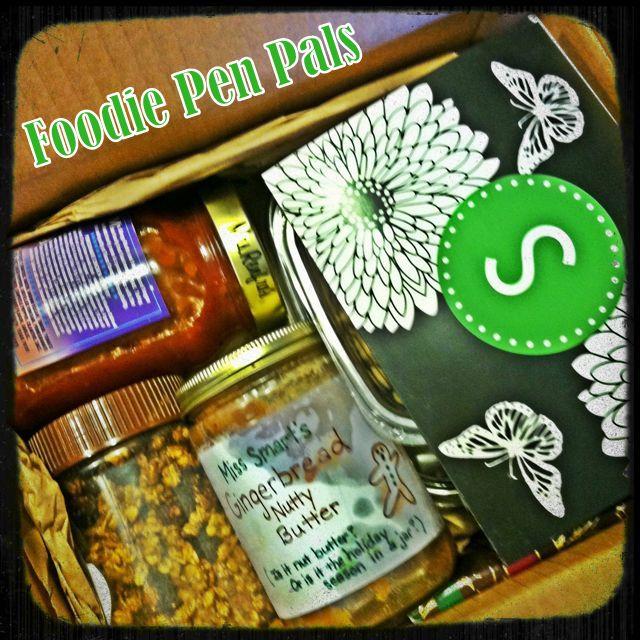 And let me tell you, I got some GOOD stuff this month! I got my box from the lovely Sarah at Sarah Snacks. She's totally adorable and one of my fav bloggers, not only because she's also in school to become an RD but because she whips up delicious recipes and is fun to chat with on Twitter 🙂
Check out what she sent me:
Expertly packed so everything made it in one piece!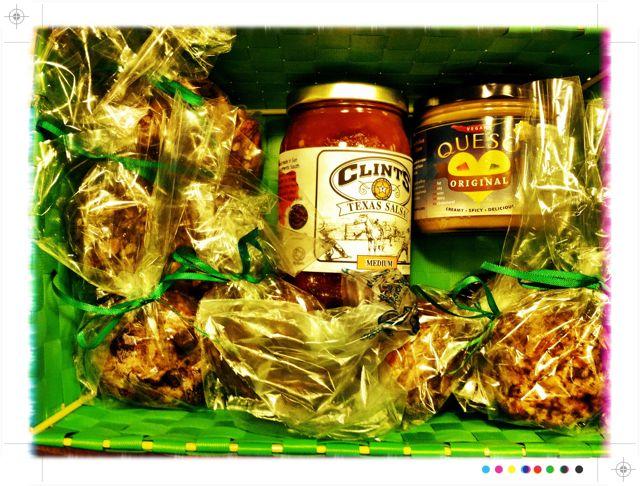 Look at all those goodies! And such a fun green basket…which is now conveniently holding the million supplies we need to take care of our wounded puppy! (Who, by the way, did not end up needing more stitches, but still has his paw wrapped and has successfully eaten his entire bandage twice more…sigh…good news is the paw does appear to be healing, slowly but surely)…ANYWAYS…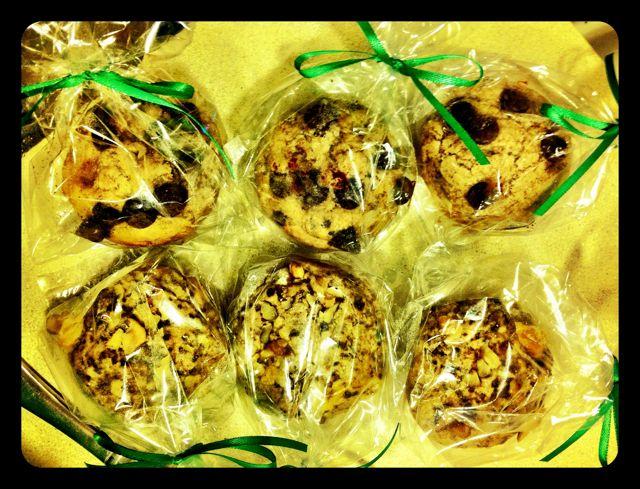 She sent me homemade treats, which I love! Banana chocolate chip and banana walnut muffins!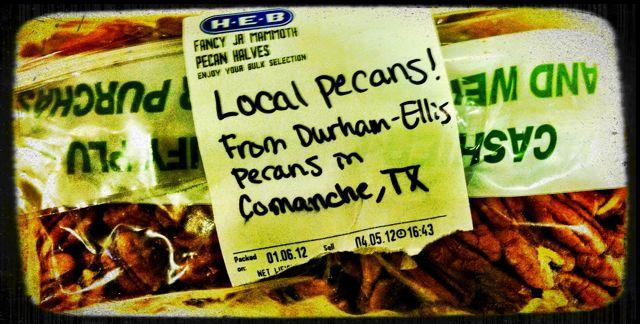 Local Texas pecans. A little back story…I complained on twitter a few months ago about how all the Christmas cookies i wanted to make used pecans but they were SO expensive here in Ohio. She told me they have pecan trees in Texas and she'd send me some when they were back in season. AND THEN SHE REMEMBERED! She's the freakin' best 🙂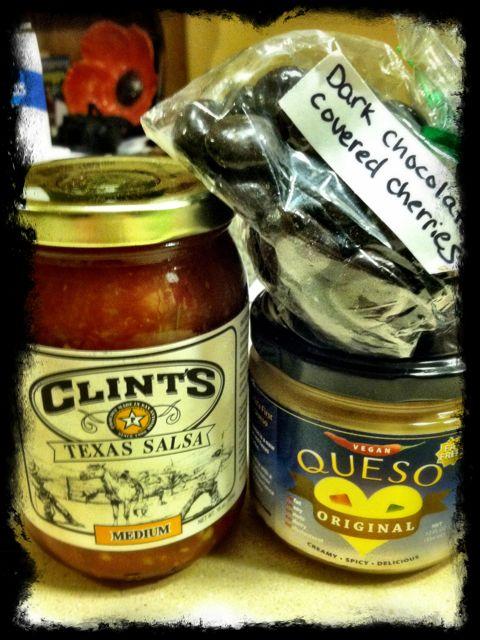 Dark chocolate covered cherries, which are delicious to munch on and are also probably going to be very good in the cookies I put them in 🙂
Vegan queso (Fun Fact: She's the second foodie penpal to send it to me. Foodies love the stuff!)
And that salsa. BEST.SALSA.EVER. The hubby and I devoured it in about 2 days. So good!!!
So like I said, I lucked out 🙂
In case you're now super jealous and would like to join in the fun, here are a few details about the program:
-On the 5th of the month, you will receive your penpal pairing via email. It will be your responsibility to contact your penpal and get their mailing address and any other information you might need like allergies or dietary restrictions.
-You will have until the 15th of the month to put your box of goodies in the mail. On the last day of the month, you will post about the goodies you received from your penpal!
-The boxes are to be filled with fun foodie things, local food items or even homemade treats! The spending limit is $15. The box must also include something written. This can be anything from a note explaining what's in the box, to a fun recipe…use your imagination!
-You are responsible for figuring out the best way to ship your items depending on their size and how fragile they are. (Don't forget about flat rate boxes!)
-Foodie Penpals is open to blog readers as well as bloggers. If you're a reader and you get paired with a blogger, you can choose to write a short guest post for your penpal to post on their blog about what you received. If two readers are paired together, neither needs to worry about writing a post for that month.
**The BIG news this month is that we're going to do a trial run in Canada.  I'm still not exactly sure how it will work with shipping costs and stuff since I'm not sure you guys up North have flat rate shipping boxes, but if you're willing to give it a try for a month and provide me with some feedback, that would be awesome!
Please note, Canadian Residents will be paired with other Canadians only. We've determined things might get too slow and backed up if we're trying to send foods through customs across the border from US to Canada and vice versa. So, I'm going to keep two separate lists and match US w/ US and Canada w/ Canada!
Sound like fun? If you're interested in participating for February, please send  an email to Lindsay at theleangreenbean@gmail.com and include the following information:
-Your full name
-Your email address
-Your blog name/address
-Your twitter handle (if applicable)
–WHETHER YOU ARE A US RESIDENT OR CANADIAN RESIDENT. – this is SUPER important so I can get you on the right list!
That's all for today friends!
Yesterday's workout:
I didn't sleep well the night before and literally had to drag myself off the  couch but it ended up being my best workout of the week. I hit the treadmill for some more intervals but decided I was going to jog during my recovery instead of walk.
Here's what I did: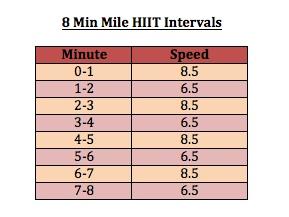 Pin It

So here's the deal. This workout was a bit of trial and error. For the first mile, I ran the very first minute at 8.0 and decided it wasn't fast enough so I bumped it up to 8.5. That mile too 8:12. For the next mile I did all 8.5/6.5 and it was 8:06 which I realize isn't exactly an 8 min mile per the title but it's pretty darn close! For mile 3, I was tired. So for the first 4 minutes I did 8.6/6.6. Then for the next 4 I did 8.6/4.5. Once I hit 8 minutes I was at 2.92 miles so I bumped it back up to 8.6 and finished mile 3 in 8:35. It was amazing!!! At first I felt bad that I had to walk for the second half of that last mile…but then I realized that all three of my miles were still faster than the fastest one I did on Saturday! Next time I'm going to try to do all of them at 8.6/6.6.
–Lindsay–