This Instant Pot Gingerbread Bread Pudding is the perfect dessert for a holiday party or family gathering. It can also be made in the oven!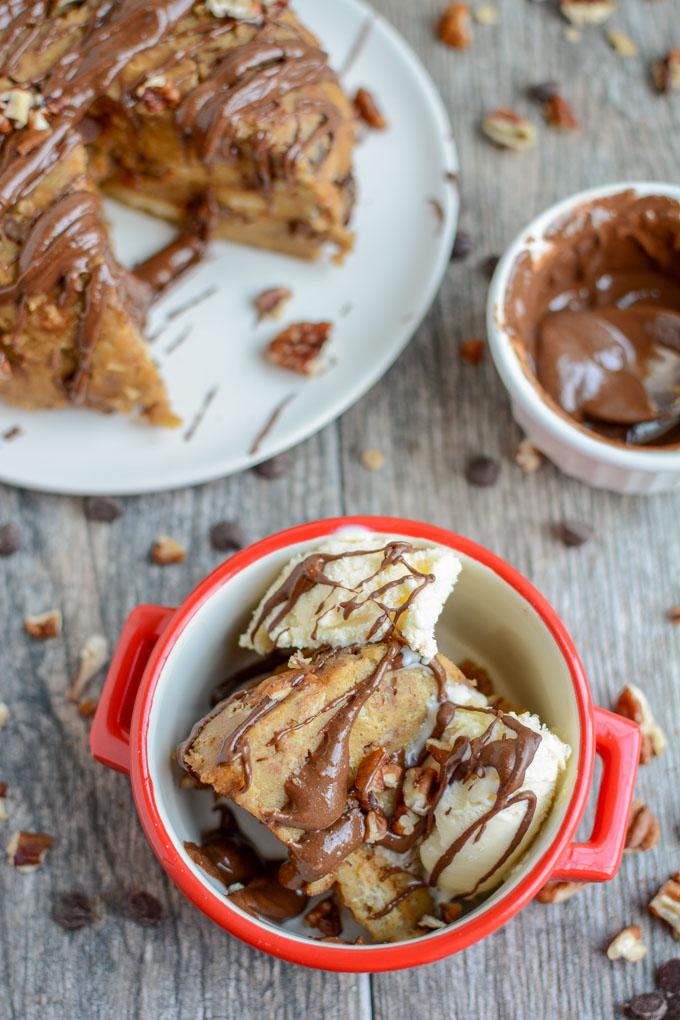 Hi friends!
Allow me to introduce you to your new favorite holiday dessert! Slowly but surely I've been using my Instant Pot for more than just dinner. Last week I shared a breakfast option – Instant Pot Oatmeal with Caramelized Bananas – and this week I've got dessert!
Isn't it kinda crazy that you can make dessert in a pressure cooker? You actually make this in a bowl within the Instant Pot and a little water on the bottom so it's kinda like you're steaming it. Here's what it looks like after you take it out.
Instant Pot Bread Pudding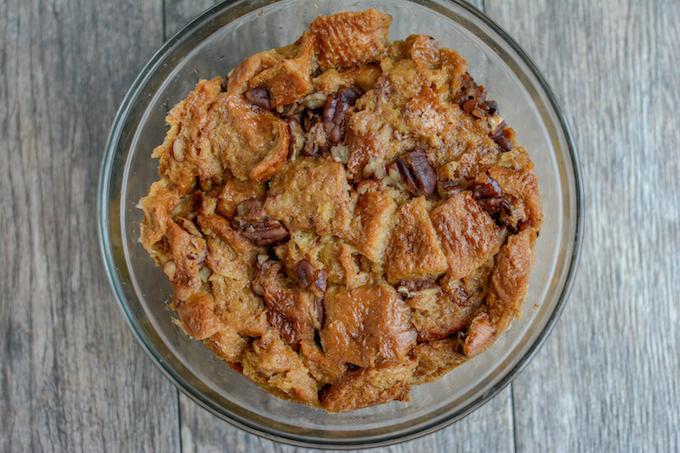 So, you won't get the traditional crunchy topping like you do with an oven-baked bread pudding, but I didn't miss it one bit! I actually turned this one upside down and smothered it in a mixture of almond butter and chocolate, which really took it to the next level.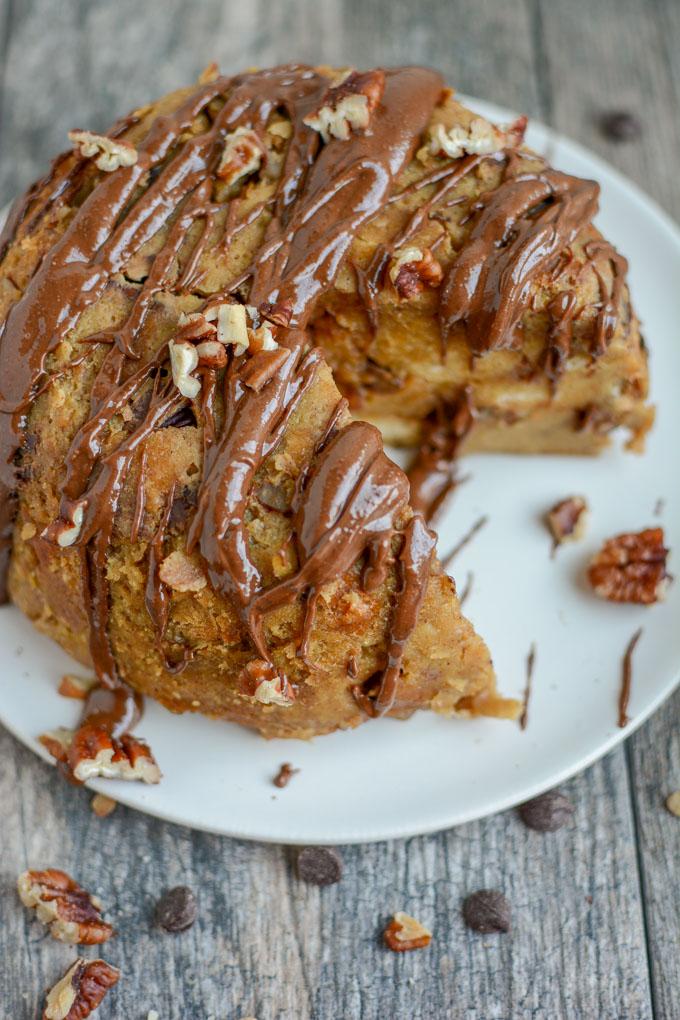 That is, of course, totally optional. You could easily just serve this straight out of the bowl. I made this twice while my parents were visiting a couple weeks ago and then made it again in the oven. I wanted to be sure those of you who don't have an Instant Pot could still enjoy this deliciousness!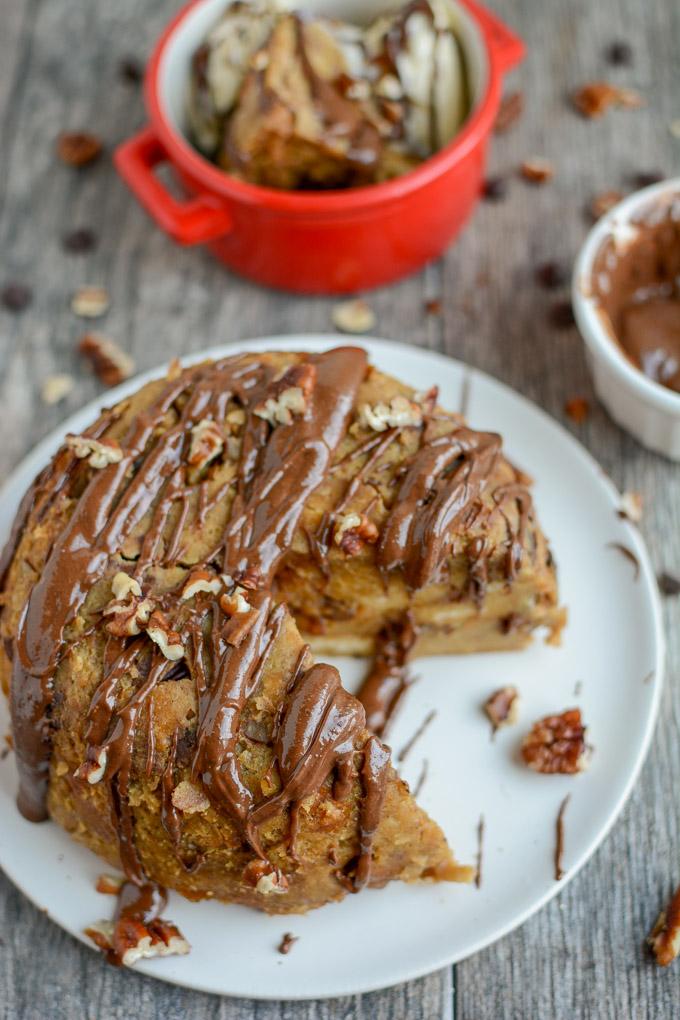 Before you start, make sure you have a safe bowl to use. I used a glass pyrex-type bowl but you can also use silicone, ceramic, stainless steel, aluminum and even copper! Just don't use plastic or any glass that is not tempered.
I have the 6 quart Instant Pot and found that a 1.5 quart bowl was about as big as I could use in it. If you have a larger instant pot you could use a bigger bowl.
Instant Pot Gingerbread Bread Pudding Recipe
So, here's how you make it!
Print
Instant Pot Gingerbread Bread Pudding
This Instant Pot Gingerbread Bread Pudding is the perfect dessert for a holiday party or family gathering. It can also be made in the oven!
Author: Lindsay
Prep Time:

10 min

Cook Time:

20 min

Total Time:

30 minutes

Yield: serves

6

-8

1

x
6 cups

cubed French bread (slightly stale if possible!)

3

eggs

1.5 cups

milk

1/3 cup

brown sugar

2

Tbps molasses

1 tsp

vanilla extract

1 tsp

cinnamon

1 tsp

ginger (dried)

1/2 cup

chopped pecans

1.5 cups

water
almond butter, chocolate chips & pecans for topping, optional
Instructions
In a large bowl, combine eggs, milk, brown sugar, molasses, cinnamon, vanilla, ginger and chopped pecans and mix well.
Add cubed bread and stir until well coated.
Let sit 5 minutes.
Transfer to a greased 1.5 quart glass bowl.
Place the steamer rack in your Instant Pot.
Fold aluminum foil in half lengthwise and then in half again to make a sling. You'll want to lay this across the steamer rack and fold up in a U shape. Then place the bowl on the rack on top of the foil. The goal is to make a sling so you can lift the ends of the aluminum foil to lift out the bowl once it's done cooking.
Add 1.5 cups water to the bottom of the Instant Pot. Seal the Instant Pot and use manual mode to set the timer for 20 minutes.
Use the quick release and carefully lift the bowl out using the foil sling.
If desired, let cool for 5 minutes, then trace around the edges with a spatula or knife and turn bowl upside down to release onto a plate (like an upside down cake).
Optional: Melt almond butter and chocolate chips, mix together and drizzle on top along with extra chopped pecans. Slice and serve warm topped with ice cream!
Notes
You don't have to turn this upside down, you can serve it straight out of the bowl if you want.
To make this in the oven, add an extra egg to the ingredient list, mix as directed above and pour into a  9×9 pan (greased or lined with parchment paper. Bake at 400 for 20-25 minutes.
Pretty easy right? The hardest part is probably making sure you have a 1.5 quart bowl that's safe to put in the Instant Pot. Mine was anchor brand which is similar to pyrex.

Reminder – this is the Instant Pot I have. (Affiliate link) And you can find all my Instant Pot recipes here.
Enjoy!
–Lindsay–
LEARN HOW FOOD AFFECTS YOUR BODY.
Get my free Table Talk email series where I share bite-sized nutrition information about carbs, protein, and fat, plus bonus information about snacks and sugar!