Over the weekend I made a little challenge for myself. I have this binder: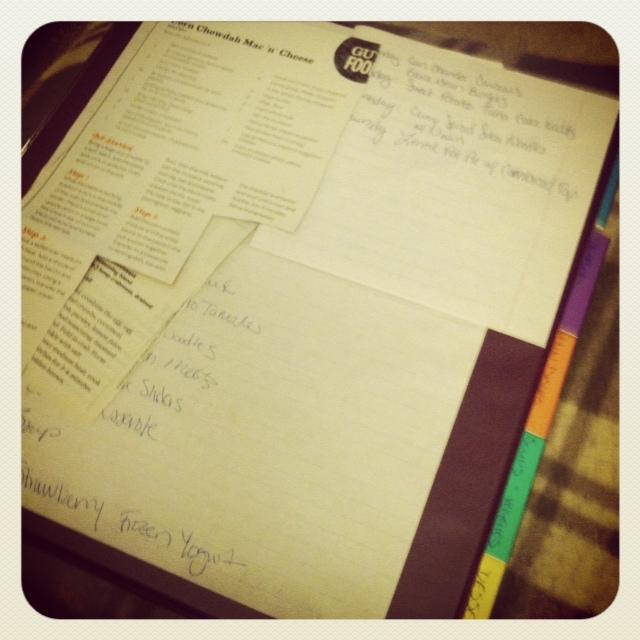 I get a lot of cooking magazines and I'm constantly tearing out recipes and ideas that I want to try. Occasionally (read: about twice a year), I sit down and actually organize my huge pile of torn out pages into categories, cut the recipes down to smaller sizes and put them in my binder. This is all well and good…except that i RARELY ever actually make any of the recipes.
So, this week, after I had everything all organized, I spent some time looking through the binder and made a list of some things I wanted to try this week. This is the first week in a while where I finally have some time to cook so the timing worked out pretty well! I pulled out a few recipes that I'm planning to try this week and stuck them in the front cover of the binder for easy access.
Today for lunch I tried out the first recipe- Risotto Cakes. It's a tiny little scrap, not even really a recipe, that explains how to turn your leftover risotto (or orzotto in my case) into risotto cakes!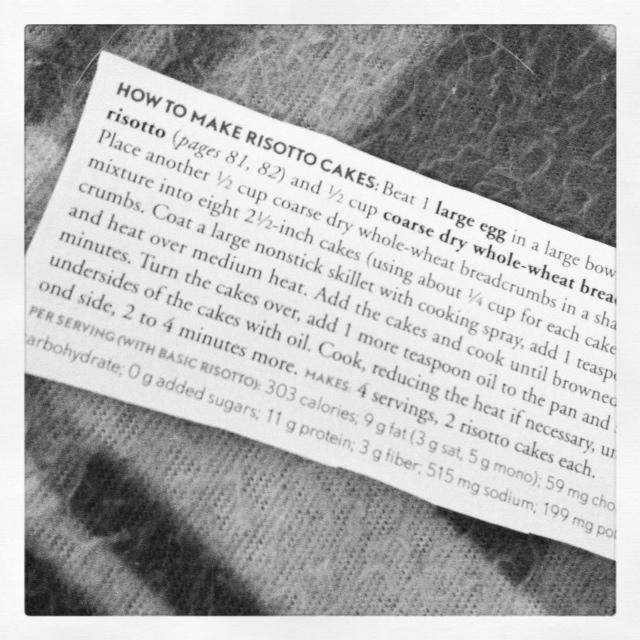 This is a fun way to transform your leftovers into what feels like a completely new dish! I served mine on a bed of spinach…modeled after my all-time favorite crab cake salad that I can't get any more because the restaurant that served it closed 🙁
These are quick and easy enough to make for lunch, and hearty enough for dinner.
[print_this]
Risotto Cakes
Makes 6-8 cakes
2 cups cold leftover risotto/orzotto
1 egg
1 c breadcrumbs (panko or regular), divided
Directions:
1. In a small bowl, beat the egg.
2. Add the risotto and 1/2 c breadcrumbs and mix well.
3. Pour the remaining breadcrumbs onto a plate.
4. Form the risotto mixture into patties and coat with breadcrumbs.
5. Heat a large skillet (cast iron or nonstick) with vegetable oil. Pan sear until golden brown on both sides.
[/print_this]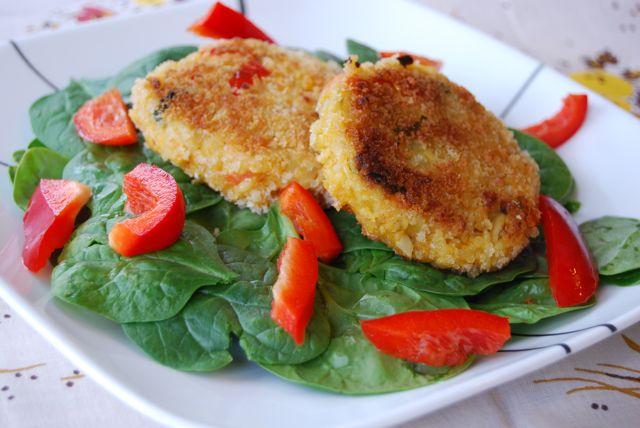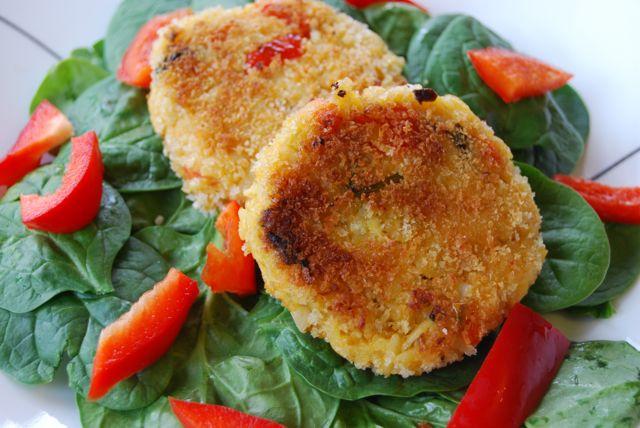 Add a little of your favorite salad dressing and a few extra veggies if you want!
What's your favorite way to transform leftovers?
Enjoy!
–Lindsay–
PS…Hubby told me these were the best risotto cakes he'd ever had. I told him he'd never had risotto cakes before…He told me not to split hairs 😉