These Gluten-Free Chicken Ramen Noodles are perfect for a quick and easy weeknight dinner. Transform leftover chicken into a flavor-packed soup everyone will love!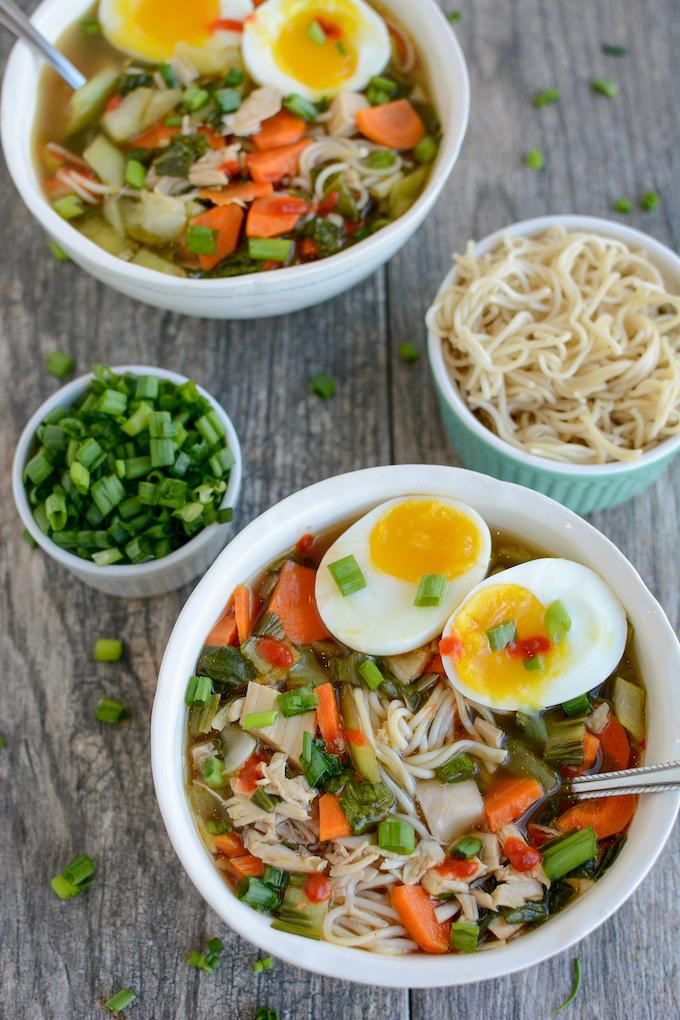 Hi friends!
If you've been around a while, you know I'm a big fan of food prep. I often prep lots of different components and then mix and match them during the week for easy meals. One of the things I cook almost every weekend is a batch of chicken. I most often use it for quick salads and rice bowls, but now that the weather is getting colder, I've started craving soup.
These gluten-free chicken ramen noodles have become my favorite way to repurpose leftover chicken into a new meal. It comes together quickly on the stovetop, has lots of flavor and a lot of the ingredients are pantry staples. The only one I need to make a special effort to buy is baby bok choy. While it's a veggie I really enjoy, it's not one I buy every week. So I try to make an effort to toss it in the cart every few weeks just so I can make this.
Gluten-Free Ramen Noodles with Chicken
Let's talk about the ingredients:
Cooked chicken- I use leftover chicken for this recipe to make it quick but you could also cook the chicken right before making the soup
Baby bok choy – you can sub spinach
Carrots – in this batch i sliced them thinly but you can also grate or spiralize them into noodles to help them cook more quickly.
Ginger – You can either use grated fresh ginger or a ginger paste from Gourmet Gardens (easy to keep in the fridge so you always have it on hand)
Garlic- for flavor!
Tamari – I use tamari to keep it gluten-free. You may sub soy sauce if you don't need it to be gluten-free
Eggs – these are optional but if you like soft-boiled eggs you can boil them right in the same pot as the noodles.
Ramen noodles- my favorite gluten-free option is Lotus Foods Brown Rice ramen
Hot sauce – I love the jalapeno condiment from Yellowbird.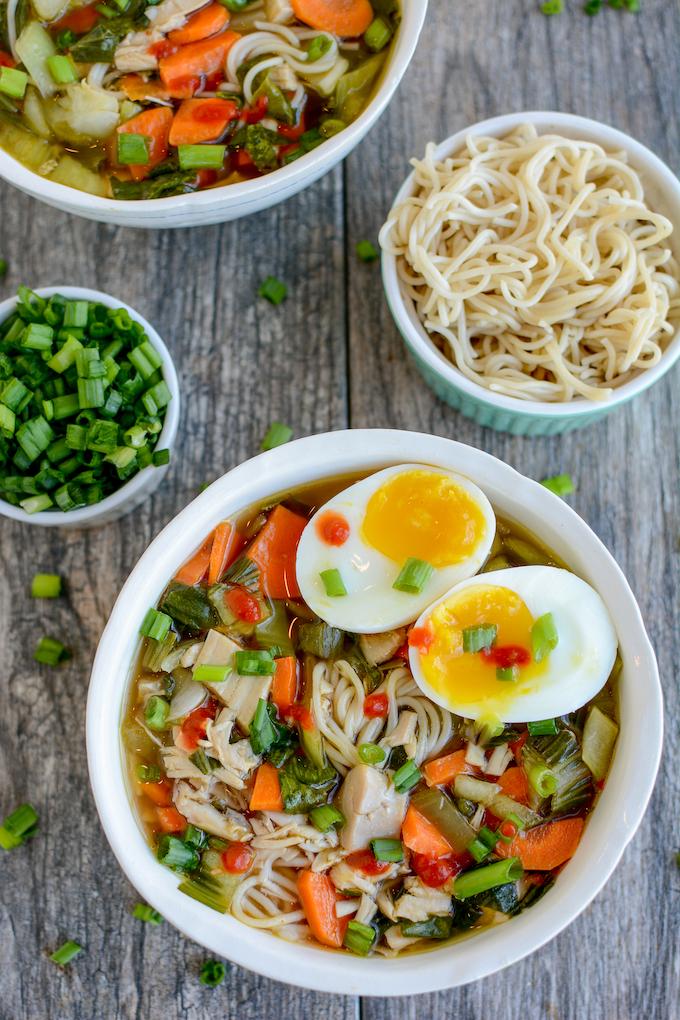 More recipes ideas:
If you like the sounds of this recipe, here are a few more you could try:
How to Make Gluten-Free Ramen
The key things to note about this recipe that make it gluten-free are the tamari and the noodles. Tamari is a gluten-free sub for soy sauce which is commonly used in ramen recipes and not all ramen noodles are gluten-free so just make sure to check if you use a brand besides Lotus foods. Also, check to make sure your broth is gluten-free.
Here's how you make it:
Print
Gluten-Free Chicken Ramen Noodles
These Gluten-Free Chicken Ramen Noodles are perfect for a quick and easy weeknight dinner. Transform leftover chicken into a flavor-packed soup everyone will love!
1 Tbsp

oil

1

Tbps grated fresh ginger

3

cloves garlic, minced

3 cups

baby bok choy, chopped (approx

1

bunch)

2 cups

thinly sliced carrots (or spiralized)

3 cups

cooked chicken, diced

1 quart

chicken broth

1/4 cup

tamari (sub soy sauce if not gluten-free)

3

blocks Lotus Foods Brown Rice ramen

1/4 cup

sliced green onions

4

eggs, optional
hot sauce and salt to taste
Instructions
In a Dutch oven or pot, heat oil over medium heat.
Add garlic, ginger and carrots and saute 5 minutes.
Add bok choy, chicken, broth and tamari and bring to boil.
Reduce heat to simmer.
Meanwhile, heat water for ramen in a separate pot. Bring to a boil.
Add ramen and eggs if you want soft boiled eggs.
Cook six minutes, then move eggs to ice bath and drain water from ramen.
Taste broth and add hot sauce and salt as needed. Peel eggs.
Put noodles into bowls, add broth mixture. Top with a soft boiled egg and green onions.
Notes
Can sub spinach for bok choy – just don't add until the very end. You can also throw in some peas if you want.
If you don't need gluten-free, use regular soy sauce and whatever ramen noodles you want.
This quick and easy meal is definitely a favorite in our weeknight rotation.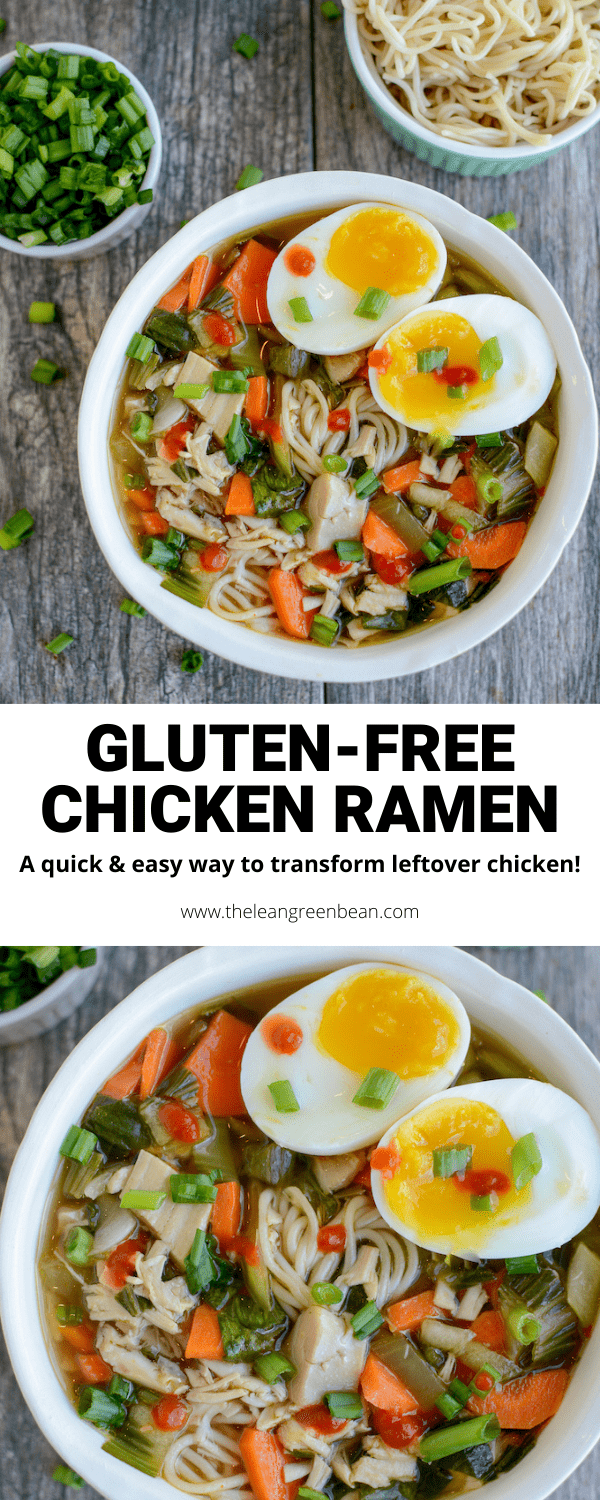 Enjoy!
–Lindsay–
LEARN HOW FOOD AFFECTS YOUR BODY.
Get my free Table Talk email series where I share bite-sized nutrition information about carbs, protein, and fat, plus bonus information about snacks and sugar!