Hi Guys!
Just popping in to finally share the recipe for my new favorite banana bread. I've been tweeting about it all week, so now it's time to spread the love!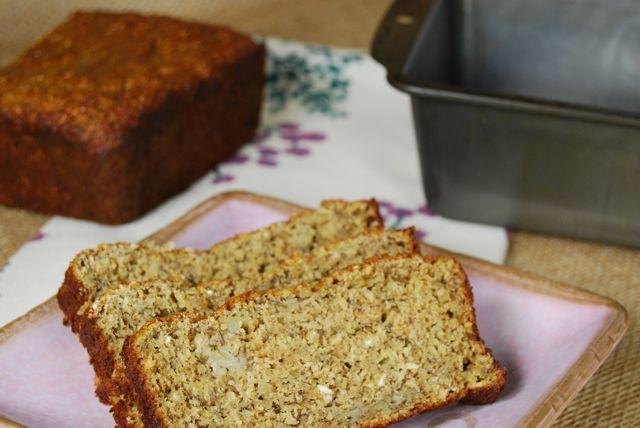 Let's talk about this banana bread. Yes, it is gluten-free as long as you used certified gluten-free oats. I don't really need it to be gluten-free, it just worked out that way! Let me tell you how awesome this bread is:
It uses chickpea flour. I'm not sure you guys are truly comprehending how much I love this stuff. It is amazing. Between my breakfast bars and this banana bread, I may never bake anything with wheat flour again. It's like all the nutritional benefits of chickpeas, in flour form.
It uses greek yogurt and applesauce to replace a lot of the butter that's usually in banana bread.
It uses less sugar than most banana breads, relying on the natural sweetness of the bananas.
If you cut the loaf into 12 slices, there are 5.5 grams of protein and 3 grams of fiber per slice.

So there you have it! If you gave this to someone who didn't know, they would never guess there was chickpea flour in it.
Gluten-Free Banana Bread
Prep Time: 5 min
Cook Time: 45 min
Keywords: bake bread breakfast snack gluten-free healthy vegetarian banana chickpeas oats
Ingredients (1 loaf)
1 c chickpea flour
1 c oat flour
1 tsp baking soda
½ tsp baking powder
2 Tbsp flax seed
1 tsp cinnamon
1 c mashed banana- about 3 medium bananas
1 tsp vanilla
2 eggs
¼ c plain Greek yogurt
3 Tbsp butter, melted
1 Tbsp apple sauce
½ c sugar
Instructions
Combine the bananas, vanilla, eggs, yogurt, butter, applesauce and sugar in a bowl and mix well.
Add the flours, baking soda, baking powder, flax seed and cinnamon.
Stir until just combined and pour into a well-greased loaf pan.
Bake at 350 degrees F for 45 minutes or until a toothpick is inserted and comes out clean.
So there you have it! Super easy to throw together and much healthier than most version!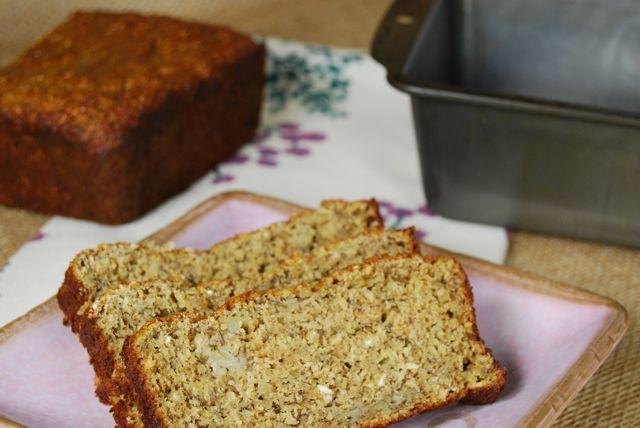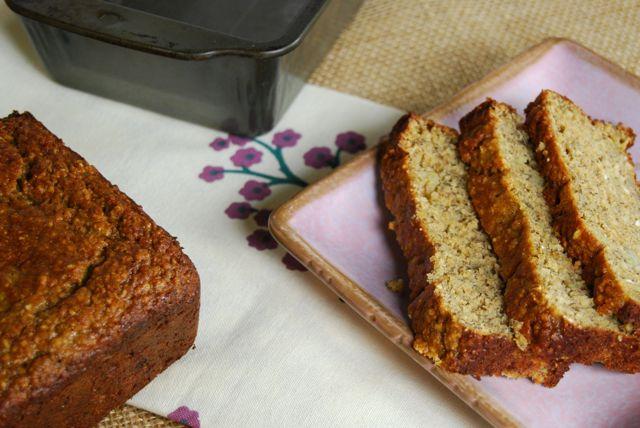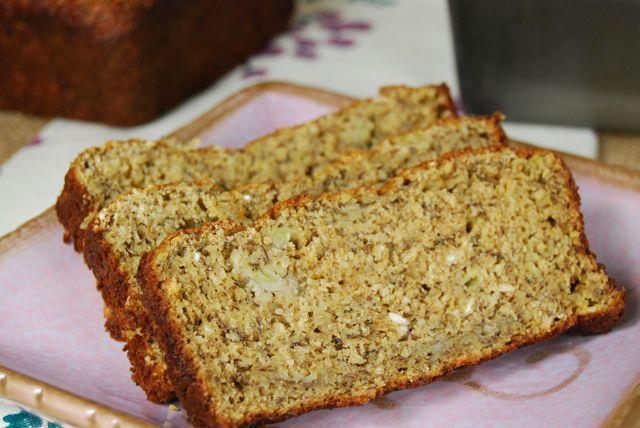 Know what the best part is? Hubby doesn't like bananas in baked goods so this loaf is alllllll for me 🙂
Enjoy!
–Lindsay–
LEARN HOW FOOD AFFECTS YOUR BODY.
Get my free Table Talk email series where I share bite-sized nutrition information about carbs, protein, and fat, plus bonus information about snacks and sugar!