Hi Friends!
Last week, I was contacted by the wonderful folks at Fitbit to see if I'd be interested in reviewing their newest model, the Fitbit Force. If you've been reading this blog for a while now, you may recall that I used to have a Fitbit Ultra and I LOVED it. I even wrote a whole post about how much I loved it after I got it for my birthday (Should I Get A Fitbit?). Unfortunately, it went through the wash a while ago so I've been without one for some time.
So, of course I jumped at the chance to check out this newest version.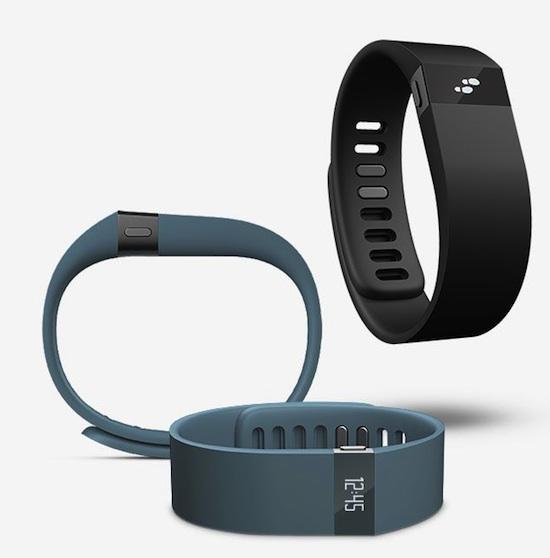 Like I said, I was sent the Fitbit Force, but they have several other models as well. Here are a few of them: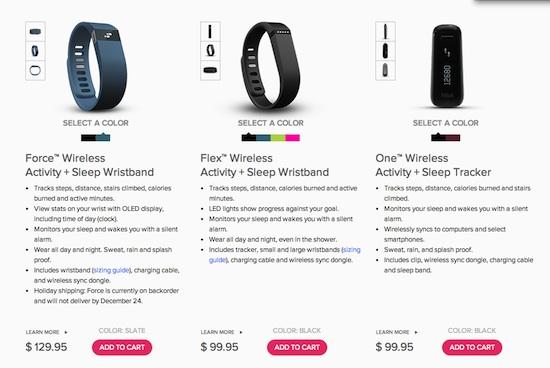 I've been wearing the Force for about a week now and so far I am LOVING it.
Here's what I like about it:
It's comfortable. I was a little nervous going from a clip-on to a wrist model…but one of the downsides of the clipon is that I was always forgetting to swich it when I changed clothes. The Force is a wrist band model and it's pretty much just like wearing a watch. It's easy to get on and off and adjustable to fit the size of your wrist (not a fixed size like some other brands).
The display. First of all, it tells the time, so it is, effectively, a watch. This makes it beneficial not only as a pedometer but also to tell time. You can  scroll through all of the things it tracks right there on your wrist so just by pressing a button a few times I can see the time, how many steps I've taken, how many miles I've traveled, how many flights of stairs I've climbed, etc.
Easy to use. It only took me about 10 minutes to set it up once I received it. You can view your stats on the computer, on the Force itself, or you can download the app for your phone.
Wireless synching. It wirelessly syncs to your computer and smartphone using bluetooth, so you don't have to plug it in except to charge it.
Long battery life. I've been using it for 5 days and still have half battery life.
Alarms. You can set silent alarms and it will buzz and vibrate when they go off. I have one set every hour during the workday to remind me to get up and move more throughout the day. You can set them to repeat on certain days, so I have mine set M-F but not on the weekends. Another option would be to use this as your morning alarm so you don't bother anyone else with a loud alarm clock!
Sleep tracker. Sometimes I forget to use this one, but I do think it's interesting. It tracks how often you wake up during the night and how many times you're restless. Neat to see.
Motivation. For me, just simply wearing a pedometer motivates me to move more. This came at the perfect time since I've found myself sitting way more than I should lately.
Other features:
Calorie burn tracker – I personally don't pay attention to this feature. The only time I would really want to know how many calories I've burned is during a workout and I think a heart rate monitor is a more accurate way to get that information. However, I do think it's a good reminder that our bodies do burn a crazy number of calories every day just while doing everyday things like breathing, walking, LIVING…so it's important to fuel your body properly and not starve yourself! (That's my inner RD coming out!)
Food & Drink intake tracker. You can log your intake and exercise, journal how you're feeling, track your weight, etc.
Connect with friends. If you know other people with a Fitbit, you can become friends and encourage each other!
Synch with other apps– You can synch your Fitbit to other apps you use like My Fitness Pal, Lose It, Spark People, Map My Run and more!
So now let's get a visual shall we?
Here's what it looks like on my wrist. The display only lights up when you press the button, otherwise it's solid black: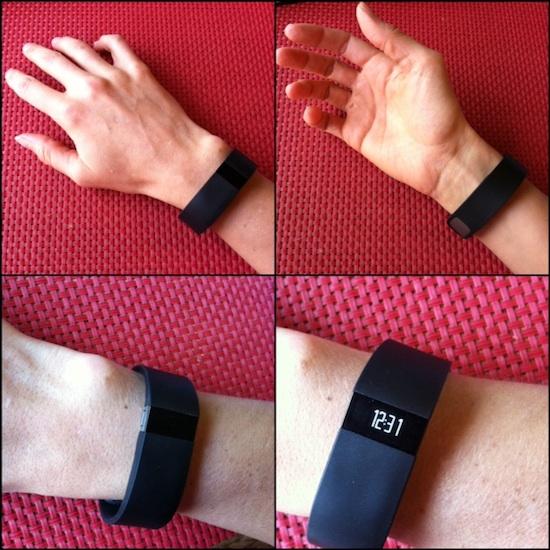 Here's what you see on your dashboard when you log in on the computer: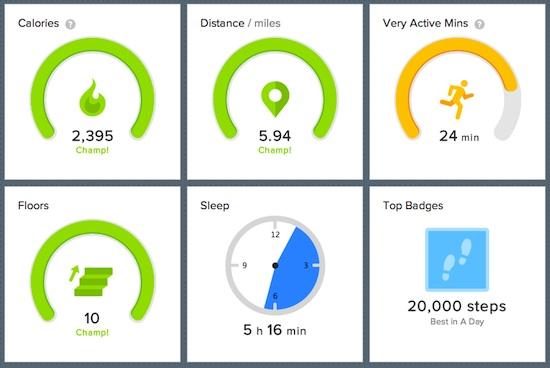 If you want to see more details about certain things, like sleep, you can find that info (yes, I know I need to get more sleep):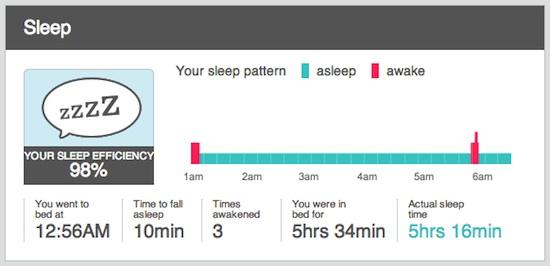 Some nights I sleep straight through, some nights I wake up more often: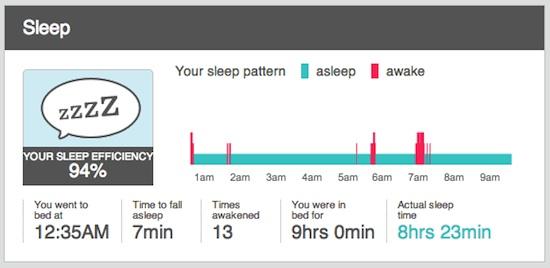 If you are tracking your food, you can input that info via your computer or phone:
I don't use this feature, but it looks similar to other food tracking apps: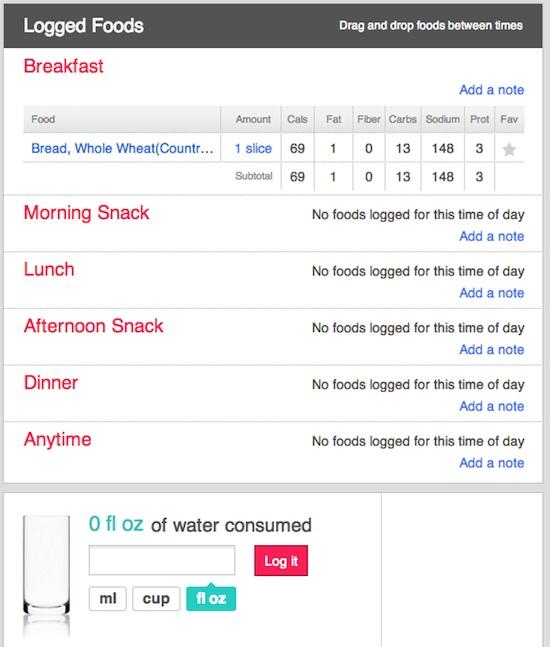 The app on your phone is also super easy to use and shows you all the same data as the computer dashboard. I'm still using all the default exercise goals but you can customize your daily goals for steps, miles, calories, active minutes and floors climbed.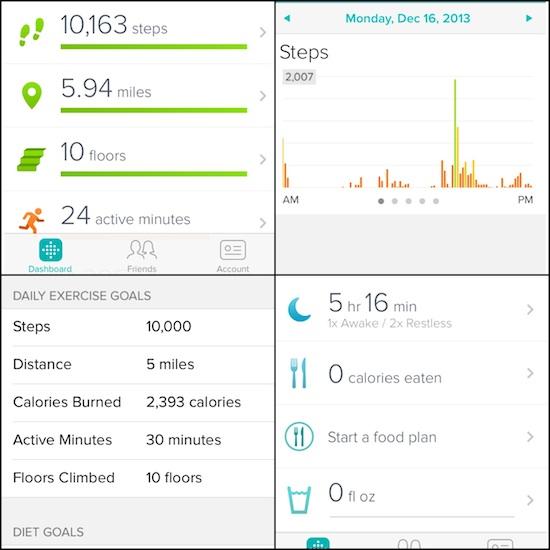 Overall, I love the Fitbit Force. I had trouble coming up with any downsides, but here are a few minor ones: :
It's not ugly, but it's also not super stylish. This doesn't matter to me, but it might bother some people. So far it only comes in black and blue.
It's pretty thin…but it could always be a little bit thinner.
It's water-resistant, so I wear it to workout but take it off before showering. It would be awesome if it were waterproof.
There are some downsides of a wrist-based tracker vs. a clipon as far as counting steps during activities where you don't move your arms a lot, etc…Fitbit does a good job of answering these FAQs here.  Overall, I feel like the Fitbit Force is fairly accurate. I use it with the understanding that it's not going to be 100% perfect…but it does a good job of giving me a idea of how much i'm moving throughout the day and encouraging me to move more than I do when I'm not wearing it! *Remember you can also measure your stride length and update that in the settings to make your tracker more accurate for you.
Other tidbits:
I am right-handed, but I wear the Fitbit on my right (dominant) hand instead of my non-dominant hand like most people. Fitbit takes this into consideration and makes it very clear that if you do this, you should update your settings so it knows that.
I love the adjustable sizing. When I'm working out, I just move it one notch looser so I can slide it up a little higher on my forearm and that way I can still wear my wrist wraps at crossfit.
Fitbit keeps things fun by giving you badges when you hit certain milestones, allowing you to challenge your friends and sending you alerts for extra motivation!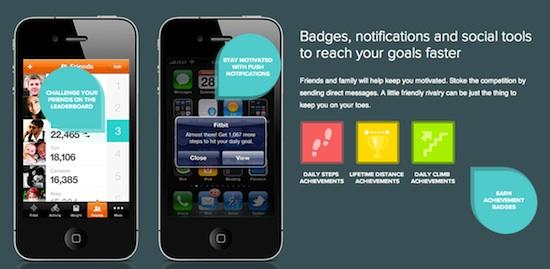 So, now that I'm done raving about my new gadget, how would you guys like one of your own?!
Enter the rafflecopter giveaway below for a chance to win a Fitbit Force! *US Residents only, Giveaway ends 12/23/13 at 11:59pm EST.*
Enjoy!
–Lindsay–
*I was sent the Fitbit Force free of charge. All thoughts & opinions are 100% my own.*