Hi Friends!
Happy Wednesday! Here's a fun new little side dish for you guys. The other night I found myself wanting to cook with farro. I discovered farro last year and fell in love. It's super healthy, a good source of fiber and protein and nice and chewy.
This week I was trying to decide what to mix it with and I couldn't get caramelized onions out of my head. After checking the fridge, I noticed we were pretty low on other vegetables…but we did have a bag of baby carrots.
In the winter, I seem to always turn to roasting vegetables…so I immediately thought to roast the carrots. Then I decided I didn't want them plain…so after they came out of the oven, I sliced them up and drizzled them with some balsamic vinegar.
After a few more last minute additions, this is what I served alongside our black bean burgers.
Farro w/ Caramelized Onions & Roasted Balsamic Carrots
Keywords: saute roast side healthy vegetarian vegetables farro feta
Ingredients (Serves 4)
1 1/2 c farro, cooked
1 Tbsp olive oil
1/2 an onion, sliced into thin rings and cut in half
16 baby carrots
1 Tbsp balsamic vinegar
1/2 c green peas
1/4 c crumbled feta
Instructions
1. Heat the olive oil in a pan over medium heat. Add the onions, lower the heat and saute slowly until caramelized.
2. Cook the farro according to package directions and set aside.
3. Place the carrots on a baking sheet and roast at 425 degrees F until soft and slightly blackened.
4. Remove the carrots from the oven, slice into bite-sized pieces, drizzle with balsamic vinegar and set aside.
5. Mix the farro, carrots and onions together in a bowl.
6. Saute the peas (if frozen) until warmed through and add to the farro mixture.
7. Add the feta and mix through.
8. Serve warm.
Notes
I served this without a dressing of any kind and we enjoyed it, but if you want a little more moisture, add an extra drizzle of of balsamic after everything is mixed.
You could also make a balsamic & red wine reduction to drizzle over the top.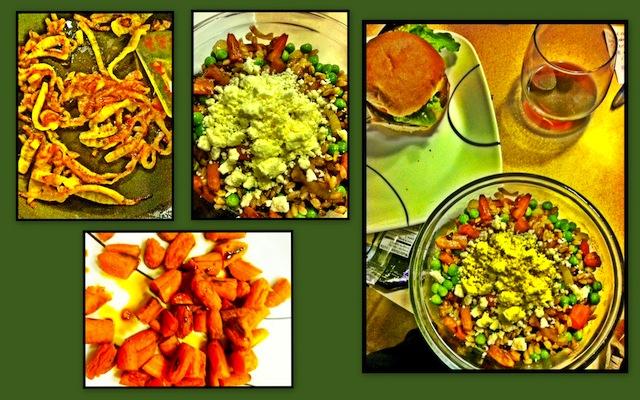 This was a fun, filling side dish that was a bit different from things I usually make!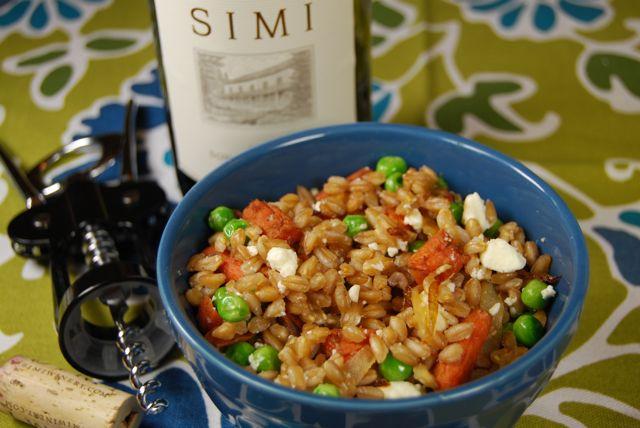 Enjoy with some wine like we did 🙂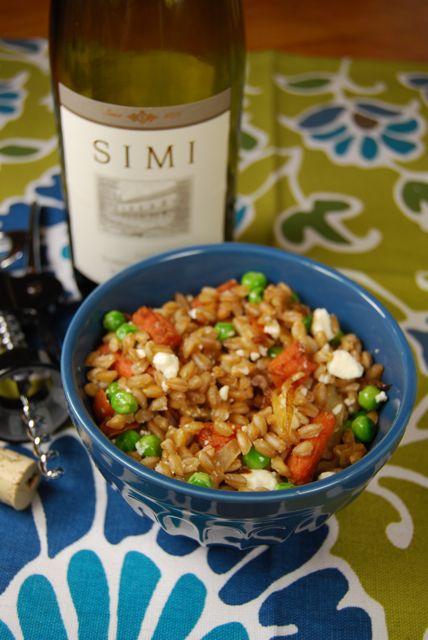 What's your favorite winter-inspired side dish?
Enjoy!
–Lindsay–
LEARN HOW FOOD AFFECTS YOUR BODY.
Get my free Table Talk email series where I share bite-sized nutrition information about carbs, protein, and fat, plus bonus information about snacks and sugar!