Hi Friends!
Remember how I'm a Dietetic Intern and I used to be really good at blogging about all the things I was doing in my rotations? Yeah, I do too. Not quite sure what happened there. Anyways, today is the last day of the rotation I've been at for the past 8 weeks so I figured I should get my act together and fill you guys in on what I've been doing!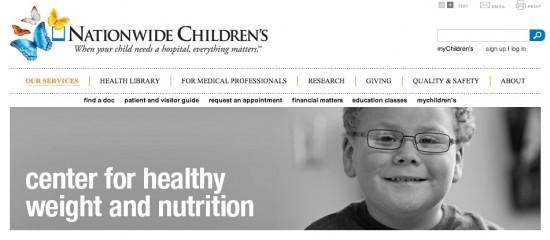 I've been interning at the Center for Healthy Weight and Nutrition, an outpatient clinic at Children's hospital here in Columbus. The center works with overweight and obese children and teens. Here's how it works: patients are referred by their primary care physician. They meet with the CHWN team (a doctor or nurse practitioner, plus an RD and Physical Therapist) and  the team and the family decide their course of action together. They can keep coming for follow-up visits with the team, they can enter an evening nutrition education and physical activity program called New U, or they can go the route of bariatric surgery.
Patients that choose to come back for follow-up visits are seen in the Healthy Weight Clinic. Each time they come in they see an MD/NP, an RD and a PT. There are three RDs that work with the CHWN- one has 30+ years of experience and the other two were closer to my age so it was nice to be able to see a range of different counseling styles and approaches from the three of them. Everyone at the center works well together, and they take a very collaborative approach to patient care, which you don't see everywhere.
I started out shadowing for a couple of weeks, but after that I was fully able to counsel patients on my own. I got A LOT of practice counseling and was able to really develop my skills which is something that I needed help with.
Almost all of the patients struggle with the same 4 main problems:
1) Not eating breakfast
2) Not having a snack or having an unhealthy snack
3) Drinking lots of high calorie drinks
4) Not eating enough fruits and vegetables and eating too large of portions of starches and meats
When we met with patients, we obtained a typical day of eats from them and then provided nutrition education based on the problem areas that came up during our discussion. At the end of the session we set goals for them to work on until their next visit.
We spent a lot of time educating about the importance of regularly scheduled meals and how they affect metabolism, encouraging healthy breakfast options and emphasizing the importance of combining a carbohydrate and a protein source for breakfast and all snacks. We also spent a lot of time reviewing the MyPlate diagram, reviewing age-appropriate portion sizes and encouraging them to use the 20 minute rule.
Finally, we emphasized the importance of keeping sugar out of their drinks. We had test tubes full of sugar to show them how much sugar was in the regular sodas they drink. Many families were also drinking whole or 2% milk so we tried to get them to switch to at least 1% milk and eventually to skim.
Some typical goals we set for patients were things like:

1) Have a healthy breakfast daily that includes a protein + carbohydrate
2) Have a healthy snack daily that includes a protein + carbohydrate (Keep snacks between 100-200 calories)
3) Choose all sugar-free drinks and limit juice to 4-6 oz per day
4) Aim for 1/2 plate fruits and vegetables with meals (Use measuring cups and downsize plates and bowls to help with portion control, use the 20 minute rule and encourage vegetables only for second helpings).
———————————-
Two days a week, the clinic sees patients that are interested in or who have already had bariatric surgery. On those days I spent a lot more time shadowing because it is a more specialized area of dietetics. I learned a lot about the surgery itself, the process leading up to it and the bariatric diet plan that the patients follow starting 2 weeks before surgery and continuing for 8 weeks after surgery. In addition to MD/RD/PT, bariatric patients also see a psychologist and a social worker at each visit.
—————————————-
Finally, two nights a week I assisted with and taught the New U  and New U Jr. classes. New U is geared towards teens. They come with their parents and both attend a nutrition education session where a different topic is covered each week for 10 weeks. Following the nutrition lesson, the teens do 45 minutes of physical activity with the athletic trainers. New U Jr is geared towards younger kids and the parents come and get a nutrition lesson while the kids get some activity in with the physical therapists.
————————————–
Whew! So there you have it. A recap of where I've been spending my time for the past 2 months. Up next? A three week break and then I head to a local school district to do a 4 week food service rotation.
Happy Friday!
–Lindsay–
LEARN HOW FOOD AFFECTS YOUR BODY.
Get my free Table Talk email series where I share bite-sized nutrition information about carbs, protein, and fat, plus bonus information about snacks and sugar!