These Dessert French Toast Waffle Bites are a kid-friendly treat that makes a fun, healthy dessert alternative to cookies or cake.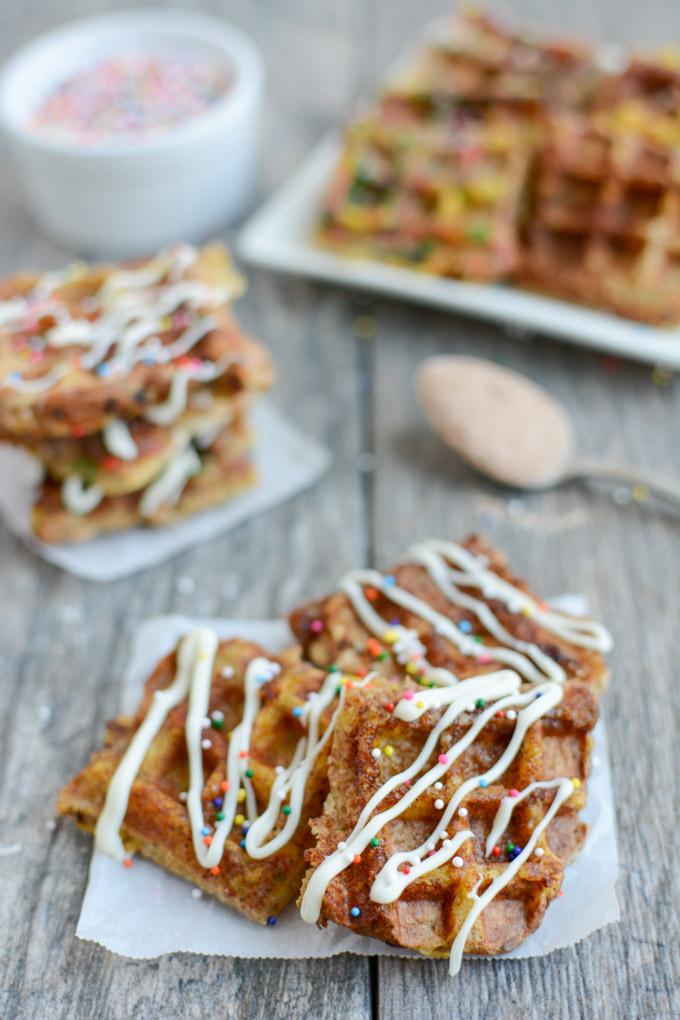 Hi friends!
Let's talk dessert today because boy do I need it. This post was supposed to go up yesterday and clearly, it didn't. We've had a rough few days over here trying to adjust to the toddler being in a big boy bed, no naps, crankiness, etc and then Squish woke up with a fever and sore throat this morning.
It's time for this month's recipe redux and honestly, I was going to skip this month. This week has drained me and I was feeling uninspired and I had pretty much given myself a pass when I randomly had this genius idea. If you've been following me for a while, you know I often make French toast waffles for Squish to eat for breakfast during my food prep sessions.
By French toast waffles, I mean just what it sounds like. Dip bread in egg and milk mixture but instead of throwing on a griddle, throw it in a waffle iron for a minute or two. They're a staple in our house because they're great for breakfasts and snacks.
Dessert French Toast Waffle Bites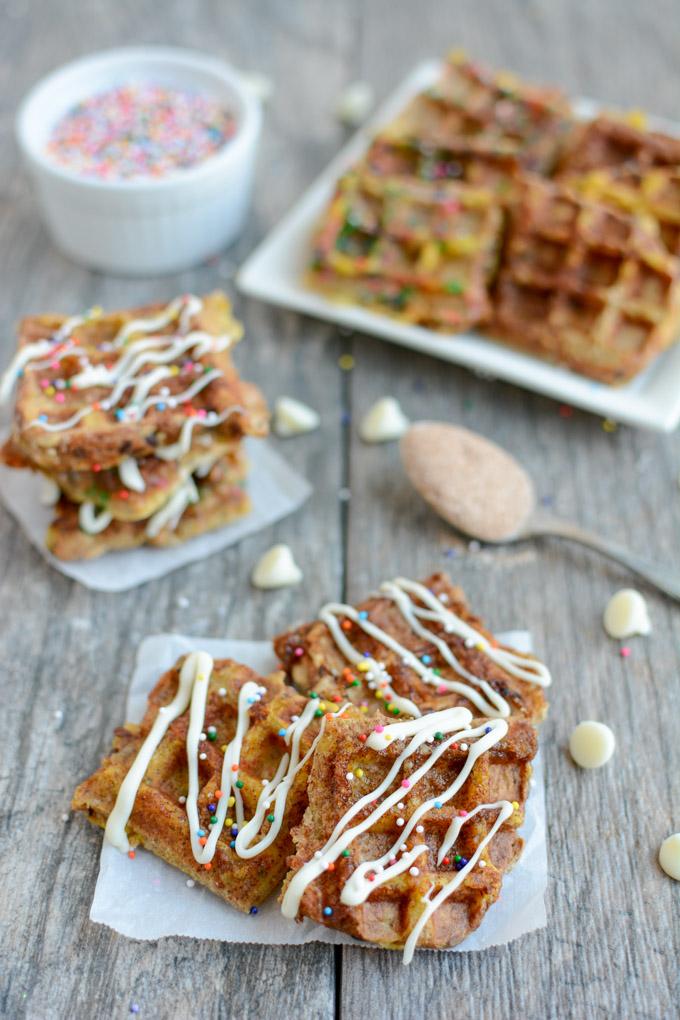 Yesterday I had the brilliant idea to make a dessert twist. I stepped up my french toast game by sprinkling on a little cinnamon and sugar mixture, some rainbow sprinkles and a little melted white chocolate drizzle and boom! You've got a little treat that looks like dessert, but it also relatively healthy thanks to the base of it being whole wheat bread and eggs!
I make this with my favorite – Dave's Killer Bread. Not sponsored – i just love their bread. And I especially love their thin-sliced varieties which are perfect for this!
So here are your directions one more time. Adjust the quantities based on how many you want to make! French toast is very forgiving so the measurements don't need to be exact.
Print
Dessert French Toast Waffle Bites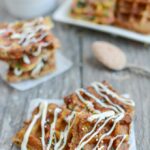 These Dessert French Toast Waffle Bites are a kid-friendly treat that makes a fun, healthy dessert alternative to cookies or cake.
Author:
Prep Time:

0 minutes

Cook Time:

0 minutes

Total Time:

0 hours

Yield:

makes 24 - 36 bites
Ingredients
9 slices of thin-sliced bread (or about 6 regular slices)
5 eggs
1/3 cup milk
1 tablespoon sugar
1 teaspoon cinnamon
rainbow sprinkles
1/4 cup white chocolate chips
Instructions
In a pie tin, whisk together eggs and milk.
Dip a slice of bread into the mixture and turn until well-coated.
Place on a greased waffle iron. Sprinkle the top with the cinnamon and sugar mixture. Add sprinkles as well if desired.
Close the lid and cook 1-2 minutes.
Remove and repeat with the rest of the bread slices.
Cut each piece of bread into 4 sections.
Melt chocolate chips, spoon into a ziploc bag, cut off the corner and drizzle over waffle bites. Top with more sprinkles if desired.
Notes
You can skip the sprinkles if you want.
You can also skip the white chocolate drizzle and just enjoy them topped with cinnamon and sugar.
You could also top with yogurt, ice cream, peanut butter, etc.
Aren't they fun?! Like I said, skip the sprinkles or white chocolate if you want to. Try drizzling with peanut butter or topping a few with some yogurt or ice cream!

Kids and adults alike will love these easy Dessert French Toast Waffle Bites for a treat!
Click To Tweet
Enjoy!
–Lindsay–
For more small bite dessert ideas, click the image below to check out the redux linkup!