These Dehydrated Mushrooms are easy to make and great to have on hand to add to homemade broths and stocks for flavor!
Hi Friends!
We had to switch things up a little this weekend. Be sure to check out yesterday's post if you're looking for food prep inspiration. Today is Recipe Redux day!
This month's theme was:
Get Your Dehydrator On
Whether it's extra garden bounty or a sale at the supermarket – dehydrating food is a budget-friendly way to stock up for later. You can use a food dehydrator, a low slow oven, or natural sunshine to preserve natural healthfulness. Show us how you like to dehydrate, or a healthy recipe for how you enjoy using dehydrated fruits, veggies or other bounty.
Some of you may remember when I found a dehydrator at Costco last year. I gave it a little break these past few months but was excited to bust it out again for this challenge. I've made my fair share of fruit chips in the past so this time I wanted to tackle vegetables. I debated trying some hot peppers, but I read that they give off some fumes while they're drying and didn't want to risk doing anything crazy while pregnant and sensitive to smells.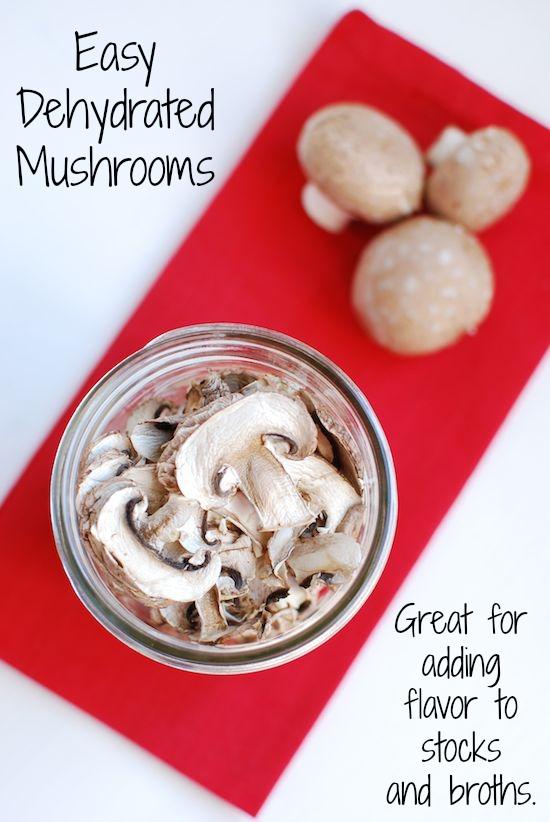 So, I started thinking about what other dried veggies I've used in the past and I landed on mushrooms. Someone gave me a package of dehydrated mushrooms last year and although I've never rehydrated them to use in an actual dish, I did discover that I LOVE adding them to my homemade veggie broth! I tend to make a lot of homemade broth in the fall and winter so I thought it would be fun to dry some mushrooms of my own to have on hand!
You can do this with any kind of mushroom…I chose to use baby portobellos.
The process is super simple:
Buy mushrooms
Clean them gently with a damp paper towel
Slice to desired thinness (You could cheat and buy pre-sliced if you wanted, or you can simply cut them in half, or dry them whole! Just adjust drying times as needed)
Place on dehydrator trays and dry on low for about 6 hours, until all moisture is gone, rotating the trays occasionally for even drying.
Store in a sealed glass jar.
If you don't have a dehydrator, this could easily be done in the oven using low heat. I haven't tried it myself but I've read that about 150 degrees F would be a good temperature.
When you're ready to use them, you can either place them in a bowl of warm water to rehydrate them and use in things like stirfrys or do what I do and just add a handful to the pot while making broth to add additional flavor.
If you choose to rehydrate and use them, be sure to save the soaking liquid. You can add that to your homemade stocks, broths and soups for added flavor!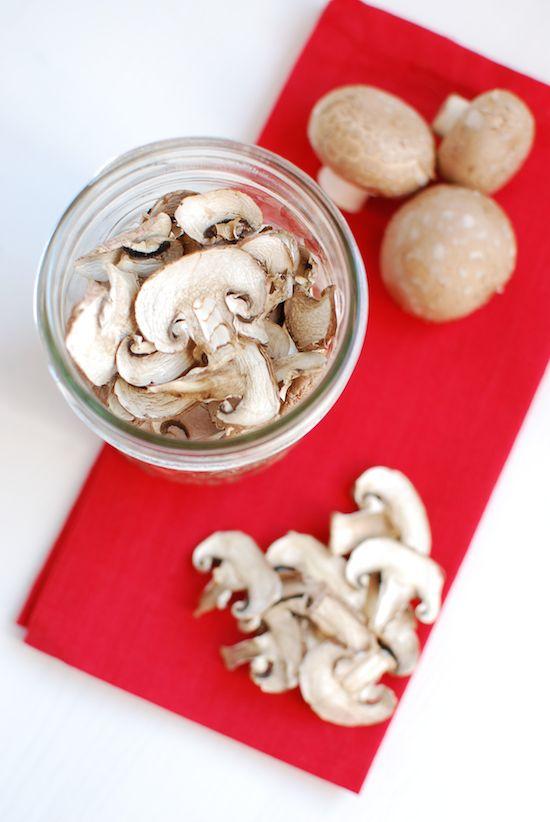 Enjoy!
–Lindsay–
LEARN HOW FOOD AFFECTS YOUR BODY.
Get my free Table Talk email series where I share bite-sized nutrition information about carbs, protein, and fat, plus bonus information about snacks and sugar!