Hi Friends!
Today I've got dinner for you! And it's so ridiculously easy that it seems lame to even call it a recipe.
Here's the deal. The Bean Household is a house divided on this meal. One of us liked it and the other didn't. Usually when that happens, I either don't post about it….or I end up telling you about it in one of my kitchen fails posts. The reason I'm making this a post of its own is because something strange happened tonight. I liked dinner and hubby didn't. That almost NEVER happens. I can probably count on one hand the number of things that I like and he doesn't – one of the being ice cream/frozen yogurt when it's cold out (he's weird right?!).
Anyways, I'll just go ahead and move on to the "recipe" now and share both opinions. Then you guys can decide for yourselves 🙂
We make curry all the time for dinner. Like once a week usually. It's pretty basic, easy to make and we both like it. Last night, inspiration struck me while I was in the shower at 9:30pm. Yes, we eat dinner at 10pm sometimes- don't judge us! I realized it'd been a while since I busted out my industrial-sized bag of quinoa from Costco so I decided I would sub that for rice in our curry. Then I wondered what would happen if I cooked the quinoa in the coconut milk instead of using it to make a sauce for the curry.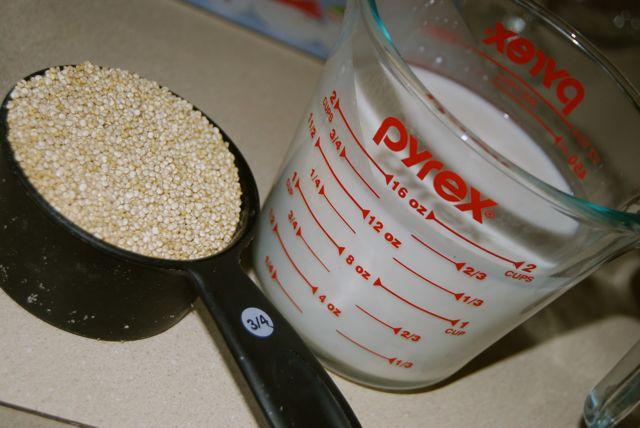 So I went for it! While the quinoa was cooking, I sauteed some veggies and added some curry paste.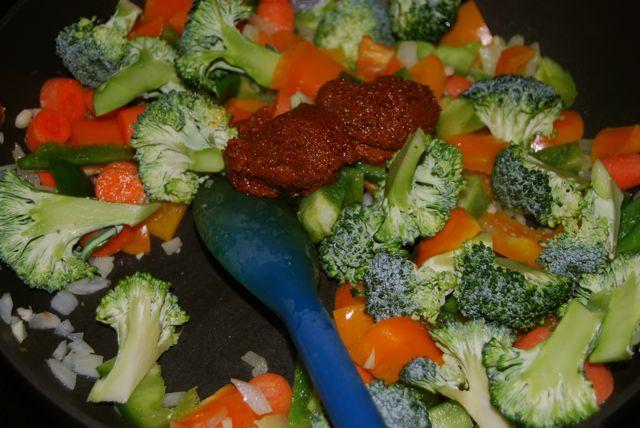 Then I plated the two, and served! Here's the thing…as Sarah can tell you, I'm not a big coconut fan. But for some reason I don't mind coconut milk- when it's mixed with curry paste. So, since I always mix everything together on my plate, I figured some of the curry would get mixed into the coconut quinoa and it probably wouldn't taste all that different from our regular curry. I was correct.
What I neglected to think about, however, was the fact that the hubby is not a mixer. He likes to keep things separate and then just scoop a little of each onto his fork. He informed me that "coconut milk without curry powder tastes like sunscreen." So, he loved the veggies, hated the quinoa.
I do agree with him on the quinoa by itself. I didn't like it either. Too coconut-y. But if you mix everything together, it's a nice balance of spicy and sweet. OR, if you enjoy coconut- like most people- you shouldn't have a problem at all 🙂
Curried Vegetables With Coconut Quinoa
Prep Time: 5 min
Cook Time: 15 min
Keywords: stovetop saute entree side healthy vegetarian quinoa vegetables Indian
Ingredients (Serves 2-3 as a meal)
1 1/2 c light coconut milk
3/4 c quinoa, uncooked
3 cloves garlic, minced
1/2 c onion, diced
2 bell peppers, chopped
1/2 c carrots, chopped
2 c broccoli, chopped
1-2 Tbsp hot red curry paste
1/4 c water
Instructions
In a small saucepan, combine the quinoa and coconut milk. Bring to a boil, then reduced the heat and simmer 15 minutes or until almost all the milk is absorbed
In a medium saucepan, heat some olive oil over medium high heat. Add the vegetables and saute until crisp tender.
Add the curry paste and water and stir until well mixed and the vegetables are all coated.
Serve the veggies over the quinoa.
So there you have it!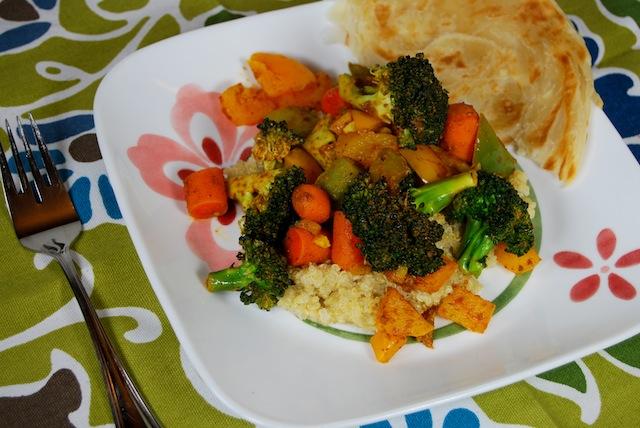 Today's workout:
Holy soreness from yesterday! That coupled with the fact that I was tired from work and super stress almost led to me skipping my workout tonight. But I knew I wasn't really too tired…I was just crabby. So I forced myself downstairs with the promise that I didn't have to run if I didn't want to, or lift. So what did I do? Literally crouched on the treadmill in a ball for about 5 minutes staring at the wall…then I got up and started walking. We all know I like intervals. They help pass the time quickly…but this time I focused on incline intervals (30 sec, 60 sec, 90 sec) and left the speed constant.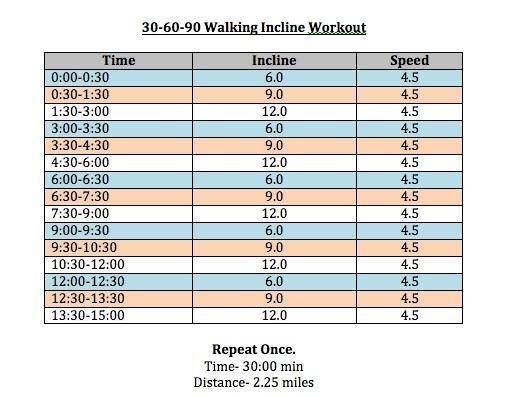 This workout left me dripping in sweat and was exactly what I needed tonight. I reminded me that you can get a great workout on the treadmill without running, especially when your legs and butt are already sore!
Enjoy!
–Lindsay-