For my last birthday, my sister got me this cookbook.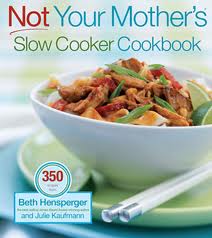 Since my birthday happened to fall right in the middle of my busiest quarter at school, I haven't had much time to look through it until recently. After spending some time browsing the recipes, one really stood out to me.
Crockpot Granola.
Does that sounds genius or what? I don't know about you but I always seem to burn granola when I make it in the oven. I get annoyed that it takes so long and I slowly keep turning up the temperature on the oven…and then BAM! it burns. and then I'm sad.
So I decided to give it a dry. The cookbook suggests cooking it on high for an hour and a half and then turning it down. It also suggests melting the liquid stuff like honey and peanut butter in the crockpot and then adding the other stuff. I opted to just melt the peanut butter and honey in the microwave, then mix in the oats and other stuff and dump it all in the crockpot. I cooked mine on low because my crockpot tends to run hot.
A couple things to remember:
1) You do have to stir this granola….about once every half hour. That makes this a great recipe for a Sunday afternoon when you're hanging around the house anyways…perhaps doing some food prep for the week?
2) Watch your granola carefully. I only cooked mine for about 3 hours even though the recipe said almost 6 hours. It definitely depends on your crockpot.
3) After reading some other recipes online, I left the lid cracked on my crockpot even though my recipe didn't say to. Leaving the lid on can lead to some soggy granola!
So let's get started shall we?
The best thing about granola is you can put in pretty much whatever you want….and you don't need exact measurements. Use your favorite recipe or check out one of mine. This time I used oats, raw, unsalted sunflower seeds and almonds, wheat germ and flax seed. In a small bowl I warmed up some honey, peanut butter and vanilla.
Spray your crockpot, stir to combine and pour into the crockpot: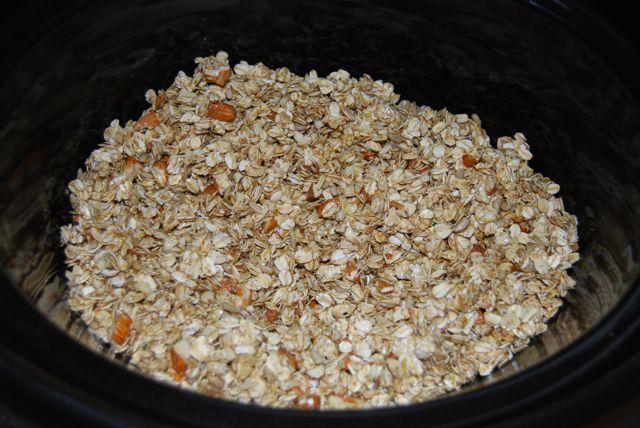 Cook on low, with the lid tilted for 3-4 hours, stirring every half hour until golden brown. Remove from the crockpot and spread on a sheet tray to cool. Stir in your favorite mix-ins! I added raisins, craisins and a few chocolate chips.
If forget about your granola and don't stir it, some will burn. Just scoop that out and move forward 🙂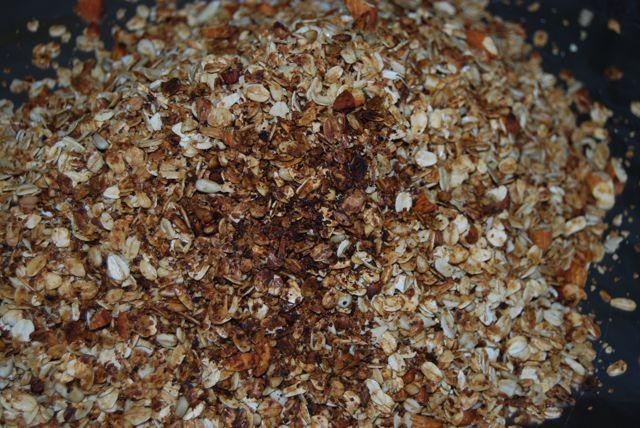 Store in an airtight container for up to a month.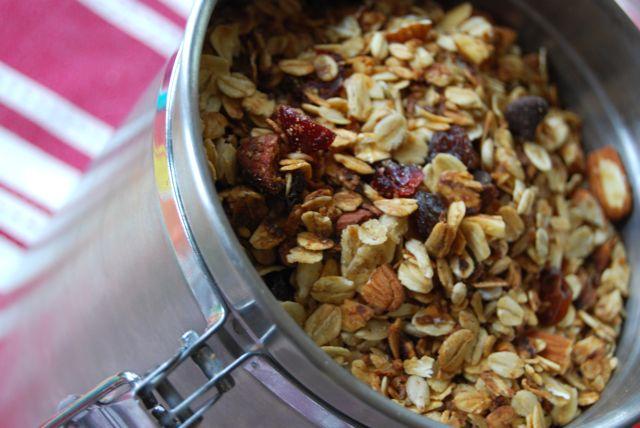 And might I suggest making a batch of granola cookies with your new homemade treat?!
Do you have a favorite granola recipe? Share it with me!! I love putting vanilla in mine!
Enjoy!
–Lindsay–
LEARN HOW FOOD AFFECTS YOUR BODY.
Get my free Table Talk email series where I share bite-sized nutrition information about carbs, protein, and fat, plus bonus information about snacks and sugar!