Hi Friends!
I made you some muffins.
Cranberry Whole Wheat Muffins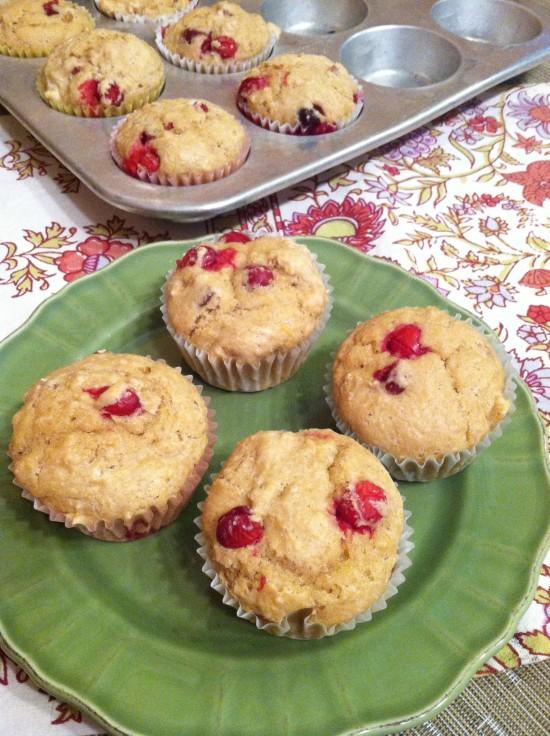 But first, let's have a little chat about cranberries shall we?
*This post is sponsored by The Cranberry Institute*
Fresh cranberries are far and away one of my favorite parts of fall. I'm one of those crazy ladies that stocks up when they go on sale for $1 a bag and I'm not afraid to buy 10 bags to keep in my freezer and use throughout the year!
Cranberries are super versatile. I use them in both savory and sweet dishes.
PLUS they have tons of health benefits. Here are a few:
They're nutrient dense. Cranberries provide vitamins, minerals and phytonutrients without providing an excess of calories (1 cup of raw cranberries has about 50 calories). They're also naturally fat-free and contain very little sodium.
They contain  the flavonoid, proanthocyanidin (PAC) that help prevent UTIs. The PACs in cranberries help prevent the adhesion of certain harmful bacteria, including E. coli, associated with urinary tract infections (UTIs).2,3
They're good for your heart!  Whole cranberries are a good source of dietary fiber and all cranberry products contain flavonoids and polyphenolics that offer a wide range of potential heart health benefits including defense against atherosclerosis and anti-inflammatory properties.15,16
They can help protect against ulcers. Cranberries may prevent adhesion of the bacteria H. pylori to the lining of the stomach which can help reduce the risk of stomach ulcers.
They may help prevent cancer. Research suggest that PACs from cranberries may have anticancer and anti-angiogenic properties, while cranberry juice may help inhibit the growth of cancer cell lines.27,28  Scientists continue to investigate this area of research.
 —————-
If you're not a fan of fresh cranberries, have no fear! Dried cranberries are another great option. Here's why:
 MyPlate suggests trying dried fruits, including dried cranberries, as a snack because they are easy-to-carry and store well.
Dried cranberries are  a good source of fiber – 10% of the Daily Value – with 2.3 grams per serving (40 gram serving).

The amount of sugar in dried cranberries is equal to that of other dried fruits.  Dried cranberries are sweetened because unlike other berries, cranberries are naturally low in sugar and high in acidity so they require sweetening to be palatable. Sweetening helps balance out their natural tartness. 

They can be easily added to oatmeal, rice and grain side dishes, meat entrées, casseroles, salads and more!
 *Note, you can also look for reduced sugar dried cranberries which is what I buy!
So, now that you know a little bit more about how amazing cranberries are for you….let's move on to how you should use them!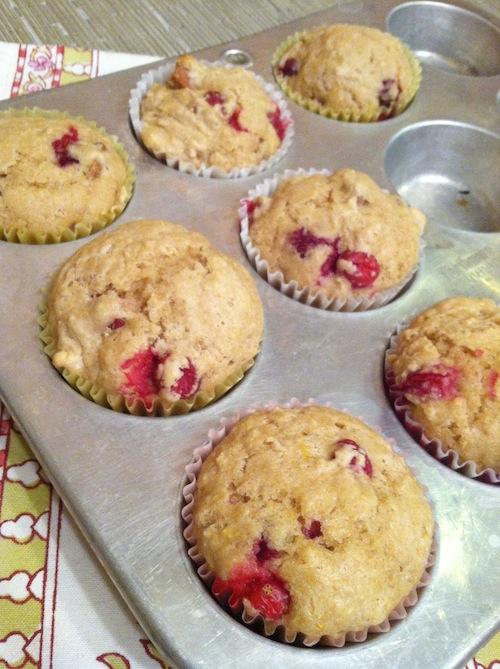 Here's an easy way to incorporate fresh cranberries into diet as a grab & go breakfast or snacks:
Print
Cranberry Whole Wheat Muffins
The perfect muffin for grab and go Fall breakfast!
Prep Time:

10 minutes

Cook Time:

15 minutes

Total Time:

25 minutes

Yield:

1

2

1

x
2 cups

all-purpose flour

3/4 cup

whole wheat flour

1/3 cup

granulated sugar

1 tablespoon

baking powder

2 teaspoons

ground ginger

1/2 teaspoon

orange zest (grated orange peel)

1/4 teaspoon

salt

11/4 cup

milk

5 tablespoons

melted butter

1

egg

1 cup

fresh or frozen, thawed cranberries, halved

1 cup

chopped, toasted pecans
Instructions
Preheat oven to 350 degrees. Line muffin pan with paper liners.
In a medium bowl combine flours, sugar, baking power, ginger, orange zest, and salt. Set aside.
In a medium mixing bowl whisk together milk, melted butter, and egg. Stir in cranberries and nuts.
Add wet ingredients to dry and stir just until blended. Do not over mix.
Divide batter evenly among muffin cups. Sprinkle granulated sugar on top of muffins, if desired.
Bake for 15 to 18 minutes or until lightly browned.
Like I mentioned in the notes above, I make these using all white whole wheat flour and replace some of the butter with applesauce.
These muffins are also easily customizable. I used lemon zest instead of orange zest and almonds instead of pecans.
 Let's chat!
Are you a cranberry fan? What's your favorite cranberry recipe?
Enjoy!
–Lindsay–
PS.  It's this guy's birthday today 🙂
Happy birthday hubby! I love you!!
Sources:
2. Howell A. Cranberry Proanthocyanidins and the Maintenance of Urinary Tract Health.
Crit Rev Food Sci Nutr
2002; 42(S): 273-278. 3. Gupta K, Chou M, Howell A, Wobbe C, Grady R, Stapleton A. Cranberry products inhibit adherence of p-fimbriated Escherichia coli to primary cultured bladder and vaginal epithelial cells.
J Urol
2007; 177(6): 2357-2360 8. Foxman B, Barlow R, D'Arcy H, Gillespie B, Sobel JD. Urinary tract infection: self-reported incidence and associated costs.
Ann Epidemiol
2000 Nov; 10(8): 509-15. 15. McKay DL, Blumbery JB.  Cranberries (Vaccinium macrocarpon) and Cardiovascular Disease Risk Factors.
Nutrition Reviews
2007; 65: 490-502. 16. Shabrova EV., et al. Insights into the molecular mechanisms of the anti-atherogenic actions of flavonoids in normal and obese mice. 
PLoS One
2011;6(10):e24634.  22.  Kivimaki AS, et al.  Lingonberry, cranberry and blackcurrent juices affect mRNA expressions of inflammatory and atherothrombotic markers of SHR in a long-term treatment. 
J Funct Food
2012; 4:496-503.  27.  Kim KK, et al. Anti-angiogenic activity of cranberry proanthocyanidins and cytotoxic properties in ovarian cancer cells.
Int J Oncol
2012;40(1):227-235.  28.  Vu KD, et al. Effect of different cranberry extracts and juices during cranberry juice processing on the antiproliferative activity against two colon cancer cell lines.
Food Chem
2012; 132(2):959-967. 
LEARN HOW FOOD AFFECTS YOUR BODY.
Get my free Table Talk email series where I share bite-sized nutrition information about carbs, protein, and fat, plus bonus information about snacks and sugar!