Hi Friends!
Remember me? I used to blog here 🙂 Turns out I decided to take a little holiday break. I've barely opened my computer since last Tuesday and it's been glorious. So glorious in fact, that I've decided to keep it up this week.
Don't worry, I"ll be busy in the kitchen making some delicious recipes, I'm just enjoying a little break from all the sharing groups, social media, blog post writing, etc! I'll be back soon.
Today I thought I'd pop in and share a photo dump from our Christmas in Chicago with my family. And if I can get my act together tonight, tomorrow I"ll share a Dear Chase letter recapping months 13 & 14!
So we spent 3 1/2 days in Chicago for the holidays and it was such a great time. We decided to drive at night hoping Squish would sleep most of the way and it worked pretty well. We left Columbus around 6pm on Tuesday night and arrived at my parent's place at 10:30 Chicago time. Squish slept all but about an hour of the trip. He was up for a little while once we got there, but went to bed without much trouble.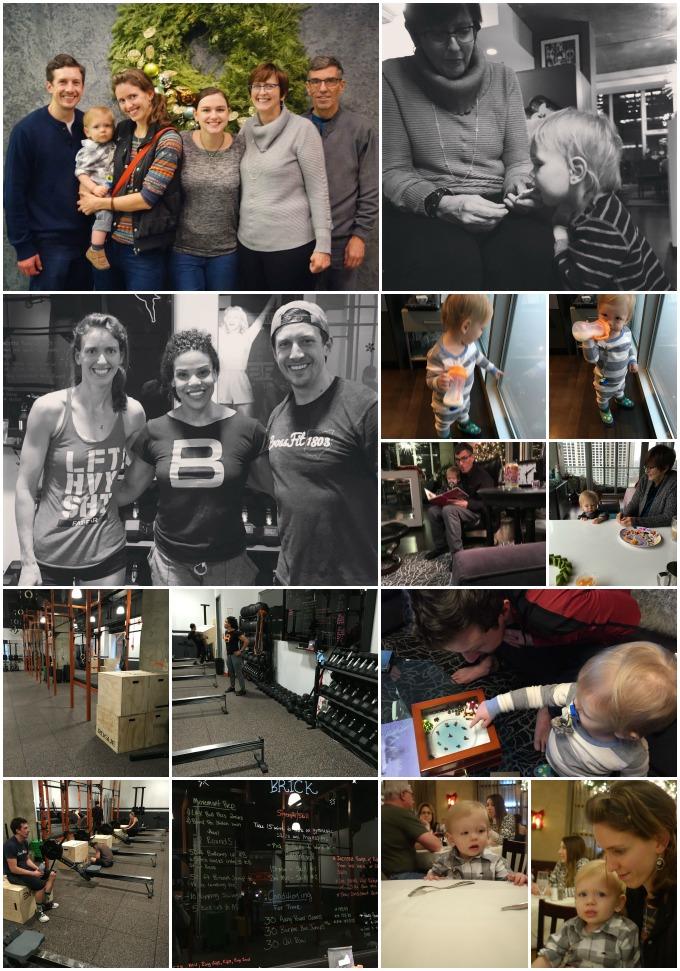 On our first day there hubby and I went to a Crossfit class at Brick Chicago. The class was taught by Elizabeth Akinwale who is one of my Crossfit idols and has been to the games several times. It was amazing!! We hung out around the house for most of the day and then went out to dinner at Volare. DELISH italian food! We even got a great family picture!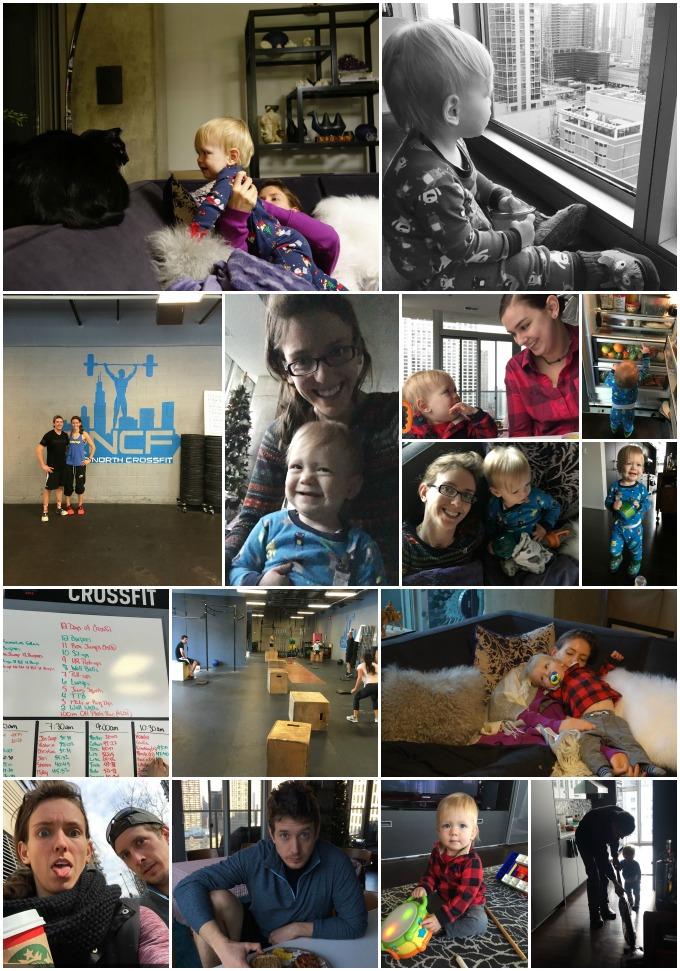 Squish and I had some early mornings thanks to the time change and the fact that it's a lot noisier in the city than he's used to, but other than that he slept fairly well. He also went to bed an hour earlier so mama was able to enjoy some Squish-free dinners 🙂 What a treat! On Christmas Eve morning we went to River North Crossfit to do a 12 Days of Christmas wod. We worked up quite a sweat! Squish had fun hanging with Mimi and Grandpa and Aunt Katie. He loved vacuuming and chasing the kitty around. We made Honey Sesame Chicken and green beans for Christmas Eve dinner.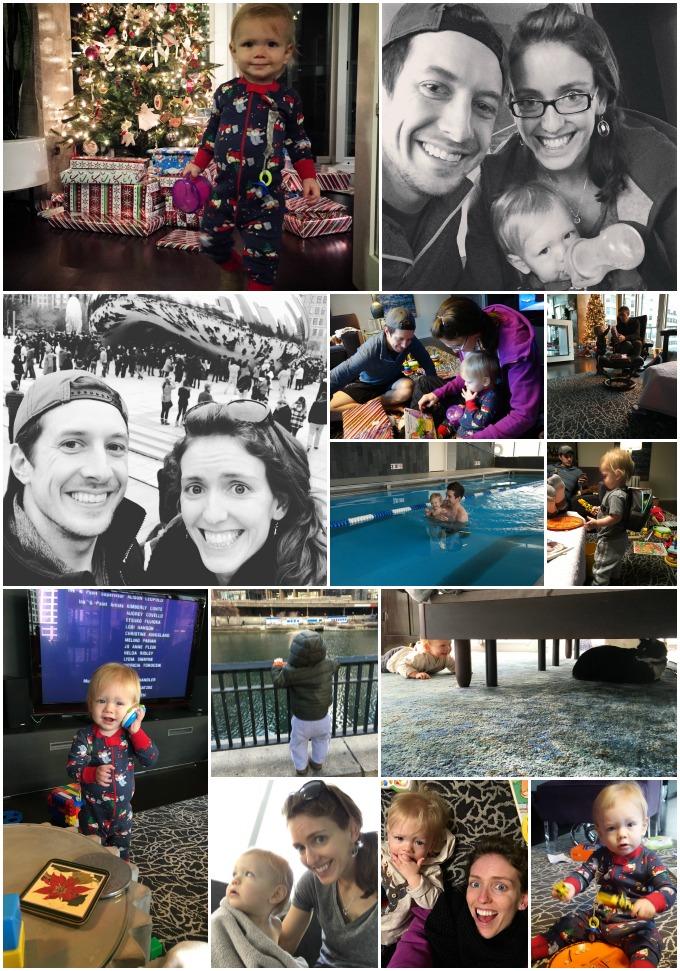 We had a lazy Christmas morning opening presents with Squish and then opening our own presents once he went down for a nap. Squish went for a walk along the river and took a swim in the pool. He also spent a lot of time looking for kitty and throwing his ball around. Hubby and I went for a walk to see The Bean and explore Michigan Ave a little bit. Christmas dinner was salmon & crabcakes – my fav 🙂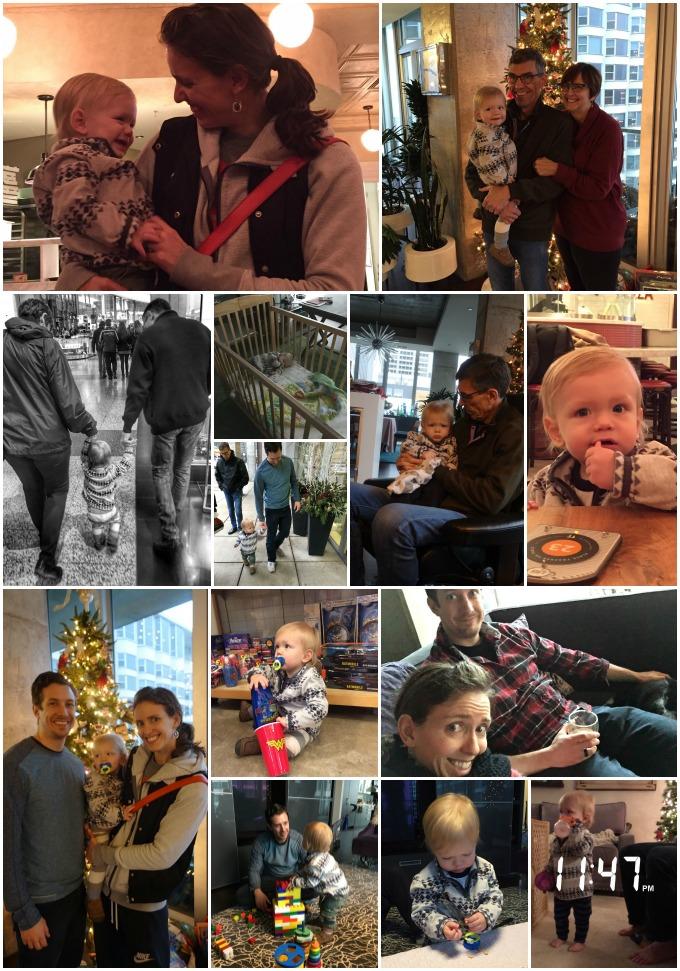 We left Chase with Mimi and Grandpa for the morning of our last day and hit some of the day after Christmas sales…then met up for a quick lunch. After a quick nap, we headed over to the mall because it was raining to try to get Squish to run around and burn off some energy. He wasn't having it and just wanted to be held….so we ended up leaving a little earlier than planned, around 4pm Chicago time. It rained the entire drive home which was pretty miserable, but Squish fell asleep after about 45 minutes and slept until Dayton. We got home around 11:00 Columbus time and he was up for quite a while running around, but I was fine with that – easier than entertaining him in the car 🙂
Overall it was a great trip that went much too quickly and we're already planning our return!
Hope you all had a great holiday!
Enjoy!
–Lindsay–
LEARN HOW FOOD AFFECTS YOUR BODY.
Get my free Table Talk email series where I share bite-sized nutrition information about carbs, protein, and fat, plus bonus information about snacks and sugar!