These Cheesy Vegan Cauliflower Mash Bowls are perfect for Meatless Monday and full of vegetarian protein to keep you full all night.
Hi Friends!
Time for another fabulous guest post – Vegan Cauliflower Mash Bowls. Today I'm introducing you to Rachael from An Avocado A Day. She's a fellow RD who I also met through Recipe Redux and I just love her to pieces. Early this year she took a huge leap of faith to follow her dreams and start her own private practice and I'm so proud of her! Her blog is filled with delicious, plant-centric recipes that always make me drool. Be sure to go check it out!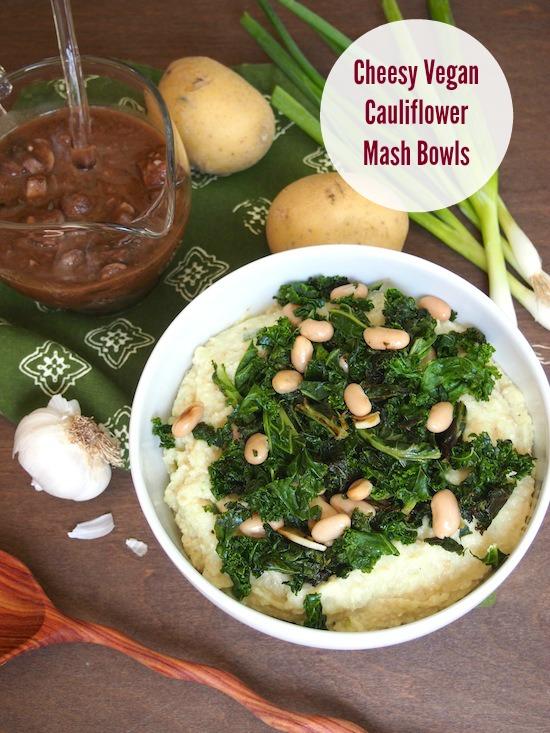 Hello there! I'm Rachael, a dietitian and blogger who writes about all things delicious and nutritious on my blog, An Avocado A Day. When Lindsay asked me to guest post while she enjoys Baby Bean time, I was thrilled! I've been an avid reader since I stumbled upon her blog in the early days of Avocado. She inspires me to be active, cause seriously, if she can do crossfit while pregnant I can squeeze in a jog every now and then. Because of her, I've gotten my you-know-what together on Sundays to spend a few hours on food prep. And she brought us the amazingness that is the frozen blueberry cashew bar. So yes Lindsay, I would be more than happy to help you out!
The recipe I'm sharing today is serious comfort food. Like, the kind of dish you need to unbutton your jeans for. If you've had a bad day, sit down to a big bowl of this and a Meg Ryan movie and I pinkie swear you'll feel better. It's rich, cheesy, creamy and dreamy – all those good comfort food adjectives!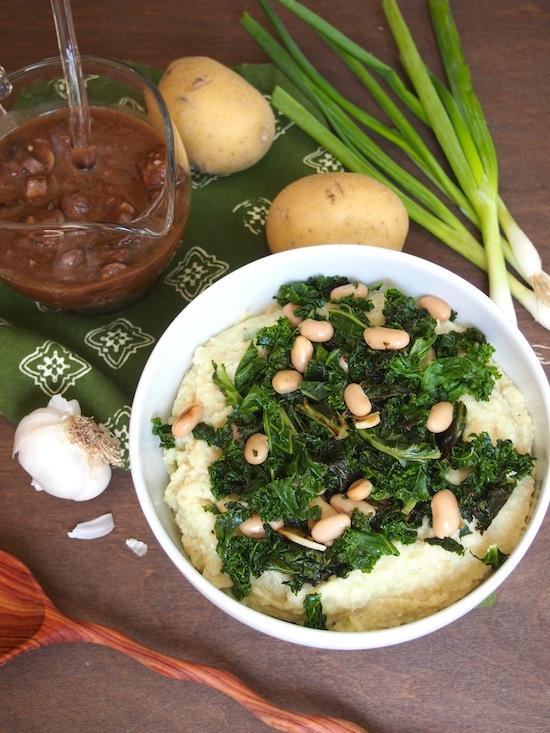 With an intro like that, you may be surprised to learn this dish is vegan and can easily be made gluten free. And you DEFINITELY didn't expect it to have cauliflower. I mean, when has anyone put the bland white veg in your sad frozen vegetable mix in the same category as macaroni and cheese and ice cream?
As a child, cauliflower was my least favorite vegetable. As I type this, I'm pretty sure 11-year-old Rachael is rolling her eyes and overdramatically gagging, but now, cauliflower is among my favorites. Simply roasted with olive oil, salt and pepper, it's pretty much perfect. But where cauliflower really shines is with it's versatility. It can be roasted whole, frittered and turned into things like grain free rice, pizza crust and even a dairy free cream sauce!
This recipe takes advantage of cauliflower's transformational ability, turning it into a cheesy vegan mash. Soaked cashews add rich creaminess and nutritional yeast lends a hint of cheesy flavor. I always add a couple potatoes to my cauliflower mash because I think without them, it can get a little gloppy. Feel free to substitute sweet potatoes, which would make a pretty color and slightly sweet flavor.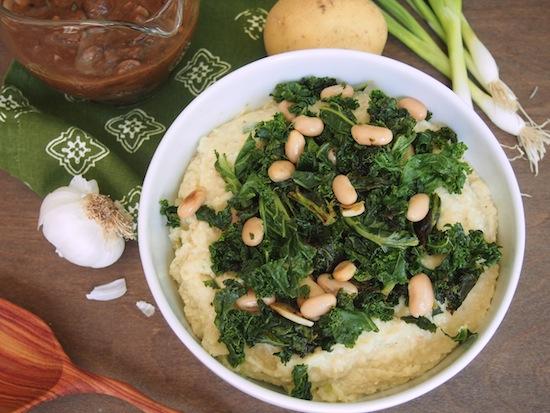 The cauliflower mash is tasty enough to stand on it's own as a lower carb, mashed potato substitute. However, as someone believes the sides make the dish, I decided to turn it a complete meal. First, I topped it with a quick sauté of garlicky kale and white beans for green and protein. Then I whipped up a rich mushroom gravy, because, well gravy. Admittedly, it dirties more than a few pans, but let that stop you. Plus, my husband has made the gracious offer to do your dishes if you make a bowl for him!
Print
Vegan Cauliflower Mash Bowls
These Cheesy Vegan Cauliflower Mash Bowls are perfect for Meatless Monday and full of vegetarian protein to keep you full all night.
Cauliflower Mash:
2

medium potatoes, in 1-inch cubes

1

head cauliflower, cut in florets

½ cup

cashews, soaked at least 2 hours

½ cup

unsweetened almond milk, plus more if needed

¼ cup

nutritional yeast

4

scallions, chopped (optional)
Gravy:
1 tablespoon

extra-virgin olive oil

1 pint

baby bella mushrooms, chopped

¼

onion, finely diced

2

cloves garlic, minced

2 tablespoons

whole wheat flour (or glu

ten

free flour)

½ cup

dry red wine

1 ½ cup

vegetable broth

1 teaspoon

chopped fresh thyme

½ teaspoon

chopped fresh rosemary
Greens n' beans:
2 tablespoons

extra virgin olive oil

10

-ounce bag chopped kale

3

cloves garlic, sliced

1

14-ounce can white beans, drained and rinsed
Instructions
 
Instructions
Bring a few inches of water to a boil in a large pot with a steamer basket set over it. Place the potatoes and cauliflower in the basket, cover, and steam 15 minutes until very tender.
While the vegetables are steaming, make the gravy. Head olive oil in a small pot on medium-high heat. Add mushrooms, red onion and garlic and sauté 5 minutes until mushrooms are tender and have released liquid. Add flour, stir to combine and cook 1 minute. Add wine and deglaze the bottom of the pot. Once mostly evaporated, add vegetable broth and herbs. Bring to a boil, reduce heat and simmer 5 minutes until slightly thickened. Season with salt and pepper to taste. Cover and set heat to low until ready to use.
Next, make the greens. Heat olive oil in a large skillet on medium high heat. Add kale and cook until wilted, adding a few tablespoons of water every so often to help steam. When mostly wilted, add garlic and white beans and cook another 2-3 minutes.
Place potatoes, cauliflower in a food processor with cashews, almond milk, nutritional yeast, salt and pepper in a food processor. Blend until creamy, adding more almond milk if needed. Mix in scallions if using.
Serve cauliflower mash topped with greens, beans and mushroom gravy.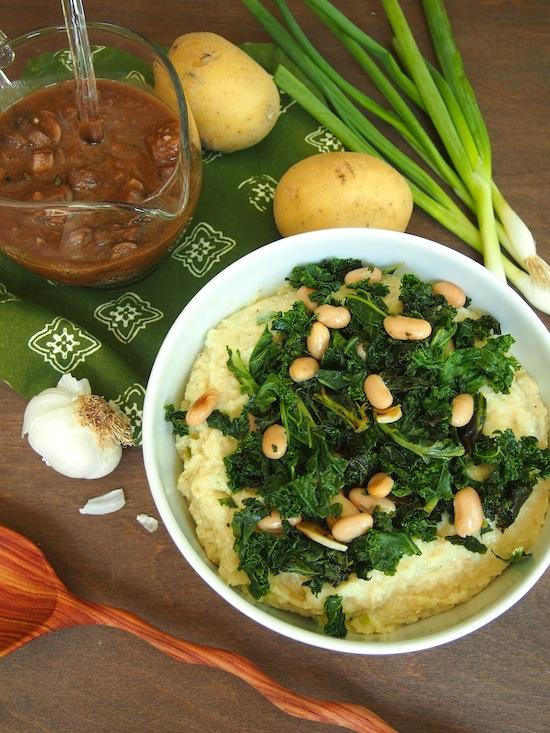 [Tweet "A must try! Cheesy Vegan Cauliflower Mash Bowls from @rhartleyRD and @leangrnbeanblog!"]
Huge thanks to Rachael for stopping by today!
Enjoy!
–Lindsay–
LEARN HOW FOOD AFFECTS YOUR BODY.
Get my free Table Talk email series where I share bite-sized nutrition information about carbs, protein, and fat, plus bonus information about snacks and sugar!