This 5 ingredient Bourbon Chicken Marinade can easily be thickened to double as a glaze for extra flavor while cooking dinner!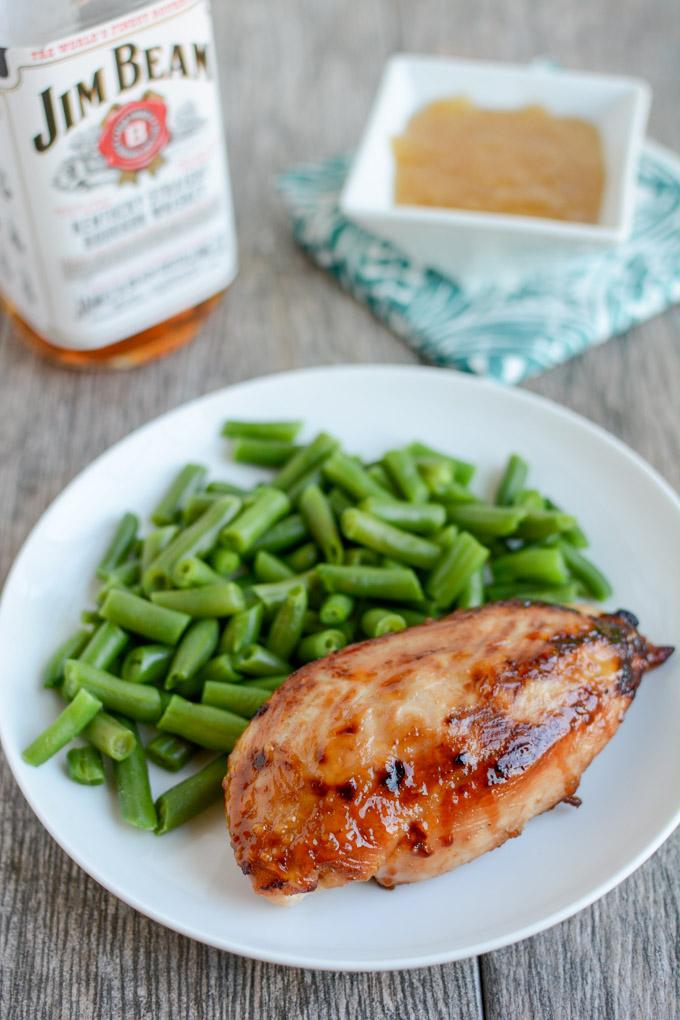 Hi friends!
It's been quite a  weekend over here and this mama is exhausted. Hubby has been sick for the past several days with a fever and Squish has been getting up earlier and earlier every morning it seems like! Which is why, if you follow me on Snapchat (leangreenbean1), you may have seen me making this chicken at 6am yesterday morning! But hey, whatever works, right?
The good news is, this recipe is delicious no matter what time of day you make it. To make the marinade itself, you just combine a few simple ingredients in a bag with some chicken and throw it in the fridge to let it sit. But the secret to this recipe is that it does double duty. You simply reserve half the marinade mixture for later, when you turn it into a glaze that you can brush on for extra flavor while cooking.
I've actually made this twice in the past few days. The first time I just used the marinade and hubby commented that it was great but that it needed a little more flavor and recommended I try making a glaze.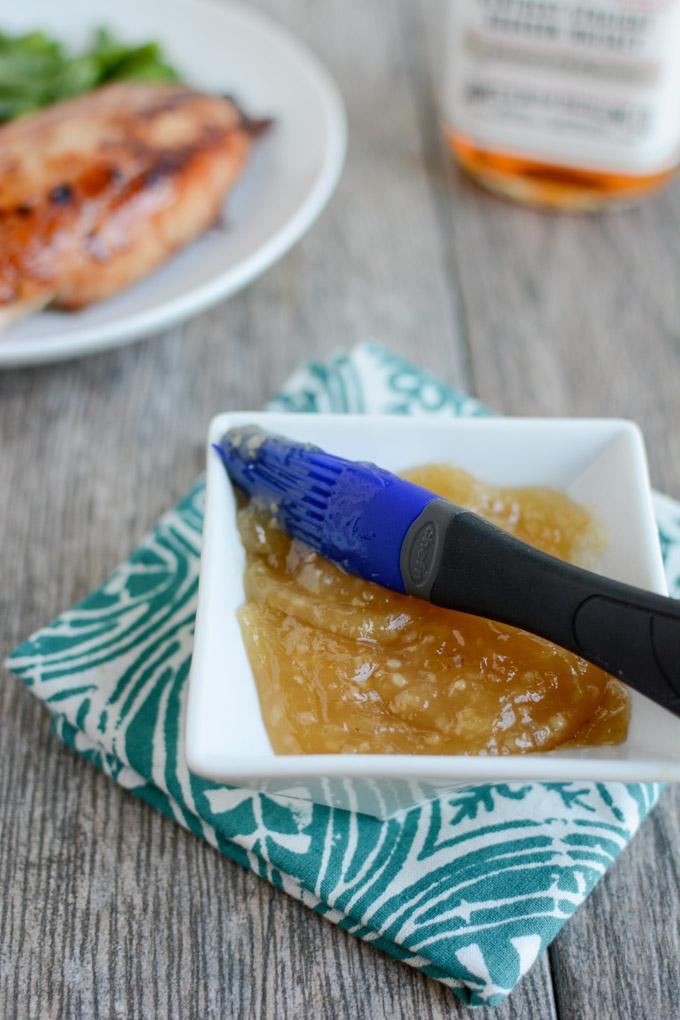 Ask and you shall receive! The second time I made it, I doubled the recipe, reserved half and thickened it up with cornstarch to make a glaze that I could brush on while baking.
Here are your directions:
Print
Bourbon Chicken Marinade and Glaze
This 5 ingredient Bourbon Chicken Marinade can easily be thickened to double as a glaze for extra flavor while cooking dinner!
1/2 cup

olive oil

1/3 cup

honey

1/2 cup

bourbon (i used Jack Daniels)

4

cloves garlic, minced

2 Tbsp

fresh ginger (grated, or use a paste like Garden Gourmet)

2 tsp

cornstarch mixed with a splash of water

1.5

pounds chicken
Instructions
In a bowl, combine oil, honey, bourbon, garlic and ginger and stir until well combined.
Pour half into a large ziploc bag with chicken and let marinate at least 4 hours or overnight.
Reserve other half of marinade in bowl until ready to cook.
Bring remaining marinade (the half that hasn't been in the bag) to a boil in a small saucepan.
Add cornstarch mixture, reduce heat and let simmer until thickened.
Cook chicken as desired (grill or bake) and brush glaze on a couple times while cooking.
Notes
Taste thickened glaze and add a little extra honey if you'd like it a bit sweeter.
Pretty simple right? I used chicken breasts but you could also use this for chicken thighs!

[Tweet "Try this Bourbon Chicken Marinade and Glaze from @leangrnbeanblog for a flavorful dinner!"]
Enjoy!
–Lindsay–
LEARN HOW FOOD AFFECTS YOUR BODY.
Get my free Table Talk email series where I share bite-sized nutrition information about carbs, protein, and fat, plus bonus information about snacks and sugar!