One of my absolute favorite things about summer is making kabobs on the grill. There's something about cutting up all of the vegetables that I find very therapeutic. And I love threading them onto the skewers and picking out what pattern they're going to go in.
Ok, so I may be a little weird….but that's ok 🙂
Usually I just put my veggies on plain, drizzle them with olive oil and toss them on the grill. Last night I wanted to change things up a bit, so I decided to make a little marinade.
Of course we were so busy yesterday that I didn't even think about marinating the veggies until it was already dinner time and the hubby was getting ready to light the grill. Even though I knew I only had about 1/2 an hour, I was still confident I could whip up a quick marinade and give them a good 20 minute soak.
I started by dicing my veggies. Last night's mix included zucchini, yellow squash, red/yellow/green bell peppers, onion and asparagus. *Side note, this was my first time including asparagus on my kabobs and it was awesome. Cooks perfectly along with the rest of the veggies! After dicing the veggies, I put them in a large tupperware container and added 1/2 c balsamic vinegar, 2 Tbsp olive oil, 3 cloves of garlic and lots of black pepper.
After putting the lid on and shaking things up, I realized that a ziploc bag would have been a much better choice…..so I transferred them to avoid a balsamic disaster! Every few minutes I tossed the bag around to help coat the veggies.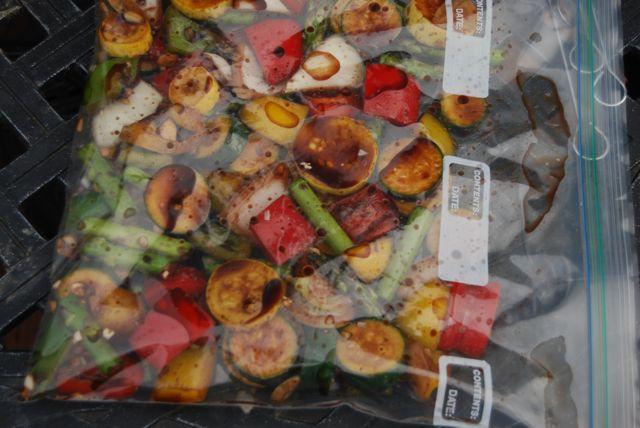 Just before the grill was ready, I dumped all the veggies back into the container and threaded them onto the skewers.
Then I gave them all a nice little sprinkle of McCormick's Grill Seasoning for some added flavor.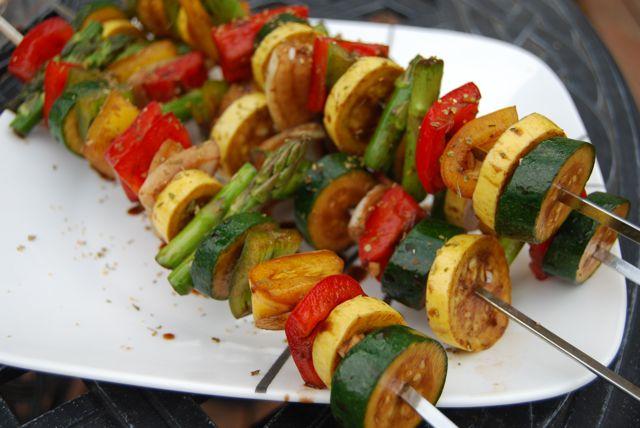 Then I turned them over to the grill master!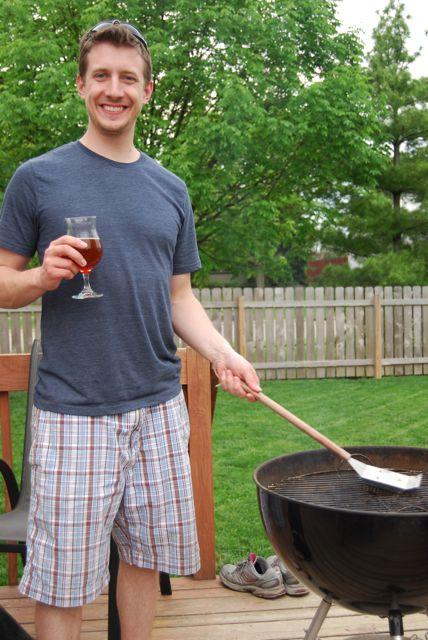 Balsamic Grilled Veggies
Keywords: grill side healthy vegetarian vegetables summer spring
Ingredients
1/2 c balsamic vinegar
2 Tbsp olive oil
3 cloves of garlic, minced
black pepper
mixed veggies
Instructions
Combine all ingredients in a bowl.
Place veggies in a large ziploc bag.
Pour in the marinage and mix well.
Marinate at least 30 min.
Place veggies on skewers and grill to desired doneness.
While he was busy arranging his hamburgers and the veggies on the grill, I quickly sliced some potatoes, microwaved and seasoned them and popped them on my grill plate to accompany the veggies!
The veggies had great flavor even after just a quick marinade. If you're good at planning ahead, give them an even longer soak for a deeper flavor!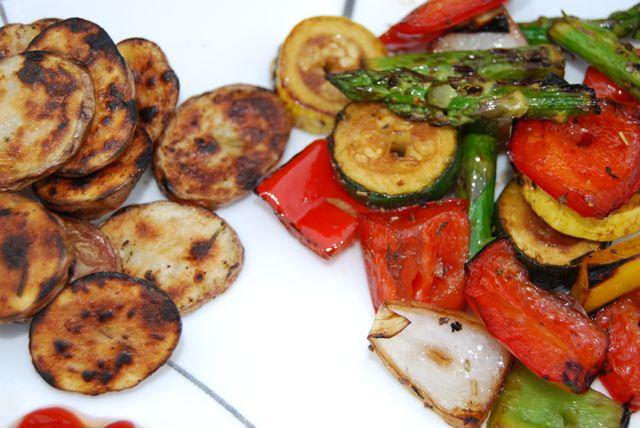 Enjoy!
–Lindsay–
LEARN HOW FOOD AFFECTS YOUR BODY.
Get my free Table Talk email series where I share bite-sized nutrition information about carbs, protein, and fat, plus bonus information about snacks and sugar!