Last night's recipe was another that just kinda popped into my head randomly. I have no idea where it came from! I pulled some meatballs out of the freezer on Sunday without giving any real thought to how I would use them…and when I woke up Monday morning, I had a plan.
Baked ziti was one of my FAVORITE dishes as a kid. I ordered it every single time we went out to eat at in Italian restaurant. This time I decided to put a bit of a non-traditional healthy twist on an old fav!
I started by sauteing some onion and garlic in a large pan. I chopped up some previously cooked turkey meatballs that I made a couple months ago and added them to the pan. Then I added some crushed tomatoes, basil and oregano and lots of fresh baby spinach.
Next I added some rigatoni (I cut the noodles in half to help them fit into the peppers better) and a little bit of low-fat cheese.
Finally, I prepped some red peppers. I cut just enough off the bottom to let them sit level in the pan, and then I cut out the stem and seeds. I stood them in a small pan side by side and scooped in the filling.
I baked the peppers at 400 degrees for about 20 minutes.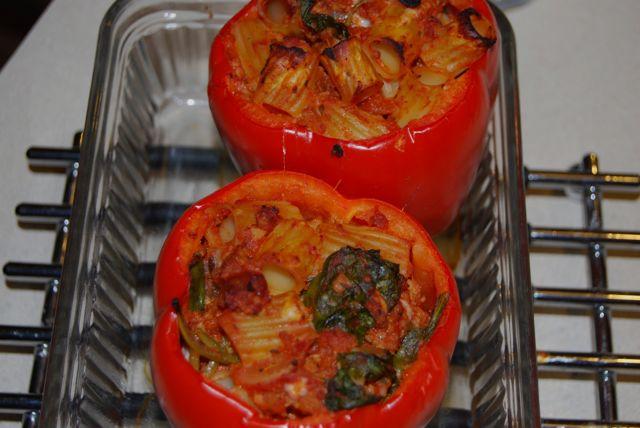 This was an easy way to sneak an extra serving or two of veggies into one of my favorite pasta dishes! Using low-fat cheese and adding spinach also help boost the nutritional value!
Having a bite of red pepper in every bite was a great addition!
What's your favorite way to stuff a pepper?
Enjoy!
–Lindsay–
LEARN HOW FOOD AFFECTS YOUR BODY.
Get my free Table Talk email series where I share bite-sized nutrition information about carbs, protein, and fat, plus bonus information about snacks and sugar!