Hi Friends!
In case you missed the announcement on Thursday, here's the big news: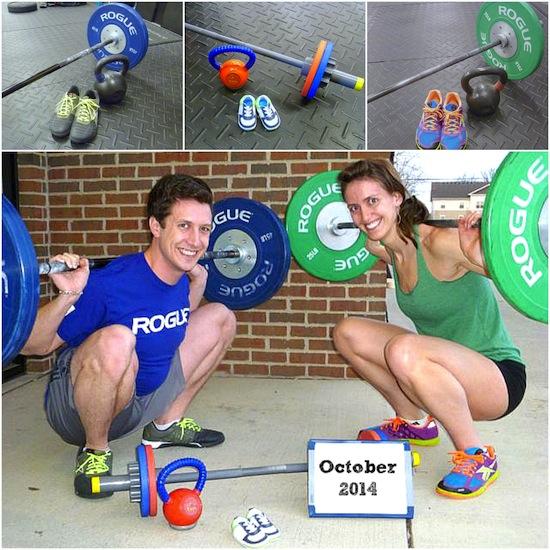 #babybean is coming- October 2014!
Thanks so much for all of your kind words and well wishes. We are overwhelmed by all the love and support and are so excited to welcome a little one in just a few short months!
To get you guys up to speed, here's what's been going for the past couple of years. Buckle up…it's a long story!
The Journey
We decided to start trying to have a baby in November of 2012. I had been on birth control for a long time, and went off it at the end of the summer. I wasn't sure how long it would take for things to get back to normal, but I had no delay. Everything was regulated during my first month off the pill, complete with the terrible, terrible cramps which were the reason I went on the pill in the first place.
At the end of 2012, I was about 5 months away from finishing my dietetic internship. We figured it would take a couple of months, but knew that if it did happen that first month, I would still be able to finish my internship. When nothing had happened by February, I went to the doctor to get checked out and was diagnosed with hypothyroidism. My TSH levels were super high (6.5 when they're supposed to be under 3) so I was put on Synthroid. It took several months of playing with the dose to my levels down into the normal range but things were under control by June. My doctor told me this could be playing a role in not getting pregnant so I was hopeful that it would happen now that my levels were under control.
No luck. When things still hadn't happened by November, I went to see an OB-GYN. After discussing options, he gave me a prescription for 3 months of Clomid. Clomid is often used to help women get their period if they aren't getting it on their own. He told me that since I was already getting it, it would basically supercharge things. I told the three rounds of Clomid in November, December and January with no luck. I didn't really have any of the negative side effects that some women get while on it, which I was grateful for.
By this point I was starting to lose hope. If you want to read more about the emotions we were dealing with, check out this post we wrote about our struggles. I went back to my OB in January and he said we could try another 3 months of Clomid or go see a specialist.
We opted  to see a specialist and got an appointment in early February. Hubby also got things checked out on his end and everything was fine. We met with the specialist, developed a plan, I got some blood work done, and we made a list of various things we were going to do after I got my period that month. There were certain tests that we couldn't do because of where I was at in my cycle but the plan was to check my tubes to make sure they were clear and try another round of Clomid, plus an IUI. Except my period never came that month.
The Pregnancy
I found out I was pregnant on February 17th. I was supposed to get my period on Valentine's day weekend and when it didn't come, I took a test on Monday morning.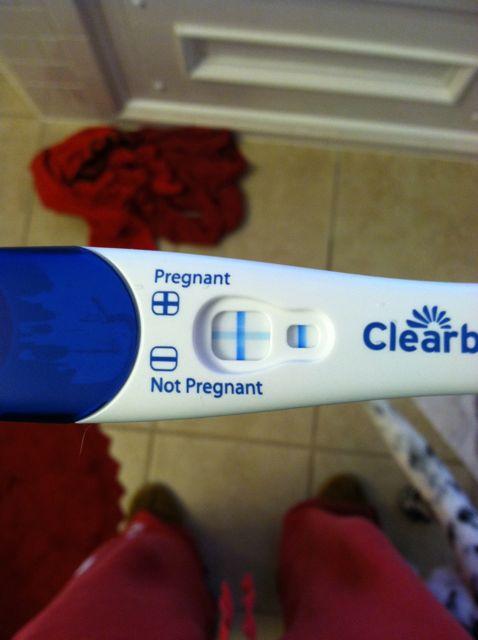 After seeing it was positive, I ran to the store and bought some cute little socks, wrapped them up and let hubby open them when he came home for lunch. I told him it was a Christmas present that was on backorder and shipped late, and then I had intended to give it to him for Valentine's day but I hid it so well that I forgot about it until that day. He was shocked!
I actually ended up seeing the specialist doctor for most of my first trimester. Even though they didn't actually do anything to treat me, they wanted to monitor things initially. I went to the doctor on Feb 19th and got an ultrasound just to make sure things were in the right place, ie in the uterus. At this point I was about 4 weeks, 5 days along.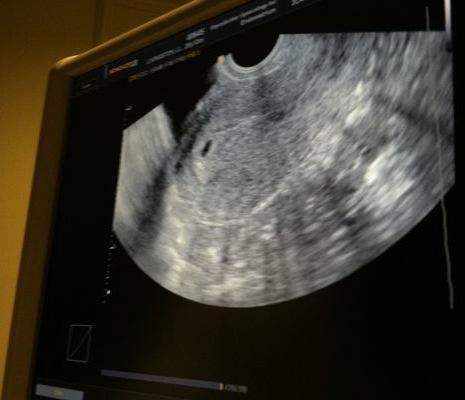 We made our next appointment for two weeks from then, March 5th,  and everything looked good at that appointment as well. I was measuring 6 weeks, 5 days. We saw the heartbeat and it was 137 BPM by his visual count. The only thing we were concerned about was that my thyroid levels were going up again. This is normal in pregnancy, especially if you've been on meds previously and women often have to increase their synthroid dose once they get pregnant so we've been monitoring that closely.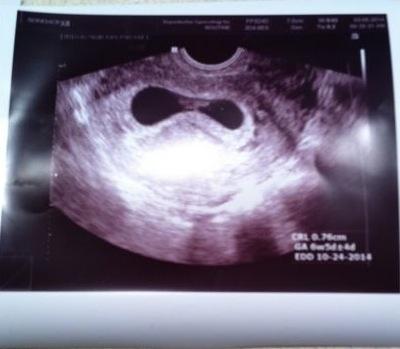 My sister came in town after this appointment so we told her while she was here!
On March 20th we had another appointment. I was measuring 8 weeks 3 days instead of 8 weeks 6 days but they said the measurements are not precise, can vary, etc. The heartbeat was 169 BPM and we got the approval to back to our regular OB.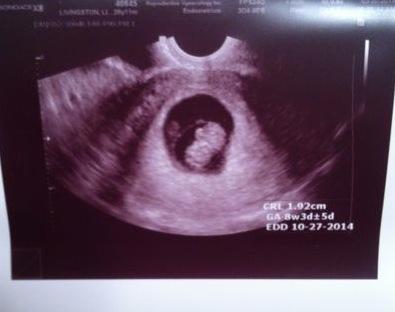 I was SUPER nervous about telling anyone for a long time…so we pretty much kept it to ourselves. We each told 1-2 close friends so we'd have someone to talk about it with, but we waited until after this appoint start telling more people. We told our parents first. We went out to dinner with my in-laws and hide the pictures in a book of paint samples while we were showing them the colors we picked to repaint our kitchen.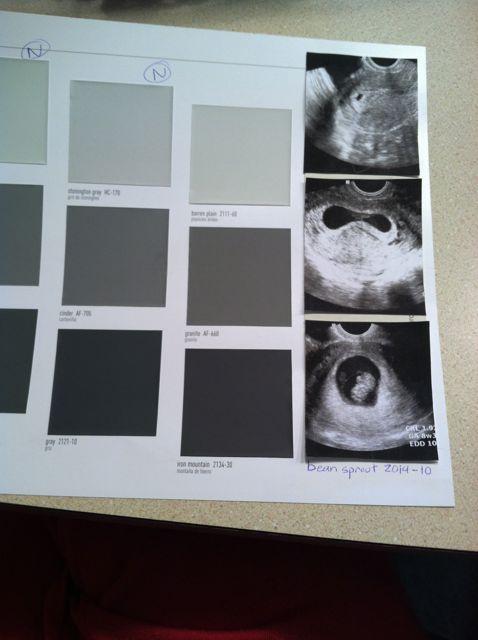 My parents were harder since they're out of town. I wanted to get them on video so I enlisted the help of a family friend that they were staying with while on a trip back to Kansas City (where I grew up). I secretly face-timed with our friend and then she showed the phone to my parents and I was able to take a video of the facetime screen on my phone with my ipad! It didn't go exactly as planned, but it was still fun to capture on video.
This will be the first grandchild for both sets of parents so they're very excited. At this point we also told a few more friends…but still not many. My best friend is getting married the week before my due date so we won't be able to make it to that wedding, which is sad….and I was supposed to speak at the IDEA blogger conference in August and at another conference in September but am no longer going to either.
This Monday, we had our first appt with the OB. Everything looked good, but I was measuring 12 weeks 1 day instead of 11 weeks 3 days, so they changed my due date from Oct 24th to Oct 19th. Hearbeat was 154 BPM.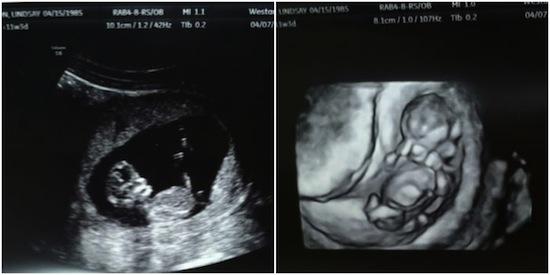 I think the 3D ones are a little creepy but you can see the little sprout has their hands bunched up by their face.
So…that's where we are right now. I'll be 13 weeks on Sunday.
———
Food
As far as how I've been feeling? Not great. I started getting nauseous in Week 5 and it's been pretty much non-stop, all day every day since then. I actually feel best in the morning from about 8-10 AM and then it goes downhill from there…nights are the worst, from about 7pm until I go to bed. There was about a four week period where I didn't eat a single vegetable. I've been living on A LOT of peanut butter and jelly sandwiches, egg sandwiches, oatmeal and saltines….Nothing really sounds good except pizza, Chipotle and quesadillas with lots of cheese.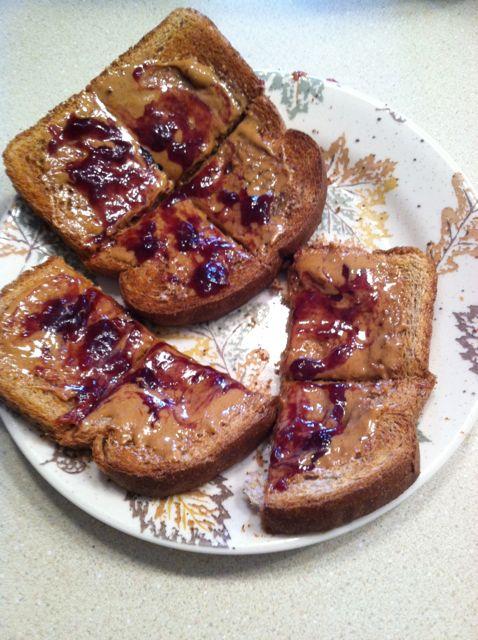 Luckily i've just been dealing with nausea and not actually vomiting. I've lost about 3 pounds but know it will come back…hopefully in the next couple of weeks I'll hit the turning point and start to feel better. Oddly enough, breakfast was one thing I never had to skip. I've continued to eat my bowl of oatmeal every morning….it's all the meals and snacks after that I have trouble with. I 've been trying to get in at least two good meals a day…sometimes it happens, sometimes it doesn't.
The past couple of weeks I've been better about just forcing food down. It typically doesn't make me feel any worse than I already do…but it just depends on the day. Aside from constant nausea, I've had sore boobs, lower back pain, light cramps, some heartburn and lots of naps.
Exercise
As far as exercise…gone are the days where I can workout 3-4 days in a row, take a day off and then do another 3-4 days straight. I've pretty much cut back to crossfitting 3 days a week (usually M/W/F) and taking weekends off. I also walk the dogs a couple of miles every day. So, yes, I was pregnant while doing the Crossfit Open….so if you saw my scores/times and they weren't quite what you were expecting them to be…that's why. I was taking it easy. I still did all the workouts…just not as hard or fast as I would have done them a few months ago. Luckily the weights were fairly light this year for me, with the exception of the deadlift workout so I just took it easy and didn't push myself. I'm planning to continue crossfit (with lighter weights) for as long as it's comfortable. (*Side note- I know people have varying opinions about this so please be respectful of the decisions I'm making. Each pregnancy is different and I'm doing what I think is best to have a healthy pregnancy & healthy baby!).  I've actually found that if I can get myself to workout it usually helps me feel better temporarily and I'm able to shovel some food in afterwards as well, which is good.
Other
I'm not doing a lot of pregnancy reading yet because I'm nervous enough as it is. I'm just trying to take things one day at a time.
It doesn't always feel real, but I'm sure it will more and more as the months go on.
We're excited to find out the gender of the baby in June. We're both planners so we don't want to be surprised at birth. Hubby is convinced it's a boy…but we'll see!
I'm nervous about all our animals with the little one but hoping everything will work out just fine.
Blogging
Blogging has been hard…but I did a couple of things that helped me out a lot. Right when I found out I was pregnant, I went on a recipe-making binge and made about 7 new recipes. Since I haven't really been cooking lately (I made that roasted asparagus this week and it almost made me throw up…), it was helpful to have those to spread out over the past few weeks. I also immediately enlisted the help of some blogger friends to write guest posts for me. I didn't tell them why but it was helpful to have those to share with you guys as well (so THANK YOU to all my guest-posters…I have a few more coming up as well that i'm excited to share with you guys!).
I'm probably not going to be sharing weekly pregnancy updates on the blog. I don't have anything against them…I'm just not sure I will do them. We'll see. Right now I'm thinking monthly updates with some shorter blurbs sprinkled in week to week.
————
That's all I can think of for now! I'm so glad we were finally able to share the news. Keeping secrets is hard work! I've been jotting down questions to ask all of YOU and will do a post next week asking for your advice on some baby things!
————–
And finally, here's a little video of some of the reactions to our big news. A little explanation of how each reveal went down:
Hubby– I  put a pair of baby socks in a box with a note that said "Baby Bean Coming October 2014" and told him it was a late Christmas present I forgot to give him.
Sister Bean– She came to visit around week 7 so we let her open the same box hubby did, again saying it was a late Christmas present.
The in-laws– We went out to dinner and brought our paint sample booklet to show them the color we were going to paint the kitchen. We hid pictures of baby bean in with the samples.
Mama Bean– She was visiting a family friend. I face-timed with the friend and she showed the phone to my mom so she could see me sitting there holding the picture. She didn't realize we were facetiming at first. She thought it was just a picture of me on the friend's phone.
Papa Bean– We had plans to make a separate call later and do the facetiming trick again with my dad when he finished his meetings for the day…but he ended up getting done early and walking in right when I was facetiming with my mom….that's why I say "don't tell dad" at the end of my mom's video…I wanted to get him in a separate video…which I did after a stressful minute!
Great Grandpa – We told many of hubby's relatives at his grandpa's 94th bday party by writing it in his bday card.
 ———–
Let's chat:
What questions do you have for me?! Or for Mr. Bean?
Enjoy!
–Lindsay–
LEARN HOW FOOD AFFECTS YOUR BODY.
Get my free Table Talk email series where I share bite-sized nutrition information about carbs, protein, and fat, plus bonus information about snacks and sugar!