Hi Friends!
Last week, Cori over at Olive to Run wrote an AMAZING post called What Would You Say. In it, she shared an activity that she did with her students and after reading the post I just couldn't stop thinking about it. Here's the activity:
Imagine that I handed you a microphone.
When you speak into it,
the whole world can understand you.
————
You can make 3 statements.
What would you say?
She shared photos of the statements her students wrote…as well as one of her own. Today I decided to share my 3 statements with you!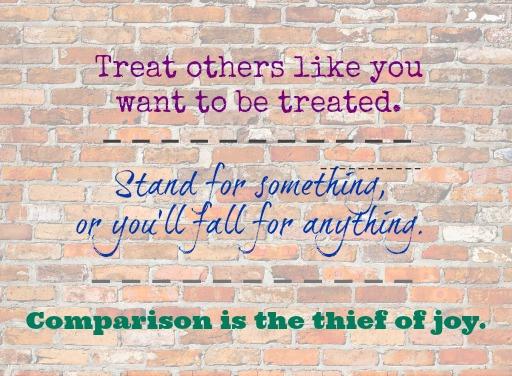 #1: Treat others like you want to be treated.
One of the most important things in life is to be polite and respect others. There's nothing worse than working super hard on something and not being recognized or thanked. It seems like every single day, I'm astounded by how rude people are to each other. I'm not saying I'm perfect, but I do make a daily effort to use my manners and treat others like I would want them to treat me. I've found that if you smile first, you almost always get a smile in return. If you're polite, most people are polite in return. I've also learned that's not always the case. During those times, I try to remember that you never truly know what someone else is going through. Give out a few free passes. Excuse a few acts a rudeness and choose to believe that those people are not always that way. Before you judge someone for their actions, put yourself in their shoes…because you just never know.
—————-
#2: Stand for something or you'll fall for anything.
Figure out what you believe in and own it. Realize that it's ok to have a different opinion than someone else, but it's not ok to disrespect the opinions of others. Everyone is entitled to their own beliefs….In fact, I think differences of opinion are healthy and make the world more interesting. Once you figure out what you believe in, stand up for those beliefs. If you don't like something…figure out how to change it. Never give up on the things that make you smile.
—————
#3: Comparison is the thief of joy.
The easiest way to be disappointed in your own life is to compare it to the life of someone else. Every single person on this earth leads a different life. You may not have as much money as someone else…but that doesn't mean you're not as rich. You may not be able to give as much as others…but that doesn't mean you're not as generous. You may not have as many material possessions as someone else…but that doesn't mean you're not as lucky. Consider all aspects of your life and be grateful for the people who love you, your abilities and the things you have. Enjoy the little things in your life. Even if they seem small, you might some day look back and realize just how big and important they were in making your life wonderful.
—————-
Let's chat:
What would you tell the world? Tell me your three things!
Enjoy!
–Lindsay–
LEARN HOW FOOD AFFECTS YOUR BODY.
Get my free Table Talk email series where I share bite-sized nutrition information about carbs, protein, and fat, plus bonus information about snacks and sugar!