Hi Friends!
As promised, I'm back with a recap of my second crossfit competition!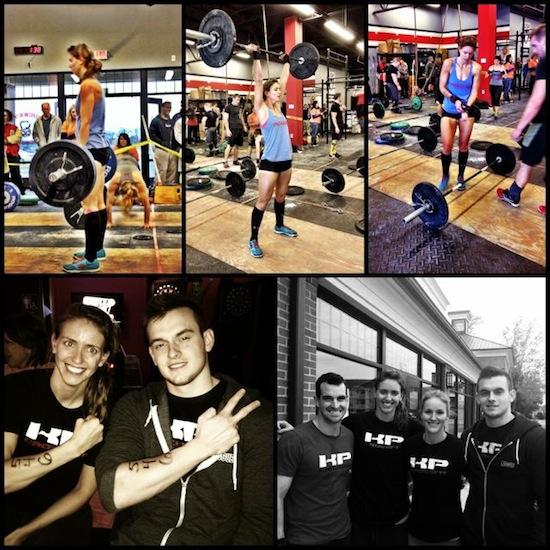 Wodtoberfest was a partner competition. I teamed up with my coach Pat and we competed in the scaled division (there were 34 teams competing). There was also an Rx division that had 27 teams.
We got there early, checked in and got our numbers. They posted the WODs earlier in the week, which was nice…so we already knew what we'd have to do and what the weights would be.
So here's how it went down:
Wod #1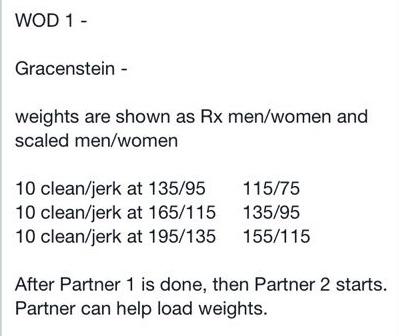 So, my weights were 10 clean and jerks at 75#, 10 at 95# and 10 at 115#. This wod is essentially a benchmark wod called "Grace" which is 30 clean and jerks for time, except instead of doing all 30 at one weight like we do in Grace (Rx is 95#), the weight ascended throughout the workout. On a good day, I can do Grace with 95# in 4:30. I can also clean and jerk 115#, but it's definitely not easy. So, we decided Pat would go first. The scaled weights were pretty light for him and there was an 8 minute time cap, so we wanted him to get through as fast as he could so I would have more time to finish the 115# clean and jerks.
He killed it…finished in about 3:20. I flew through the 75# reps because that's light for me. I also moved quickly through the 95# reps because I'm used to doing that weight. Then I moved on to the 115# reps. Doing 30 clean and jerks as fast as you can is not easy. Increasing the weight as you go along is TOUGH. I failed at 3 or 4 reps but did get 4 reps at 115# before time ran out.
At first I was frustrated, because I knew I could clean and jerk 115# and I felt like I should have been able to get more reps than that…but then I realized I'd never tried to do that weight when I was already tired from 20 previous reps and that's a lot different than just picking up a bar when you're fresh and doing some reps at 115. So overall, I felt pretty good about my effort.
Wod #2: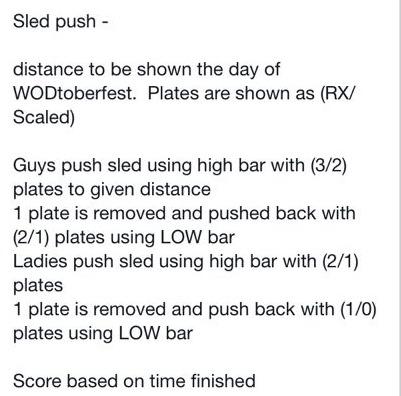 This wod was short and sweet. For the scaled division, they loaded the sled with two 45# plates. Guys went first, pushed the sled about 100m, stopped to take one of the 45# plates off, then pushed it back to the starting line. Then the girl pushed it with one plate, took the plate off and pushed the empty sled back.
The sled wasn't heavy, so this was just a matter of sprinting as fast as you could. It wasn't so bad going down, but the hamstring burn really kicked in about halfway back!
Wod #3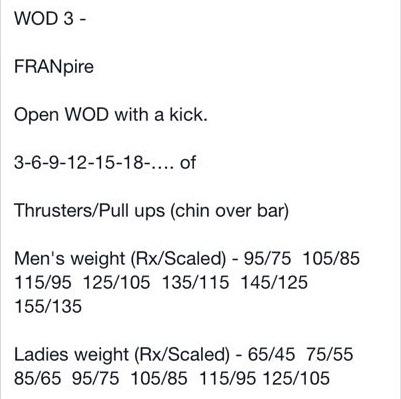 Fran is one of the best known benchmark wods in crossfit. It's 21-15-9 thrusters and pullups. A thruster is basically a front squat straight into a push press. In Fran, you do the whole workout with either 95# for guys or 65# for girls.
For this wod, it was the same two movements, but broken up a little differently. Each partner had 8 minutes to get through as many rounds as as possible. While partner 1 was doing their pullups, partner 2 added 10# to their bar each round. Pat went first and crushed it. He made it through 5 of 21 thrusters at 155#! Then I went. I finished the entire round of 15 reps…so I should have completed 3 thrusters/pullups at 45#, 6 at 55#, 9 at 65#, 12 at 75# and 15 at 85#.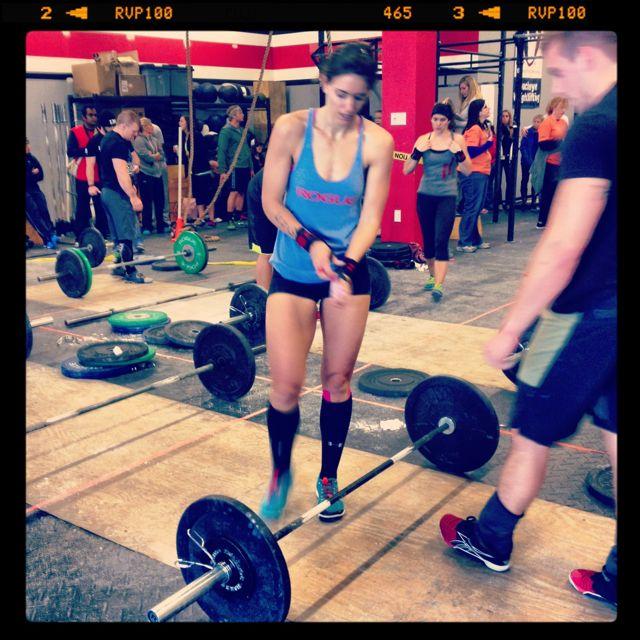 What actually happened was that my partner messed up and accidentally went straight from 65# to 85#!!! So I did the round of 12 thrusters AND the round of 15 thrusters at 85#! I knew the bar was too heavy as soon as I picked it up for my round of 12…but I didn't want to stop and count the weight so I just kept moving. I could hear my hubby and friend standing on the sidelines questioning the weight, but by the time they talked about it, confirmed it, etc…I was almost done.
Although this wasn't a huge deal, it definitely slowed me down. 85# thrusters are not light and if I had had the correct weight, I'm pretty sure I would have gotten through 5-6 thrusters at 95# before time ran out. Oh well!
Wod #4: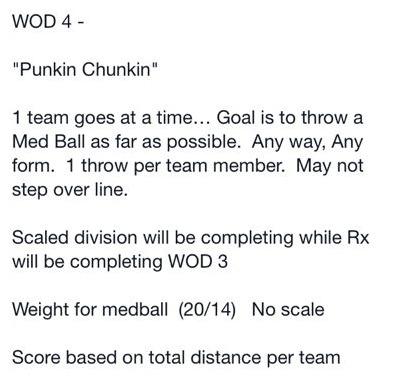 This wasn't really a wod per say, but an event….and it didn't go well for us. When I threw mine, it landed it a bad patch of grass and basically stopped dead. Since the total distance included the distance the ball rolled after landing, this really hurt us. I think we finished 29th/34 teams in this event!
Wod #5
We were in 6th place going into this final WOD. The top 6 teams after 5 wods made it to the finals and had to do another wod. Since we were right on the edge, we knew we had to do well if we wanted a chance to compete in the finals!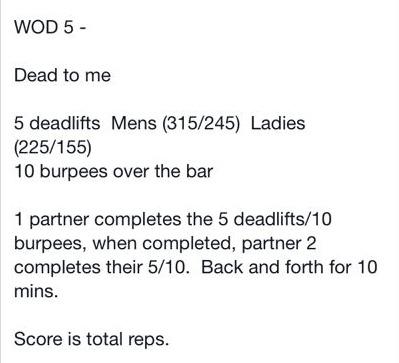 This was by far the worst wod for me. 155# deadlifts are heavy…but I can do 5 of them unbroken and burpees over bar are actually better for me than regular burpees because you don't have to stand all the way up. You can basically kind of do a sideways leapfrog over the bar from a crouch position and then go straight into your next burpee.
The hard part about this one was the time. 10 minutes is a long time to do this wod. Even though you're alternating back and forth, you really don't get much rest time.

I was so.freakin.tired by the time we finished. We each did 8 rounds and Pat did his 5 deadlifts of the 9th round before the 10 minutes were up.
————
We waited around for the final standings to be posted and even though I felt like we did really well at the last wod, the standings showed we were in 7th place. Although we were a bit disappointed, we were also pretty tired so I was happy with 7th place. We packed up all our stuff and started to head home. But I just had this weird nagging feeling in the back of my mind that something wasn't right….so I went back into the gym to say bye to the organizers while hubby took my stuff to the car and they told me that we were actually in 6th place!! Which meant we were supposed to be competing in the finals!
So I frantically called Pat, who was in his car about to leave, and we headed back to the gym.
Wod #6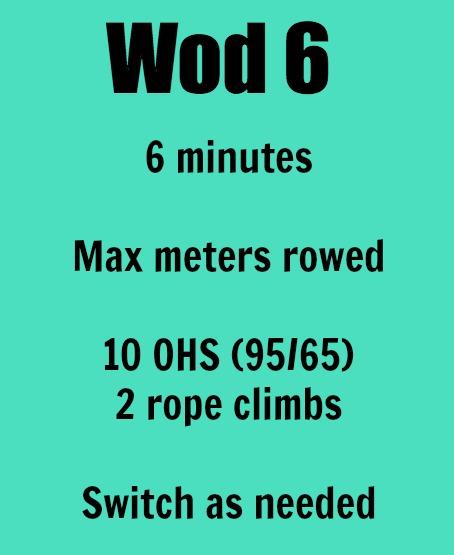 So, one partner had to be rowing and the other partner was doing overhead squats and rope climbs. Theoretically, one partner could row the whole time (ie if one person couldn't do rope climbs) or you could switch any time one partner finished a round of OHS and rope climbs.
I rowed in college and I'm actually pretty good on the erg (plus Pat hates rowing) so we decided I would start rowing, he would do two rounds and then we'd start switching back and forth. Guys, my legs were so exhausted at this point that even 65# OHS, which are usually super light for me, were tough…and after squatting and rowing, I was basically doing my rope climbs with all arms.
Even though we did pretty well at this wod, I think we were too far behind in points from the next team so we didn't end up moving up any spots.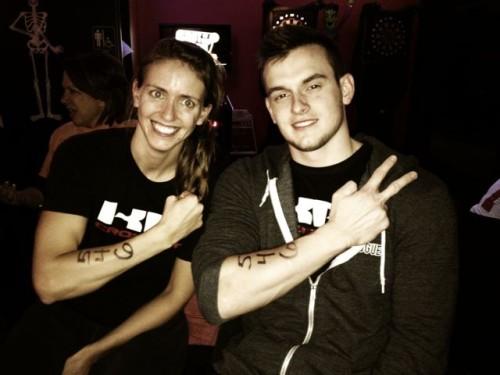 So, we finished in 6th place out of 34 teams! Considering we were just doing this for fun and had no expectations going into it, we were thrilled!
After we were done for real this time, we packed up (again) and headed out to EAT and hang out with friends!
Enjoy!
–Lindsay–
LEARN HOW FOOD AFFECTS YOUR BODY.
Get my free Table Talk email series where I share bite-sized nutrition information about carbs, protein, and fat, plus bonus information about snacks and sugar!