Hi Friends!
Time for another edition of WIAW!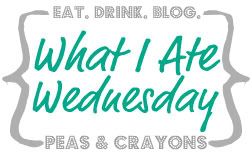 My parents were in town over the weekend so you KNOW we had tons of delicious eats!
We ate breakfast at home most days, but on Sunday morning before they left, we headed downtown for brunch!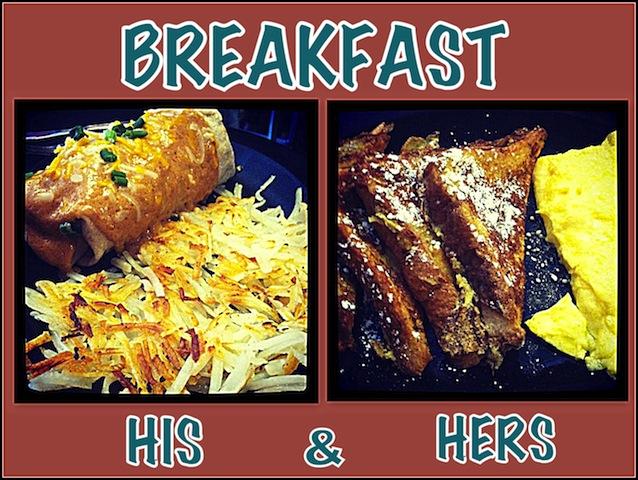 Hubby enjoyed his new favorite breakfast burrito and I pretty much inhaled my french toast, along with some scrambled eggs.
We didn't eat "real" lunches but on Friday we enjoyed some late afternoon snacks and drinks while doing some people-watching. It was amazing to be able to sit outside at a restaurant in March! We had some spicy salmon bruschetta that was so good that we ordered it again after we finished the first plate, and some hummus!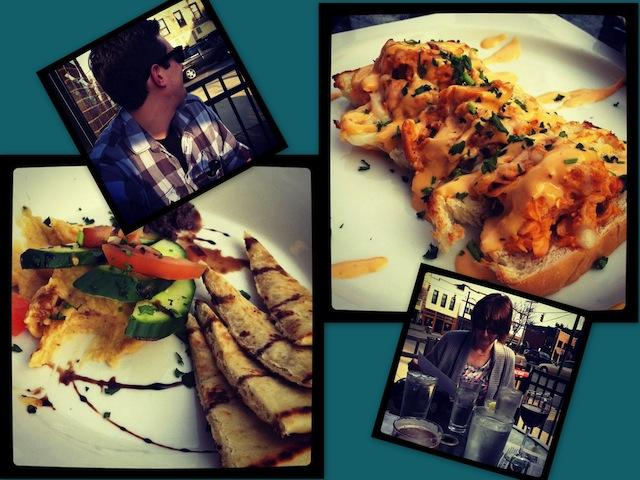 Dinners were the best. After we picked my parents up at the airport, we headed downtown for some pizza, which I apparently forgot to photograph but it was deeeelish!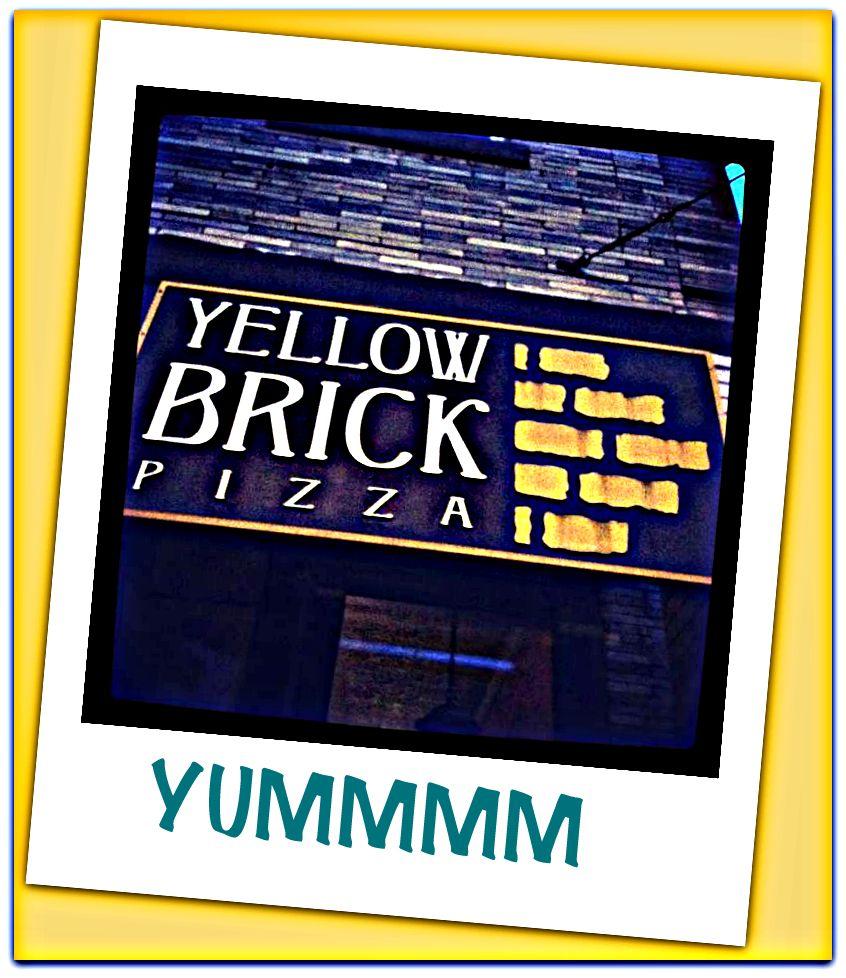 Friday night we tried a relatively new restaurant called Sidebar 122. It was delicious. We all had great salads- hubby got the wedge (his fav), my parents enjoyed beet salads and mine had walnuts and goat cheese toast on top! For dinner, I had lobster ravioli with crab sauce (yes please!) and the hubby had a pizza with shrimp, scallops and asparagus on it!
After dinner we stopped for some of the best ice cream in Columbus. A rare treat for us because the line is always SO LONG! But it's so worth it. I always get the same thing- brown butter almond brittle and lemon. My parents love the salted caramel and hubby gets a combo of coffee, salted caramel and chocolate!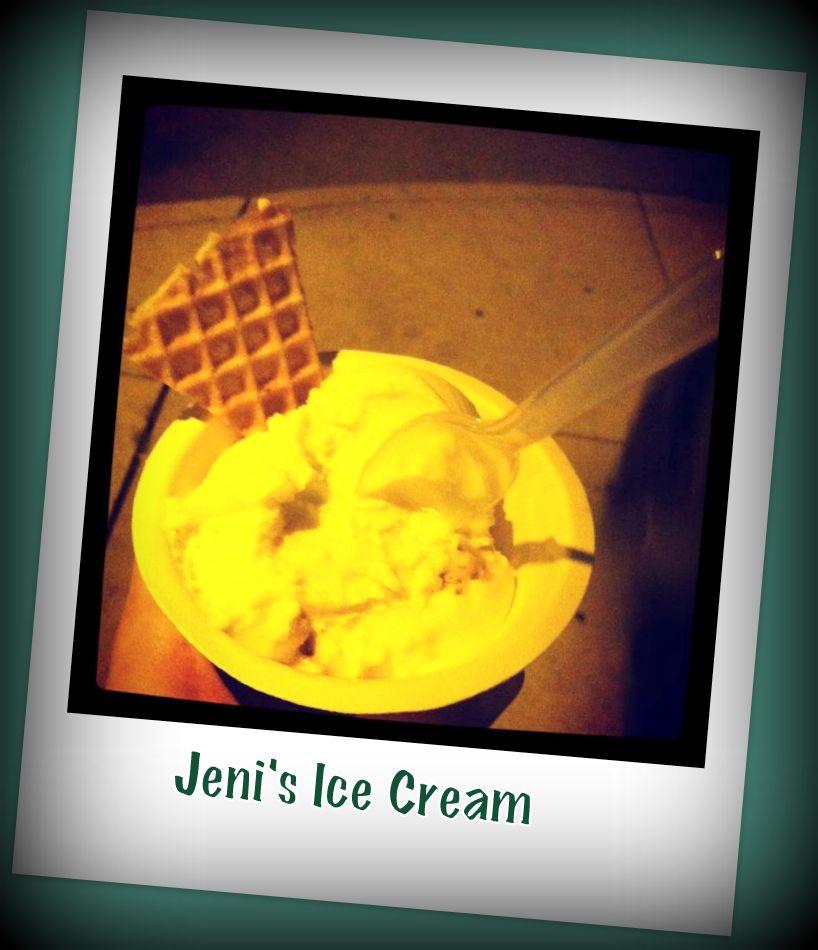 For St. Patrick's day, we decided we didn't want to battle the crowds so we invited my in-laws over for dinner and cooked at home!
We picked up some sushi and made some stuffed mushrooms for appetizers and my MIL brought a delicious mexican layered dip that we ate with chips! We also got a couple of crab cakes from the seafood counter but I may have slightly over-cooked them and then still proceeded to inhale them without taking a picture. Crabcakes are one of my top three all-time fav foods.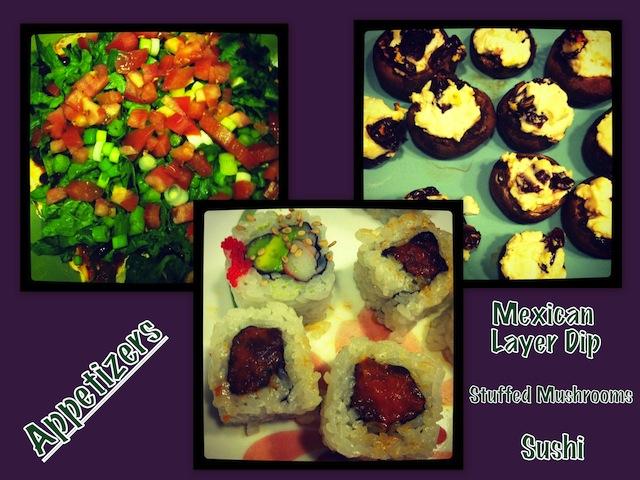 For dinner we had quite a spread. We decided on fish tacos because hubby is a quite a fish taco kick. Plus, taco bars are always easy for a buffet style dinner. We made a big spinach salad and my mom and I also put together a cold farro salad with feta, parmesan cheese, caramelized onion, roasted asparagus, tomatoes and a balsamic dressing. Plus I made some sweet potato fries!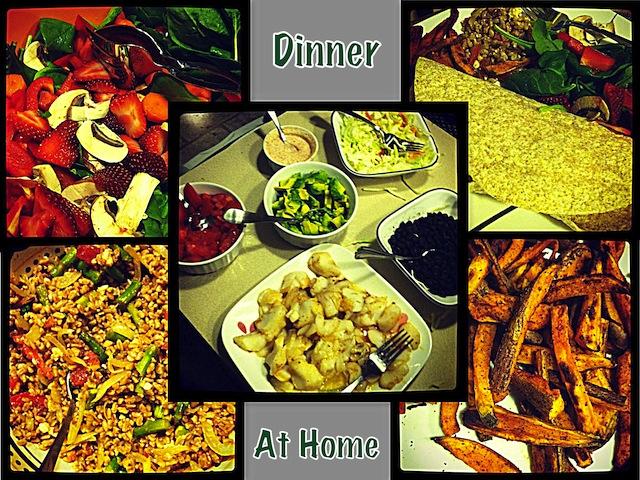 Everything was delicious…and we had just enough for leftovers when I came home from work Sunday night. This was most convenient because I was an hour late getting home from work. There was a tornado warning which resulted in us having to move all the residents into the hallways while the sirens went off for an hour! Luckily there were no tornados, just rain and hail…but I was happy to be home and not have to cook 🙂
Now it's your turn! What's the best thing you ate this week?
–Lindsay–
Today's workout: