Hi Friends!
Let's talk strength today, shall we?

I've always considered myself an athlete. Growing up I played almost every sport under the sun before zeroing in on volleyball. In college I branched out and tried rowing, thus becoming a college athlete…something I never thought I'd be. Now, 10 years later, even though I'm not on an official team, I still consider myself an athlete.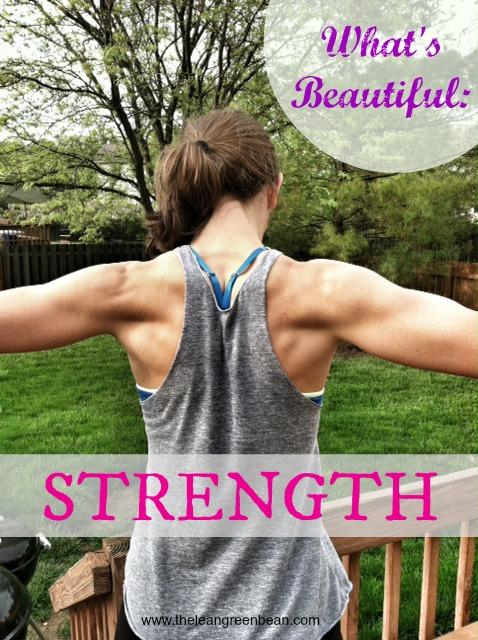 Under Armour just launched the third round of their What's Beautiful campaign. Have you heard of it? It's a competition to redefine the female athlete….and I love everything about it. This campaign is all about encouraging and empowering women to set goals and then GO GET THEM! It's about encouraging them to do things they never thought they could do. It's about challenging them to tell their story and prove to the world that they have what it takes to be epic. And it's about helping people realize that the female athlete is more than just someone who wears a jersey or plays on a field or a court.

As part of my partnership with Fitfluential, I'm participating in the What's Beautiful campaign. This is unlike more traditional Fitflential campaign where a few ambassadors are chosen to review a product. This is a movement. Over 300 amazing fitfluential ambassadors, including me, have joined the movement and are part of a sponsored campaign for the What's Beautiful program with Fitfluential & Under Armour. Our job is to inspire YOU to join the movement as well!
Anyone can participate. From anywhere. All you need is a goal, a positive attitude and a desire to prove yourself!
When you sign up for the campaign, you declare a goal. It took me a while to come up with mine. At first I thought about something personal, like add 20 pounds to my back squat. But then I realized, this campaign is about more than me. This is about all women. About encouraging them to believe that they can do anything they set their mind to. This is the goal I came up with:
I WILL : Help women realize that lifting heavy weights and having muscles is healthy and beautiful, not something to be afraid of.
Because it's something I remind myself of every single day when I head to the gym. Because weight lifting is one of the BEST things you can do for your body. Because ANYONE can start lifting weights, no matter what age or size you are, no matter what shape you're in. Because the beautiful thing about strength, is that you can always get stronger.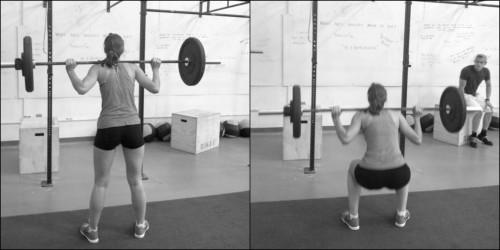 Here are a few things lifting weights can do for you:
Help you gain muscle and lose fat.
Help make everyday chores easier.
Help you build and maintain strong bones.
Help protect against injury.
Build your confidence.
Increase your mental strength.
And so much more!
I've never been afraid to lift weights. I can still remember the day in high school when I got my picture in the local paper for squatting 135 pounds. I've never been so proud as when I was able to put those huge 45 pound plates onto the bar, lift it onto my back, squat all the way down and stand back up. I felt like a badass. I felt STRONG. Over the years, I've done all kinds of strength workouts. I've used barbells, I've used dumbbells, I've used household objects like milk jugs filled with sand. And now, at 28 years old, I'm stronger than I've ever been. I can put 95 pounds on a barball and push it up above my head. I can hold 100 pounds over my head and squat all the way down and back up again. I can put 185 pounds on the bar and pick it up off the ground.
I have muscles. I can see my own strength in my shoulders, my legs and my back. And you know what? I've never felt more beautiful.
Because, my friends: Strength is what's beautiful. Having muscles is beautiful. Beauty, in my world, is not defined by starving myself to be as thin as the models you see in the media. It's not always about wearing makeup and fashionable clothes.
Beauty, to me, is in my strength. It's about sweat, effort, determination and desire. It's about being HEALTHY. It's about being proud of myself. And it's about being mentally strong enough to KNOW that I can do anything I put my mind to.
So this is me, encouraging you to join the What's Beautiful challenge. Set a goal for yourself. Aim high. Dream big. Pick something you've been wanting to accomplish for a while- start running, run a marathon, join a gym, become a yoga teacher, learn how to lift weights, gain 5 pounds of muscle, stop the negative self talk…whatever YOU want.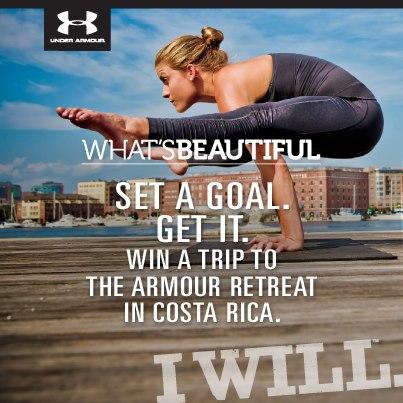 Here's a little bit more about the What's Beautiful campaign from the Under Armour website:
Together we're redefining the female athlete by setting epic goals and pushing past where we've ever been and where we thought we could go. Join us. Set your own personal goal. Then document your journey by posting videos and photos that tell your story from start to victory.
We'll continuously post challenges for you. But that's just the beginning. Show us your journey. Show us what makes your story the one that stands out from the rest. If you meet your goal, set a new one. Make it even bigger. Prove to everyone, and yourself, that you have more than what it takes.
Each week, Under Armour will be giving away swag bags full of loot to participants. they will feature top performers on their website. after 8 weeks, they will announce 10 finalists who have documented the most impressive & motivated journeys toward the goals. mid-july, winners will be announced! three winners will receive a trip to Costa Rica for a 4-day retreat.
————–
Tweet or share your goal on Facebook so others can support you.
Use the hashtags #whatsbeautiful and #IWILL
Tell ME your goal in the comments so I can cheer you on!
—————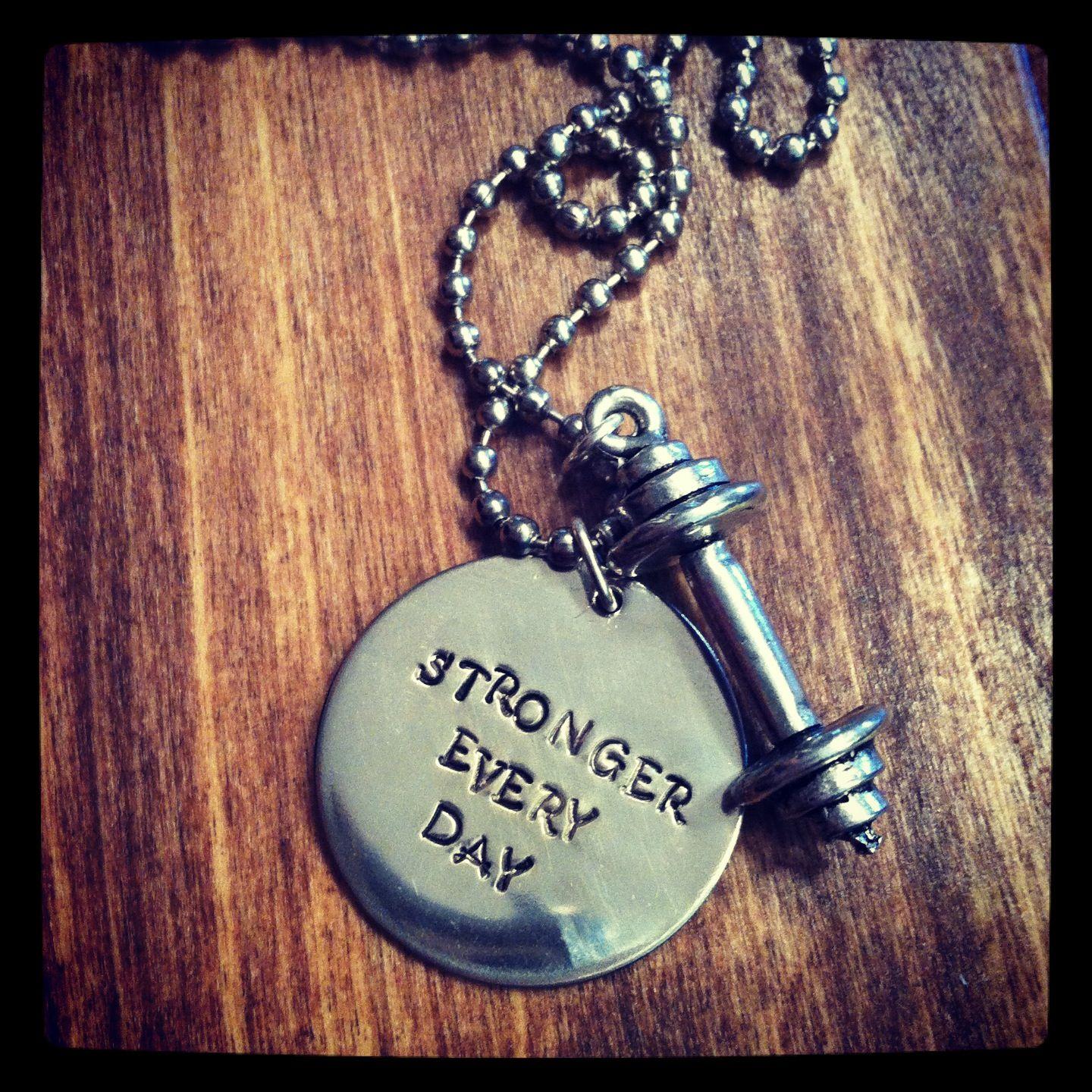 I'm a female.
I'm an athlete.
I am strong.
I AM what's beautiful.
Let's chat: What's your goal?!
Enjoy!
–Lindsay–
LEARN HOW FOOD AFFECTS YOUR BODY.
Get my free Table Talk email series where I share bite-sized nutrition information about carbs, protein, and fat, plus bonus information about snacks and sugar!