Hi Friends!
Time for another edition of Weekly Eats! Lots of good things have been making their way into my tummy this past week! Let's take a look, shall we?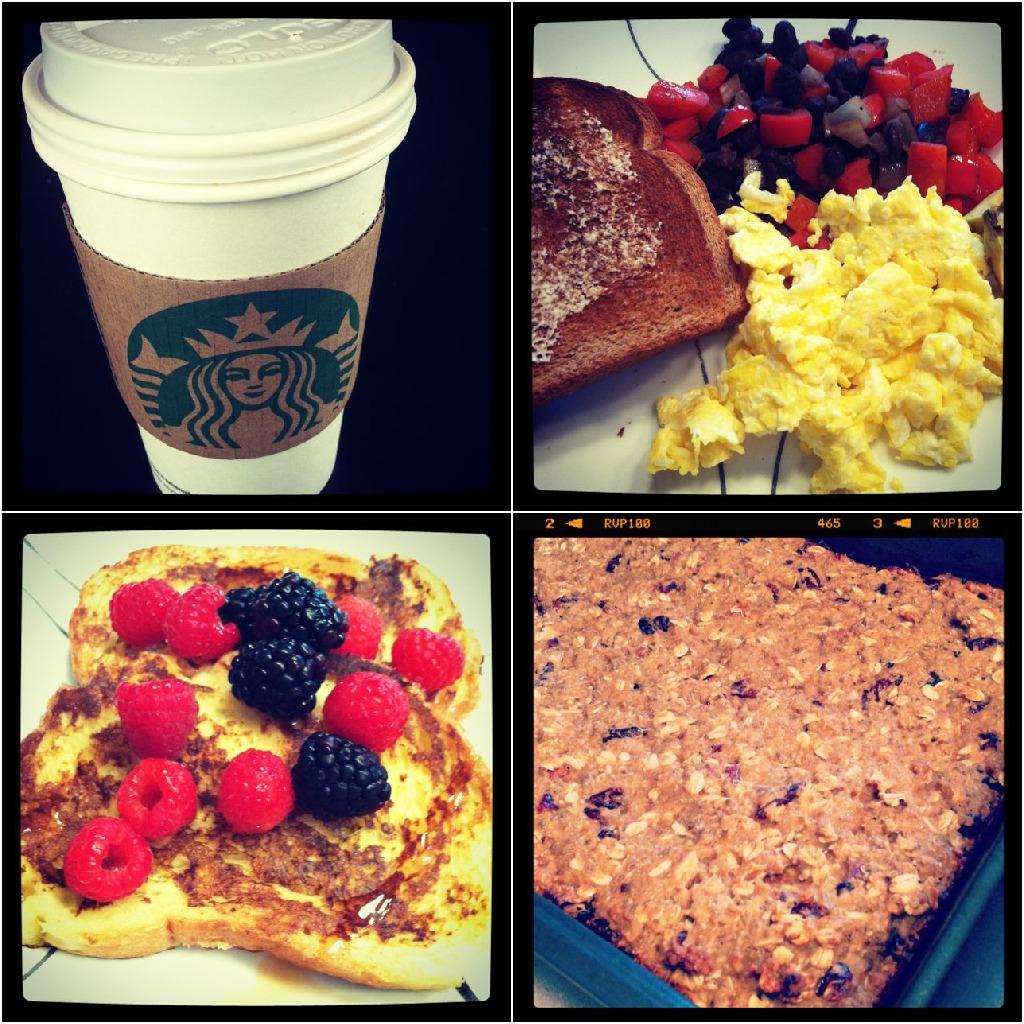 1. Starbucks date to catchup with a good friend!
2. Post-crossfit breakfast: eggs + sauteed peppers, onions & black beans
3. Hubby made me French toast 🙂
4. Double batch of Quinoa Breakfast Bars for hubby
1. Grilled cheese w/ avocado & red peppers, a pear, carrots & hummus
2. Random snack- pumpkin seed tortilla chips from Costco & a Greek Yogurt Trailmix Bar
3. Homemade Guac: 2 avocados, onion, tomato, jalapeno, lemon juice and lots of cilantro
4. Lots of carrots for snackin'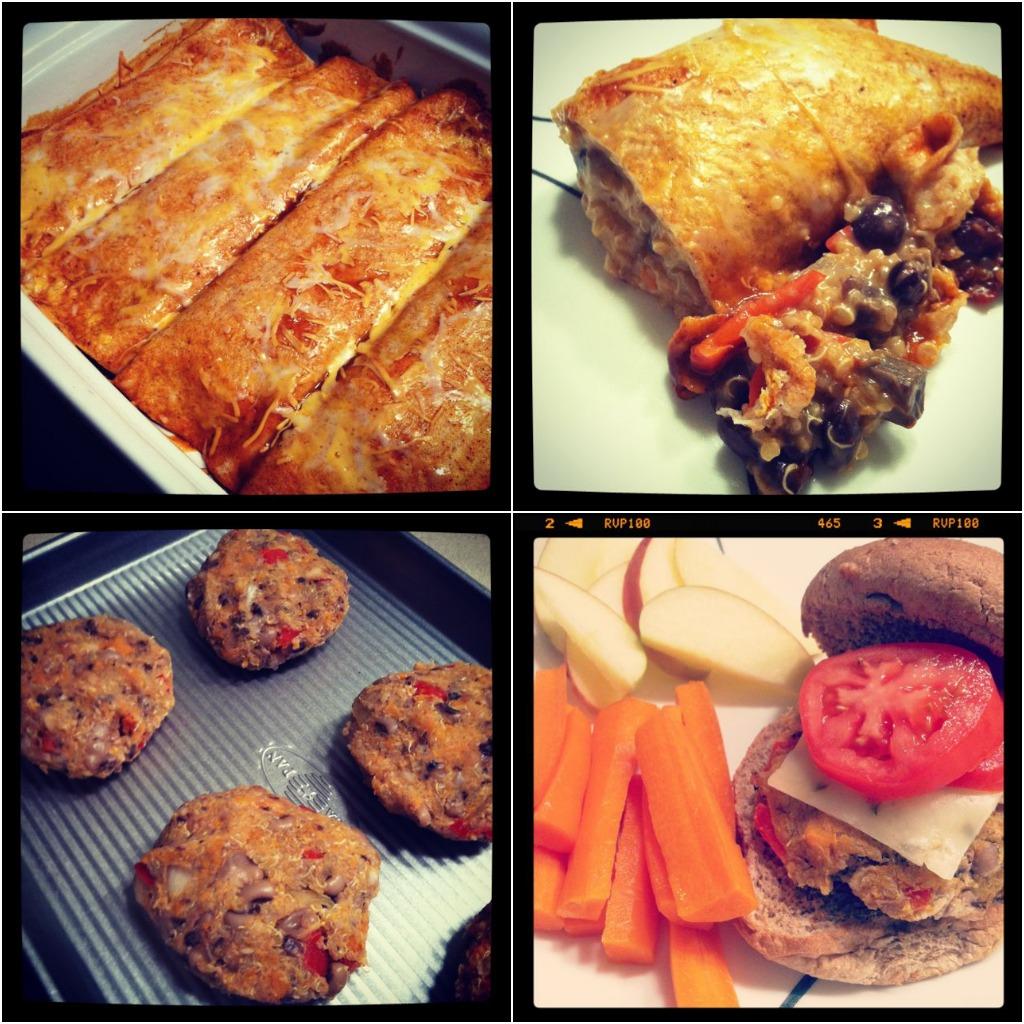 1 & 2.  Black Bean and Quinoa enchiladas
3 & 4. Black Eyed Pea Burgers: I used the recipe for my Sweet Potato Quinoa Black Bean Burgers w/ Cranberries and subbed black eyed peas for black beans and red peppers for cranberries. They were just ok. I was using up leftover black eyed peas but i really don't like them very much. The original burger is much better!
For the Enchiladas: I just kinda threw it together but here's my best guess: 1 c quinoa, 2 cups cooked black beans, 1 red pepper- diced, 1/2 c onion- diced, 1 can low sodium cream of mushroom soup, a handful of shredded mexican cheese, 1 tsp cumin, 1 tsp paprika, 1/2- 1 tsp cayenne pepper. saute the peppers and onions for a few minutes until soft. put them in a bowl, add all the other ingredients and mix well. grease a pan and pour a little enchilada sauce on the bottom of the pan. spoon the bean/quinoa mixture into 4 or 5 whole wheat tortillas and place seam side down in the pan. pour a little enchilada sauce on top and spread with a brush so the tops of all the tortillas are covered. sprinkle with cheese, cover with foil and bake for 30 minutes at 375 degrees.
1. Lentil Vegetable Curry
2. Lentil Veggie Curry w/ Quinoa, salad and Trader Joe's frozen naan
3. Curried Sweet Potato Soup w/ quinoa, carrots & hummus, berries & an egg
4. Salmon salad with quinoa, peppers, onions, tomato, hard boiled egg and guac!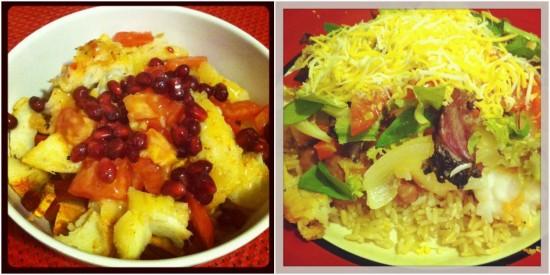 His and Hers Friday Night Dinner: Fish Bowls
Brown rice, roasted sweet potatoes, cod, tomatoes, onion, peppers…plus mine had pomegranate seeds and his had lettuce & cheese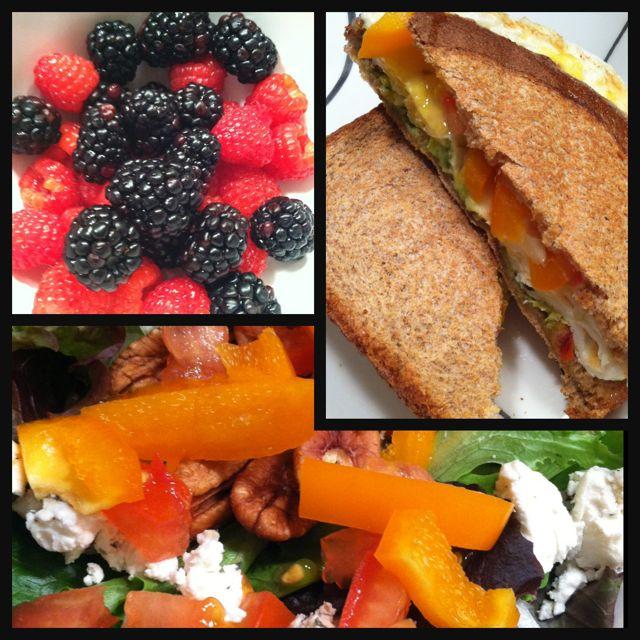 We thought about going out for dinner because we were SO hungry. Instead we came home & made this dinner in under 15 min- panini with two eggs, homemade guac, peppers, onion, tomato & cheese on whole wheat bread, plus fresh fruit and a big salad! Saved us money and was easy, healthy and delicious!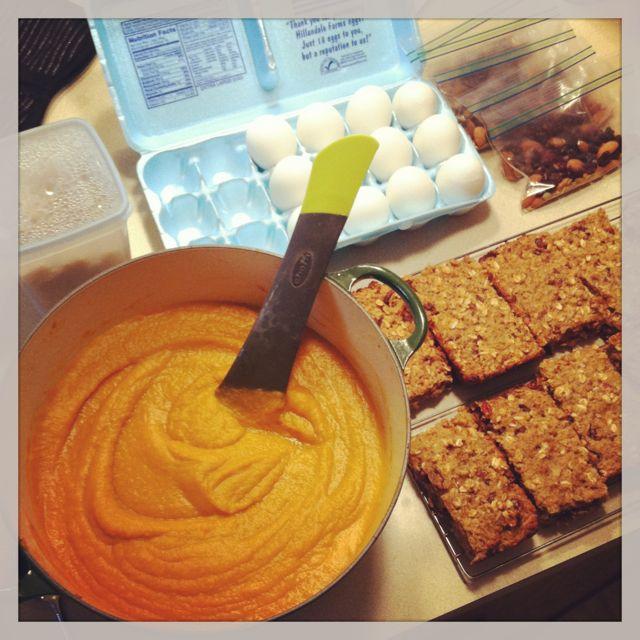 Weekend food prep for my first week back at my internship: quinoa breakfast bars for hubby's breakfast, sweet potato soup for lunch, quinoa for dinner, lots of hard boiled eggs, homemade trailmix for snacking…plus I made a batch of Perfectly Roasted Chickpeas.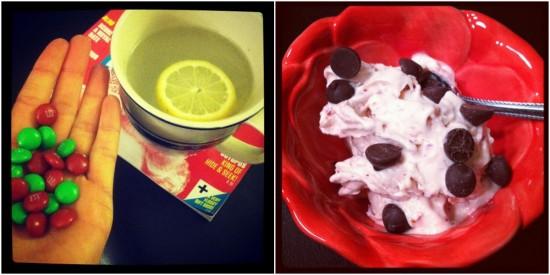 Plus there's always time for treats! M&m's with lemon ginger water and some cranberry banana "fro-yo" with dark chocolate chips!
What have you been eating lately? Try any fun new recipes?!
Enjoy!
–Lindsay–