Hi Friends!
We're halfway through the week. And that means it's time to talk about some of the food we've been eating around here. Let's get to it shall we?
His & Hers Lunches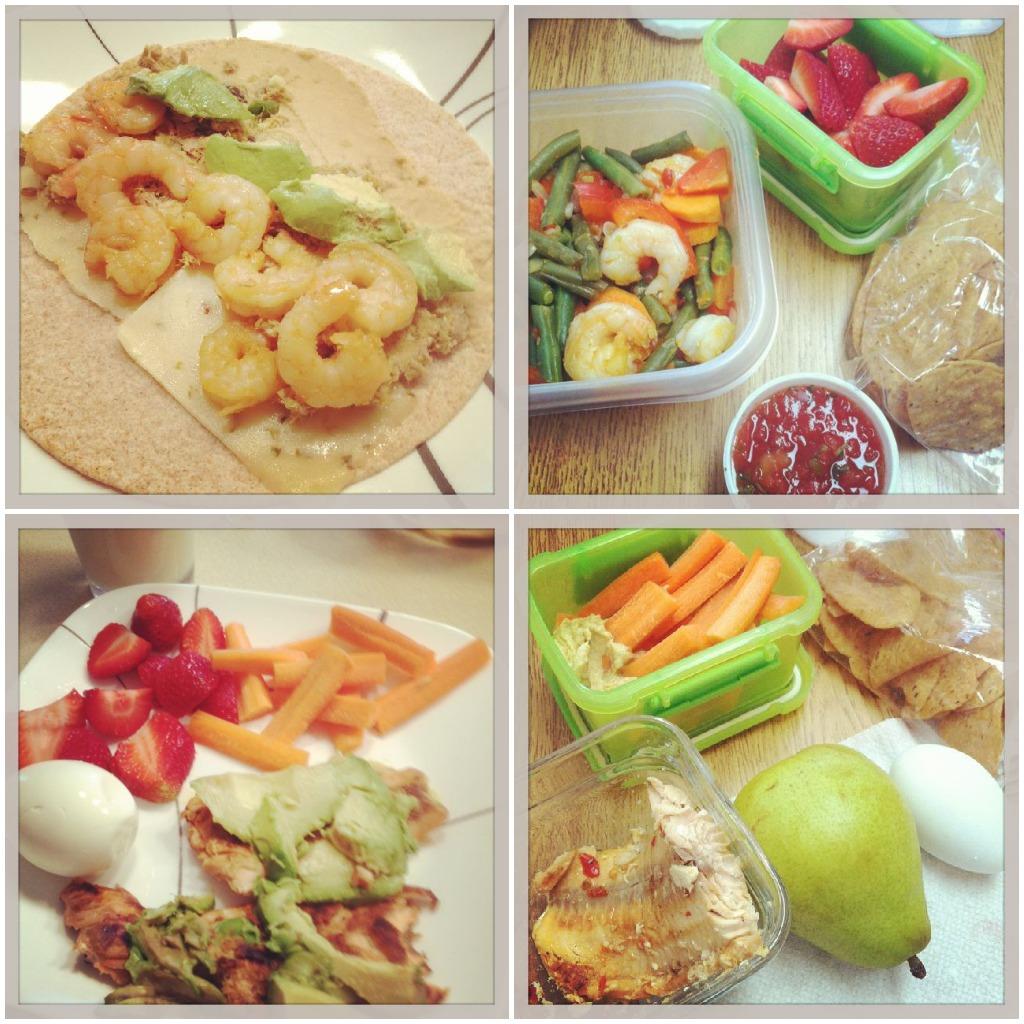 Leftovers from our Sweet & Spicy Shrimp with Soba noodles dinner:
1. Hubby made a wrap with hummus, tuna salad, pepperjack cheese, leftover shrimp & avocado.
2. I had the leftover shrimp & veggies with wheatberries, plus strawberries and some Food Should Taste Good sweet potato chips w/salsa.
Leftovers from our valentine's day dinner:
3. Hubby had salmon w/ avocado, strawberries, carrots & an egg.
4. I had salmon, a pear, an egg, carrots w/ hummus & chips.
Here's what we had for valentine's day: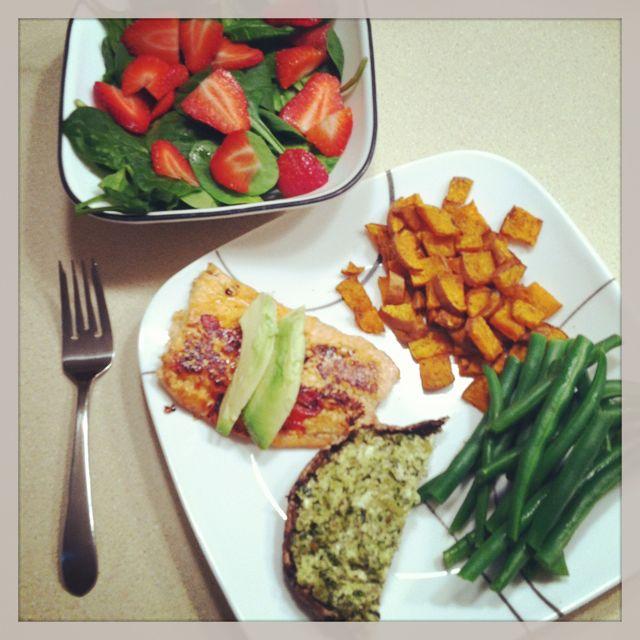 Strawberry spinach salad, giant portobello cap stuffed with goat cheese and pesto, green beans, roasted sweet potatoes and pan-seared salmon topped with avocado. YUM!
Lunches & Dinners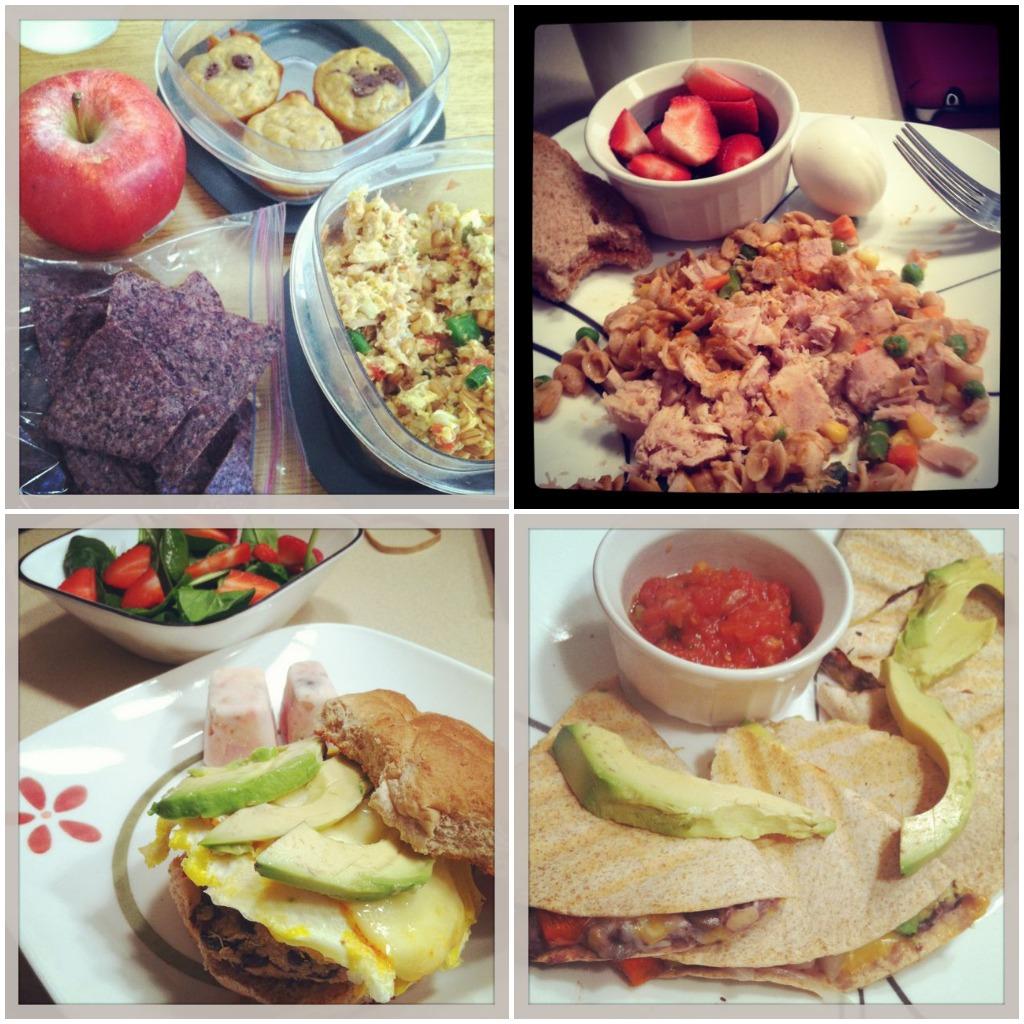 1. I had tuna salad w/ Garden of Eatin' blue corn tortilla chips, an apple and some sweet potato banana bites.
2. Hubby had leftover tuna wiggle with extra tuna, pb sandwich, strawberries and an egg.
3. Greek black bean burgers topped with a fried egg, cheese and avocado, plus some frozen yogurt bites and salad.
4. Black bean quesadillas- we blended some black beans and cottage cheese together, spread it on a tortilla, topped with peppers, onions and cheese and then added avocado and salsa after it was cooked.
Lunches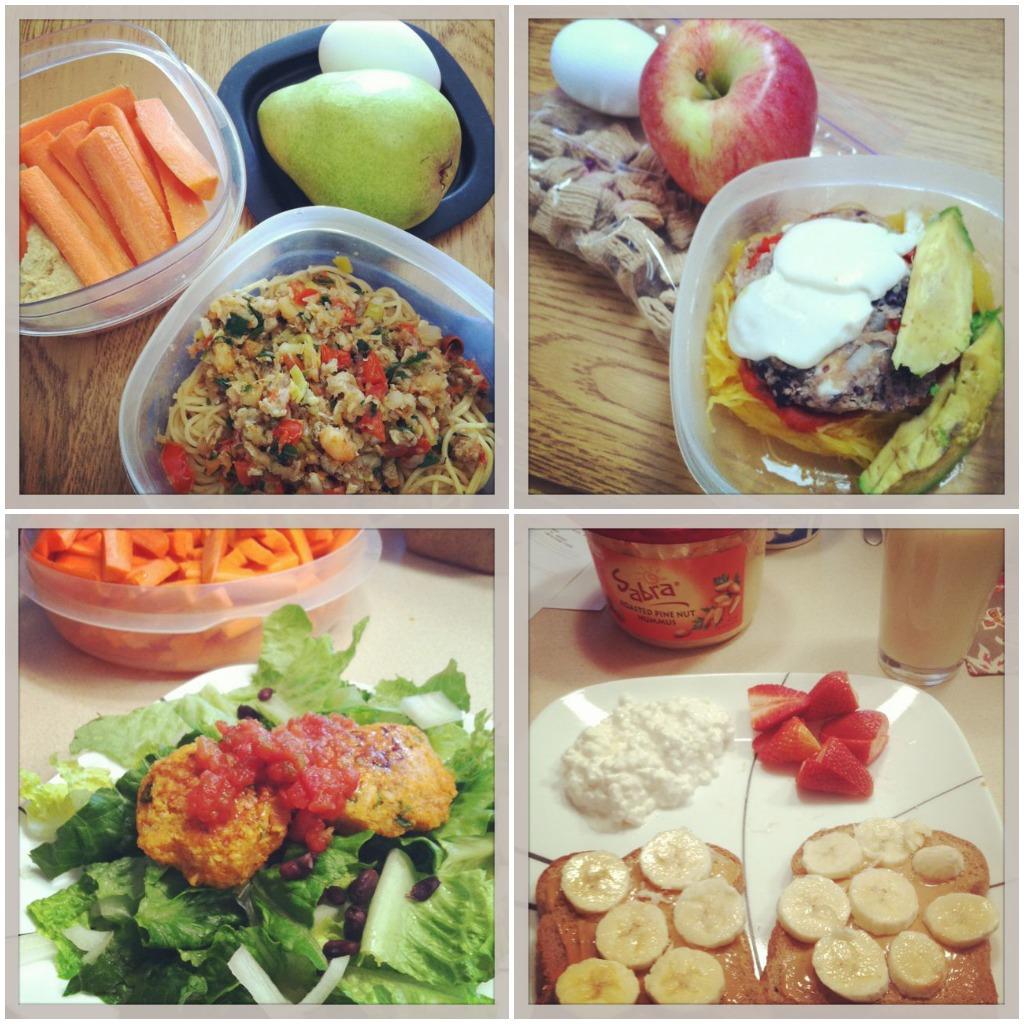 1. Leftover clam spaghetti, carrots w/ hummus, a pear & an egg
2. Greek Black Bean Burger over spaghetti squash w/ sauce, fresh mozz & avocado, plus an apple, an egg and some Quaker Oat Squares
3. Tuna Quinoa Cakes with black beans and lettuce, topped w / salsa
4. Hubby's lunch: pb & banana, cottage cheese, strawberries & carrots w/ hummus
Dinners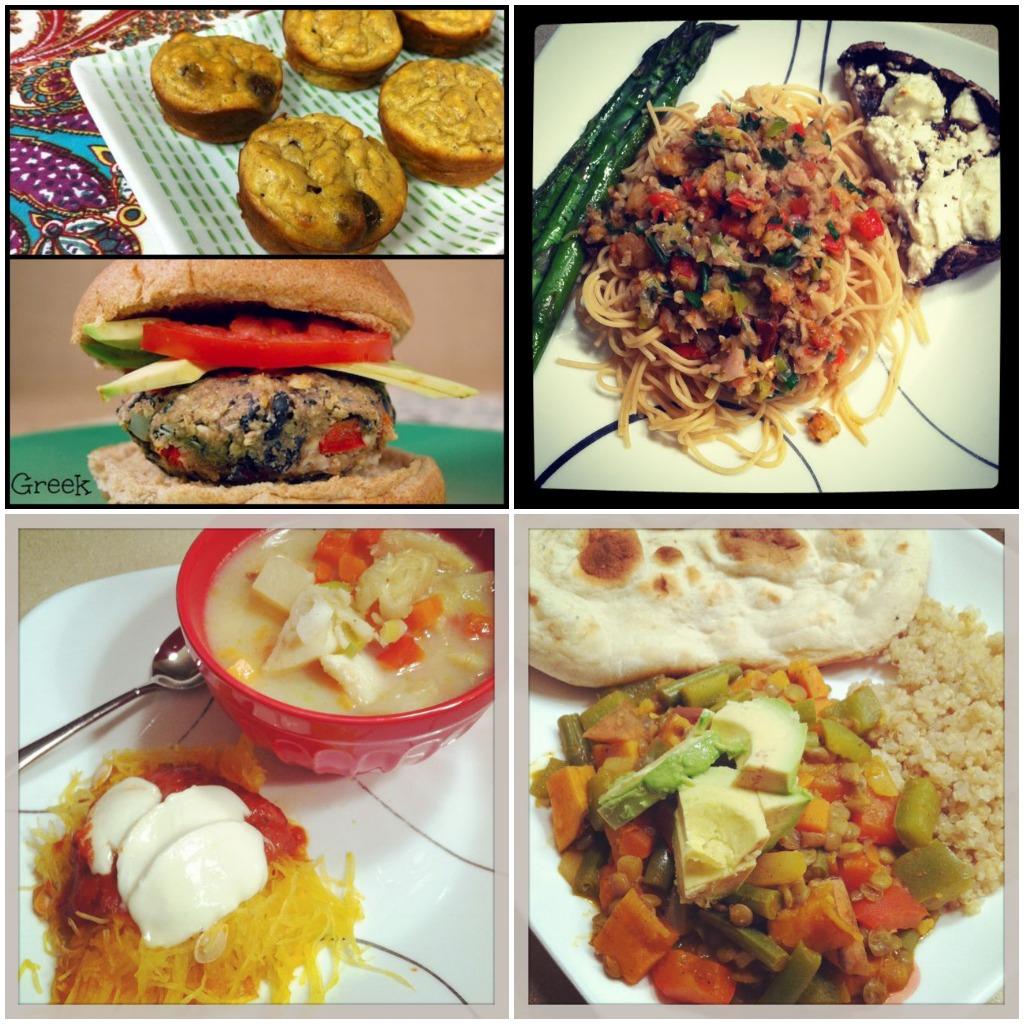 1. Greek Black Bean Burgers (recipe coming tomorrow!) & Sweet Potato Banana Bites
2. Clam spaghetti with balsamic roasted asparagus and a big portobello w/ goat cheese
3. Fish chowder & spaghetti squash w/ sauce and fresh mozz
4. Lentil veggie curry w/ quinoa and naan
Odds and Ends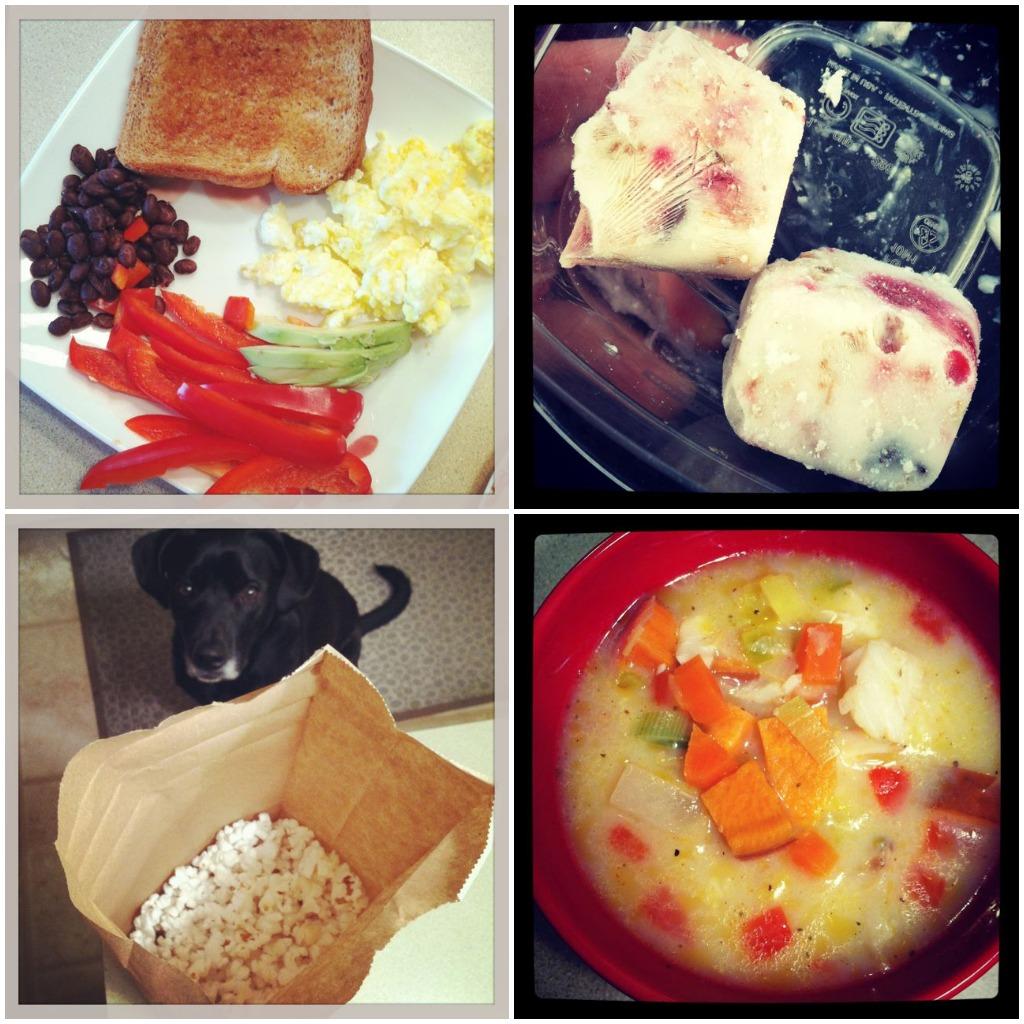 1. Post crossfit breakfast
2. More yogurt bites
3. Fav snack of the week- popcorn
4. Fish chowder for dinner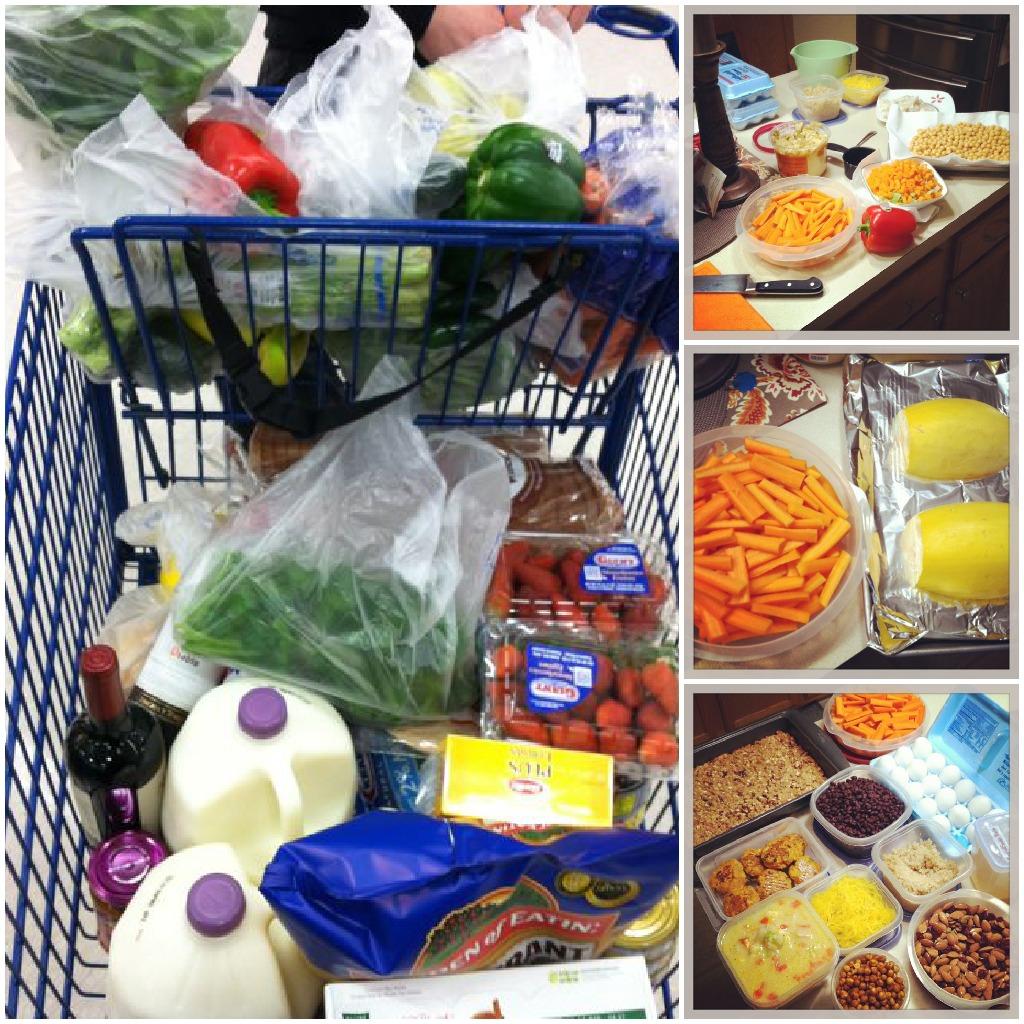 1. Grocery shopping.
2-4. Food prep! You can fin all the details about my food prep for this week in Sunday's Food Prep Inspiration post! The recipe for the fish chowder is in there too.
Are you a sunday food prepper? Don't forget to send me a pic to be included in this sunday's post!
Enjoy!
–Lindsay–