Hi Friends!
Time for another edition of Weekly Eats! Lots of pretty pics to share this week:
Breakfasts & Lunches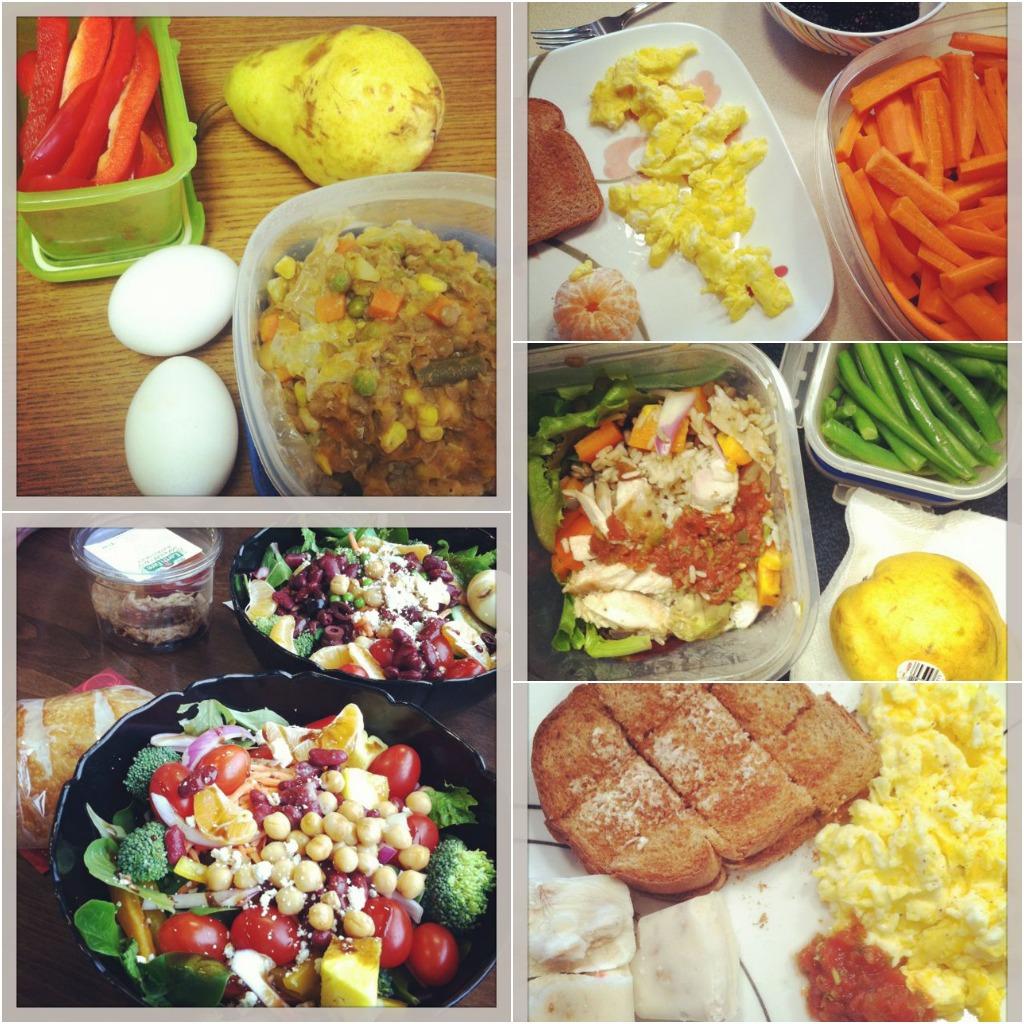 1. Lentil Veggie Pot Pie, peppers, eggs and a pear
2. GIANT salad from Earth Fare for a weekend lunch
3. Eggs & toast w/ carrots and fruit a la hubby
4. Fish taco salad with green beans and a pear
5. Eggs & toast w/ some Greek Yogurt Trailmix cubes 
*I had extra when making trailmix bars so I put it in ice cube trays
Lunches and Snacks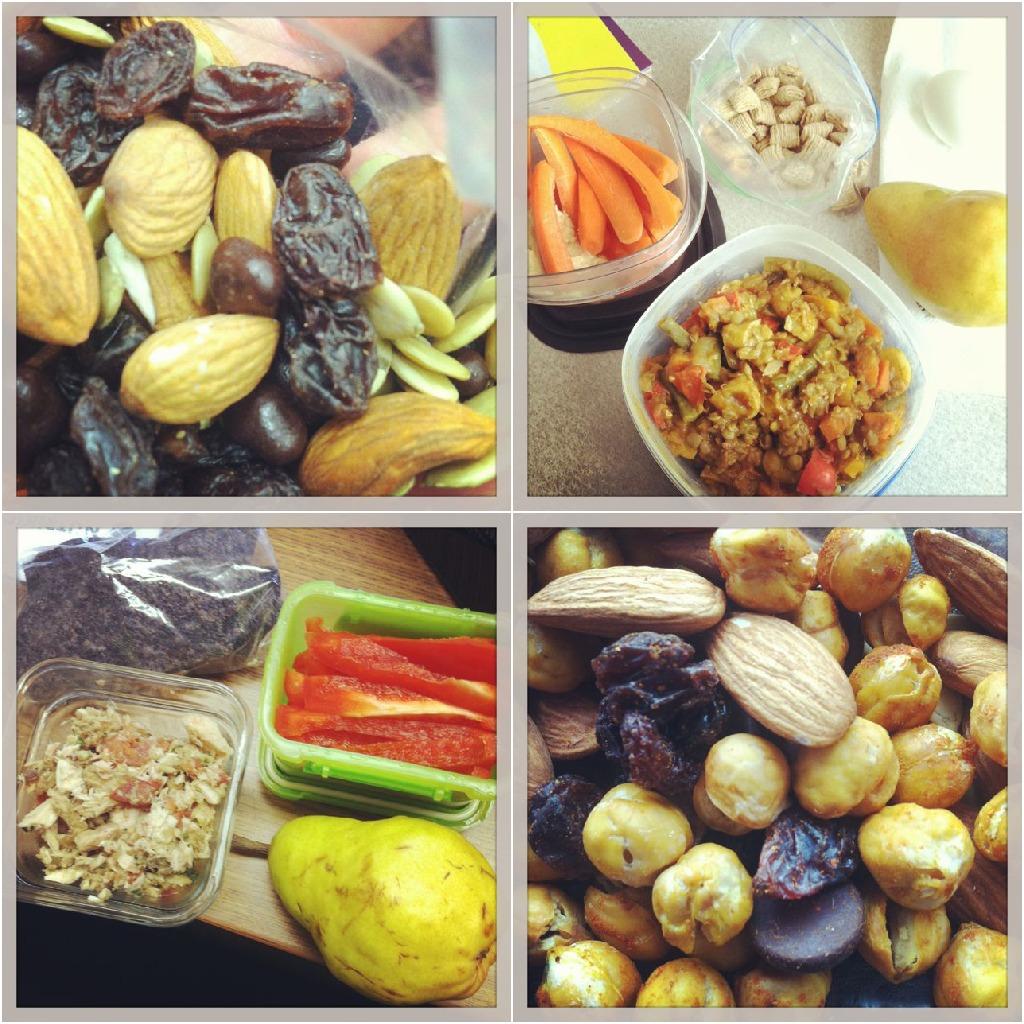 1. Trail mix! Almonds, pumpkin seeds, raisins & Trader Joe's choc covered pomegranate seeds
2. Lentil veggie curry with quinoa, carrots & hummus, pear, egg & Quaker Oat Squares
3. Tuna w/ guacamole & salsa, pear, red pepper strips and chips
4. Trail mix! Perfectly roasted chickpeas, almonds, raisins, pumpkin seeds & choc chips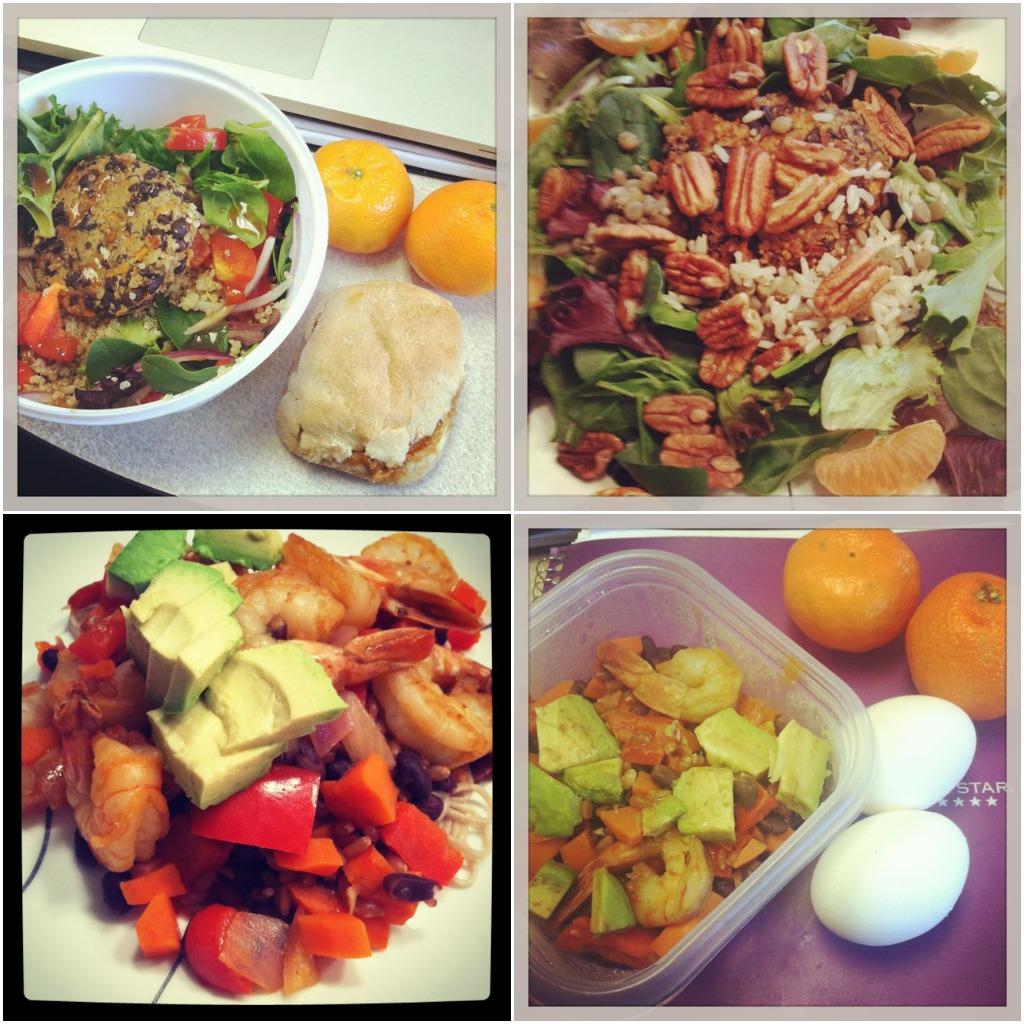 1. My lunch- Asian black bean burger salad, pb roll & clementines
2. Hubby sent me a pic of his lunch- SO PROUD!
I've taught him well!
3. Sweet and Spicy Shrimp w/ Soba Noodles
ok, this was dinner…and not quite like the original recipe, but close!
I threw in some wheatberries, black beans and avocado
4. Leftovers for lunch w/ clems and hb eggs
Dinners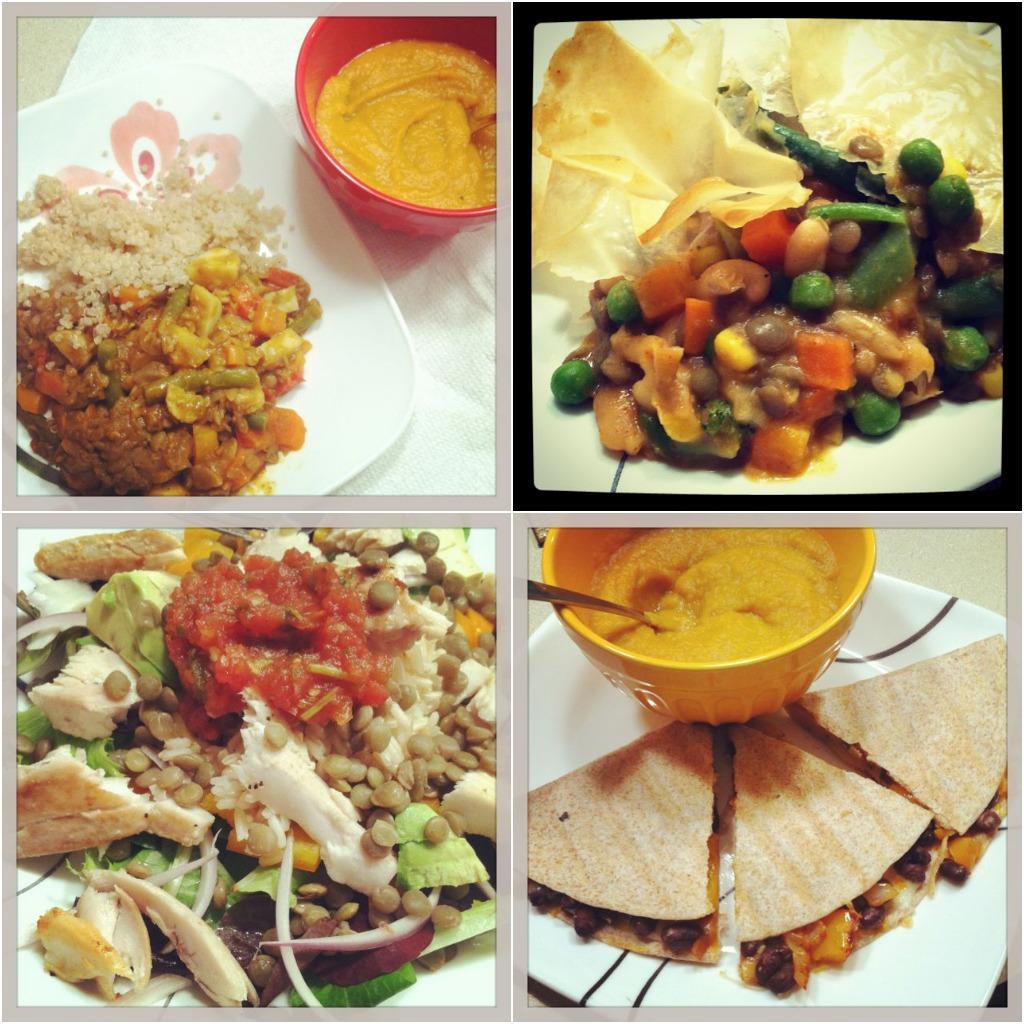 1. Lentil veggie curry with quinoa and Curried Sweet Potato Soup
2. Lentil veggie pot pie– I used phyllo dough as the top this time and didn't love it
3. Fish taco salad- lettuce, fish, lentils, peppers, onion, avocado and salsa
4. Curried sweet potato soup and black bean quesadillas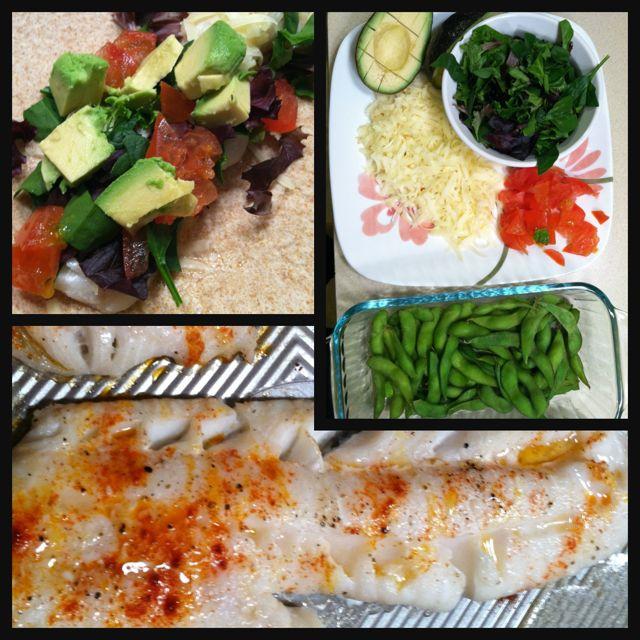 Came home from a super long day interning, plus class AND crossfit,
And hubby had fish tacos ready for dinner.
Love him.
Sunday Prep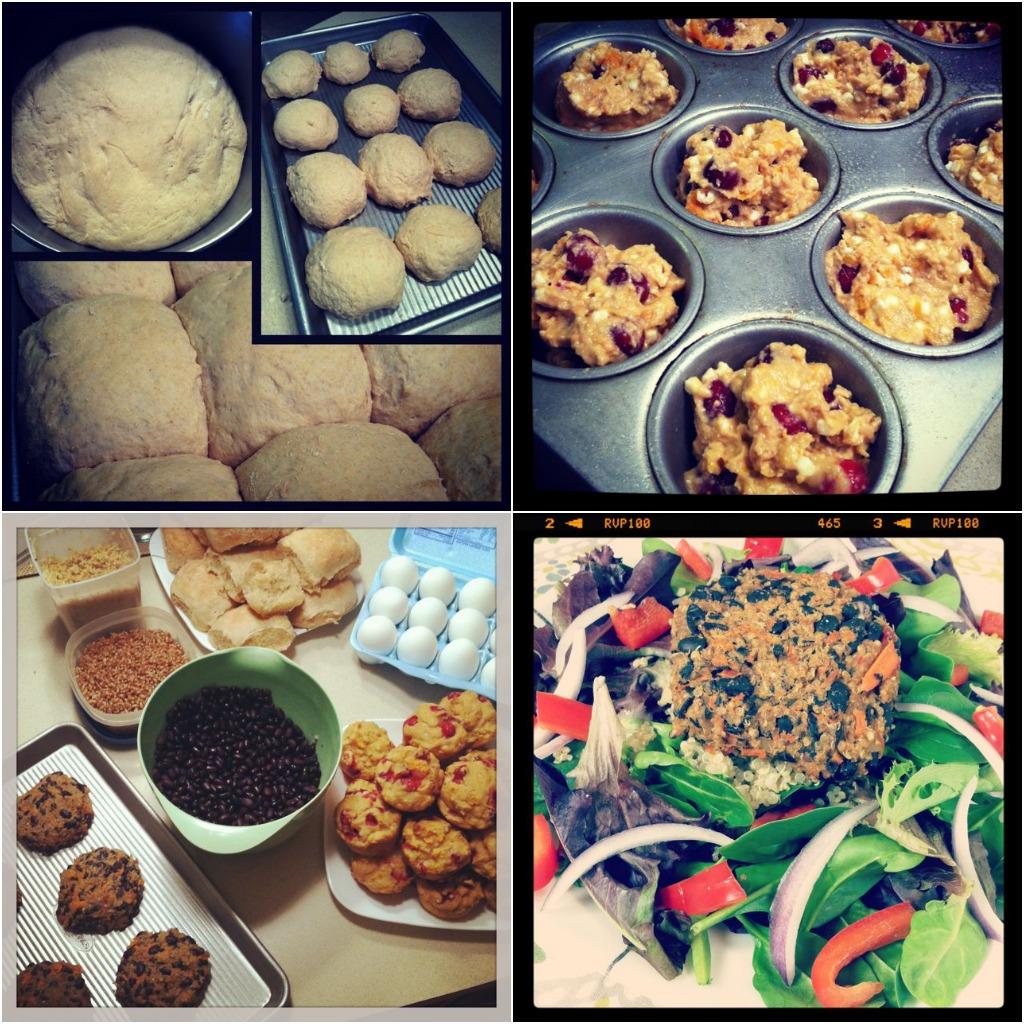 1. Greek Yogurt Dinner rolls- recipe coming tomorrow!
2. Cranberry Sweet Potato Cottage Cheese Muffins
3. More prep: quinoa and wheatberries cooked, rolls made, eggs boiled, muffins made for hubby to eat for breakfast, black beans cooked, burgers prepped for dinner
4. Asian Black Bean burgers
That's all I've got!
Enjoy!
–Lindsay–