This could also be called Clinging-to-the-end-of-summer-fruit-and-chickpea-salald.
Last night we grabbed what is probably one of the last watermelons of the season while we were grocery shopping. I used one of my favorite kitchen tools, the melon baller to get most of it ready to eat but I had just a little bit extra that wouldn't git in the container. I immediately decided I would use that part to make something for lunch tomorrow…I just didn't know what.
After sleeping on it, I woke up this morning ready to go out on a limb. For some reason, pairing watermelon with chickpeas was stuck in my head and I couldn't get it out. After a quick google search, I appears that this is not the most popular combo out there…but I went with it anyways. And you know what? I loved it!
Watermelon Chickpea Salad
Prep Time: 5 min
Keywords: side healthy vegetarian chickpeas fruit summer
Ingredients (Serves 2-4)
1 c chickpeas, drained and rinsed
2 Tbsp red onion, diced
1 c seedless watermelon, diced
1 medium peach, diced
1 Tbsp cilantro, minced
juice of 1/2 a lime
Instructions
1. Combine all ingredients in a small bowl. Stir gently to combine.
Notes
*I used ice cold watermelon and peaches from the fridge and I loved the temperature contrast with the room temperature chickpeas. However, this could also be served after refrigerating the mixture for an hour or so to let the flavors meld, or with all of the ingredients at room temperature.
*I really wanted to add some avocado to the mixture but none of mine were ripe yet. Next time.
*To kick it up a notch, drizzle with balsamic vinegar just before serving.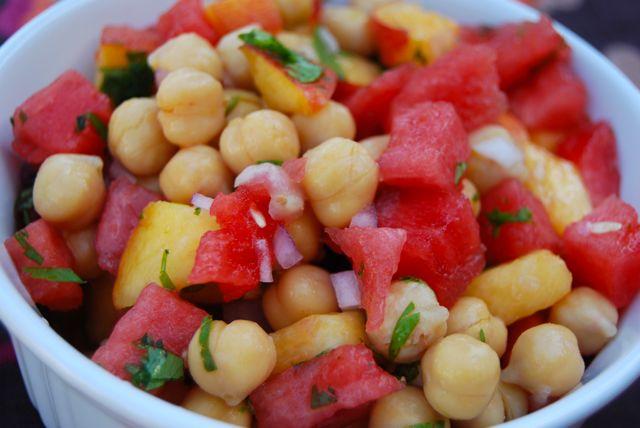 I ate this by itself but you could also probably eat it with chips, more like a salsa.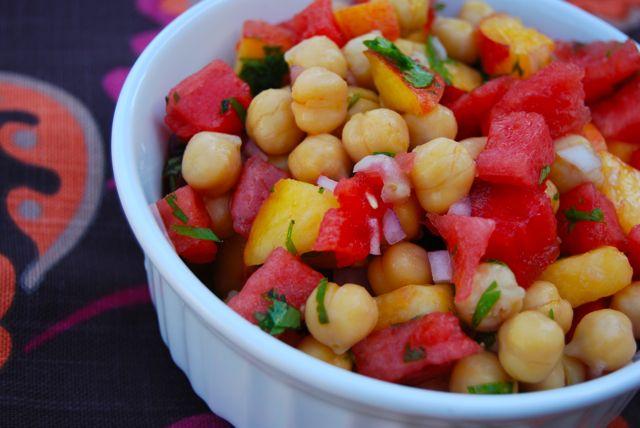 Enjoy!
–Lindsay–