Every year since I was little, my mom has made stuffing for Thanksgiving. And I've never eaten it.
A couple years ago, she made it and the hubby LOVED it. The following year, it was our year to stay here for Thanksgiving and even though we didn't see my parents, the hubby requested my mom's stuffing. So she froze some for him, and he ate it when we visited them for Christmas.
This year, I decided to surprise the hubby and try to make my mom's stuffing for him. I asked her for the recipe and she said there wasn't one! But she gave me a list of ingredients and a general outline of what she did and I decided to give it a whirl.
The only thing was, her version was not vegetarian. BUT, with just a couple substitutions, I adapted it to our current dietary needs. Instead of regular sausage, I used Morningstar vegetarian breakfast sausages…and instead of chicken broth, I used homemade veggie broth! Piece of cake!
Vegetarian Stuffing
Prep Time: 10 min
Cook Time: 20 min
Keywords: stovetop saute side healthy vegetarian rice apple cranberry Thanksgiving fall
Ingredients (Serves 4-6)
2 Tbsp butter
1/2 c celery, thinly sliced
1/ c leeks, thinly sliced
1/2 c apple, chopped
2-3 Morningstar breakfast patties, diced
1 tsp McCormick's grill seasoning
salt & pepper to taste
1/2 c Craisins
1 c wild rice, cooked
1 Tbsp fresh parsley, minced
5 c old bread, cubed
3/4 – 1 c vegetable broth
Instructions
1. Saute the leeks and celery in the butter until soft.
2. Add the apple, sausage, Craisins and seasonings and saute 5 minutes more
3. Stir in the rice, parsley and breadcrumbs until well combined.
4. Slowly add broth until all of the bread is moistened.
5. Cook until heated through and serve warm.
Notes
-If you're not vegetarian, feel free to use real sausage and chicken broth
-If you don't have any stale bread, slice up some fresh bread, cut it into cubes and lightly toast it in the oven.
-If you don't have McCormick's you could use any kind of poultry seasoning if you have it, or whatever combination of spices you do have on hand.
The good news: The stuffing was a big hit. The hubby immediately said, "you gotta put this on The Bean!" So there you have it.
More good news: I actually tried the stuffing…and I liked it 🙂 Although I don't really have anything to compare it to because I never ate my mom's, I'll definitely be making this again.
The hubby has already requested another batch!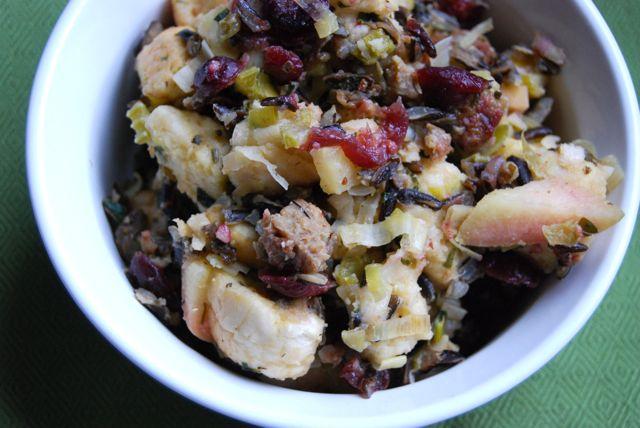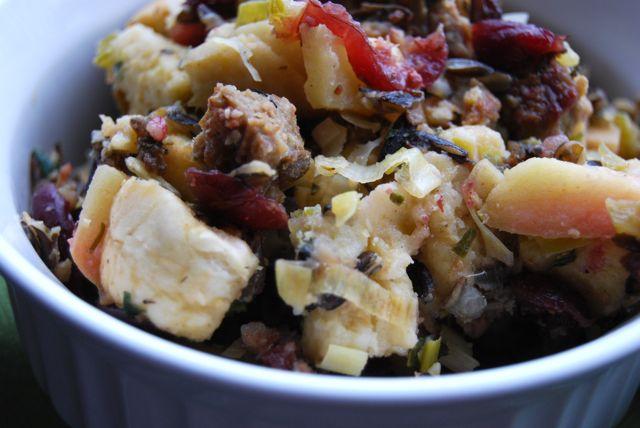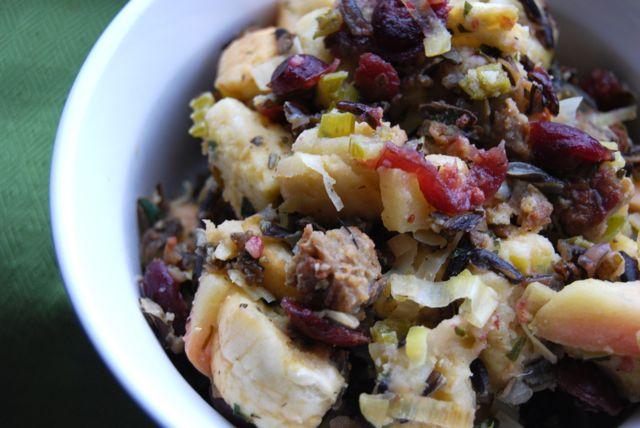 Check out yesterday's post to see what I did with all the extra wild rice I accidentally made!
Have you ever adapted a family recipe to make it fit your dietary needs or made it healthier?
Enjoy!
–Lindsay–
Today's Workout:
5 x 50 Supersets Workout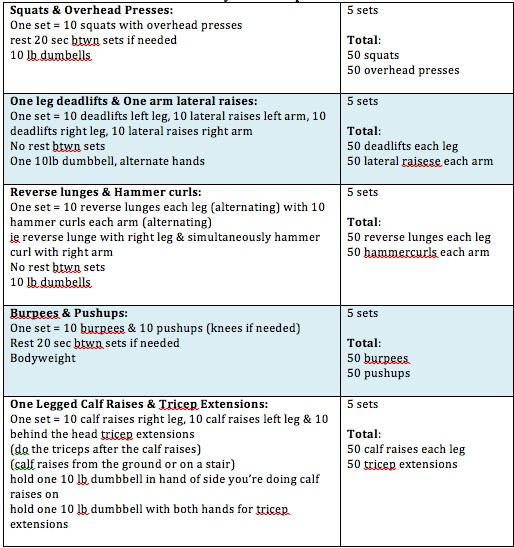 LEARN HOW FOOD AFFECTS YOUR BODY.
Get my free Table Talk email series where I share bite-sized nutrition information about carbs, protein, and fat, plus bonus information about snacks and sugar!