Hi Friends!
Time for another round of food prep inspiration. I don't have a photo for you from last weekend but I did manage to make a crockpot rotisserie chicken and get a pork tenderloin marinating, while hubby grilled himself some steaks and sliders. I also cut up some carrots to snack on.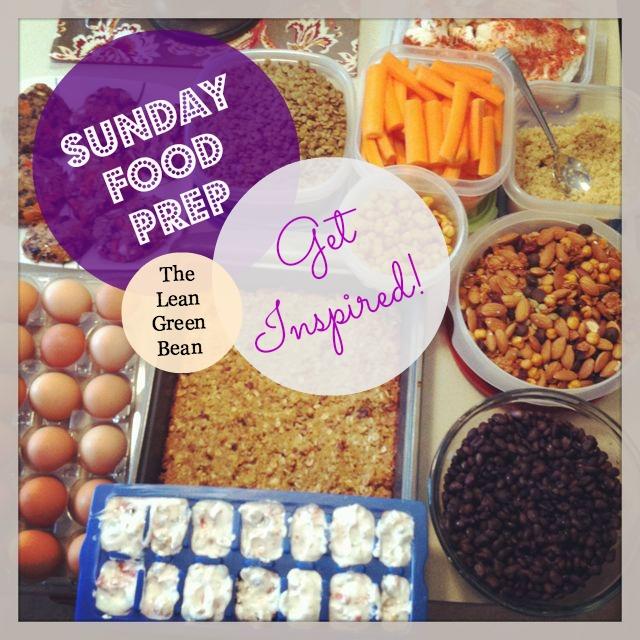 Here's what some of you have been up to:
Melissa at Mango About Town –
Usually Mr.A and I don't do a lot of food prep at the beginning of the week because we like to cook together every night, but this week we prepped a few items to make the transition into the week a little smoother (and sweeter!)
Homemade meat sauce
Farfalle (aka bowtie) Pasta (if you put a scoop of sauce on it, the noodles don't stick together!)
Roasted eggplant
Roasted Brussels sprouts
Lindsay's Peanut Butter Banana Oat Muffins
Holiday Rice Krispy Squares (because, why not!)
Freshly ground coffee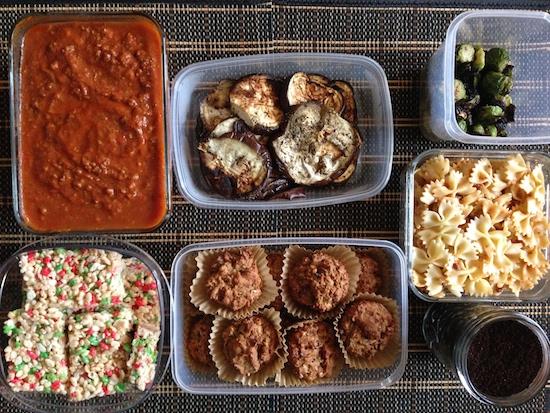 Sheryl –
Spaghetti squash. Half plain half as spaghetti with turkey sausage.
Noodles for the kids.
Steel cut oats portioned out.
Ground turkey.
Cucumbers. Roasted orange and yellow peppers.
Salmon and tilapia (container under salmon)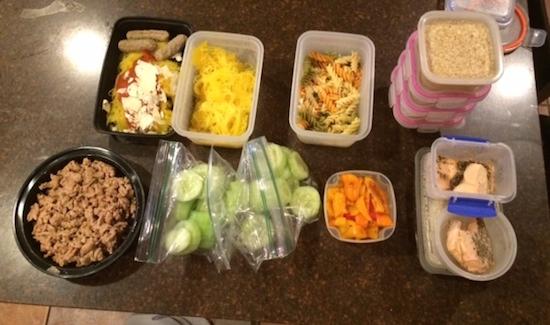 Are you food prepping this weekend? Send me your pic! I'm out of submissions!

Here's what I need from you:
Email me the following:
1. Your Name
2. Your Blog URL (if you have one)
3. A photo of your food prep
4. A short description of what's in the photo. Tell me what you prepped and how you're going to use it during the week!
Every Sunday, I'll post a roundup of the photos I received that week so that you guys can see what others are preparing and hopefully get some inspiration and ideas! I'll keep this series going for as long as I receive photos, so send one every week if you want to!
Send to: theleangreenbean <at> gmail <dot> com
Tweet and Instagram your pics as well to inspire others!! Use the hashtag #sundayfoodprep . Remember that in order for a pic to be included in the post, you have to email it to me! If you have more than one pic, please make them into a collage before sending!
———————
Want more inspiration and tips? Read these:
15 Freezer Meals & Snacks
Top 10 Foods for Sunday Food Prep
How to Prep Food on the Weekend
Weekend Prep for Easy Weekday Meals
How to Eat Healthy in College
How to Eat Healthy During the Week
And check out the Food Prep Tab for links to all the previous Sunday food prep posts!
————
Let's chat: Are you prepping food today? Whatcha makin'?
Enjoy!
–Lindsay–