Hi Friends!
Time for more food prep!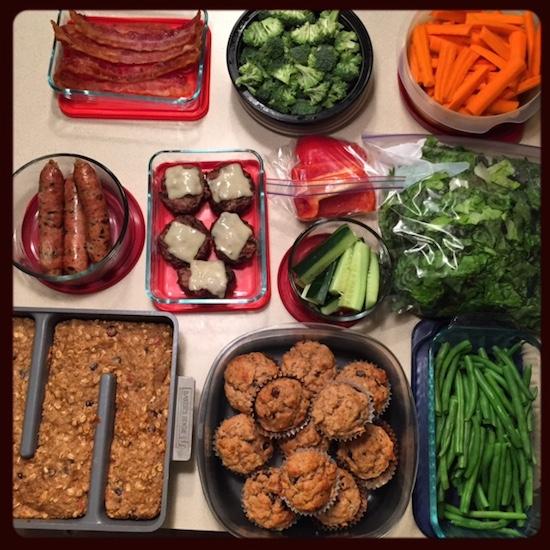 Last weekend at 40 weeks pregnant I wasn't much in the mood to food prep but I still did. Not as much as usual since I was hoping baby would come but just some basics:
Veggies
Bacon
Chicken Sausages & Sliders – grilled by hubby
 ————-
And here's what some of you prepped:
Alexandra at Made to Glow –
For easy weekday breakfasts, I made a large batch of my
Banana Nut Pancakes
 – I quickly reheat, add nut butter and frozen berries. Yummy and quick!
For lunches and dinners, I made a bag of black bean pasta that I can throw together with greens, chopped veggies (pictured here are roasted eggplant, parsley, cilantro, and chopped cherry tomatoes). I also have a few bags of pre-washed greens, a rotisserie chicken, healthy dressings/sauces, and frozen veggies so I can quickly throw together power bowls and stir-frys.
For snacks and desserts, I chopped up mango, watermelon, apples, and hardboiled eggs. I also made a double batch of my
Sweet Potato Chocolate Mousse
– some to have this week (it's awesome on the Banana Nut Pancakes), and freeze the rest.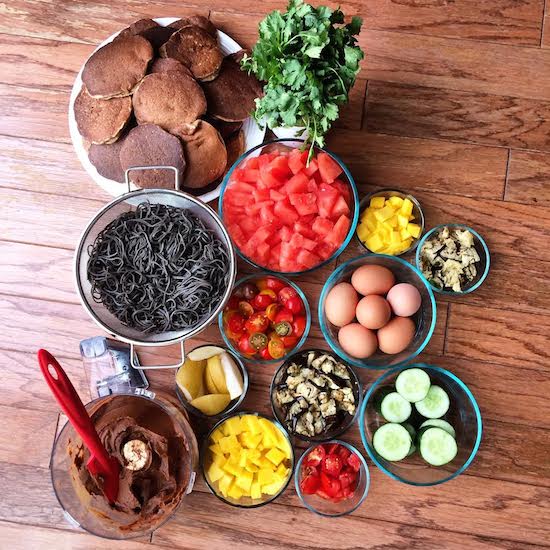 My name is Sally Mae Meyer and I am a stay at home mom to a two year old and expecting my second child.  I am new to this stay at home mom stuff after teaching full time for the last 5 years so I love looking for ways to simplify my house work.  I am so excited to see how this week goes after doing all this prep work. 🙂
On to the food!
I made a batch of oatmeal pumpkin muffins for a quick breakfast, AND chopped potatoes, carrots, onions, parsnips, and celery to go with the thawing roast for dinner 1-2 nights this week. I also made a batch of  white chicken chili with chopped lime, cilantro, and scallions for a garnish, AND a lentil swiss chard stew for quick and healthy lunches. Finally, I prepped salad greens, grilled chicken breasts, and a cilantro hummus to make salads or sandwiches with this week!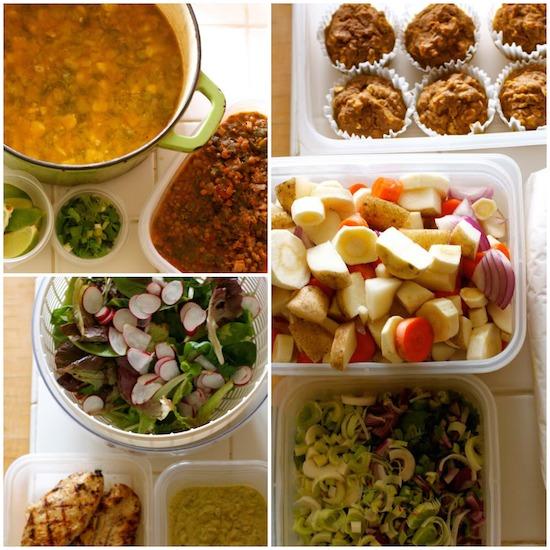 I always do weekend food prep so that I can have easy meals throughout the week. I was traveling last weekend, so I could only do minimal food prep, so this week I wanted to make up for that by doing a little more work than usual. I always say that I invest a lot of time in being able to be lazy and my food prep routine is part of that — that is, I spend a lot of time and effort cooking on the weekends so that when I get home from work on week nights, I can just reheat some food and get myself into some comfy clothes and onto the couch. So here's what I prepped this week. Everything is vegan, plant-based, and generally pretty darn healthy (but you better believe I eat a ton of chocolate and other treats throughout the week, too).
Cuban rice and beans for dinners – made with wild rice, corn, peas, and back beans (based on a Happy Herbivore recipe).
Picked and washed seedless red grapes for snacking.
Bell pepper and chickpea stir-fry for lunches (also based on a Happy Herbivore recipe).
Red Thai tofu (recipe from the Appetite for Reduction cookbook).
Bulgur to go with the tofu.
Curried quinoa pilaf with celery and carrots.
Homemade cinnamon applesauce.
I also have other (unpictured) things on hand for the week, including kale for steaming to go with dinners, trail mix, hummus, and chopped veggies and other fruit. Even though I always dread Mondays, having this food for myself at least makes me feel ready to take on the week.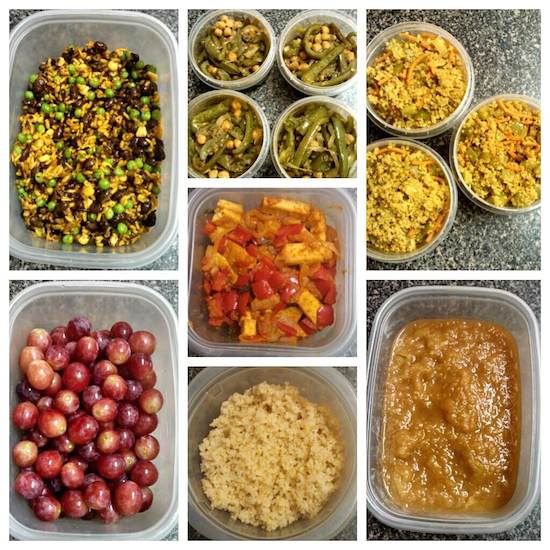 Are you food prepping this weekend? Send me your pic! I'm out of submissions!

Here's what I need from you:
Email me the following:
1. Your Name
2. Your Blog URL (if you have one)
3. A photo of your food prep
4. A short description of what's in the photo. Tell me what you prepped and how you're going to use it during the week!
Every Sunday, I'll post a roundup of the photos I received that week so that you guys can see what others are preparing and hopefully get some inspiration and ideas! I'll keep this series going for as long as I receive photos, so send one every week if you want to!
Send to: theleangreenbean <at> gmail <dot> com
Tweet and Instagram your pics as well to inspire others!! Use the hashtag #sundayfoodprep . Remember that in order for a pic to be included in the post, you have to email it to me! If you have more than one pic, please make them into a collage before sending!
———————
Want more inspiration and tips? Read these:
15 Freezer Meals & Snacks
Top 10 Foods for Sunday Food Prep
How to Prep Food on the Weekend
Weekend Prep for Easy Weekday Meals
How to Eat Healthy in College
How to Eat Healthy During the Week
And check out the Food Prep Tab for links to all the previous Sunday food prep posts!
————
Let's chat: Are you prepping food today? Whatcha makin'?
Enjoy!
–Lindsay–