Hi Friends!
Time for more Sunday Food Prep! Here's what I made last weekend: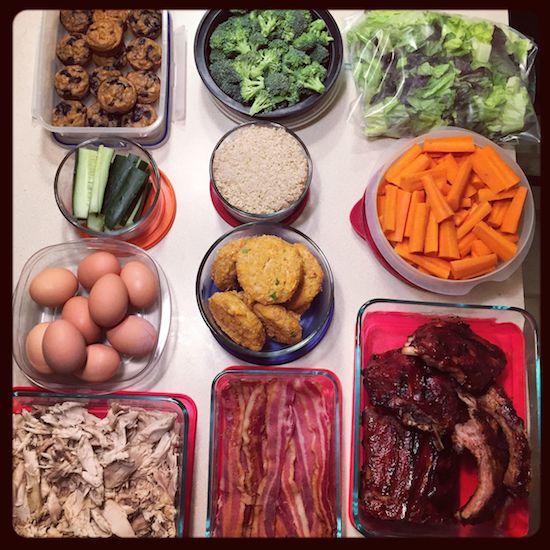 On  Monday I made a batch of Chicken Salad with Salsa Hummus Dressing using some of the chicken and on Tuesday I made the breakfast bars and a batch of PB Banana Oat Muffins.
————
Here's what some of you were up to:
Jessica at @hellojasper –
Just a small food prep for me this week, but it will see us through the first half of the week.
Already portioned is pumpkin oatmeal (recipe from the kitchn website) which we'll reheat for breakfast with a little extra milk.
In the large dish is a vegetarian shepherd's pie, some of which will be frozen while the rest will be dinner with some extra veggies.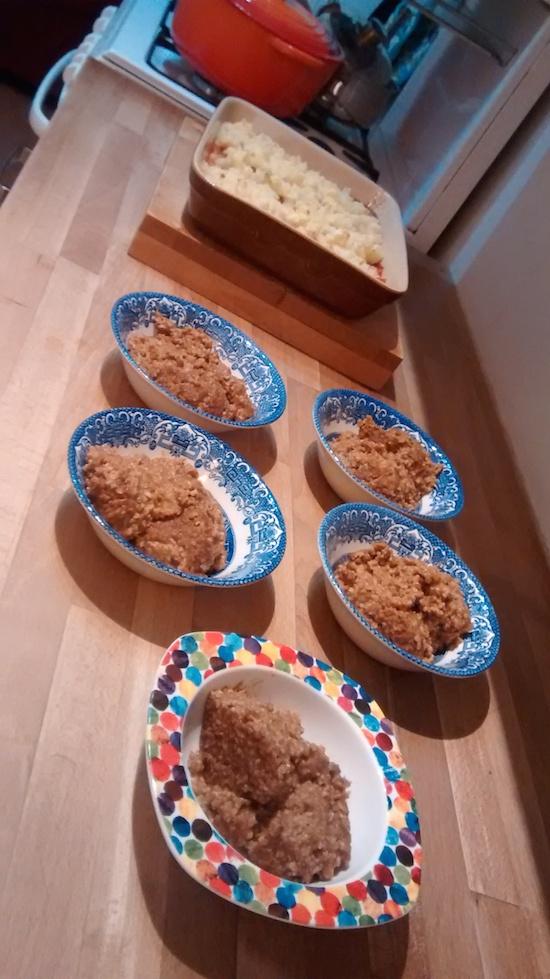 Alexandra at Made to Glow –
This week's food prep included:
–          Washing and chopping fruits and veggies (artichoke hearts, kalamata olives, figs, strawberries, cucumber, tomatoes) to easily add to sandwiches, salads, and breakfast;
–          Roasting cubed eggplant, tri-color carrots, cauliflower, and kabocha squash;
–          Making 3 of my Pumpkin Spice and Everything Nice Green Smoothies (I store in jars in the fridge, so when I'm ready to drink, I simply shake up and enjoy!);
–          Hard-boiling eggs for snacks, and to add to my tuna salad;
–          Making a mustard-y, lemon pepper tuna salad to eat on sandwiches, lettuce wraps, and in salads;
–          Baking a grain-free cashew bread for sandwiches and toast;
–          Making a gluten-free, vegan Pumpkin Fudge for an easy, healthy dessert.
This took about 3 hours (including clean-up) and is for my husband and me. It should last us towards the end of the week, and as we run out, I will sometimes do a second round of prep later in the week (i.e. I'll prep some fruits/veggie on Thursday that aren't ripe yet, but will be by then.)
I also make sure to grab a lot of pre-washed greens, some protein (either rotisserie chicken or sliced turkey), nut butters, and dips during my shopping trip so we're ready to throw simple, quick, real food meals together each day. No fuss, no muss during a busy work week!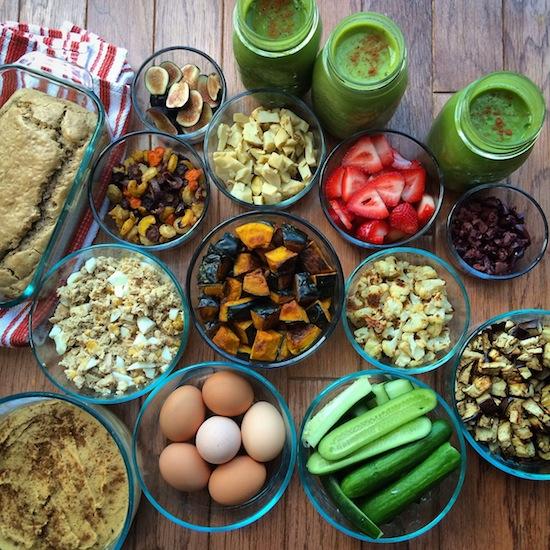 Are you food prepping this weekend? Send me your pic! I'm out of submissions!

Here's what I need from you:
Email me the following:
1. Your Name
2. Your Blog URL (if you have one)
3. A photo of your food prep
4. A short description of what's in the photo. Tell me what you prepped and how you're going to use it during the week!
Every Sunday, I'll post a roundup of the photos I received that week so that you guys can see what others are preparing and hopefully get some inspiration and ideas! I'll keep this series going for as long as I receive photos, so send one every week if you want to!
Send to: theleangreenbean <at> gmail <dot> com
Tweet and Instagram your pics as well to inspire others!! Use the hashtag #sundayfoodprep . Remember that in order for a pic to be included in the post, you have to email it to me! If you have more than one pic, please make them into a collage before sending!
———————
Want more inspiration and tips? Read these:
15 Freezer Meals & Snacks
Top 10 Foods for Sunday Food Prep
How to Prep Food on the Weekend
Weekend Prep for Easy Weekday Meals
How to Eat Healthy in College
How to Eat Healthy During the Week
And check out the Food Prep Tab for links to all the previous Sunday food prep posts!
————
Let's chat: Are you prepping food today? Whatcha makin'?
Enjoy!
–Lindsay–