Hi Friends!
Time to chat about food prep again.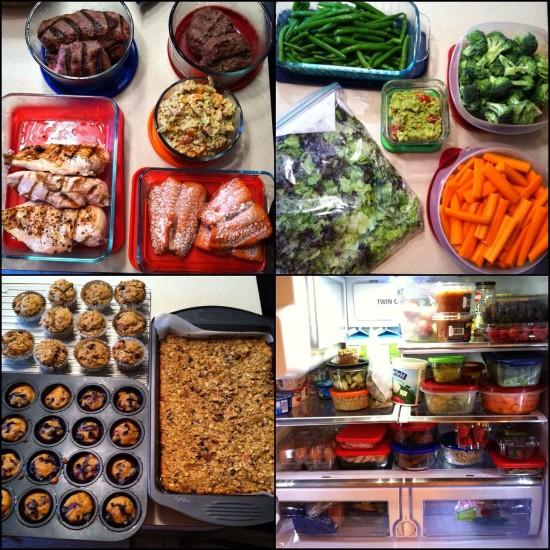 Here's what I prepped last weekend:
Saturday, hubby grilled chicken, steak and burgers. Then on Sunday, I baked some salmon and made tuna salad. I also chopped veggies and made guacamole. Then I baked another batch of quinoa breakfast bars for him and a batch of peanut butter banana oat muffins for me, plus some sweet potato bites with fresh blueberries.
—————-
Here's what some of you have been up to!
Anna:
I signed up for my first CSA so every couple of weeks I get an awesome box of meat, eggs, bread, and of course, tons of fresh local veggies! This week, I prepped:
-a roasted Cornish hen with zucchini, yellow tomatoes, onion, and Japanese eggplant. I plan to eat that for dinners throughout the week. This was all from my CSA!
-Chopped up lettuce for salads. Not pictured are cucumbers, grape tomoatoes and carrots i chopped for snacks and salad toppers.
-I made a batch of sweet potato apricot granola bars for my pre-run breakfast
-Baked scrambled eggs with kale and tomatoes for quick post-workout breakfasts
-Lots of variations of overnight oats (3 containers on the right); it's the only thing I can stomach post-run as I train for a 1/2 marathon!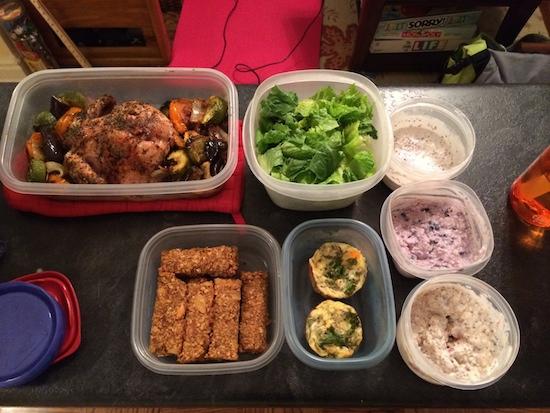 Nora at A Clean Bake –
This week I made as many ready-to-eat dishes that just need to be heated up with no additional prep. For dinner, there is:
Asian slaw with edamame and Crispy baked tofu to mix in
Mini turkey meatballs
Stewed green beans
Carrot Soup with Quinoa to mix in
Chicken and gouda sausages
Pesto and zoodles (Not pictured)
For breakfast, I made fritatta, hard boiled eggs, and extra quinoa
For lunch, lots of premade salads, wraps and budda bowls (in the tupperware), and baked eggplant slices, plus pre-portioned veggies and hummus for snacks.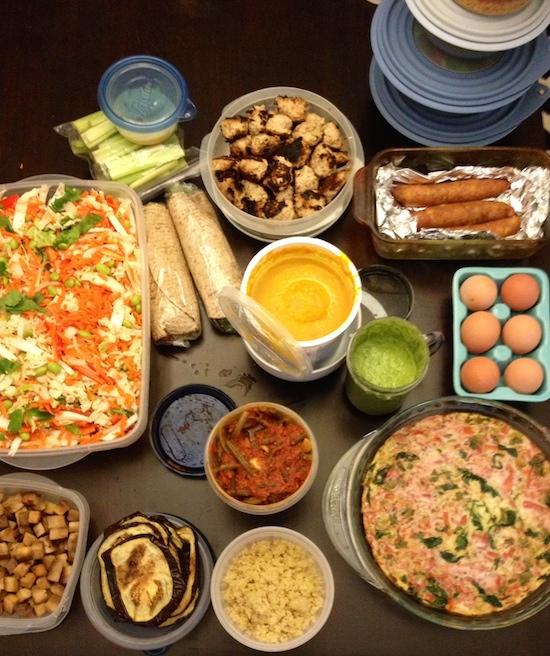 Layne –
Sunday
 I spent a good amount of time in the kitchen prepping food for the week! I made
Peanut Butter Fingers southwest turkey burgers
for a quick reheat throughout the week. I also made
Skinny Taste's crock pot salsa Verde chicken
(I even made my own salsa Verde to keep sodium down and I got a new food processor so it was super easy!) for dinners throughout the week- gets better each day! I also made a beef version of
Cookin' Canuk's turkey quinoa zucchini meat balls
for my red meat lovin hubby. For a yummy snack I made homemade hummus in my food processor to pair with carrots, red pepper and cucumber! Love preping it all at once, even though the kitchen looks a mess but then able to enjoy the week without the stress of meals!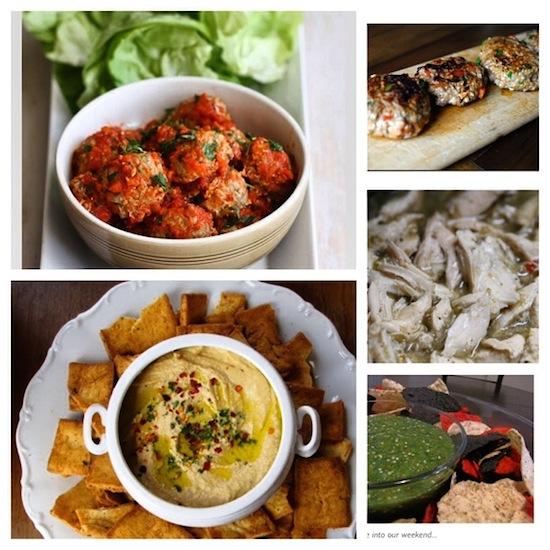 This past 

Sunday

 I spent about an hour after grocery shopping to prepare for work day lunches and easy weeknight dinners:
 – Washed and chopped broccoli and packed in individual baggies to snack on with hummus at work
 – Cooked wild rice as a side for dinner this week (paired with chicken curry and carrots)
 – Sauteed spinach, pine nuts and mushrooms with a little olive oil to take for lunch
 – Sliced fresh zucchini to roast for zucchini chips for dinner
 – Cooked organic, nitrate free sausage to heat up for breakfast in the morning
 – Baked my gluten free coconut crusted chicken (recipe coming soon to the blog) and packed into individual servings to grab for lunch
 – Washed apples, raspberries and strawberries as sweet treats throughout the week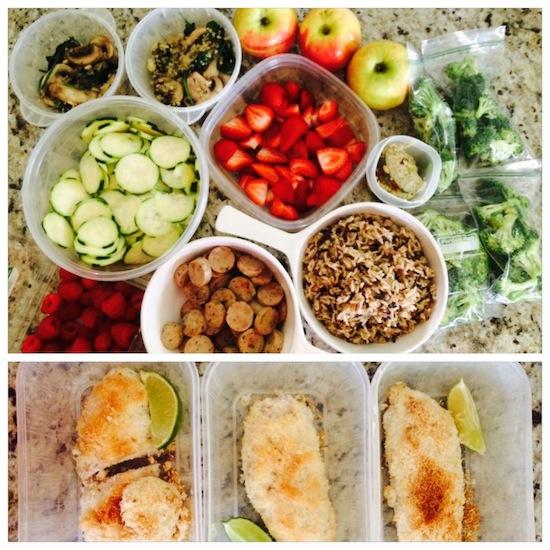 Are you food prepping this weekend? Send me your pic! I'm out of submissions!

Here's what I need from you:
Email me the following:
1. Your Name
2. Your Blog URL (if you have one)
3. A photo of your food prep
4. A short description of what's in the photo. Tell me what you prepped and how you're going to use it during the week!
Every Sunday, I'll post a roundup of the photos I received that week so that you guys can see what others are preparing and hopefully get some inspiration and ideas! I'll keep this series going for as long as I receive photos, so send one every week if you want to!
Send to: theleangreenbean <at> gmail <dot> com
Tweet and Instagram your pics as well to inspire others!! Use the hashtag #sundayfoodprep . Remember that in order for a pic to be included in the post, you have to email it to me! If you have more than one pic, please make them into a collage before sending!
———————
Want more inspiration and tips? Read these:
Top 10 Foods for Sunday Food Prep
How to Prep Food on the Weekend
Weekend Prep for Easy Weekday Meals
How to Eat Healthy in College
How to Eat Healthy During the Week
And check out the Food Prep Tab for links to all the previous Sunday food prep posts!
————
Let's chat: Are you prepping food today? Whatcha makin'?
Enjoy!
–Lindsay–