Hi Friends-
Time for more food prep!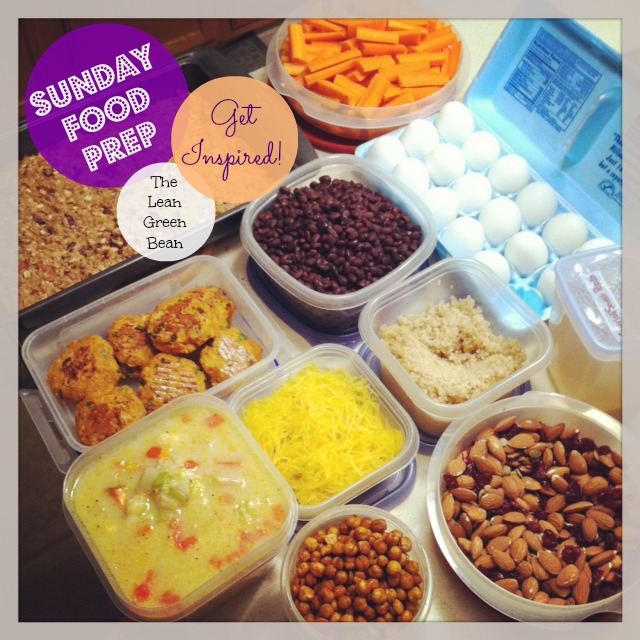 Here's what I prepped last weekend: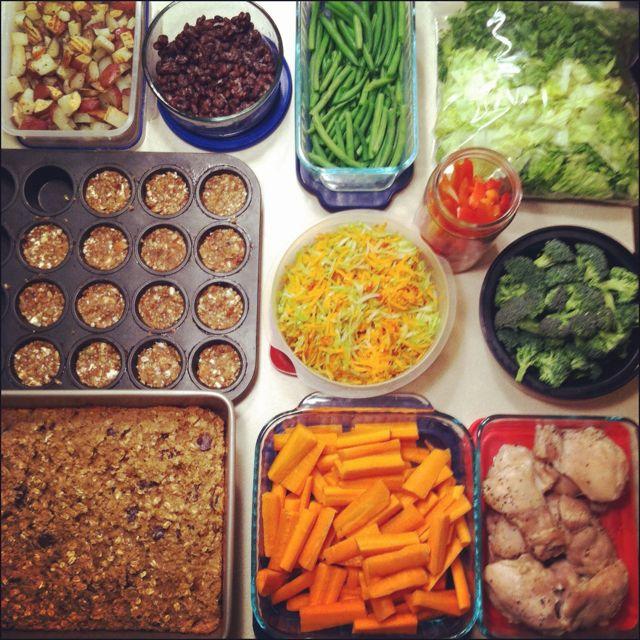 Roasted Potatoes
Black Beans
Green Beans
Peppers
Slaw
Carrots
Chicken Thighs
Broccoli
Lettuce
And here's what some of you have been up to:
Krysten at The Misadventures of a Darwinian Fail –
Joining The Lean Green Bean for #SundayMealPrep – I have been struggling with my lunches since starting my new job. I have been reaching for convenience food a little too often when I am out and about. So I totally stole a page from @eatspinrunrpt and put together some salads in a jar. And I followed @the_athletarian @vkdavies to Michael's for these blue mason jars! Sometimes being a copycat can mean yummy healthy things! Love this awesome inspiring community!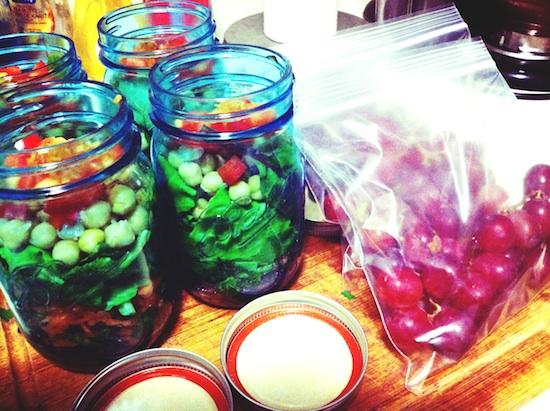 Anna at Endorphins Junkie –
This was only my second time ever doing weekend food prep. I'm so happy having a fridge full of healthy meal and snack options that I am definitely going to make sure this becomes a more regular part of my routine. Here is what I made…
Rinsed and chopped strawberries for snacks and desserts
A big bucket of salad for lunches
Quinoa for sides and salad toppings
Roasted chickpeas for sides and salad toppings – I washed and rinsed a can, coated them in about 1.5 tablespoon each of hummus and horseradish mustard and baked them about 40 minutes at 400 degrees, stirring them around every 10 minutes or so
No Bake Oatmeal Nut Butter Balls for snacks
Spaghetti squash for days for dinners and lunches
Quinoa Breakfast Bars for breakfasts and snacks
Rinsed cherry tomatoes for snacks and salad toppings
Rinsed and chopped zucchini and red peppers to saute for dinners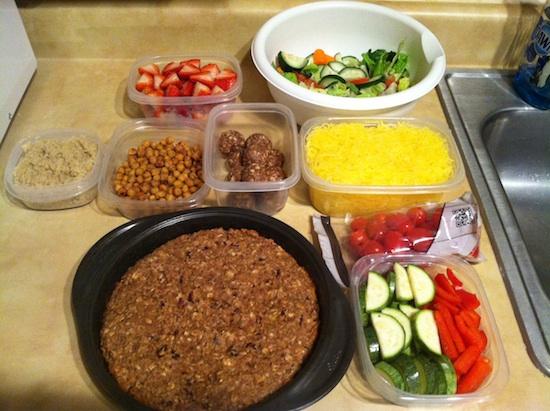 Natalie at Mean, Green, Clean-Eating Teen –
I premade
Vegetarian lentil and sweet potato Shepard's pie for Tuesdays dinner,
some hardboiled eggs for lunches through the week
Paleo coconut flour rosemary flat bread for breakfasts and snacks
Not a whole lot but it so helps!!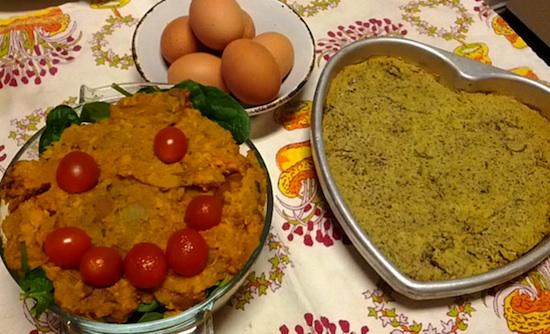 Lauren at The Polka Dot Plate –
Weekly food prep for an RD2be!
Taco Chicken and Corn
Chicken
Lettuce (for salads)
Defrost Zucchini Muffins
Pineapple
Oriental Dressing
Not pictured: spaghetti squash and hard boiled eggs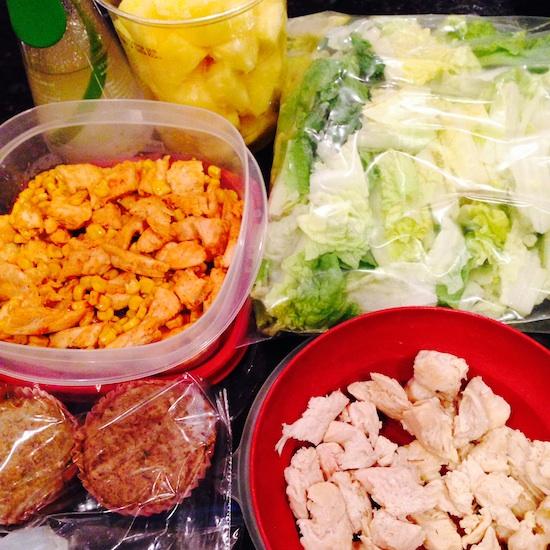 Jenn M –
1.    2 ingredient cereal bars made with Trader Joe's Fruitty O's. Great for a quick snack and far less additives than most store-bought bars.
2.    Chopped vegetables for snacking.
3.     Black beans, avocados, and a mix of baked sweet potato/regular potato rounds for sweet potato nachos for Super Bowl noshing. Yes!
4.     Polenta for breakfast or to use with this delicious dinner.
5.     Baked Bisquick chicken bites for snacking/salads.
6.     Cucumber snack/side  Addictive and super healthy.
7.     I also made mini quiches for the first time; hence the small number J . They consist of pre-made pie crust, each with one scrambled egg, jalapeños, mushrooms.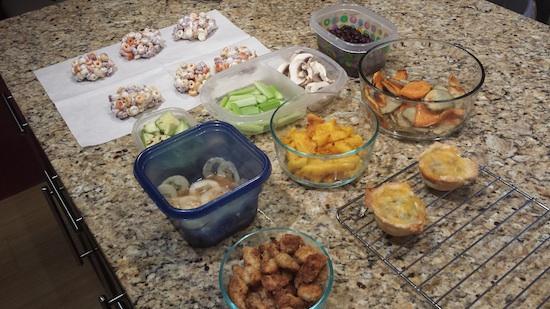 Are you food prepping this weekend? Want to submit a pic to be featured in an upcoming post?! 

Here's what I need from you:
Email me the following:
1. Your Name
2. Your Blog URL (if you have one)
3. A photo of your food prep
4. A short description of what's in the photo. Tell me what you prepped and how you're going to use it during the week!
Every Sunday, I'll post a roundup of the photos I received that week so that you guys can see what others are preparing and hopefully get some inspiration and ideas! I'll keep this series going for as long as I receive photos, so send one every week if you want to!
Send to: theleangreenbean <at> gmail <dot> com
Tweet and Instagram your pics as well to inspire others!! Use the hashtag #sundayfoodprep . Remember that in order for a pic to be included in the post, you have to email it to me! If you have more than one pic, please make them into a collage before sending!
———————
Want more inspiration and tips? Read these:
Top 10 Foods for Sunday Food Prep
How to Prep Food on the Weekend
Weekend Prep for Easy Weekday Meals
How to Eat Healthy in College
How to Eat Healthy During the Week
And check out the Food Prep Tab for links to all the previous Sunday food prep posts!
————
Let's chat: Are you prepping food today? Whatcha makin'?
Enjoy!
–Lindsay–