Hi Friends!
Time for some more Sunday food prep!
Here's what I prepped last weekend: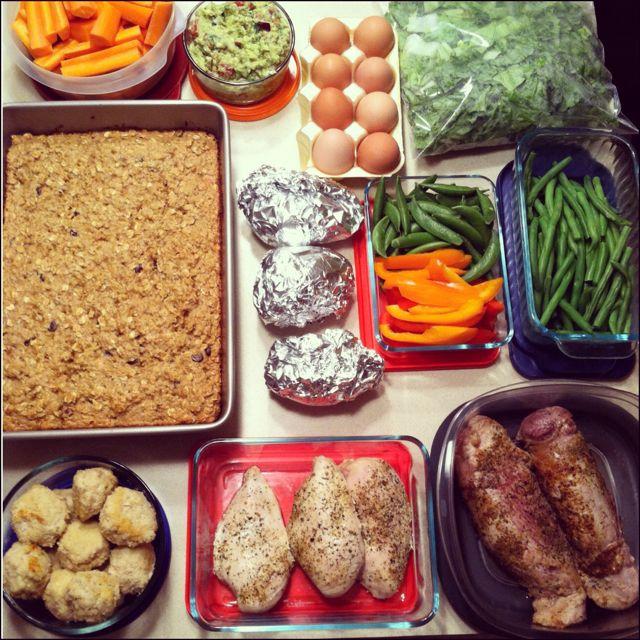 Cheese Stuffed Chicken Meatballs: All I have to do is add some sauce and noodles for dinner one night. (Similar to this recipe)
Baked Chicken: To use in sandwiches and on salads.
Roasted Pork Tenderloin: Could be cut up and used in a stir-fry or eaten as is.
Quinoa Breakfast Bars: I pre-portion them so that my husband has a grab & go breakfast in the morning (Recipe here)
Baked Potatoes: Just remove from the foil and microwave when ready to eat.
Veggies for snacking: Perfect for munching on while getting dinner ready, with a little hummus!
Lettuce for salads: Cut, wash, spin dry and store in a ziploc bag with a paper towel. Press the air out of the bag before storing.
Hardboiled Eggs: Add one to your lunch or grab one for a quick snack. (Try this trick)
Guacamole: Perfect addition to wraps or try using as a dressing for your salad!
I'm also working on a freezer meals post so I prepped 5 of those to try. If they taste good, I'll share them 🙂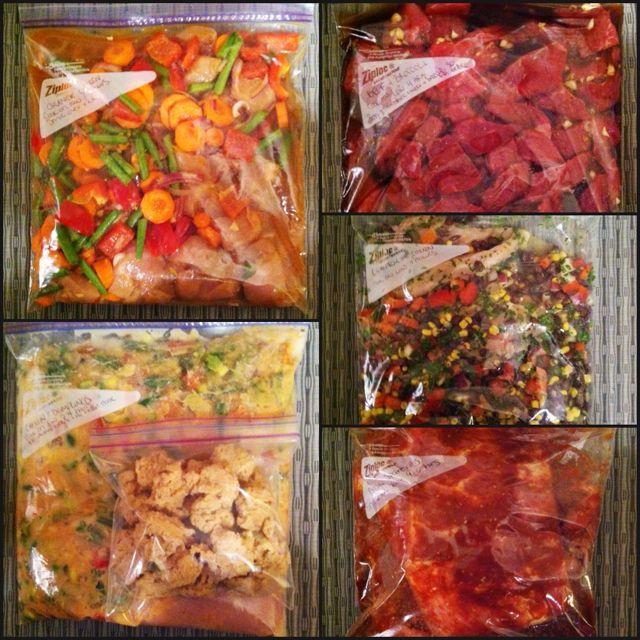 Orange Chicken
Chicken & Dumplings
Beef & Broccoli
Cilantro Lime Chicken
BBQ Spare Ribs
Here's what you guys have been up to:
Britney –
In the photo we have
Energy Bars (homemade!) – for before workouts
Trail Mix – for snacking
Tortilla Chips (homemade!) – for snacking and meals with salsa
Egg Whites – for snacking
Salads in a Jar – for work lunches
Greek Yogurt Parfaits – for on the go breakfasts
Pineapple/jalapeño Salsa
Chopped Apples (held together with a rubber band to keep from browning!) – for work lunches
Celery – for snacking
Spaghetti Squash and Turkey Meatballs – for work lunches
Not pictured I did some turkey burgers and lots of chopped veggies for quick dinners.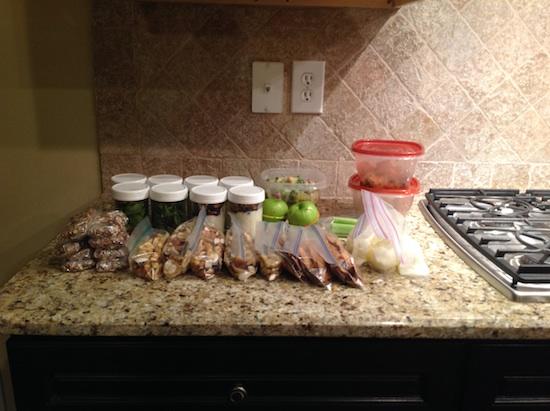 Brittney at Sweets n Greens –
I made pumpkin protein pancakes, whole wheat pizza (dinner tonight also!), cut pineapple, cilantro lime quinoa for burrito bowls, zucchini noodles, fresh tomato sauce, grapefruit carrot & ginger juice, and healthy pumpkin spice bars.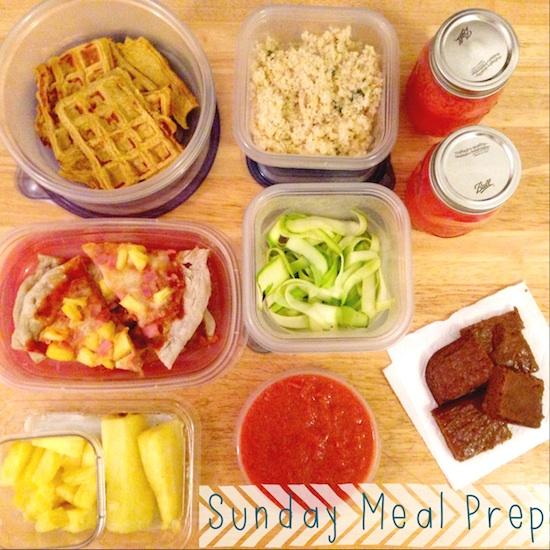 Marisa from Uproot from Oregon –
This week while hanging around the house on Sunday I was able to get a lot of prep done:
– Pumpkin carrot muffins for breakfasts on the run
– Farro for adding easy grains to lunches/dinners
– Lunches packed for Monday of leftovers that needed to be eaten
– Roasted carrots
– Sesame ginger baked tofu
– Baked white sweet potatoes for gnocchi
– Pumpkin steel cut oats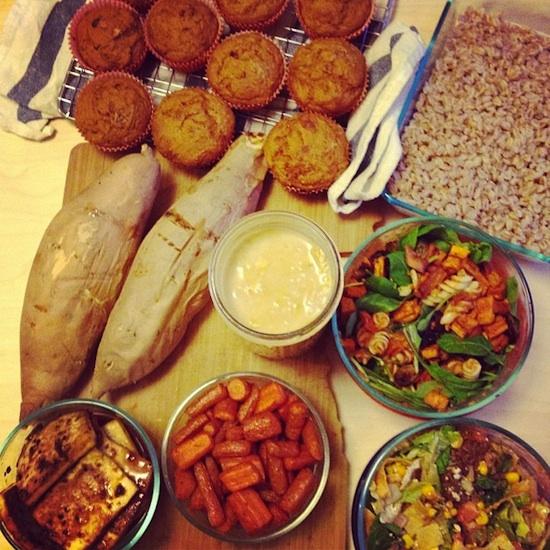 I spent a little bit of time on Saturday and Sunday getting some food prep in.  For our family, this isn't just for the week.  With a new baby arriving mid February I've been needing to get some freezer meals made, so I worked those in as well, along with getting things made for the week.  In the first picture: puffed amaranth, homemade cream of celery soup, bbq cheddar chickpea burgers and homemade peach jam + plain yogurt cups.  In the second picture: beef and zucchini meatballs, cooked black beans, thai coconut sauce to go with meatballs and beef and bean chili.  If you want to read more, or find links to some of the recipes,
here's the link
to my post on what I prepared.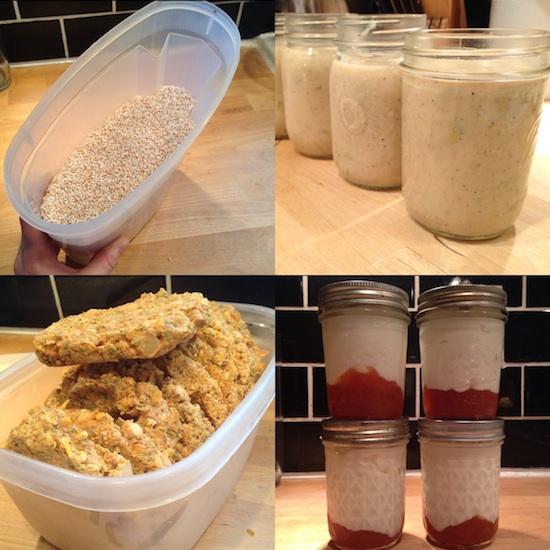 This week I made, from left to right: Apple chips, kale chips, brown rice, sliced bell peppers, BBQ chicken in the crock pot for the boyfriend's lunches, zucchini noodles, carrot sticks, roasted parmesan potatoes, slivered carrots, hard boiled eggs for breakfast, cucumber noodles, peanut sauce, chopped broccoli, hummus, steamed green beans, and homemade spring rolls with avocado for my lunches. All of this took me about 3 hours, which was a bit longer than last week. What took me longer was roasting the potatoes and baking the chips.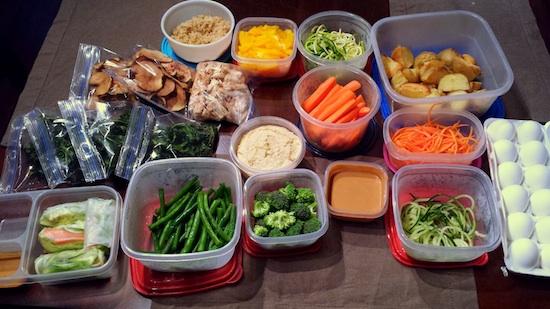 Are you food prepping this weekend? Want to submit a pic to be featured in an upcoming post?! 

Here's what I need from you:
Email me the following:
1. Your Name
2. Your Blog URL (if you have one)
3. A photo of your food prep
4. A short description of what's in the photo. Tell me what you prepped and how you're going to use it during the week!
Every Sunday, I'll post a roundup of the photos I received that week so that you guys can see what others are preparing and hopefully get some inspiration and ideas! I'll keep this series going for as long as I receive photos, so send one every week if you want to!
Send to: theleangreenbean <at> gmail <dot> com
Tweet and Instagram your pics as well to inspire others!! Use the hashtag #sundayfoodprep . Remember that in order for a pic to be included in the post, you have to email it to me! If you have more than one pic, please make them into a collage before sending!
———————
Want more inspiration and tips? Read these:
How to Prep Food on the Weekend
Weekend Prep for Easy Weekday Meals
How to Eat Healthy in College
How to Eat Healthy During the Week
And check out the Food Prep Tab for links to all the previous Sunday food prep posts!
—————–
And finally, if you're a blogger and you blog about your food prep, feel free to link up your post below! Please keep sending me pics to be featured in the posts as well, but I thought I'd give people a chance to link up to give you guys even more ideas and introduce you to some more blogs!
————
Let's chat: Are you prepping food today? Whatcha makin'?
Enjoy!
–Lindsay–