Hi Friends!
Time for more Sunday Food Prep!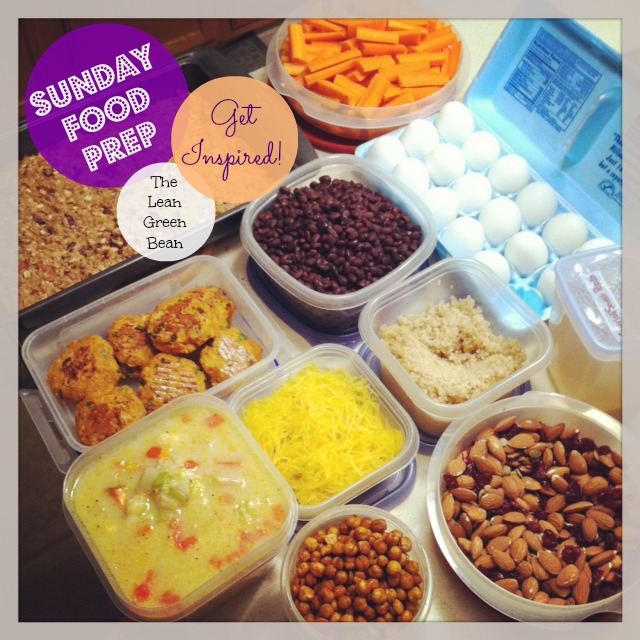 Since hubby was out of town Sunday – Wednesday this past week, I didn't do much food prep…just made it a goal to use up what we had on hand! But here's what some of you have been up to!
Jessica:
This Sunday was my first ever food prep. I don't eat meat but I make food for both my husband and I. So I made:
Top Picture-
Lentils
Quinoa
Ham and Cheese Egg Bakes
Bottom picture-
Hard Boiled Eggs
Bagged Carrots
Bagged Cashews
Vegetable Curry
Not pictured-
Cut Veggies
Romaine and Spinach Salad
Granola Bars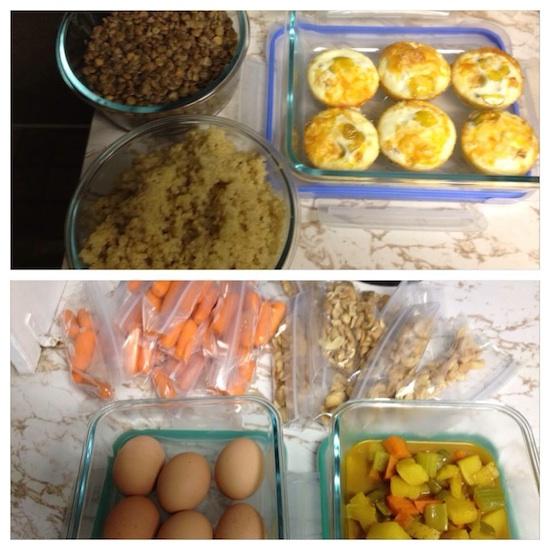 Lauren at Mindful Meals :
I took on an Eat Local Challenge and prepped food for the week to get ready for it. I shopped at the farmer's market for most of my food. I cooked up a local chicken and kabocha squash for lunches all week, and used some of the chicken for homemade soup. I chopped up deliciously sweet carrots, cucumbers, and packed up cherry tomatoes for snacks and salads. I also went apple picking and had a lot of apple and cheddar cheese (Cabot cheese – World's Best Cheddar!) for snacks. I also had our window-sill herb garden with cilantro, parsley, basil, and thyme to add flavor. It was a delicious and fun week eating Vermont food, and food prep helped me get through it.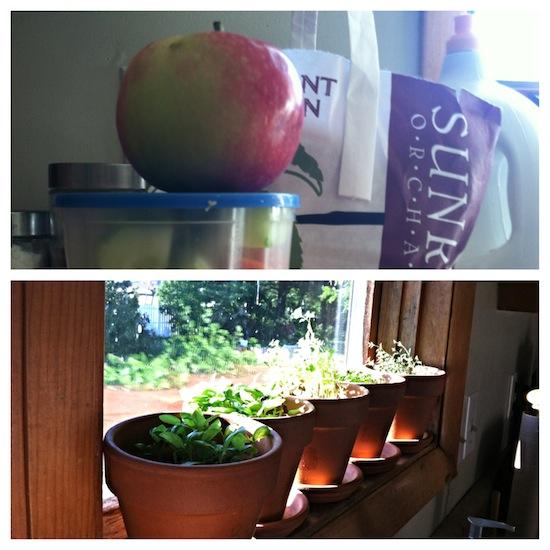 Christi:
Chicken breasts
Squash
Mexican veggies
Taco
Pork roast
Roasted Brussel sprouts
Salads w grilled chicken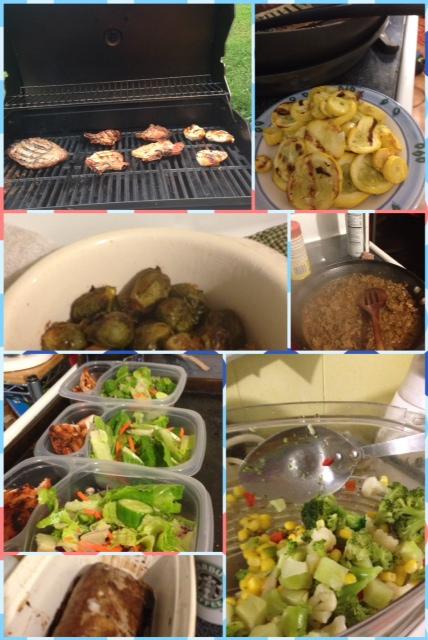 Jeanette Marie at Fit Girl Travels :
Pumpkin Protein Muffins:
To kick off the fall season, I made some yummy pumpkin protein muffins. I usually whip up a batch, put them in small Ziploc baggies, and then stick them in the freezer – that way they're ready anytime I need a quick breakfast, snack or even dessert. Since I'm especially short on time in the mornings, I usually bring these into the office, heat them up in the micro really quick, and eat them at my desk – my coworkers always comment on how good they smell!
ToneIt Up Minestrone Soup:
My husband said this is the best soup he's ever eaten! It was also very easy and inexpensive to make!
Coconut Aloha Granola:
Super easy to make and tastes good by itself, as cereal, or on top of Greek yogurt or ice cream (if you want a special treat!). I store this in an air-tight container so it stays fresh throughout the week.
Chopped Fruits and Veggies:
I've been ordering a veggie box from a farm in my local area – it makes food prep a lot faster and easier when I have a week's supply of fruits and veggies delivered right to my door. I usually chop them up and use them in smoothies (like this Green Goddess Smoothie) and dishes throughout the week! I don't do this all the time because the veggie box can get a bit expensive, but it's a nice treat every now and then!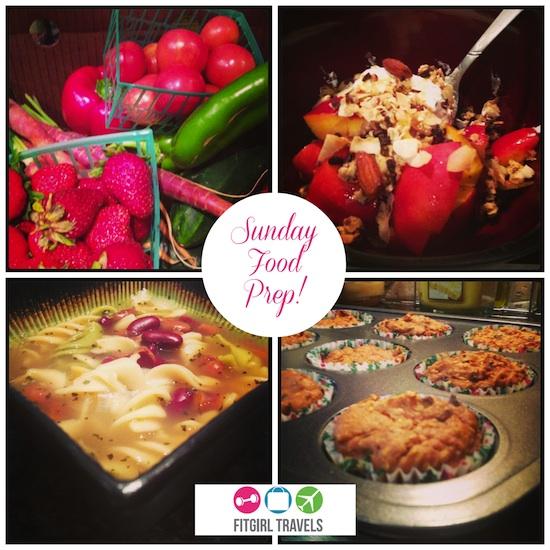 Jenna from Urban Fitopia :
Last week I made 3-tomato pasta sauce, pumpkin and sweet potato soup, roasted acorn squash, roasted Brussels sprouts and sautéed some kale and ginger. I usually try to make a bunch of side dishes that I can use to mix and match throughout the week. That way, I feel like I'm eating something new everyday but don't have to spend the time prepping on a weeknight.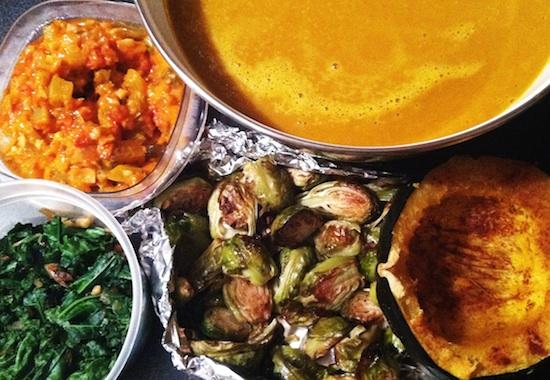 Kelly at Okanagan RD :
Kale/tofu calzones, apple almond crisp (with local almonds!), a strange almond spread (needs work, but we still ate it all), zucchini/carrot/apple muffins and bars (iced for fun), apple pie millet ready to go in the slow cooker, breaded tofu "pumpkins", a few of the beautiful vegetables we had this week, roasted red pepper hummus, baba ghanouj, and homemade pitas!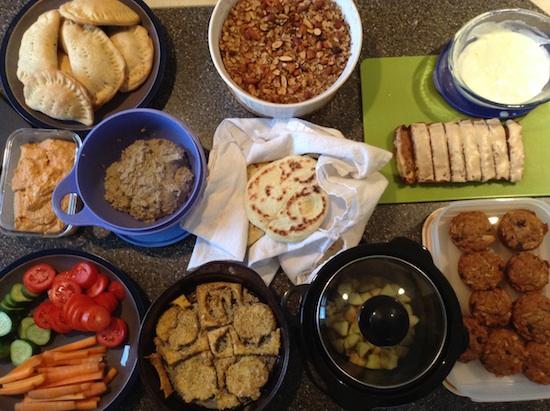 Everything looks delicious, as always!
Are you food prepping this weekend? Want to submit a pic to be featured in an upcoming post?! I'm running low on submissions again!

Here's what I need from you:
Email me the following:
1. Your Name
2. Your Blog URL (if you have one)
3. A photo of your food prep
4. A short description of what's in the photo. Tell me what you prepped and how you're going to use it during the week!
Every Sunday, I'll post a roundup of the photos I received that week so that you guys can see what others are preparing and hopefully get some inspiration and ideas! I'll keep this series going for as long as I receive photos, so send one every week if you want to!
Send to: theleangreenbean <at> gmail <dot> com
Tweet and Instagram your pics as well to inspire others!! Use the hashtag #sundayfoodprep . Remember that in order for a pic to be included in the post, you have to email it to me! If you have more than one pic, please make them into a collage before sending!
———————
Want more inspiration and tips? Read these:
How to Prep Food on the Weekend
Weekend Prep for Easy Weekday Meals
How to Eat Healthy in College
How to Eat Healthy During the Week
And check out the Food Prep Tab for links to all the previous Sunday food prep posts!
—————–
Let's chat: Are you prepping food today? Whatcha makin'?
Enjoy!
–Lindsay–