Hi Friends!
Time for another round of Sunday Food Prep Inspiration!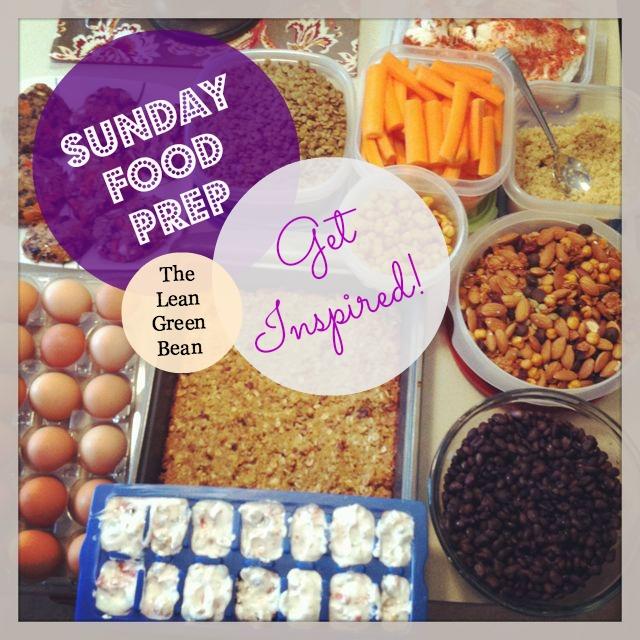 Here's what I prepped last weekend: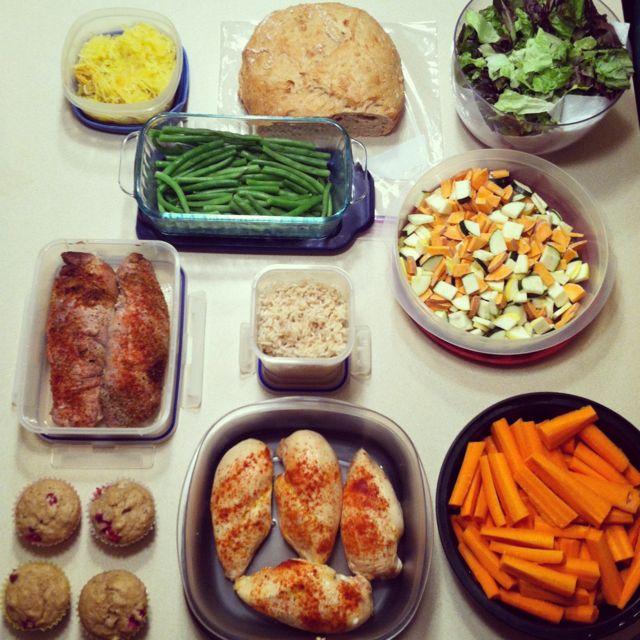 Cranberry muffins
Pork tenderloin
Spaghetti squash
Green beans
Brown rice
Chicken
Carrots
Chopped veggies to roast
Lettuce for salad
Here's what some of you have been up to:
Becky at Becky's Blog:
Lettuce for salad
Tortellini salad for fast post softball dinners
Roasted new potatoes
Chopped sweet potatoes
Carrots and broccoli
Grapes washed and ready to eat
Pumpkin muffins
Strawberries
Homemade chocolate chip cookies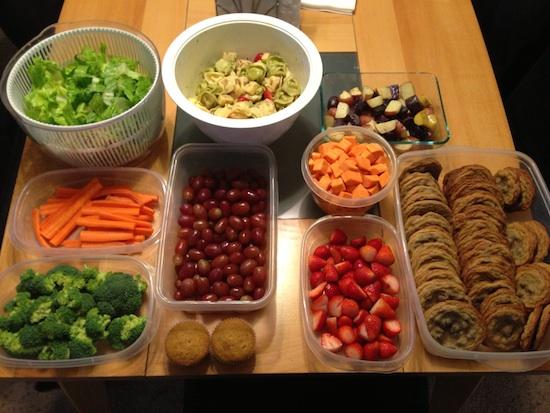 There's a reason so many people bring sandwiches to school for lunch–they are so convenient and you can put whatever you'd like in them! This week, I put roasted turkey breast, spinach, fresh herbs, and a slice of cheese between whole grain bread. My brother and I also love to eat caprese salad along with our dinner for some veggies and protein (and deliciousness), so I prepared some for easy serving. When the mozzarella and tomatoes are unsliced and the basil is still on the stem, there's not much motivation to take the time to make the caprese during the week. Prepping helps a lot! Lastly, I decided to use up some ripe bananas to make banana muffins (adapted from 100 Days of Real Food's banana bread recipe) for a grab-and-go breakfast or a nice little dessert. I plan on having one tomorrow morning with some yogurt and nut butter!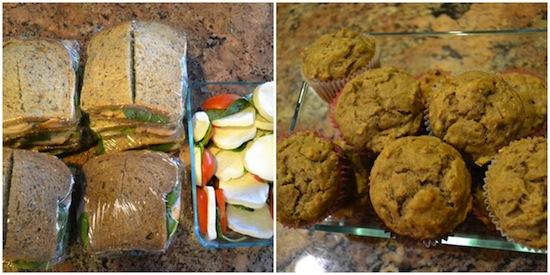 Sara at The Working Athlete :
This was my first time food prepping ever so I have a lot to learn.
For lunches I made baked chicken and baked broccoli. I put my lunches and snacks in grocery bags so all I have to do is take it out of the refrigerator and into my lunch box!
For dinner cooked some ground lean turkey and sauteed zucchini and onions. I've been eating that with some avocados (not pictured).
For snacks I have baby carrots and peaches.
Also not pictured are apples and peanut butter for post-workout/dessert! I also eat protein oatmeal  and green tea everyday for breakfast which is already super fast so I decided not to prep that.
I did a bit of meal prep over the weekend which I wanted to share:
To avoid reaching for protein/energy bars which tend to come with extensive ingredient lists, I baked up a loaf of 

Vegan & Banana Bread

(recipe is at http://kthadani.com/2013/09/11/vegan-fat-free-banana-bread/), Fortunately these freeze really well, so I just have to grab a pre-portioned slice on my way out and let it defrost for 10-12 minutes before digging in.
I made up a batch of applesauce to eat as part of breakfast during the week! I love adding it to Greek yogurt, oats and natural peanut butter.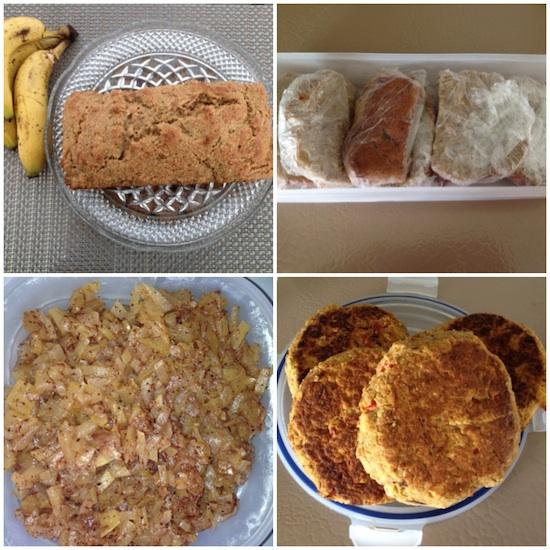 Danica at It's Progression:
This week, to prep for upcoming meals and snacks, I peeled and sliced carrots, washed and chopped broccoli, hard-boiled eggs, made a batch of homemade tortillas, bags of popcorn (with seas salt), a pan of quinoa breakfast bars, black beans (in the slow-cooker), quinoa, and some cookies, for good measure 🙂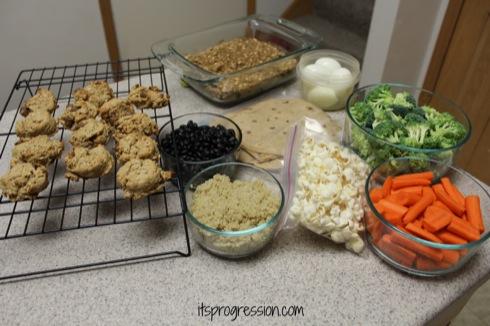 Lindsay at A Runnaroundd Life:
This weekend I was a little bummed on my grocery shopping trip. Fruit prices are rising again and I knew I wouldn't be able to live with myself if I bought a teeny tiny package of blueberries for $4. I skimped and bought less fruit and no eggs. Instead, I bought more beans and lentils that are very cheap and would last me a bit longer. It was my first time making lentils, and they turned out pretty great. Plus, I vowed to use up everything in my pantry and freezer before I went shopping again. On a budget over here! This is just some of what I prepped — spaghetti squash (doesn't matter how pricey these babies get — I love them too much to give up!), lentils, mushrooms, carrots, celery, steamed broccoli, sweet potato and zucchini, chopped lettuce for salads and some grapes. I also froze bananas and yogurts for my mornings. Another great week of prep!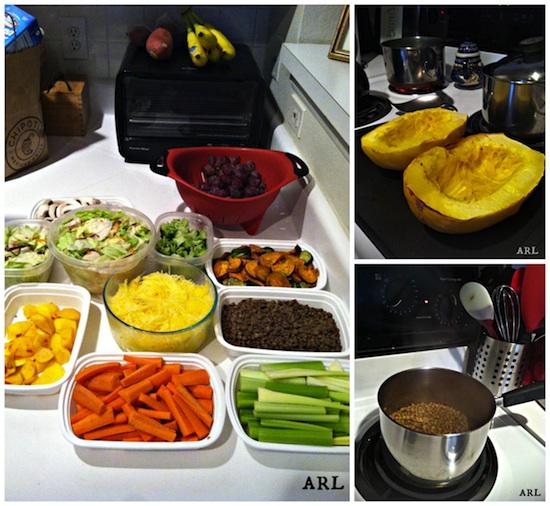 ————
Are you food prepping this weekend? Want to submit a pic to be featured in an upcoming post?! I'm running low on submissions again!

Here's what I need from you:
Email me the following:
1. Your Name
2. Your Blog URL (if you have one)
3. A photo of your food prep
4. A short description of what's in the photo. Tell me what you prepped and how you're going to use it during the week!
Every Sunday, I'll post a roundup of the photos I received that week so that you guys can see what others are preparing and hopefully get some inspiration and ideas! I'll keep this series going for as long as I receive photos, so send one every week if you want to!
Send to: theleangreenbean <at> gmail <dot> com
Tweet and Instagram your pics as well to inspire others!! Use the hashtag #sundayfoodprep . Remember that in order for a pic to be included in the post, you have to email it to me! If you have more than one pic, please make them into a collage before sending!
———————
Want more inspiration and tips? Read these:
How to Prep Food on the Weekend
Weekend Prep for Easy Weekday Meals
How to Eat Healthy in College
How to Eat Healthy During the Week
And check out the Food Prep Tab for links to all the previous Sunday food prep posts!
—————–
Let's chat: Are you prepping food today? Whatcha makin'?
Enjoy!
–Lindsay–